Abstract
The use of mobile phones and other wireless transmitting devices is increasing dramatically in developing and developed countries, as is the rate of infertility. A number of respected infertility clinics in Australia, India, USA, and Iran are reporting that those who regularly use mobile phones tend to have reduced sperm quantity and quality. Some experimental studies have found that human sperm exposed to electromagnetic fields (EMF), either simulated or from mobile phones, developed biomarkers of impaired structure and function, as well as reduced quantity. These encompass pathological, endocrine, and proteomic changes. Proteins perform a vast array of functions within living organisms, and the proteome is the entire array of proteins—the ultimate biomolecules in the pathways of DNA transcription to translation. Proteomics is the art and science of studying all proteins in cells, using different techniques. This paper reviews proteomic experimental and clinical evidence that EMF acts as a male-mediated teratogen and contributor to infertility.
Access options
Buy single article
Instant access to the full article PDF.
US$ 39.95
Tax calculation will be finalised during checkout.
Subscribe to journal
Immediate online access to all issues from 2019. Subscription will auto renew annually.
US$ 79
Tax calculation will be finalised during checkout.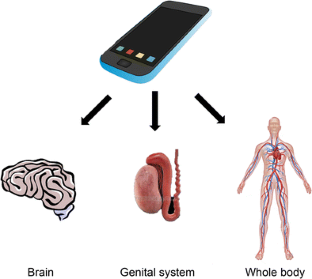 References
Afshari F, Soleimani Rad J, Torabi GA, Yasrebi B (2013) Effects of electromagnetic field on the ductus deferent and prostate. Urmia Med J 24:527–533

Akdag MZ, Dasdag S, Aksen F, Isik B, Yilmaz F (2006) Effect of ELF magnetic fields on lipid peroxidation, sperm count, p53, and trace elements. Med Sci Monit 12:366–371

Akdag MZ, Dasdag S, Uzunlar AK, Ulukaya E, Oral AY, Celik N, Aksen F (2013) Can safe and long-term exposure to extremely low frequency (50 Hz) magnetic fields affect apoptosis, reproduction, and oxidative stress? Int J Radiat Biol 89:1053–1060

Barrett KE, Barman SM, Boitano S, Brooks H (2012) Ganong's review of medical physiology, 24th edn., McGraw Hill Professional

Boja ES, Rodriguez H (2012) Mass spectrometry-based targeted quantitative proteomics: achieving sensitive and reproducible detection of proteins. Proteomics 12:1093–1110

Cucurachi S, Tamis WL, Vijver MG, Peijnenburg WJ, Bolte JF, de Snoo GR (2013) A review of the ecological effects of radiofrequency electromagnetic fields (RF-EMF). Environ Int 51:116–140

Dasdag S, Akdag MZ, Ulukaya E, Uzunlar AK, Yegin D (2008) Mobile phone exposure does not induce apoptosis on spermatogenesis in rats. Arch Med Res 39:40–44

Davis DL, Friedler G, Mattison D, Morris R (1992) Male-mediated teratogenesis and other reproductive effects: biologic and epidemiologic findings and a plea for clinical research. Reprod Toxicol 6:289–292

Desai NR, Kesari KK, Agarwal A (2009) Pathophysiology of cell phone radiation: oxidative stress and carcinogenesis with focus on male reproductive system. Reprod Biol Endocrinol 7:114

Gong EJ, Shin IS, Son TG, Yang K, Heo K, Kim JS (2014) Low-dose-rate radiation exposure leads to testicular damage with decreases in DNMT1 and HDAC1 in the murine testis. J Radiat Res 55:54–60

Gregorich ZR, Ge Y (2014) Top-down proteomics in health and disease: challenges and opportunities. Proteomics 14:1195–1210

Imai N, Kawabe M, Hikage T, Nojima T, Takahashi S, Shirai T (2011) Effects on rat testis of 1.95-GHz W-CDMA for IMT-2000 cellular phones. Syst Biol Reprod Med 57:204–209

Kesari KK, Behari J (2010) Effects of microwave at 2.45 GHz radiations on reproductive system of male rats. Toxicol Environ Chem 92:1135–1147

Kesari KK, Kumar S, Behari J (2010) Mobile phone usage and male infertility in Wistar rats Indian. J Exp Biol 48:987–992

Kesari KK, Kumar S, Behari J (2011) Effects of radiofrequency electromagnetic wave exposure from cellular phones on the reproductive pattern in male Wistar rats. Appl Biochem Biotechnol 164:546–559

Kesari KK, Kumar S, Nirala J, Siddiqui MH, Behari J (2013) Biophysical evaluation of radiofrequency electromagnetic field effects on male reproductive pattern. Cell Biochem Biophys 65:85–96

Lee H-J et al (2012) The effects of simultaneous combined exposure to CDMA and WCDMA electromagnetic fields on rat testicular function. Bioelectromagnetics 33:356–364

Luo Y, Wang X, Chen Y, Xu S, Ding G, Shi C (2013) Effects of electromagnetic radiation on morphology and TGF-beta3 expression in mouse testicular tissue. Toxicology 310:8–14

Makker K, Varghese A, Desai NR, Mouradi R, Agarwal A (2009) Cell phones: modern man's nemesis? Reprod Biomed Online 18:148–157

Malmstrom E, Kilsgard O, Hauri S, Smeds E, Herwald H, Malmstrom L, Malmstrom J (2016) Large-scale inference of protein tissue origin in gram-positive sepsis plasma using quantitative targeted proteomics. Nat Commun. 7. doi:10.1038/ncomms10261.

McGivern RF, Sokol RZ, Adey WR (1990) Prenatal exposure to a low-frequency electromagnetic field demasculinizes adult scent marking behavior and increases accessory sex organ weights in rats. Teratology 41:1–8

Miller I, Serchi T, Murk AJ, Gutleb AC (2014) The added value of proteomics for toxicological studies. J Toxicol Environ Health B Crit Rev 17:225–246

Mohammadi Roushandeh A, Halabian R, Mozafari P, Soleimani Rad J, Sadeghzadeh Oskouei B, Samadi Kuchaksaraei A, Habibi Roudkenar M (2009) Down-regulation of lipocalin 2 expression in mouse testis after exposure to electromagnetic field. Iran J Med Sci 34:265–270

Ozguner IF, Dindar H, Yagmurlu A, Savas C, Gokcora IH, Yucesan S (2002) The effect of electromagnetic field on undescended testis after orchiopexy. Int Urol Nephrol 33:87–93

Ozguner M, Koyu A, Cesur G, Ural M, Ozguner F, Gokcimen A, Delibas N (2005) Biological and morphological effects on the reproductive organ of rats after exposure to electromagnetic field. Saudi Med J 26:405–410

Parivar K, Nabiuni M, Golestanian N, Amini E (2011) Effect of low frecuency electromagnetic fields on the spermatogenesis and blood serum protein of Balb/c mice. J Cell Tissue 2:47–56

Qiu L, Chen C, Ding G, Zhou Y, Zhang M (2011) The effects of electromagnetic pulse on the protein levels of tight junction associated-proteins in the cerebral cortex, hippocampus, heart, lung, and testis of rats. Biomed Environ Sci 24:438–444

Saygin M, Caliskan S, Karahan N, Koyu A, Gumral N, Uguz AC (2011) Testicular apoptosis and histopathological changes induced by a 2.45 GHz electromagnetic field. Toxicol Ind Health 27:455–463

Sepehrimanesh M (2016) Properties of probiotic bacteria: A proteomic approach. In: Watson RR, Preedy RR, editors. Probiotics, Prebiotics, and Synbiotics Bioactive Foods in Health Promotion. 2nd ed. Academic Press, pp 593–604

Sepehrimanesh M, Kazemipour N, Saeb M, Nazifi S (2014a) Analysis of rat testicular proteome following 30-day exposure to 900 MHz electromagnetic field radiation. Electrophoresis 35:3331–3338

Sepehrimanesh M, Saeb M, Nazifi S, Kazemipour N, Jelodar G, Saeb S (2014b) Impact of 900 MHz electromagnetic field exposure on main male reproductive hormone levels: a Rattus norvegicus model. Int J Biometeorol 58:1657–1663

Sokolovic D et al (2015) The effects of melatonin on oxidative stress parameters and DNA fragmentation in testicular tissue of rats exposed to microwave radiation. Adv Clin Exp Med 24:429–436

Tsiatsiani L, Heck AJ (2015) Proteomics beyond trypsin. FEBS J 282:2612–2626

Wang XW et al (2010) Mechanisms involved in the blood-testis barrier increased permeability induced by EMP. Toxicology 276:58–63

Yang Y, Hu M, Yu K, Zeng X, Liu X (2015) Mass spectrometry-based proteomic approaches to study pathogenic bacteria-host interactions. Protein Cell 6:265–274

Yilmaz F, Dasdag S, Akdag MZ, Kilinc N (2008) Whole-body exposure of radiation emitted from 900 MHz mobile phones does not seem to affect the levels of anti-apoptotic bcl-2 protein. Electromagn Biol Med 27:65–72
Ethics declarations
Conflict of interest
The authors declare that they have no conflict of interest.
Research involving human participants and/or animals
This article does not contain any studies with human participants or animals performed by any of the authors.
Informed consent
Due to the nature of review paper, no informed consent was available.
About this article
Cite this article
Sepehrimanesh, M., Davis, D.L. Proteomic impacts of electromagnetic fields on the male reproductive system. Comp Clin Pathol 26, 309–313 (2017). https://doi.org/10.1007/s00580-016-2342-x
Received:

Accepted:

Published:

Issue Date:
Keywords
Proteome

Mobile phone

Electromagnetic

Male-mediated teratogen

Blood-testis-barrier

Heat-shock proteins