Abstract
Giardia duodenalis is among the most common and frequent intestinal protozoan infecting Egyptian children. The present study aims to identify the genotypic features of G. duodenalis among children fecal samples complaining of diarrhea at Beni-Suef Governorate, Egypt, and to study the association between Giardia assemblages and clinical presentation of the disease among this category. One hundred thirty diarrheic stool samples were subjected to direct stool examination, and positive samples for Giardia were subjected to copro-DNA extraction and amplification targeting the triose phosphate isomerase (tpi) gene using nested polymerase chain reaction (nPCR) technique. Then amplified DNA products were purified and sequenced. Out of 36 microscopically positive samples for Giardia, 28 samples were successfully purified and sequenced; subassemblages AII, BIII, and BIV were detected (10.7, 14,3, and 17,8 %, respectively), and it was difficult to subgroup 16 samples that belong to assemblage B (57 %). Children below the age of 6 are significantly 16 times at risk of infection with assemblage B than assemblage A (p value = .001). Flatulence and presence of fat particles on microscopic examination were significantly associated with infection (p value = 0.001, 0.027, respectively). However, assemblage B was associated with variations of symptomology than A. The present study focuses on giardiasis among Beni-Suef community. Infection is due to both assemblages: assemblage B is more prevalent (89.3 %) than A (10.7 %) and assemblage AI was not recorded. More studies are needed to identify source of infection.
Access options
Buy single article
Instant access to the full article PDF.
US$ 39.95
Tax calculation will be finalised during checkout.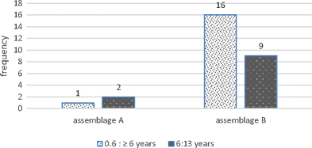 References
Al-Mohammed HI (2011) Genotypes of Giardia intestinalis clinical isolates of gastrointestinal symptomatic and asymptomatic Saudi children. Parasitol Res 108:1375–1381

Alyousefi NA, Mahdy MA, Xiao L, Mahmud R, Lim YA (2013) Molecular characterization of Giardia duodenalis in Yemen. Exp Parasitol 134(2):141–147

Amar CF, Dear PH, Pedraza-Diaz S, Looker N, Linnane E, McLauchlin J (2002) Sensitive PCR-restriction fragment length polymorphism assay for detection and genotyping of Giardia duodenalis in human feces. J Clin Microbiol 40:446–452

Anuar TS, Al-Mekhlafi HM, Ghani MK, Osman E, Yasin AM, Nordin A et al (2012) Giardiasis among different tribes of orang Asli in Malaysia: high lighting the presence of other family members infected with Giardia intestinalis as a main risk factor. Int J Parasitol 42:871–880

Bertrand I, Albertini L, Schwartzbord J (2005) Comparison of two target genes for detection and genotyping of Giardia lamblia in human feces by PCR and PCR-restriction fragment length polymorphism. J Clin Microbiol 43:5940–5944

Bonhomme J, Le Goff L, Lemée V, Gargala G, Ballet JJ, Favennec L (2011) Limitations of tpi and bg genes sub-genotyping for characterization of human Giardia duodenalis isolates. Parasitol Int 60(3):327–330

Breathnach AS, McHugh TD, Butcher PD (2010) Prevalence and clinical correlations of genetic subtypes of Giardia lamblia in an urban setting. Epidemiol Infect 138(10):1459–1467

Caccio SM, Ryan U (2008) Molecular epidemiology of giardiasis. Mol Biochem Parasitol 160:75–80

Cacciò SM, Beck R, Lalle M, Marinculic A, Pozio E (2008) Multilocus genotyping of Giardia duodenalis reveals striking differences between assemblages a and B. Int J Parasitol 38(13):1523–1531

Castro-Hermida JA, Almeid A, González-Warleta M, Correia Da Costa JM, Mezo M (2006) Prevalence and preliminary genetic analysis of Giardia isolated from adult sheep in Galicia (Northwest Spain). J Eukaryot Microbiol 53:S172–S1S3

Choy SH, Al-Mekhlafi HM, Mahdy MA, Nasr NN, Sulaiman M, Lim YA, Surin J (2014) Prevalence and associated risk factors of Giardia infection among indigenous communities in rural Malaysia. Sci Rep 4:6909. doi:10.1038/srep06909

El Bakri A, Samie A, Bessong P, Potgieter N, Odeh RA (2014) Detection and molecular characterisation of Giardia lamblia genotypes in Sharjah, United Arab Emirates. Trans R Soc Trop Med Hyg 108(8):466–473

El Basha NR, Zaki MM, Hassanin OM, Rehan MK, Omran D, Giardia Assemblages A, in Diarrheic Patients B (2016) A comparative study in Egyptian children and adults. J Parasitol 102(1):69–74. doi:10.1645/14-676

Eligio-Garcia L, Cortes-Campos A, Cota-Guajardo S et al (2008) Frequency of Giardia intestinalis assemblages isolated from dogs and humans in a community from Culiacan, Sinaloa, Mexico using b-giardin restriction gene. Vet Parasitol 156:205–209

El-Tantawy NL, Taman AI (2014) The epidemiology of Giardia intestinalis assemblages a and B among Egyptian children with diarrhea: a PCR–RFLP-based approach. Parasitologists United Journal 7:104–109

Etemadi S, Zia-Ali N, Babaei Z (2011) The correlation between clinical signs and genotypes of Giardia duodenalis isolated from patients with giardiasis in Kerman City. J Kerman Univ Med Sci 18(4):330–336

Fahmy HM, El-Serougi AO, El Deeb HK, Hussein HM, Abou-Seri HM, Klotz C et al (2015) Giardia duodenalis assemblages in Egyptian children with diarrhea. Eur J Clin Microbiol Infect Dis 34(8):1573–1581

Feng Y, Xıao L (2011) Zoonotic potential and molecular epidemiology of Giardia species and giardiasis. Clin Microbiol Rev 24:110–140

Foronda P, Bargues MD, Abreu-Acosta N, Periago MV, Valero MA, Valladares B, Mas-Coma S (2008) Identification of genotypes of Giardia intestinalis of human isolates in Egypt. Parasitol Res 103:1177–1181

Fouad SA, Esmat S, Basyoni MM, Farhan MS, Kobaisi MH (2014) Molecular identification of Giardia intestinalis in patients with dyspepsia. Digestion 90(1):63–71

Gelanew T, Lalle M, Hailu A, Pozio E, Caccio SM (2007) Molecular characterization of human isolates of Giardia duodenalis from Ethiopia. Acta Trop 102:92–99

Haque R (2007) Human intestinal parasites. J Health Population and Nutrition 25:387–391

Haque R, Roy S, Kabir M, Stroup SE, Mondal D, Houpt ER (2005) Giardia assemblage a infection and diarrhea in Bangladesh. J Infect Dis 192:2171–2173 40

Helmy MM, Abdel-Fattah HS, Rashed L (2009) Real-time PCR-RFLP assay to detect Giardia intestinalis genotypes in human isolates with diarrhea in Egypt. J Parasitol 95(4):1–5

Helmy YA, Klotz C, Wilking H, Krücken J, Nöckler K, Von Samson-Himmelstjerna G et al (2014) Epidemiology of Giardia duodenalis infection in ruminant livestock and children in the Ismailia province of Egypt: insights by genetic characterization. Parasit Vectors 7(1):321. doi:10.1186/1756-3305-7-321

Ignatius R, Gahutu JB, Klotz C, Steininger C, Shyirambere C, Lyng M et al (2012) High prevalence of Giardia duodenalis assemblage B.Infection and association with underweight in Rwandan children. PLoS Negl Trop Dis 6(6):1–9

Lim YA, Ahmad RA, Smith HV (2008) Current status and future trends in Cryptosporidium and Giardia epidemiology in Malaysia. J Water Health 6:239–254

Minetti C, Lamden K, Durband C, Cheesbrough J, Fox A, Jonathan M et al (2015) Determination of Giardia duodenalis assemblages and multi-locus genotypes in patients with sporadic giardiasis from England. Parasites & Vectors 8:444. doi:10.1186/s13071-015-1059-z

Molina N, Pezzani B, Ciarmela M, Orden A, Rosa D, Apezteguía M et al (2011) Intestinal parasites and genotypes of Giardia intestinalis in school children from Berisso, Argentina. J Infect Dev Ctries 5(7):527–534

Monis PT, Andrews RH, Mayrhofer G, Ey PL (1999) Molecular systematic of the parasitic protozoan Giardia intestinalis. Mol Biol Evol 16:1135–1144

Nematian J, Gholamrezanezhad A, Nematian E (2008) Giardiasis and other intestinal parasitic infections in relation to anthropometric indicators of malnutrition: alarge, population based survey of schoolchildren in Tehran. Ann Trop Med Parasitol 102(3):209–214

Puebla LJ, Núñez FA, Fernández YA, Fraga J, Rivero LR, Millán IA et al (2014) Correlation of Giardia duodenalis assemblages with clinical and epidemiological data in Cuban children. Infect Genet Evol 23:7–12

Read C, Walters J, Robertson ID, Thompson RC (2002) Correlation between genotype of Giardia duodenalis and diarrhoea. Int J Parasitol 32:229–231

Ryan U, Cacciò SM (2013) Zoonotic potential of Giardia. Int J Parasitol 43(12–13):943–956

Sadek GS, El-Settawy MA, Nasr SA (2013) Genotypic characterization of Giardia duodenalis in children in Menoufiya and Sharkiya governorates. Egypt Life Science J 10(1)

Sahagún J, Clavel A, Goñi P, Seral C, Llorente MT, Castillo FJ et al (2008) Correlation between the presence of symptoms and the Giardia duodenalis genotype. Eur J Clin Microbiol Infect Dis 27:81–83

Soliman RH, Fuentes I, Rubio JM (2011) Identification of a novel assemblage B subgenotype and a zoonotic a ssemblage C in human isolates of Giardia intestinalis in Egypt. Parasitol Int 60:507–511

Sulaiman IM, Fayer R, Bern C, Gilman RH, Trout JM, Schantz PM (2003) Triosephosphate isomerase gene characterization and potential zoonotic transmission of Giardia duodenalis. Emerg Infect Dis 9(11):1444–1452

Thompson RC, Monis PT (2004) Variation in Giardia: implication for taxonomy and epidemiology. Adv Parasitol 58:69–137

Thompson RC, Smith A (2011) Zoonotic enteric protozoa. Vet Parasitol 182:70–78

Thompson R, Hopkins R, Homan W (2000) Nomenclature and genetic groupings of Giardia infecting mammals. Parasitol Today 16:210–213

Traub RJ, Monis PT, Robertson I, Irwin P, Mencke N, Thompson RCA (2004) Epidemiological and molecular evidence supports the zoonotic transmission of Giardia among humans and dogs living in the same community. Parasitology 128:253–262

Van Keulen H, Macechko PT, Wade S, Schaaf S, Wallis PM, Erlandsen SL (2002) Presence of human Giardia in domestic, farm and wild animals, and environmental samples suggests a zoonotic potential for giardiasis. Vet Parasitol 108:97–97
Acknowledgments
We are grateful to the Scientific Research Developing Unit, Beni-Suef University for granting and funding the study.
Ethics declarations
The research protocol was approved by the Ethics Committee of Scientific Research Developing Unit, Beni-Suef University and comes in accordance with the 1964 Helsinki declaration.
Conflict of interest
The authors declare that they have no conflict of interest.
Informed consent
It was obtained from all parents of children included in the study, and they were informed about purpose of the study and sample collection (stool samples) was obtained after their agreement.
Funding
The research was funded and granted by the Scientific Research Developing Unit, Beni-Suef University, which was given to the first author (Ghieth M. A).
About this article
Cite this article
Ghieth, M.A., El-Badry, A.A., Abu-Sarea, E.Y. et al. Genotypic analysis of Giardia duodenalis in children at Egypt. Comp Clin Pathol 25, 1241–1246 (2016). https://doi.org/10.1007/s00580-016-2337-7
Received:

Accepted:

Published:

Issue Date:
Keywords
Giardiasis

Giardia duodenalis

tpi

Assemblage

Genotyping

Egypt