Abstract
Glyphosate-based herbicides are extensively used for weed control all over the world. Thus, it is important to investigate the putative toxic effects of these commercial formulations which contain not only glyphosate but also different adjuvants. 3T3-L1 fibroblasts are a useful tool in the study of adipocyte differentiation. We have previously reported that a commercial glyphosate formulation inhibits proliferation and differentiation in these cells. In the present investigation, we further evaluated the effect of different commercial glyphosate-based herbicides on 3T3-L1 fibroblast proliferation and differentiation and compared their effect with glyphosate itself. After treatment of 3T3-L1 fibroblasts with different concentrations of three glyphosate formulations or glyphosate itself, the increase in cell number or cytosolic lipid accumulation was determined. To evaluate the presence of polyethoxylated adjuvants, matrix-assisted laser desorption/ionization (MALDI) analysis of the three commercial glyphosate-based herbicides was also performed. We found that the three commercial formulations tested were more potent inhibitors of both physiological processes: proliferation and differentiation to adipocytes of 3T3-L1 fibroblasts than glyphosate. We also found by MALDI analysis that the adjuvants were polyethoxylated in two of the formulations but not in the third one. It is well known the toxic effect of polyethoxylated adjuvants, but according to our results, non-polyethoxylated adjuvants may also contribute to the toxic effects. Our results further support the ability of glyphosate-based herbicides to disturb cellular physiology and highlight the importance of toxicological assessment of commercial formulations rather than glyphosate alone.
Access options
Buy single article
Instant access to the full article PDF.
USD 39.95
Price excludes VAT (USA)
Tax calculation will be finalised during checkout.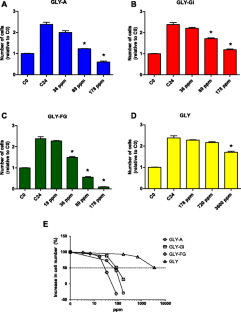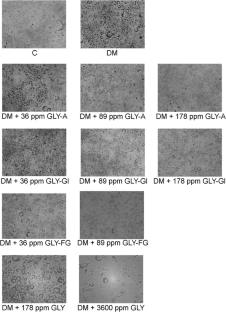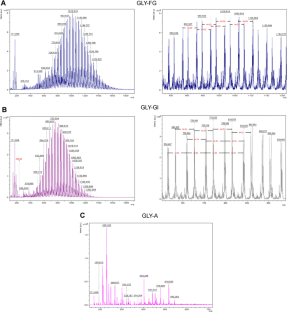 References
Acquavella JF, Alexander BH, Mandel JS, Gustin C, Baker B, Chapman P, Bleeke M (2004) Glyphosate biomonitoring for farmers and their families: results from the farm family exposure study. Environ Health Perspect 112:321–326

Adam A, Marzuki A, Abdul Rahman H, Abdul Aziz M (1997) The oral and intratracheal toxicities of ROUNDUP and its components to rats. Vet Hum Toxicol 39:147–151

Benachour N, Sipahutar H, Moslemi S, Gasnier C, Travert C, Seralini GE (2007) Time- and dose-dependent effects of Roundup® on human embryonic and placental cells. Arch Environ Contam Toxicol 53:126–133

Dill GM, Cajacob CA, Padgette SR (2008) Glyphosate-resistant crops: adoption, use and future considerations. Pest Manag Sci 64:326–331

Gasnier C, Dumont C, Benachour N, Clair E, Chagnon MC, Séralini GE (2009) Glyphosate-based herbicides are toxic and endocrine disruptors in human cell lines. Toxicology 262:184–191

Gianessi LP (2005) Economic and herbicide use impacts of glyphosate-resistant crops. Pest Manag Sci 61:241–245

Marc J, Bellé R, Morales J, Cormier P, Mulner-Lorillon O (2004) Formulated glyphosate activates the DNA-response checkpoint of the cell cycle leading to the prevention of G2/M transition. Toxicol Sci 82:4364–4342

Martini C, Plaza MV, Vila MC (2009) PKA-dependent and independent cAMP signalling in 3T3-L1 fibroblasts differentiation. Mol Cell Endocrinol 298:42–47

Martini CN, Gabrielli M, Vila MC (2012) A commercial formulation of glyphosate inhibits proliferation and differentiation to adipocytes and induces apoptosis in 3T3-L1 fibroblasts. Toxicol In Vitro 26:1007–1013

Martini CN, Brandani JN, Gabrielli M, Vila MC (2014) Effect of hexavalent chromium on proliferation and differentiation to adipocytes of 3T3-L1 fibroblasts. Toxicol In Vitro 28:700–706

Mesnage R, Bernay B, Séralini GE (2013) Ethoxylated adjuvants of glyphosate-based herbicides are active principles of human cell toxicity. Toxicology 313:122–128

Paganelli A, Ganso V, Acosta H, López SL, Carrasco AE (2010) Glyphosate-based herbicides produce teratogenic effects on vertebrates by impairing retinoic acid signaling. Chem Res Toxicol 23:1586–1595

Peruzzo PJ, Porta AA, Ronco AE (2008) Levels of glyphosate in surface waters, sediments and soils associated with direct sowing soybean cultivation in north pampasic region of Argentina. Environ Pollut 156:61–66

Piola L, Fuchs J, Oneto ML, Basack S, Kesten E, Casabe N (2013) Comparative toxicity of two glyphosate-based formulations to Eisenia andrei under laboratory conditions. Chemosphere 91:545–551

Poletta GL, Larriera A, Kleinsorge E, Mudry MD (2009) Genotoxicity of the herbicide formulation Roundup (glyphosate) in broad-snouted caiman (Caiman latirostris) evidenced by the comet assay and the micronucleus test. Mutat Res 672:95–102

Qiu Z, Wei Y, Chen N, Jiang M, Wu J, Liao K (2001) DNA synthesis and mitotic clonal expansion is not a required step for 3T3-L1 preadipocytes into adipocytes. J Biol Chem 276:11988–11995

Richard S, Moslemi S, Sipahutar H, Benachour N, Seralini GE (2005) Differential effects of glyphosate and roundup on human placental cells and aromatase. Environ Health Perspect 113:716–720

Wang ZX, Jiang CS, Liu L, Wang XH, Jin HJ, Wu Q, Chen Q (2005) The role of AKT on arsenic trioxide suppression of 3T3-L1 preadipocyte differentiation. Cell Res 15:379–386
Acknowledgments
This work was funded by research grants from Consejo Nacional de Investigaciones Científicas y Técnicas of Argentina. The funders had no role in study design, data and analysis, decision to publish, or preparation of the manuscript.
Ethics declarations
Conflict of interest
The authors declare that they have no conflicts of interest.
Human and animal rights and informed consent
This article does not contain any studies with human participants or animals performed by any of the authors.
About this article
Cite this article
Martini, C.N., Gabrielli, M., Codesido, M.M. et al. Glyphosate-based herbicides with different adjuvants are more potent inhibitors of 3T3-L1 fibroblast proliferation and differentiation to adipocytes than glyphosate alone. Comp Clin Pathol 25, 607–613 (2016). https://doi.org/10.1007/s00580-016-2238-9
Received:

Accepted:

Published:

Issue Date:

DOI: https://doi.org/10.1007/s00580-016-2238-9
Keywords