Abstract
Investigation of antihypertensive and antioxidant properties of fruit and leaf extracts from four varieties (giant white, small white, stripped and pink) of guava (Psidium guajava L.) in vitro was the focus of this study. Consequently, methanol/1 M HCl (20:1 v/v) extraction of fruit and leaf of the guava varieties were carried out. Thereafter, the extracts were assayed for their angiotensin I converting enzyme (ACE) inhibitory effect, total phenol and flavonoid contents, reducing property, radicals (DPPH, ABTS•+, hydroxyl and nitric oxide) scavenging ability, Fe2+ chelating ability, and inhibition of Fe2+ and Sodium nitroprusside (SNP) induced lipid peroxidation reactions (in vitro). Furthermore, the phenolic constituents of the extracts were characterised with gas chromatography (GC). The results showed that all the extracts significantly (P < 0.05) inhibited ACE activity, scavenged (DPPH, ABTS•+, nitric oxide and hydroxyl) radicals, chelated Fe2+ and also inhibited Fe2+ and SNP induced lipid peroxidation in rat heart (in vitro). Nevertheless, the pink guava variety had the highest ACE inhibitory and antioxidant properties. In addition, Rosmarinic acid, eugenol, carvacrol, catechin and caffeic acid were the dominant phenolics found in the extracts. The ACE inhibitory effects and antioxidant properties of the guava extracts, which correlates significantly with their phenolic constituents, could largely contribute to their antihypertensive properties as obtained in traditional medicine.
This is a preview of subscription content, log in to check access.
Access options
Buy single article
Instant access to the full article PDF.
US$ 39.95
Price includes VAT for USA
Subscribe to journal
Immediate online access to all issues from 2019. Subscription will auto renew annually.
US$ 99
This is the net price. Taxes to be calculated in checkout.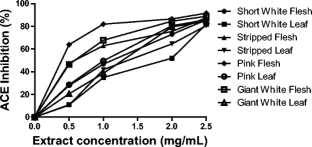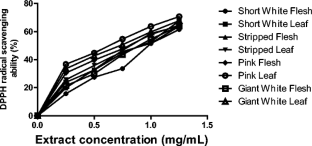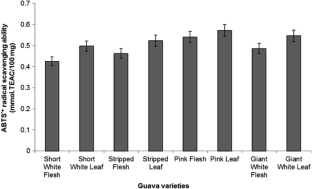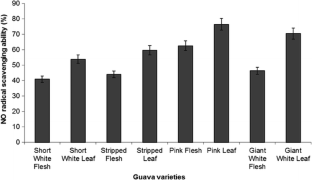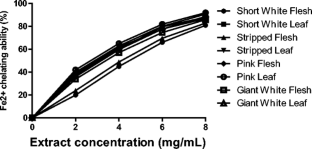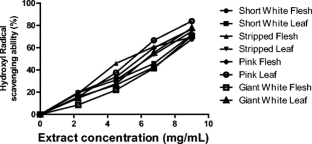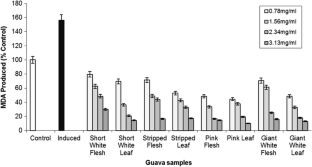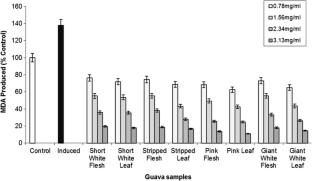 References
Ademiluyi AO, Oboh G (2013) Soybean phenolic-rich extract inhibit key-enzymes linked to type 2 diabetes (a-amylase and a-glucosidase) and hypertension (angiotensin 1 converting enzyme) in vitro. Exp Toxicol Pathol 65(3):305–309

Ademiluyi AO, Oboh G, Aragbaiye FP, Oyeleye SI, Ogunsuyi OB (2015a) Antioxidant properties and in vitro α-amylase and α-glucosidase inhibitory properties of phenolics constituents from different varieties of Corchorus spp. J Taibah Univ Med Sci 10:278–287

Ademiluyi AO, Oyeleye SI, Oboh G (2015b) Biological activities, antioxidant properties and phytoconstituents of essential oil from sweet basil (Ocimum basilicum L.) leaves. Comp Clin Pathol. doi:10.1007/s00580-015-2163-3

Ajila CM, Prasada UJS (2008) Protection against hydrogen peroxide induced oxidative damage in rat erythrocytes by Mangifera indica L. peel extract. Food Chem Toxicol 46:303–309

Arnao MB (2011) Some methodological problems in the determination of antioxidant activity using chromogen radicals: a practical case. Trends Food Sci Technol 11:419–421

Ayub MY, Norazmir MN, Mamot S, Jeeven K, Hadijah H (2010) Anti-hypertensive effect of pink guava (Psidium guajava) puree on spontaneous hypertensive rats. Int Food Res J 17:89–96

Bajpai M, Pande A, Tewari SK, Prashad D (2005) Phenolic content and antioxidant activity of some food and medicinal plants. Int J Food Sci Nutr 4:287–291

Balasuriya BWN, Rupasinghe HPV (2011) Plant flavonoids as angiotensin converting enzyme inhibitors in regulation of hypertension. Funct Foods Health Dis 1:172–188

Belle NAV, Dalmolin GD, Fonini G, Rubim MA, Rocha JBT (2004) Polyamines reduce lipid peroxidation induced by different pro-oxidant agents. Brain Res 1008:245–251

Bravo L (1998) Polyphenols: chemistry, dietary sources, metabolism, and nutritional significance. Nutr Rev 56:317–333

Calcerrada P, Peluffo G, Radi R (2011) Nitric oxide-derivedoxidants with a focus on peroxynitrite: molecular targets, cellular responses and therapeutic implications. Curr Pharm Des 17(35):3905–3932

Chu Y, Sun J, Wu X, Liu RH (2002) Antioxidant and antiproliferative activity of common vegetables. J Agric Food Chem 50(23):6910–6916

Crews DE (2007) Senescence, aging and disease. J Physiol Anthropol 26:365–372

Cushman DW, Cheung HS (1971) Spectrophotometric assay and properties of the Angiotensin 1-converting enzyme of rabbit lung. Biochem Pharmacol 20:1637–1648

Dastmalchi K, Dorman HJD, Kosar M, Hiltunen R (2007) Chemical composition and in vitro antioxidant evaluation of a water soluble Moldavian balm (Dracocephalum moldavica L.) extract. Lebensm Wiss Technol 40:239–248

Gyamfi M, Yonamine M, Aniya Y (1999) Free-radical scavenging action of medicinal herbs from Ghana:Thonningia sanguinea on experimentally-induced liver injuries. Gen Pharmacol 32:661–667

Halliwell B, Gutteridge JMC (1981) Formation of a thiobarbituric-acid- reactive substance from deoxyribose in the presence of iron salts: the role of superoxide and hydroxyl radicals. FEBS Lett 128:347–352

Joseph S, Chatli MK, Biswas AK, Sahoo J (2014) Efficacy of pink guava pulp as an antioxidant in raw pork emulsion. J Food Sci Technol 51(8):1492–1500

Kaisserlian CE, Razzouq N, Astier A, Paul M (2005) Sodium nitroprusside stability at 1 μg/mL in aqueous solutions. Eur J Hosp Pharm Sci 11:88–90

Kelley WTD, Coffey DL, Mueller TC (1994) Lipid chromatographic determination of phenolic acids in soil. J AOAC Int 77:805–809

Kennelly EJ, Flores G, Dastmalchi K, Wu S-B, Whalen K, Dabo AJ, Reynertson KA, Foronjy RF, Doarmiento JM (2013) Phenolic-rich extract from the Costa Rican guava (Psidium friedrichsthalianum) pulp with antioxidant and anti-inflammatory activity. Potential for COPD therapy. Food Chem 141:889–895

Manso MA, Marta M, Jeanne E, Rosario H, Amaya A, Rosina L (2008) Effect of the long-term intake of an egg white hydrolysate on the oxidative status and blood lipid profile of spontaneously hypertensive rats. Food Chem 109:361–367

Marcocci L, Maguire JJ, Droy-Lefaix MT, Packer L (1994) The nitric oxide-scavenging properties of Ginkgo biloba extract EGb 761. Biochem Biophys Res Commun 201:748–755

Meda A, Lamien CE, Romito M, Millogo J, Nacoulma OG (2005) Determination of the total phenolic, flavonoid and praline contents in Burkina Fasan honey, as well as their radical scavenging activity. Food Chem 91:571–577

Miguel M, Aleixandre MA, Ramos M, López- Fandiño R (2006) Effect of simulated gastrointestinal digestion on the antihypertensive properties of ACE- inhibitory peptides derived from ovalbumin. J Agric Food Chem 54:726–731

Minotti G, Aust SD (1987) An investigation into the mechanism of citrate-Fe2+-dependent lipid peroxidation. Free Radic Biol Med 3:379–387

Mukherjee PK, Chaudhary SK, Maity N, Nema NK, Bahdra S, Saha BP (2014) Ocimum sactum L, a potential angiotensin converting enzyme (ACE) inhibitor useful in hypertension. Indian J Natur Prod Resour 5:83–87

Musaa KH, Abdullaha A, Subramaniamb V (2015) Flavonoid profile and antioxidant activity of pink guava. Skin 172(36b):308-57a

Oboh G, Rocha JBT (2007) Polyphenols in Red Pepper [Capsicum annuumvar. aviculareTepin)] and their protective effect on some pro-oxidants induced lipid peroxidation in brain and liver. Eur Food Res Tech 225:239–247

Oboh G, Ogunruku OO, Ogidiolu FO, Ademiluyi AO, Adedayo BC, Ademosun AO (2014) Interaction of some commercial teas with some carbohydrate metabolizing enzymes linked with type-2 diabetes: a dietary intervention in the prevention of type-2 diabetes. Advanc Prev Med 2014:534082

Ogbole OO, Adeniji JA, Ajaiyeoba EO, Adu DF (2013) Anti-polio virus activity of medicinal plants selected from the Nigerian ethno-medicine. Acad J 12(24):3878–3883

Ogunmefun OT, Fasola TR, Saba AB, Akinyemi AJ (2015) Inhibitory effect of Phragmanthera incana (Schum.) harvested from Cocoa (Theobroma Cacao) and Kolanut (Cola Nitida) trees on Fe2+ induced lipid oxidative stress in some rat tissues-in vitro. IJBS 11(1):16

Ohkawa H, Ohishi N, Yagi K (1979) Assay for lipid peroxides in animal tissues by thiobarbituric acid reaction. Anal Biochem 95:351–358

Ojewole JA (2005) Hypoglycemic and hypotensive effects of Psidium guajava L, (Myrtaceae) leaf aqueous extracts. Methods Find Exp Clin Pharmacol 27:689–695

Oyaizu M (1986) Studies on products of browning reaction: antioxidative activity of products of browning reaction prepared from glucosamine. Jpn J Nutr 44:307–315

Puntel RL, Nogueira CW, Rocha JBT (2005) Krebs cycle intermediates modulate thiobarbituric acid reactive species (TBARS) production in rat brain in vitro. Neurochem Res 30:225–235

Quifones M, Guerrero L, Suarez M, Poro Z, Aleicandre A, Arola L, Muguerza B (2013) Low-molecular procyanidin rich grape seed extract exerts antihypertensive effect in males spontaneously hypertensive rats. Food Res Int 51(2):587–595

Radi R (2004) Nitric oxide, oxidants, and protein tyrosine nitration. Proc Natl Acad Sci U S A 101:4003–4008

Re R, Pellegrini N, Proteggente A, Pannala A, Yang M, Rice-Evans C (1999) Antioxidant activity applying an improved ABTS radical cation decolorisation assay. Free Radic Biol Med 26:1231–1237

Roy CK, Kamath JV, Asad M (2006) Hepatoprotective activity of Psidium guajava L leaf extract. Indian J Exp Biol 44:305–311

Ruttoh EK, Bii C, Tarus PK, Machocho A, Karimi LK, Okemo P (2009) Antifungal activity of Tabernaemontana stapfiana Britten (Apocynaceae) organic extracts. Pharmacognosy Res 1(6):387

Schiffrin EL (2010) Antioxidants in hypertension and cardiovascular diseases. Mol Inter 10:354–362

Singleton VL, Orthofer R, Lamuela-Ravent´os RM (1999) Analysis of total phenols and other oxidation substrates and antioxidants by means of folin-ciocalteu reagent. Methods Enzymol 299:152–178

Taler SJ, Agarwal R, Bakris GL, Flynn JT, Nilsson PM, Rahman M, Sanders PW, Textor SC, Weir MR, Townsend RR (2013) KDOQI US commentary on the 2012 KDIGO clinical practice guideline for management of blood pressure in CKD. Am J Kidney Dis 62(2):201–213

Umamaheswari M, Ajith MP, Asokkumar K, Sivashanmugam T, Subhadradevi V, Jagannath P, Madeswaran A (2012) In vitro angiotensin converting enzyme inhibitory and antioxidant activities of seed extract of Apium graveolens Linn. Ann Biol Res 3:1274–1282

Wagner C, Fachinetto R, Dalla Corte CL, Brito VB, Severo D, De Oliveira Costa Dias G, Morel AF, Nogueira CW, Rocha JB (2006) Quercitrin, a glycoside form of quercetin, prevents lipid peroxidation in vitro. Brain Res 1107(1):192–198

Wan Nur Zahidah WZ, Noriham A, Zainon MN (2011) Antioxidant activity of plant by-products (pink guava leaves and seeds) and their application in cookies. Thai J Agric Sci 44(5):374–383

Zar JH (1984) Biostatistical analysis. Prentice-Hall, Inc., Upper Saddle River, p 620

Zhang Z-L, Lia Q-L, Lia B-G, Zhangb Y, Gaob X-P, Lia C-Q (2008) Three angiotensin-converting enzyme inhibitors from Rabdosia coetsa. Phytomedicine 15:386–388
About this article
Cite this article
Ademiluyi, A.O., Oboh, G., Ogunsuyi, O.B. et al. A comparative study on antihypertensive and antioxidant properties of phenolic extracts from fruit and leaf of some guava (Psidium guajava L.) varieties . Comp Clin Pathol 25, 363–374 (2016). https://doi.org/10.1007/s00580-015-2192-y
Received:

Accepted:

Published:

Issue Date:
Keywords
Guava varieties

Phenolic compounds

Hypertension

Angiotensin I converting enzyme

Antioxidant