Abstract
Rhipicephalus (Boophilus) microplus is a natural parasite of cattle, with rare reports of parasitism in horses. Therefore, the aim of this study is to report a rare case of high infestation by R. (B.) microplus in a mare in the town of Riqueza, state of Santa Catarina, Southern Brazil. In December 2012, in a farm with 12 horses in its herd, a single mare was highly infected, showing clinical signs such as pale to pink mucous membranes and bleeding in the neck, the main place in her body where the ticks were fixed. The horse was treated through the use of a spray with a drug association of cypermethrin, chlorpyrifos, and citronellal (Colosso®), showing temporary effectiveness, since 15 days posttreatment immature forms (larvae and nymphs) of ticks were again found. Therefore, this mare has high susceptibility to parasitism by R. (B.) microplus, differently from the other horses at the same farm that were not parasitized by this mite.
Access options
Buy single article
Instant access to the full article PDF.
USD 39.95
Price excludes VAT (USA)
Tax calculation will be finalised during checkout.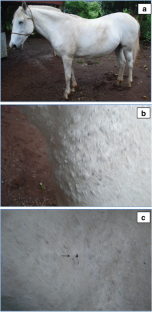 References
Battsetseg B, Lucero S, Xuan X, Claveria FG, Inoue N, Alhassan A, Kanno T, Igarashi I, Nagasawa H, Mikami T, Fujisaki K (2002) Detection of natural infection of Boophilus microplus with Babesia equi and Babesia caballi in Brazilian horses using nested polymerase chain reaction. Vet Parasitol 107:351–357

Dantas-Torres F (2009) Ticks on domestic animals in Pernambuco, Northeastern Brazil. Rev Bras Parasitol Vet 18:22–28

Evans DE, Martins JR, Guglielmone AA (2000) A review of the ticks (Acari, Ixodida) of Brazil, their hosts and geographic distribution. The State of Rio Grande do Sul, Sothern Brazil. Mem Inst Oswaldo Cruz 95:453–470

Figueiredo LTM, Badra SJ, Pereira LE, Szabó MPJ (1999) Report on ticks collected in the Southeast and Mid-West regions of Brazil: analyzing the potential transmission of tick-borne pathogens to man. Rev Soc Bras Med Trop 32:613–619

Franque MP, Santos HA, Linarez FFM, Masard CL (2009) Infestação experimental de equinos por Rhipicephalus (Boophilus) microplus. Ciênc Rural 39:2117–2122

Kerber CE, Labruna MB, Ferreira F, De Waal DT, Knowles DP, Gennari SM (2009) Prevalence of equine Piroplasmosis and its association with tick infestation in the State of São Paulo, Brazil. Rev Bras Parasitol Vet 18:1–8

Labruna MB, Kerber CE, Ferreira F, Faccini JLH, De Waal DT, Gennari SM (2001) Risk factors to tick infestations and their occurrence on horses in the state of São Paulo, Brazil. Vet Parasitol 97:1–14

Soares JF, Sangioni LA, Vogel FSF, Da Silva CFB (2007) Human parasitism by B. microplus (Acari: Ixodidae) em Santa Maria, RS, Brasil. Ciênc Rural 37:1495–1497

Teglas M, Matern E, Lein S, Foley P, Mahan SM, Foley J (2005) Ticks and tick-borne disease in Guatemalan cattle and horses. Vet Parasitol 131:119–127

Torres AIJ, Finger IS, Farias NAR, Nizoli LQ, Silva SS, Nogueira CEW (2012) Aspectos epidemiológicos da Theileriose equina e sua relação com o carrapato Rhipicephalus (Boophilus) microplus em duas propriedades na região da campanha do Rio Grande do Sul – Brasil. Rev Ibero-Latinoam Parasitol 71:70–77
About this article
Cite this article
Volpato, A., Agostini, M., Tonin, A.A. et al. High infestation by Rhipicephalus (Boophilus) microplus in a mare: a rare case report. Comp Clin Pathol 22, 1263–1265 (2013). https://doi.org/10.1007/s00580-013-1787-4
Received:

Accepted:

Published:

Issue Date:

DOI: https://doi.org/10.1007/s00580-013-1787-4
Keyword
Equine

Parasitism

Tick

Susceptibility

Clinical signs