Abstract
Liza klunzingeri is an important species in the Persian Gulf and Oman Sea. A large number of L. klunzingeri suffered acute mortality in the Persian Gulf and Oman Sea coasts. The infected fish showed some clinical signs such as abnormal and whirling swimming, changes in pigmentation, swelling of swim bladder, and belly-up position. The affected fish showed hemorrhage in lateral and abdominal cavities. Also, hemorrhages were seen in the operculum, and thoracic and caudal fins. Abdominal cavity had no abnormality. For histological examination, the samples were fixed in Bouin's fixative. After tissue processing, 5-μm sections were stained with hematoxylin and eosin. Microscopic observation of spleen, liver, intestine, gills, and kidney tissue showed no morphological and histopathological changes. However, necrosis and vacuolation were seen in both brain and retinal tissues. Lesions were severe and widespread in the gray matter compared to white matter. The current report is the first description and account of an acute mortality with viral nervous necrosis similar clinical signs and histopathology in the Persian Gulf and Oman Sea involving L. klunzingeri.
Access options
Buy single article
Instant access to the full article PDF.
US$ 39.95
Tax calculation will be finalised during checkout.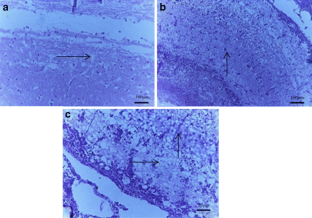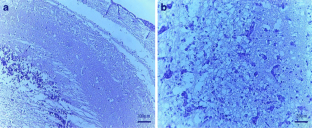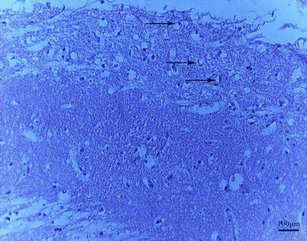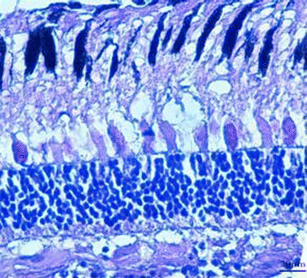 References
Azad IS, Shekhar MS, Thirunavukkarasu AR, Poornima M, Kailasam M, Rajan JJS, Ali SA, Abraham M, Ravichandran P (2005) Nodavirus infection causes mortalities in hatchery produced larvae of Lates calcarifer: first report from India. Dis Aquat Org 63:113–118

Azad IS, Jithendran KP, Shekhar MS, Thirunavukkarasua AR, de la Pena LD (2006) Immunolocalization of nervous necrosis virus indicates vertical transmission in hatchery produced Asian seabass (Lates calcarifer)(Bloch)—a case study. Aquaculture 255:9–47

Comps M, Pepin JF, Bonami JR (1994) Purification and characterization of two fish encephalitis viruses (FEV) infecting Lates calcarifer and Dicentrarchus labrax. Aquaculture 123:1–10

Glazebrook JS, Heasman MP, De Beer SW (1990) Picorna-like viral particles associated with mass mortalities in larval barramundi, Lates calcarifer (Bloch). J Fish Dis 13:245–249

Grotmol ST, Totland G, Kryvi H (1997) Detection of a nodavirus-like agent in heart tissue from reared Atlantic salmon Salmo salar suffering from cardiac myopathy syndrome (CMS). Dis Aquat Org 29:79–84

Hick P, Whittington RJ (2010) Optimisation and validation of a real-time reverse transcriptase-polymerase chain reaction assay for detection of betanodavirus. J Virol Method 163:368–377

Hick P, Tweedie A, Whittington R (2010) Preparation of fish tissues for optimal detection of betanodavirus. Aquaculture 310:20–26

Hick P, Schipp G, Bosmans J, Humphrey J, Whittington R (2011) Recurrent outbreaks of viral nervous necrosis in intensively cultured barramundi (Lates calcarifer) due to horizontal transmission of betanodavirus and recommendations for disease control. Aquaculture 319:41–52

Iwamoto T, Mise K, Takeda A, Okinaka Y, Mori K, Arimoto M, Okuno T, Nakai T (2005) Characterization of striped jack nervous necrosis virus subgenomic RNA3 and biological activities of its encoded protein B2. J Gen Virol 86:2807–2816

Johansen RT, Ranheim MK, Hansen T, Taksdal GK, Totland A (2002) Pathological changes in juvenile Atlantic halibut Hippoglossus hippoglossus persistently infected with nodavirus. Dis Aquat Org 50:161–169

Kokawa Y, Takami I, Nishizawa T, Yoshimizu M (2008) A mixed infection in sevenband grouper Epinephelus septemfasciatus affected with viral nervous necrosis (VNN). Aquaculture 284:41–45

Lin C, Lin JY, Chen M, Yang H (2007) An oral nervous necrosis virus vaccine that induces protective immunity in larvae of grouper (Epinephelus coioides). Aquaculture 268(1–4):265–273

Mori K, Nakai T, Muroga K, Arimoto M, Mushiake K, Furusawa I (1992) Properties of a new virus belonging to Nodaviridae found in larval striped jack (Pseudocaranx dentex) with nervous necrosis. Virology 187:368–371

Munday BL, Langdon JS, Hyatt A, Humphrey JD (1992) Mass mortality associated with a viral-induced vacuolating encephalopathy and retinopathy of larval and juvenile barramundi, Lates calcarifer (Bloch). Aquaculture 103:197–211

Nguyen HD, Nakai T, Muroga K (1996) Progression of striped jack nervous necrosis virus (SJNNV) infection in naturally and experimentally infected striped jack Pseudocaranx dentex larvae. Dis Aquat Org 24:99–105

Nguyen HD, Mushiake K, Nakai T, Muroga K (1997) Tissue distribution of striped jack nervous necrosis virus (SJNNV) in adult striped jack. Dis Aquat Org 28:87–91

Oh MJ, Jung SJ, Kim SR, Rajendran KV, Kim YJ, Choi TJ, Kim HR, Kim JD (2002) A fish nodavirus associated with mass mortality in hatchery-reared red drum, Sciaenops ocellatus. Aquaculture 211:1–7

Parameswaran V, Rujesh kumar S, Ishaq Ahmed VP, Sahul Hameed AS (2008) A fish nodavirus associated with mass mortality in hatchery-reared Asian sea bass, Lates calcarifer. Aquaculture 275:366–369

Ucko M, Colomi A, Diamat A (2004) Nodavirus infections in Israeli mariculture. Fish Dis 27:459–469
About this article
Cite this article
Koohkan, O., Abdi, R., Zorriehzahra, S.J. et al. Acute mortality of Liza klunzingeri in Persian Gulf and Oman Sea associated with nervous necrosis. Comp Clin Pathol 23, 367–370 (2014). https://doi.org/10.1007/s00580-012-1625-0
Received:

Accepted:

Published:

Issue Date:
Keywords
Viral nervous necrosis

Liza klunzingeri

Central nervous system

Vacuolation

Abnormal swimming