Abstract
Delayed hematological analysis occurs frequently in bovine practice. Interpretation of complete blood count (CBC) results may be affected by artifactual storage-associated changes. The objective of this study was to characterize changes in bovine CBC results that occur over 72 h of storage at room temperature (RT) and 4 °C. Blood samples from 10 clinically healthy Holstein cows were analyzed with the ADVIA 120 hematology analyzer at 0, 24, 48, and 72 h of storage at RT or 4 °C. A two-way repeated-measure ANOVA was used to analyze time and temperature main effects. Time-associated changes in red blood cell (RBC) results were a significant increase in mean corpuscular volume (MCV) (both temperatures) and hematocrit (RT) and a decrease in mean corpuscular hemoglobin concentration (RT). White blood cell counts were relatively stable; however, automated absolute concentrations of monocytes and large unstained cells decreased, whereas concentrations of lymphocytes and eosinophils (RT) increased, over time. There was a statistically significant increase in mean platelet volume (MPV) by 48 h of storage at both temperatures. Changes with storage were more pronounced at RT. Mean CBC results, with the exception of MPV, did not exceed reference intervals. With storage, bovine RBCs become macrocytic and hypochromic, variable changes occur in the automated differential cell count, and the MPV increases. However, most changes, with the exception of MCV, are of little diagnostic relevance. For the most accurate CBC results, bovine blood should be stored at 4 °C and analyzed within 24 h of collection.
Access options
Buy single article
Instant access to the full article PDF.
USD 39.95
Price includes VAT (USA)
Tax calculation will be finalised during checkout.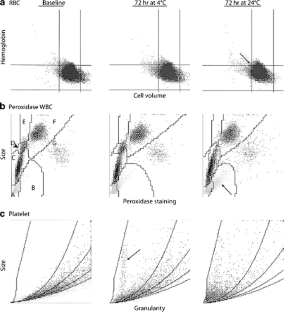 References
Ameri M, Schnaars HA et al (2011) Stability of hematologic analytes in monkey, rabbit, rat, and mouse blood stored at 4 degrees C in EDTA using the ADVIA 120 hematology analyzer. Vet Clin Pathol 40(2):188–193

Braekkan SK, Mathiesen EB et al (2010) Mean platelet volume is a risk factor for venous thromboembolism: the Tromso Study, Tromso, Norway. J Thromb Haemost 8(1):157–162

Clark P, Mogg TD et al (2002) Artifactual changes in equine blood following storage, detected using the Advia 120 hematology analyzer. Vet Clin Pathol 31(2):90–94

Dircks BH, Schuberth HJ et al (2009) Underlying diseases and clinicopathologic variables of thrombocytopenic dogs with and without platelet-bound antibodies detected by use of a flow cytometric assay: 83 cases (2004–2006). J Am Vet Med Assoc 235(8):960–966

Furlanello T, Tasca S et al (2006) Artifactual changes in canine blood following storage, detected using the ADVIA 120 hematology analyzer. Vet Clin Pathol 35(1):42–46

Handagama P, Feldman B et al (1986) Mean platelet volume artifacts: the effect of anticoagulants and temperature on canine platelets. Vet Clin Pathol 15(4):13–17

Harris N, Kunicka J et al (2005) The ADVIA 2120 hematology system: flow cytometry-based analysis of blood and body fluids in the routine hematology laboratory. Lab Hematol 11(1):47–61

Ihedioha JI, Onwubuche RC (2007) Artifactual changes in PCV, hemoglobin concentration, and cell counts in bovine, caprine, and porcine blood stored at room and refrigerator temperatures. Vet Clin Pathol 36(1):60–63

Jones ML, Allison RW (2007) Evaluation of the ruminant complete blood cell count. Vet Clin North Am Food Anim Pract 23(3):377–402, v

Martin JF, Trowbridge EA et al (1983) The biological significance of platelet volume: its relationship to bleeding time, platelet thromboxane B2 production and megakaryocyte nuclear DNA concentration. Thromb Res 32(5):443–460

Prins M, van Leeuwen MW et al (2009) Stability and reproducibility of ADVIA 120-measured red blood cell and platelet parameters in dogs, cats, and horses, and the use of reticulocyte haemoglobin content (CH(R)) in the diagnosis of iron deficiency. Tijdschr Diergeneeskd 134(7):272–278

Stokol T, Erb HN (2007) A comparison of platelet parameters in EDTA- and citrate-anticoagulated blood in dogs. Vet Clin Pathol 36(2):148–154

Tvedten H (2010) What is your diagnosis? Discrepancy in platelet counts determined using a Sysmex XT-2000 iV hematology analyzer. Erroneous PLT-O due to RBC ghosts Veterinary clinical pathology / American Society for Veterinary Clinical Pathology 39(3):395–396

Wood BL, Andrews J et al (1999) Refrigerated storage improves the stability of the complete blood cell count and automated differential. Am J Clin Pathol 112(5):687–695

Zelmanovic D, Hetherington EJ (1998) Automated analysis of feline platelets in whole blood, including platelet count, mean platelet volume, and activation state. Vet Clin Pathol 27(1):2–9
Acknowledgments
The authors wish to thank the clinical pathology staff at Cornell University for analyzing the blood with the ADVIA 120 and the clinical pathology laboratory manager, Richard DeFrancisco, for data input.
Additional information
This study was performed at the College of Veterinary Medicine, Cornell University, Ithaca, NY, USA.
About this article
Cite this article
Warren, A.L., Stokol, T., Hecker, K.G. et al. Storage-associated changes in the bovine hemogram with the ADVIA 120 hematology analyzer. Comp Clin Pathol 22, 1235–1240 (2013). https://doi.org/10.1007/s00580-012-1556-9
Received:

Accepted:

Published:

Issue Date:
Keywords
Artifact

Bovine

Hematology

Storage

Temperature