Abstract
The present study was designed to elucidate if ethionine administration could be used to induce hepatic lipoperoxidation in cattle, as indicated by the increase concentrations of the lipid peroxidation products, malondialdehyde (MDA) and 4-hydroxyalkenals (4-HAE) in the hepatic tissues. Five cows were injected intraperitoneally with dl-ethionine (12.5 mg/kg body weight). Liver biopsy specimens were collected at the 0, 4th, 7th and 10th day after ethionine administration, and were used for measuring hepatic lipid peroxidation products (MDA and 4-HAE) levels and for histopathological examination. Statistical analysis was carried out by comparing data from days 4, 7 and 10 with those from day 0. Different degrees of cell swelling and glycogen degeneration were developed in the liver tissues on days 4, 7 and 10 after ethionine administration. The results revealed significant increases in hepatic lipid peroxidation products (p < 0.05) on day 7. In the experimental model system described in this study, dl-ethionine administration was effective in inducing hepatic lipoperoxidation in cattle as indicated by altered concentrations of hepatic lipid peroxidation products and by histopathological examination of liver biopsies.
Access options
Buy single article
Instant access to the full article PDF.
US$ 39.95
Tax calculation will be finalised during checkout.
Subscribe to journal
Immediate online access to all issues from 2019. Subscription will auto renew annually.
US$ 79
Tax calculation will be finalised during checkout.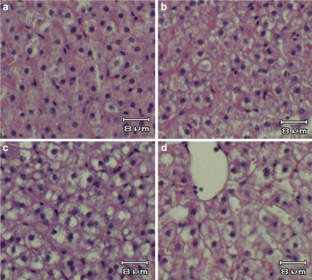 References
Aarsaether N, Aarsland A, Kryvi H, Nilsson A, Svardal A, Ueland PM, Berge RK (1989) Changes in peroxisomes and mitochondria in liver of ethionine exposed rats: a biochemical and morphological investigation. Carcinogenesis 10:987–994

Abd Ellah MR (2010) Involvement of free radicals in animal diseases. Comp Clin Pathol 19:615–619

Abd Ellah MR, Nishimori K, Goryo M, Okada K, Yasuda J (2002) Glucose 6 phosphate dehydrogenase and glutathione peroxidase activities in hepatic abscesses of cattle. Vet Biochem 39:25–30

Abd Ellah MR, Nishimori K, Goryo M, Okada K, Yasuda J (2004) Glutathione peroxidase and glucose 6-phosphate dehydrogenase activities in bovine blood and liver. J Vet Med Sci 66:1219–1221

Abd Ellah MR, Okada K, Goryo M, Oishi A, Yasuda J (2009) Superoxide dismutase activity as a measure of hepatic oxidative stress in cattle following ethionine administration. Vet J 182:336–341

Bancroft JD, Stevens A (1982) Theory and practice of histopathological techniques, 2nd edn. Churchill Livingstone, Edinburgh, p 134

Benedetti A, Comporti M, Esterbauer H (1980) Identification of 4-hydroxynonenal as a cytotoxic product originating from the peroxidation of liver microsomal lipids. Biochim Biophys Acta 620:281–296

Bird RP, Draper HH (1982) Uptake and oxidation of malonaldehyde by cultured mammalian cells. Lipids 17:519–523

Esterbauer H, Cheeseman KH, Dianzani MU, Poli G, Slater TF (1982) Separation and characterization of the aldehydic products of lipid peroxidation stimulated by ADP-Fe2+ in rat liver microsomes. Biochem J 208:129–140

Esterbauer H, Schaur RJ, Zollner H (1991) Chemistry and biochemistry of 4-hydroxyalkenal, malondialdehyde and related aldehydes. Free Rad Boil Med 11:81–128

Hjelle JJ, Petersen DR (1983) Metabolism of malondialdehyde by rat liver aldehyde dehydrogenase. Toxicol Appl Pharmacol 70:57–66

Katoh N (1994) Reduced protein kinase C activity and endogenous protein phosphorylation in ethionine-induced fatty liver in cows. Vet Res Commun 18:423–432

Lunec J (1990) Free radicals: their involvement in disease process. Ann Clin Biochem 27:173–182

Marnett LJ (1999) Lipid peroxidation-DNA damage by malondialdehyde. Mutat Res 424:83–95

Marshall WJ, Bangert SK (1995) Clinical biochemistry, metabolic and clinical aspects. Churchill Livingstone, New York, pp 765–776

Mudron P, Rehage J, Qualmann K, Sallmann HP, Scholz H (1999) A study of lipid peroxidation and vitamin E in dairy cows with hepatic insufficiency. Zentralblatt für Veterina¨rmedizin Reihe A 46:219–224

Mylonas C, Kouritas D (1999) Lipid peroxidation and tissue damage. In Vivo 13:295–309

Nitanai A, Katoh N, Oikawa S, Saitoh M, Hamada M, Kutsuzawa A, Mohamed T, Uchida E, Endoh D, Kurosawa T, Sato H (2004) Decreases in serum apolipoprotein C-III concentration in cows with ethionine-induced fatty liver. J Vet Med Sci 66:1113–1118

Oikawa S, Katoh N (2002) Decreases in serum apolipoprotein B-100 and A-I concentrations in cows with milk fever and downer cows. Can J Vet Res 66:31–34

Sansinanea A, Cerone S, Virkel G, Streitenberger S, Garcia M, Auza N (2000) Nutritional condition affects the hepatic antioxidants systems in steers. Vet Res Commun 24:517–525

Siu GM, Draper HH (1982) Metabolism of malonaldehyde in vivo and in vitro. Lipids 17:349–355

Slater TF (1982) Lipid peroxidation. Biochem Soc Trans 10:70–71

Tam BK, McCay PB (1970) Reduced triphosphopyridine nucleotide oxidase-catalyzed alterations of membrane phospholipids. 3. Transient formation of phospholipid peroxides. J Biol Chem 245:2295–2300

Uchida E, Katoh N, Takahashi K (1992) Induction of fatty liver in cows by ethionine administration and concomitant decreases of serum apolipoproteins B-100 and A-1 concentrations. Am J Vet Res 53:2035–2042

Uchida E, Katoh N, Takahashi K (1993) Induction of serum haptoglobin by administration of ethionine to cows. J Vet Med Sci 55:501–502

Uchida E, Katoh N, Takahashi K (1995) The activity of lecithin:cholesterol acyltransferase in the serum of cows at parturition or with fatty liver. Vet Res Commun 19:343–351
Acknowledgment
This work was supported by Grants-in-Aid for Basic Scientific Research (No. 17–05483) from the Ministry of Education, Culture, Sports, Science and Technology, Government of Japan and by The Japanese Society for the Promotion of Science.
About this article
Cite this article
Abd Ellah, M.R., Okada, K., Goryo, M. et al. Levels of malondialdehyde and 4-hydroxyalkenals in bovine liver biopsy. Comp Clin Pathol 22, 823–827 (2013). https://doi.org/10.1007/s00580-012-1484-8
Received:

Accepted:

Published:

Issue Date:
Keywords
Bovine

MDA

4-HAE

Liver

Biopsy