Abstract
To determine the effect of Berberis vulgaris extract on the intestinal morphology, 1-day-old broiler chickens had their diet supplemented with 2 and 4 % barberry water extract for 3 days. On day 45, all chicks in each group were killed and morphometric analysis of the intestine was performed. The duodenal villous length and surface area were significantly (P < 0.05) increased in the 4 % barberry water extract-supplemented group. The jejunal villous length was significantly (P < 0.05) increased in all treatment groups when compared with the control group. No significant differences were observed between the two treatment groups. The ileal villous surface area in all the treatment groups was greater than the control group, but this increase was not significantly different (P > 0.05). In conclusion, barberry water extract supplementation, particularly at a value of 4 %, can increase the majority of the intestinal architecture in broiler chickens.
This is a preview of subscription content,
to check access.
Access this article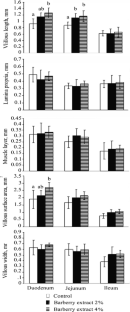 References
Asfar S, Abdeen S, Dashti H, Khoursheed M, Al-Sayer H, Mathew T, Al-Bader A (2003) Effect of green tea in the prevention and reversal of fasting-induced intestinal mucosal damage. Nutrition 19:536–540

Assis RCL, Luns FD, Beletti ME, Assis RL, Nasser NM, Faria ESM, Cury MC (2010) Histomorphometry and macroscopic intestinal lesions in broilers infected with Eimeria acervulina. Vet Parasitol 168:185–189

Awad WA, Ghareeb K, Abdel-Raheem S, Bohm J (2009) Effects of dietary inclusion of probiotic and synbiotic on growth performance, organ weights, and intestinal histomorphology of broiler chickens. Poult Sci 88:49–55

Garcia V, Catala-Gregori P, Hernandez F, Megias MD, Madrid J (2007) Effect of formic acid and plant extracts on growth, nutrient digestibility, intestine mucosa morphology, and meat yield of broilers. J Appl Poult Res 16:555–562

Geyra A, Uni Z, Sklan D (2001) Enterocyte dynamics and mucosal development in the posthatch chick. Poult Sci 80:776–782

Giannenas I, Tontis D, Tsalie E, Chronis EF, Doukas D, Kyriazakis I (2010) Influence of dietary mushroom Agaricus bisporus on intestinal morphology and microflora composition in broiler chickens. Res Vet Sci 89:78–84

Hassanpour H, Bahadoran S, Koosha S, Askari E, Homai S (2010a) Effect of diclazuril, semduramicin, salinomycin and maduramycin as preventive anticoccidial drugs on chicken intestinal morphology. Global Vet 5:1–5

Hassanpour H, Zamani Moghaddam AK, Yazdani A, Cheraghchi Bashi M (2010b) Evaluation of intestinal morphology and nitric oxide metabolites in broiler chickens supplemented by green tea. Comp Clin Pathol 19:43–47

Imanshahidi M, Hosseinzadeh H (2008) Pharmacological and therapeutic effects of Berberis vulgaris and its active constituent, berberine. Phyto Res 22:999–1012

Kupeli E, Kosar M, Yesilada E, Husnu K, Baser C (2002) A comparative study on the anti-inflammatory, antinociceptive and antipyretic effects of isoquinoline alkaloids from the roots of Turkish Berberis species. Life Sci 72:645–657

Miller MJS, Angeles FM, Reuter BK, Bobrowski P, Sandoval M, Neuhausen SL, Feolo M, Farnham J, Book L, Zone JJ (2001) Dietary antioxidants protect gut epithelial cells from oxidant induced apoptosis. BMC Comp Alter Med 1:11

Rajaian H, Jalaee J, Aghajani A (2006) Berberis vulgaris as growth promotor in broiler chickens. Inter J Poult Sci 5:395–397

Sakamoto K, Hirose H, Onizuka A, Hayashi M, Futamura N, Kawamura Y, Ezaki T (2000) Quantitative study of changes in intestinal morphology and mucus gel on total parenteral nutrition in rats. J Surg Res 94:99–106

Silva MA, Pessotti BMS, Zanini SF, Colnago GL, Rodrigues MRA, Nunes LC, Zanini MS, Martins IVF (2009) Intestinal mucosa structure of broiler chickens infected experimentally with Eimeria tenella and treated with essential oil of oregano. Ciencia Rural 39:1471–1477

Teirlynck E, Bjerrum L, Eeckhaut V, Huygebaert G, Pasmans F, Haesebrouck F, Dewulf J, Ducatelle R, Van Immersee F (2009) The cereal type in feed influences gut wall morphology and intestinal immune cell infiltration in broiler chickens. Bri J Nut 102:1453–1461

Windisch W, Schedle K, Plitzner C, Kroismayr A (2008) Use of phytogenic products as feed additives for swine and poultry. J Anim Sci 86:140–148

Yesilada E, Kupeli E (2002) Berberis crataegina DC. root exhibits potent anti-inflammatory, analgesic and febri-fuge effects in mice and rats. J Ethnopharmacol 79:237–248
Acknowledgments
These studies were conducted as part of Broiler Production Programme, administered by School of Veterinary Medicine, Shiraz University. The authors wish to thank everybody who assisted in sampling and determination of all the parameters and Professor H. Dadras for his valuable discussions.
About this article
Cite this article
Yazdani, A., Poorbaghi, S.L., Habibi, H. et al. Dietary Berberis vulgaris extract enhances intestinal mucosa morphology in the broiler chicken (Gallus gallus). Comp Clin Pathol 22, 611–615 (2013). https://doi.org/10.1007/s00580-012-1454-1
Received:

Accepted:

Published:

Issue Date:

DOI: https://doi.org/10.1007/s00580-012-1454-1
Keywords