Abstract
Chlamydia trachomatis is the most prevalent sexually transmitted bacterial infection, with an estimated 92 million new cases occurring each year worldwide. The aim of the present study was to detect the microorganism from semen samples of asymptomatic male partners of infertile couples using polymerase chain reaction (PCR) and enzyme-linked immunosorbent assays (ELISA). Semen and blood specimens were obtained from 93 infertile and 93 fertile men attending an infertility center by our diagnostic laboratory for the detection of C. trachomatis. The presence of C. trachomatis was examined by PCR assay. Serum IgG and IgA antibodies to C. trachomatis were also monitored using ELISA in all samples. The rates of C. trachomatis infection by PCR were 19.4% and 7.5% in infertile and fertile men, correspondingly, which was significantly different using χ 2 test (p = 0.01). The prevalence of IgG and IgA antibody levels were 4.3% and 2.2% (in infertile) and 3.2% and 1.1% (in fertile men), respectively. The present study showed a remarkable correlation between infections caused by C. trachomatis and infertility in men. Our data revealed that C. trachomatis caused a persistent infection among infertile couples.
Access options
Buy single article
Instant access to the full article PDF.
US$ 39.95
Tax calculation will be finalised during checkout.
Subscribe to journal
Immediate online access to all issues from 2019. Subscription will auto renew annually.
US$ 79
Tax calculation will be finalised during checkout.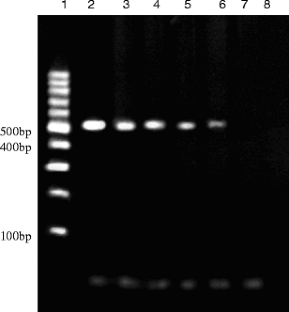 References
Askienazy-Elbhar (2005) Male genital tract infection: the point of view of the bacteriologist. Gynecol Obstet Fertil 33(9):691–697

Barratt CL, Robinson A, Spencer RC, Kinghorn GR, White A, Harrison PB, Kessopoulou E, Cooke ID (1990) Seminal peroxidase positive cells are not an adequate indicator of asymptomatic urethral genital infection. Int J Androl 13:361–368

Custo GM, Lauro V, Saitto C, Frongillo RE (1989) Chlamydial infection and male infertility: an epidemiological study. Arch Androl 23:243–248

Dieterle S, Mahony JB, Luinstra KE, Stibbe W (1995) Chlamydial immunoglobulin IgG and IgA antibodies in serum andsemen are not associated with the presence of Chlamydia trachomatis DNA or rRNA in semen from male partners of infertile couples. Hum Reprod 10:315–319

Eley A (2011) How to detect Chlamydia trachomatis in males? J Androl 32(1):15–22

Cardoso EM, Santoianni JE, De Paulis AN, Andrada JA, Predari SC, Arregger AL (1998) Improvement of semen quality in infected asymptomatic infertile male after bacteriological cure. Medicina (B Aires) 5(82):160–164

Gdoura R, Kchaou W, Ammarkeskes L, Chakroun N, Sellemi A, Znazen A, Rebai T, Hammami A (2007) Assessment of Chlamydia trachomatis, Ureaplasmaurealyticum, Ureaplasmaparvum, Mycoplasma hominis, and Mycoplasma genitalium in semen and first void urine specimens of asymptomatic male partners of infertile couples. J Androl 29(2):198–206

Golshani M, Eslami G, Mohhammadzadeh G, Fallah Sh, Goudarzi FH, Soleimani Rahbar A, Fayaz F (2007) Detection of Chlamydia trachomatis, Mycoplasma hominis and Ureaplasma urealyticum by multiplex PCR in semen sample of infertile men. J Public Health 36:50–57

Gopalkrishna V, Aggarwal N, Malhotra VL, Koranne RV, Mohan VP, Mittal A (2000) Chlamydia trachomatis and human papillomavirus infection in Indian women with sexually transmitted disease and cervical precancerous and cancerous lesions. Clin Microbiol Infect 6:88–93

Greendale GA, Haas ST, Holbrook K, Walsh B, Schachter J, Phillips RS (1993) The relationship of Chlamydia trachomatis and male infertility. Am J Public Health 83:996–1001

Hamdad-Daoudi F, Petit J, Eb F (2004) Assessment of Chlamydia trachomatis infection in asymptomatic male partners of infertile couples. J Med Microbiol 53:985–990

Hosseinzadeh S, Eley A, Pacey AA (2004) Semen quality of men with asymptomatic chlamydial infection. J Androl 25:104–109

Idahl A, Boman J, Kumlin U, Olofsson JI (2004) Demonstration of Chlamydia trachomatis IgG antibodies in the male partner of the infertile couple is correlated with a reduced likelihood of achieving pregnancy. J Hum Reprod 19:1121–1126

Jenab A, Golbang N, Golbang P, Chamani-Tabriz L, Roghanian R (2009) Diagnostic value of PCR and ELISA for Chlamydia trachomatis in a group of asymptomatic and symptomatic women in Isfahan, Iran. J Fertil Steril 2:193–198

Jenab A, Roghanian R, Golbang N, Golbang, Chamani-Tabriz L (2010) Comparision of three method DNA extraction in endocervical specimens for Chlamydia trachomatis infection by spectrophotometry, agarose gel, and PCR. J Immunol 58:227–234

Li HY, Liu JH (2002) Influence of male genital bacterial infection on sperm function. Zhonghua Nan Ke Xue 8(6):442–444

Nisyrios G (2006) Should the Australian Defence Force screen for genital Chlamydia trachomatis infection? ADF Health 7:20–21

Oxley K (1997) Molecular methods for the laboratory diagnosis of Chlamydia trachomatis genitourinary and eye infections. Thesis, University of Sheffield

Pacey A, Eley A (2004) Chlamydia trachomatis and male infertility. J Hum Fertil 7:271–276

Pannekoek Y, Westenberg SM, Eijk PP, Repping S, van der Veen F, van der Ende A, Dankert J (2003) Assessment of Chlamydia trachomatis infection of semen specimens by ligase chain reaction. J Med Microbiol 52:777–779

Pasternack R, Vuorinen P, Kuukankorpi A, Pitkajarvi T, Miettinen A (1996) Detection of Chlamydia trachomatis infections in women by AMPLICOR PCR: comparison of diagnostic performance with urine and cervical specimens. J Clin Microbiol 34:995–998

Quinn TC, Welsh L, Lentz A, Crotchfelt K, Zenil-man J, Newhall J (1996) Diagnosis by amplicor PCR of Chlamydia trachomatis infection in urine samples from women and men attending sexually transmitted disease clinics. J Clin Microbiol 34(6):1401–1406

Santos C, Teixeira F, Vicente A, Astolfi-Filho S (2003) Detection of Chlamydia trachomatis in endocervical smears of sexually active women in Manaus-AM, Brazil, by PCR. Braz J Infect Dis 7(2):91–95

Softer Y, Ron-El R, Golan A, Herman A, Caspi E, Samra Z (1990) Male genital mycoplasmas and Chlamydia trachomatis culture: its relationship with accessory gland function, sperm quality, and autoimmunity. Fertil Steril 53:331–336

Su H, Feilzer K, Caldwell HD, Morrison RP (1997) Chlamydia trachomatis genital tract infection of antibody-deficient gene knockout mice. Infect Immun 65:1993–1999

Tomasi TB, Grey HM (1972) Structure and function of immunoglobulin A. Prog Allergy 16:81–213

Verkooyen RP, Luijendijk A, Huisman WM, Goessens WHF, Kluytmans JAJ, van Rijsoort-Vos JH, Verbrugh HA (1996) Detection of PCR inhibitors in cervical specimens by using the AMPLICOR Chlamydia trachomatis assay. J Clin Microbiol 34:3072–3074

Witkin SS, Jeremias J, Grifo JA, Ledger WJ (1993) Detection of Chlamydia trachomatis in semen by the polymerase chain reaction in male members of infertile couples. Am J Obstet Gynecol 168:1457–1462

ZaeimiYazdi J, Khorramizadeh MR, Badami N, Kazemi B, Aminharati F, Eftekhar Z (2006) Comparative assessment of Chlamydia trachomatis infection in Iranian women with cervicitis: a cross-sectional study. Iran J Public Health 35:69–75
About this article
Cite this article
Noruziyan, Z., Roghanian, R., Hosseinzadeh, S. et al. Possible role of Chlamydia trachomatis in the male partner of infertile couples. Comp Clin Pathol 22, 421–424 (2013). https://doi.org/10.1007/s00580-012-1426-5
Received:

Accepted:

Published:

Issue Date:
Keywords
Chlamydia trachomatis

Infertility

PCR

ELISA