Abstract
Immune thrombocytopenic purpura (ITP) is an autoimmune syndrome involving platelets destruction and suppression of platelet production that may predispose to bleeding. Protein tyrosine phosphatase non-receptor 22 gene (PTPN22) is an important negative regulator of signal transduction through the T-cell receptors (TCR). A single nucleotide polymorphism (SNP) 1858C > T within this gene was reported to be associated with increased risk of autoimmune diseases. The aim of the work was to study the frequency of the 1858C > T single nucleotide polymorphism in the PTPN22 gene in Egyptian ITP patients. After full clinical and laboratory examination of our subjects, the expression of the PTPN22 (1858C > T) gene polymorphism was analyzed in 60 ITP patients—40 childhood ITP (26 acute and 14 chronic) and 20 adulthood ITP (eight acute and 12 chronic)—and 100 healthy controls using a polymerase chain reaction-restriction fragment length polymorphism assay [PCR-RFLP]. The PTPN22 1858C > T SNP was significantly overrepresented in ITP patients than controls. It was detected in 11 childhood ITP (27.5%) and five adulthood ITP (25.0%) compared to 8.0% in controls (p = 0.002, p = 0.02) when comparing childhood ITP and adulthood ITP to controls, respectively. The T allele was significantly higher in ITP patients than controls. It was 20% for childhood ITP, 15% in adulthood ITP and 4% in controls (p = 0.002, p = 0.05) when comparing childhood ITP and adulthood ITP to controls, respectively. From this study we concluded that the PTPN22 1858C > T polymorphism is more prevalent in ITP patients; thus, it may be considered as a genetic risk factor in development of ITP in Egyptian patients.
Access options
Buy single article
Instant access to the full article PDF.
US$ 39.95
Tax calculation will be finalised during checkout.
Subscribe to journal
Immediate online access to all issues from 2019. Subscription will auto renew annually.
US$ 79
Tax calculation will be finalised during checkout.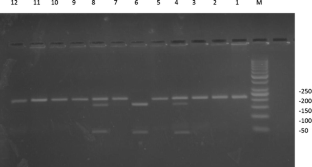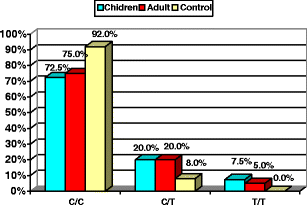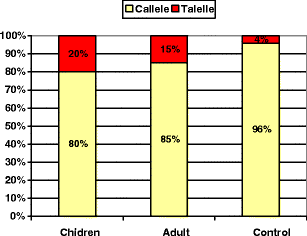 References
Anis SK, Abdel Ghany EA, Mostafa NO, Ali AA (2011) The role of PTPN22 gene polymorphism in childhood immune thrombocytopenic purpura. Blood Coagul Fibrinolysis 22(6):521–525

Begovich AB, Carlton VE, Honigberg LA et al (2004) A missense single-nucleotide polymorphism in a gene encoding a protein tyrosine phosphatase (PTPN22) is associated with rheumatoid arthritis. Am J Hum Genet 75:330–337

Bottini N, Musumeci L, Alonso A et al (2004) A functional variant of lymphoid tyrosine phosphatase is associated with type I diabetes. Nat Genet 36:337–338

Bottini N, Vang T, Cucca F, Mustelin T (2006) Role of PTPN22 in type 1 diabetes and other autoimmune diseases. Semin Immunol 18:207–213

Briggs FB, Ramsay PP, Madden E et al (2010) Supervised machine learning and logistic regression identifies novel epistatic risk factors with PTPN22 for rheumatoid arthritis. Genes Immun 11(3):199–208

Canto'n I, Akhtar S, Gavalas NG et al (2005) A single-nucleotide polymorphism in the gene encoding lymphoid protein tyrosine phosphatase (PTPN22) confers susceptibility to generalised vitiligo. Genes Immun 6:584–587

Cohen S, Dadi H, Shaoul EN et al (1999) Cloning and characterization of a lymphoid-specific, inducible human protein tyrosine phosphatase, Lyp. Blood 93:2013–2024

Cooper N, Bussel J (2006) The pathogenesis of immune thrombocytopaenic purpura. Br J Haematol 133:364–374

Cuker A, Cines DB (2010) Immune thrombocytopenia. Hematol Am Soc Hematol Educ Prog 2010:377–384

Dawson B, Trapp RG (2001) Basic and clinical biostatistics, 3rd edn. McGraw-Hill, New York

D'Silva KJ, Zamora MB, Gerlach J, Schwartz KA (2008) PTPN22 mutation is present in an increased proportion of ITP patients. Blood (ASH Annual Meeting Abstracts) 112: Abstract 3418

D'Silva KJ, Zamora MB, Gerlach J, Schwartz KA (2010) Increased representation of the PTPN22 mutation in patients with immune thrombocytopenia. J Thromb Haemost 8(9):2076–2078

Gjorloff-Wingren A, Saxena M, Williams S, Hammi D, Mustelin T (1999) Characterization of TCR-induced receptor-proximal signaling events negatively regulated by the protein tyrosine phosphatase PEP. Eur J immunol 29:3845–3854

Hasegawa K, Martin F, Huang G et al (2004) PEST domain-enriched tyrosine phosphatase (PEP) regulation of effector/memory T cells. Science 303:685–689

Hinks A, Barton A, John S et al (2005) Association between the PTPN22 gene and rheumatoid arthritis and juvenile idiopathic arthritis in a UK population: further support that PTPN22 is an autoimmunity gene. Arthritis Rheum 52:1694–1699

Kyogoku C, Langefeld CD, Ortmann WA et al (2004) Genetic association of the R620W polymorphism of protein tyrosine phosphatase PTPN22 with human SLE. Am J Hum Genet 75:504–507

Laberge GS, Birlea SA, Fain PR, Spritz RA (2008) The PTPN22-1858C > T (R620W) functional polymorphism is associated with generalized vitiligo in the Romanian population. Pigment Cell Melanoma Res 21(2):206–208

Lea WW, Lee YH (2011) The association between the PTPN22 C1858T polymorphism and systemic lupus erythematosus: a meta-analysis update. Lupus 20(1):51–57

Mustelin T, Rahmouni S, Bottini N, Alonso A (2003) Role of protein tyrosine phosphatases in T cell activation. Immunol Rev 191:139–147

Olsson B, Andersson P-O, Jernas M et al (2003) T-cell-mediated cytotoxicity toward platelets in chronic idiopathic thrombocytopenic purpura. Nat Med 9:1123–1124

Pradhan V, Borse V, Ghosh K (2010) PTPN22 gene polymorphisms in autoimmune diseases with special reference to systemic lupus erythematosus disease susceptibility. J Postgrad Med 56(3):239–242

Psaila B, Bussel JB (2007) Immune thrombocytopenic purpura. Hematol Oncol Clin N Am 21(4):743–759

Rodeghiero F, Stasi R, Gernsheimer T et al (2009) Standardization of terminology, definitions and outcome criteria in immune thrombocytopenic purpura of adults and children: report from an international working group. Blood 113(11):2386–2393

Siminovitch KA (2004) PTPN22 and autoimmune disease. Nat Genet 36:1248–1249

Vangi T, Congia M, Macis MD et al (2005) Autoimmune–associated lymphoid tyrosine phosphatase is a gain–of–function variant. Nat Genet 37:1317–1319

Vangi T, Miltci A, Bottini N, Mustilin T (2007) Protein tyrosine phosphatase PTPN22 in human autoimmunity. Autoimmunity 40(6):453–461

World Medical Association (2008) Declaration of Helsinki: ethical principles for medical research involving human subjects. The 59th WMA General Assembly, Seoul, South Korea

Zhebrun D, Kudryashova Y, Babenko A et al (2011) Association of PTPN22 1858T/T genotype with type 1 diabetes, Graves' disease but not with rheumatoid arthritis in Russian population. Aging (Albany NY) 3(4):368–373
Conflicts of interest
The authors have no conflicts of interest to declare. The authors alone are responsible for the content and writing of the paper. The authors did not receive any funds from any source.
Ethical considerations
All patients and parents of children patients or healthy controls included in this study gave their informed consent and approval upon participating in the study. Neither patients' names nor photos were included in this study.
About this article
Cite this article
Elhoseiny, S.M., Morgan, D.S. & Elhadidy, K.ES. The association of lymphoid protein tyrosine phosphatase non-receptor 22 (PTPN22) gene polymorphism with Egyptian immune thrombocytopenic purpura. Comp Clin Pathol 22, 395–402 (2013). https://doi.org/10.1007/s00580-012-1422-9
Received:

Accepted:

Published:

Issue Date:
Keywords