Abstract
In order to investigate more aspects of the erythrocytic antioxidant defense and the lipid content of the serum during ovine malignant theileriosis, 50 Iranian fat-tailed sheep, about 1–2 years old, naturally infected with Theileria lestoquardi, were selected and divided into three subgroups according to their parasitemia rates (< 1%, 1–3%, 3–5%). Also, ten non-infected sheep served as controls. Blood samples were collected, and hematological parameters, the activities of antioxidant enzymes including superoxide dismutase (SOD), gluthatione peroxidase (GPX) and catalase, osmotic fragility of the RBCs, the level of malondialdehyde (MDA) as an index of lipid peroxidation, phosphatidylserine, antioxidant vitamins (A, E and C) and the concentrations of serum lipid composition (cholesterol, triglyceride and lipoproteins including HDL, LDL and VLDL cholesterol) were measured. A significant decline in the activities of antioxidant enzymes and also remarkable increases in the concentration of MDA, osmotic fragility and phosphatidylserine were evident in infected sheep, along with significant correlations with the hematological parameters. The results showed that the antioxidant agents could be important factors in the prevention of erythrocytic membrane damage during parasitemia. In addition, the unaltered level of antioxidant vitamins in the infected animals showed that such vitamins did not elicit effective responses to the oxidative damages. The level of the major lipid components of the serum remained unchanged during infection, which implied that the infection with T. lestoquardi did not induce important changes in lipid metabolism, and these components are unlikely to have a major role in the process of anemia. In conclusion, the antioxidant defense of the RBCs has a considerable role to prevent the occurrence of anemia in malignant ovine theileriosis.
Access options
Buy single article
Instant access to the full article PDF.
US$ 39.95
Tax calculation will be finalised during checkout.
Subscribe to journal
Immediate online access to all issues from 2019. Subscription will auto renew annually.
US$ 79
Tax calculation will be finalised during checkout.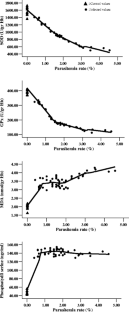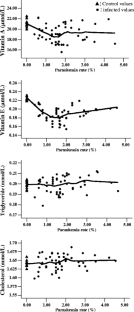 References
Asri Rezaei S, Dalir-Naghadeh B (2006) Evaluation of antioxidant status and oxidative stress in cattle infected with Theileria annulata. Vet Parasitol 142:179–186

Aulakh RS, Gill IPS, Johal HS, Juyal PD, Joshi DV (1998) Haematological observation in T. annulata infected cross bred cattle and their treatment with buparvaquone. J Res Punjab Agric Univ 35:66–88

Bicek K, Deger Y, Deger S (2005) Some biochemical and haematological parameters of sheep infected with Babesia species. YYU Vet Fak Derg 16:33–35

Burtis CA, Ashwood ER (1994) Tietz textbook of clinical chemistry. Saunders, Philadelphia, pp 1002–1093

Carpentier YA, Scruel O (2002) Changes in the concentration and composition of plasma lipoproteins during the acute phase response. Curr Opin Clin Nutr 5:153–158

Chanarin I (1989) Laboratory haematology: an account of laboratory techniques. Churchill Livingstone, Philadelphia, pp 13–14

Col R, Uslu U (2007) Changes in selected serum components in cattle naturally infected with Theileria annulata. Bull Vet Inst Pulawy 51:15–18

Dede S, Deger Y, Deger S, Alkan M (2000) Determination of the status of lipid peroxidation and antioxidants in sheep infected with certain endoparasites (Fasciola sp, Trichostrongylidae sp, Eimeria sp). Acta Parasitol Turcica 24:190–193

Dede S, Deger Y, Kahraman T, Deger S, Alkan M, Cemek M (2002) Oxidation products of nitric oxide and the concentrations of antioxidant vitamins in parasitized goats. Acta Vet Brno 71:341–345

Deger S, Deger Y, Bicek K, Ozdal N, Gul A (2009) Status of lipid peroxidation, antioxidants, and oxidation products of nitric oxide in equine babesiosis: status of antioxidant and oxidant in equine babesiosis. J Equine Vet Sci 29:10

Friedewald WT, Levy RI, Fredrickson DS (1972) Estimation of the concentration of low-density lipoprotein cholesterol without the use of the preparative ultracentrifuge. Clin Chem 18:499

Friedman MI (1979) Oxygen damage mediates variant red cell resistance to malaria. Nature 280:245–247

Grewal A, Ahuja CS, Singh SP, Chaudhary KC (2005) Status of lipid peroxidation, some antioxidant enzymes and erythrocytic fragility of crossbred cattle naturally infected with Theileria annuluta. Vet Res Commun 29:387–394

Hooshmand-Rad P (1974) Blood protozoan diseases of ruminants. Bull Off Int Epiz 1:779–792

Hooshmand-Rad P (1976) The pathogenesis of anemia in Theileria annulata infection. Res Vet Sci 20:324–329

Johnson-Davis KL, Moore SJ, Owen WE, Cutler JM, Frank EL (2009) A rapid HPLC method used to establish pediatric reference intervals for vitamins A and E. Clinica Chimica Acta 405:35–38

Lehninger AL, Nelson DL, Cox MM (1993) Principle of biochemistry, 2nd edn. Worth, New York

Lykkesfeldt J (2001) Determination of malondialdehyde as dithiobarbituric acid adduct in biological samples by HPLC with fluorescence detection: comparison with ultraviolet–visible spectrophotometry. Clin Chem 47:1725–1727

McGowan MW, Artiss JD, Strandbergh DR (1983) A peroxidase coupled method for the colorimetric determination of serum triglycerides. Clin Chem 29:538–542

Moore K, Roberts LJ (1998) Measurement of lipid peroxidation. Free Radic Res 28:659–671

Morel C, Uilenberg G (1981) The nomenclature of some Theileria species (Sporozoa, Babesoidea) of domestic ruminants. Revue d Elevage et de Medecine Veterinaire des Pays Tropicaux 34:139–143

Nazifi S, Razavi SM, Mansourian M, Nikahval B, Moghaddam M (2008) Studies on correlation among parasitemia and some hemolytic indices in two tropical diseases (theileriosis and anaplasmosis) in Fars province of Iran. Trop Anim Heal Prod 40:47–53

Nazifi S, Razavi SM, Hasanshahi F, Esmailnezhad Z (2009) Effect of the severity of Theileria annulata infection on some haematological parameters and antioxidant enzymes in naturally infected cattle. Bulgarian J Vet Med 12:1–6

Omer OH, El-Malik KH, Mahmoud OM, Haroun EM, Hawas A, Sweeney D, Magzoub M (2002) Haematological profiles in pure bred cattle naturally infected with Theileria annulata in Saudi Arabia. Vet Parasitol 107:161–168

Omer OH, El- Malik KH, Magzoub M, Mahmoud OM, Haroun EM, Hawas A ,Omar HM (2003) Biochemical profiles in Friesian cattle naturally infected with Theileria annulata in Saudi Arabia. Vet Res Comm 27: 15–25

Paglia DE, Valentine WN (1967) Studies on the quantitative and qualitative characterization of erythrocyte glutathione peroxidase. J Lab Clin Med 70:158–169

Saluja PS, Gupta SL, Malhotra DV, Ambawat HK (1999) Plasma malondialdehyde in experimental Theileria annulata infected cross bred bovine calves. Indian Vet J 76:379–381

Schnittger L, Hong Y, Jianxun L, Ludwig W, Shayan P, Rahbari S, Voss-Holtman A, Ahmed JS (2000) Phylogenetic analysis by rRNA comparison of the highly pathogenic sheep-infecting parasites Theileria lestoquardi and a Theileria species identified in China. Ann N Y Acad Sci 916:271–275

Shiono H, Yagi Y, Chikayama Y, Miyazaki S, Nakamura I (2003) Oxidative damage and phosphatidylserine expression of red blood cells in cattle experimentally infected with Theileria sergenti. Parasitol Res 89:228–234

Singh A, Singh J, Grewal AS, Brar RS (2001) Studies on some blood parameters of crossbred calves with experimental Theileria annulata infection. Vet Res Commun 25:289–300

Slaughter MR, O'Brien PJ (2000) Fully-automated spectrophotometric method for measurement of antioxidant activity of catalase. Clin Biochem 33:525–534

Soulsby EJL (1982) Helminthes, arthropods and protozoa of domesticated animals. Bailliere Tindall, London, pp 728–739

Sugihara T, Rawicz W, Evans EA, Hebbel RP (1991) Lipid hydroperoxides permit deformation-dependent leak of monovalent cation from erythrocytes. Blood 77:2757–2763

Yadav CK, Sharma NN (1986) Changes in blood chemical components during experimentally induced Theileria annulata infections in cattle. Vet Parasitol 21:91–98
About this article
Cite this article
Nazifi, S., Razavi, S.M., Rakhshandehroo, E. et al. Ovine malignant theileriosis: The status of antioxidant vitamins, serum lipid profile, lipid peroxidation and erythrocyte antioxidant defense. Comp Clin Pathol 22, 379–385 (2013). https://doi.org/10.1007/s00580-012-1419-4
Received:

Accepted:

Published:

Issue Date:
Keywords
Antioxidant vitamins

Serum lipid profile

Lipid peroxidation

Erythrocyte antioxidant enzymes

Ovine malignant theileriosis