Abstract
The causes of renal cell carcinoma (RCC) were investigated in 115 nephrectomized Japanese. Among them, 110 nephrectomized Japanese had RCC as follows: 86 clear cell RCC, 8 papillary RCC, 8 chromophobe RCC, 7 dialytic–multicystic RCC, and 1 liposarcoma, while 5 nephrectomized Japanese had benign renal tumors of oncocytoma (1), angiomyolipoma (2), and hemangioma (2). In the eight chromophobe RCC, three cases that resulted in death involved medullary RCC showing extensive oncogenic features. Double or triple cancers were found in 17 clear cell RCC, 5 papillary RCC, 1 chromophobe RCC, and 1 dialytic–multicystic RCC. Among 31 non-RCC found in 24 RCC cases, 23(74%) non-RCC were removed prenephrectomy. Prenephrectomy adenocarcinoma and postnephrectomy squamous cell carcinoma were their characteristic findings. Compared with those of clear cell RCC, double (triple) cancers of papillary RCC showed more aggressive malignancy. One clear cell RCC had triple cancer of thymoma and rectum cancer. One chromophobe RCC developed thymoma, while one oncocytoma had insulinoma >10 years before. A patient in his sixties with clear cell RCC, who had a past history of pneumothorax, had developed adenocarcinoma of colon polyps and liver adenocarcinoma almost at the same time as triple cancer. His lactate dehydrogenase (LDH) levels were under 300 IU/l. He was suspected of having Birt–Hogg–Dube syndrome. One patient with papillary RCC of Paget's disease of the bone developed colon polyp adenocarcinoma, osteosarcoma, and additionally exhibited p97/valosin-containing protein downregulation in his sixties. His LHD was increased to 4,289 IU/l with cell lysis reactions. His radical nephrectomy accompanied by adrenalectomy reinforced clinical manifestations of p97 downregulation. For p97 functions, the kidney and adrenal gland had important roles. It was concluded that oxygen stress was stronger in RCC, especially in papillary RCC. Nonsense mutations of protein tyrosine phosphatase receptor delta might be one cause of double (triple) cancers in RCC.
Access options
Buy single article
Instant access to the full article PDF.
US$ 39.95
Tax calculation will be finalised during checkout.
Subscribe to journal
Immediate online access to all issues from 2019. Subscription will auto renew annually.
US$ 79
Tax calculation will be finalised during checkout.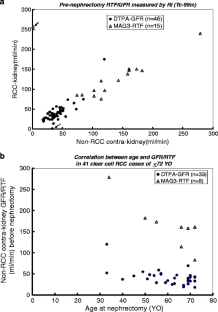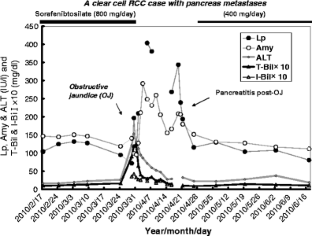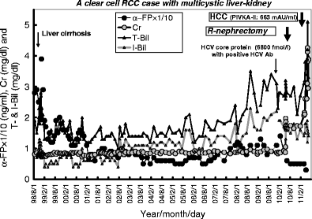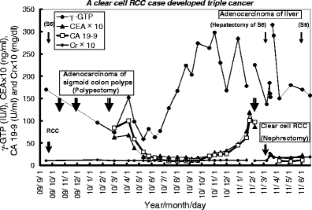 References
Arai E, Kanai Y (2011) Genetic and epigenetic alterations during renal carcinogenesis. Int J Clin Exp Pathol 4:58–73

Arai E, Wakai-Ushijima S, Fujimoto H et al (2011) Genome-wide DNA methylation profiles in renal tumors of various histological subtypes and non-tumorous renal tissues. Pathobiology 78:1–9

Chapman-Fredricks JR, Herrera L, Bracho J et al (2011) Adult renal cell carcinoma with rhabdoid morphology represents a neoplastic dedifferentiation analogous to sarcomatoid carcinoma. Ann Diagn Pathol 15:333–337

Cheng JX, Tretiakova M, Gong C et al (2008) Renal medullary carcinoma: rhabdoid features and the absence of INI1 expression as markers of aggressive behavior. Mod Pathol 21:647–652

Farpour F, Tehranzadeh J, Donkervoort S et al (2011) Radiological features of Paget disease of bone associated with VCP myopathy. Skeletal Radiol. doi:10.1007/s00256-011-1193-4

Frew IJ, Krek W (2007) Multitasking by pVHL in tumor suppression. Curr Opin Cell Biol 19:685–690

Goode A, Layfield R (2010) Recent advances in understanding the molecular basis of Paget disease of bone. J Clin Pathol 63:199–203

Iijima M, Fukino K, Adachi M et al (2011) Sorafenib-associated hand–foot syndrome in Japanese patients. J Dermatol 38:261–266

Jung C-R, Hwang K-S, Yoo J et al (2006) E2-EPF UCP targets pVHL for degradation and associates with tumor growth and metastasis. Nat Med 12:809–816

Kennoki T, Kondo T, Kimata N et al (2011) Clinical results and pharmacokinetics of sorafenib in chronic hemodialysis patients with metastatic renal cell carcinoma in s single center. Jpn J Clin Oncol 41:647–655

Khoo SK, Giraud S, Kahnoski K et al (2002) Clinical and genetic studies of Birt–Hogg–Dube syndrome. J Med Genet 39:906–912

Klomp JA, Petillo D, Niemi NM et al (2010) Birt–Hogg–Dube renal tumors are genetically distinct from other renal neoplasias and are associated with up-regulation of mitochondrial gene expression. BMC Med Genomics 3:59

Kohno T, Otsuka A, Girard L et al (2010) A catalog of genes homozygously deleted in human lung cancer and the candidacy of PTPRD as a tumor suppressor gene. Genes Chromosomes Cancer 49:342–352

Komai Y, Fujii Y, Iimura Y et al (2011) Young age as favorable prognostic factor for cancer-specific survival in localized renal cell carcinoma. Urology 77:842–848

Kuroda N, Tamura M, Hamaguchi N et al (2010) Acquired cystic disease-associated renal cell carcinoma with sarcomatoid change and rhabdoid features. Ann Diagn Pathol 15:462–466

Li X, Tan X, Yu Y et al (2011) D9S168 microsatellite alteration predicts a poor prognosis in patients with clear cell renal cell carcinoma and correlates with the down-regulation of protein tyrosine phosphatase receptor delta. Cancer 117:4201–4211

Martin KR, Xu Y, Looyenga BD et al (2011) Identification of PTP σ as an autophagic phosphatase. J Cell Sci 124:812–819

Moghadamfalahi M, Alatassi H (2011) Renal cell carcinoma with extensive oncocytic features. Int J Surg Pathol. doi:10.1177/1066896911420142

Muramaki M, Miyake H, Sakai I et al (2011) Age at diagnosis as a powerful predictor for disease recurrence after radical nephrectomy in Japanese patients with pT1 renal cell carcinoma. Int J Urol 18:121–125

Noon AP, Polanski R, El-Fert AY et al (2011) Combined p53 and MDM2 biomarker analysis shows a unique pattern of expression associated with poor prognosis in patients with renal cell carcinoma undergoing radical nephrectomy. BJU Int. doi:10.1111/j.1464-410X.2011.10433.x

Nyhan MJ, El Mashad SM, O'Donovan TR et al (2011) VHL genetic alteration in CCRCC does not determine de-regulation of HIF, CAIX, hnRNP A2/B1 and osteopontin. Cell Oncol (Dordr) 34:225–234

Preston RS, Philp A, Claessens T et al (2011) Absence of the Birt–Hogg–Dube gene product is associated with increased hypoxia-inducible factor transcriptional activity and a loss of metabolic flexibility. Oncogene 30:1159–1173

Roos FC, Evans AJ, Brenner W et al (2011) Deregulation of E2-EPF ubiquitin carrier protein in papillary renal cell carcinoma. Am J Pathol 178:853–860

Savage SA, Mirabello L (2011) Using epidemiology and genomics to understand osteosarcoma etiology. Sarcoma 2011:548151

Shannon BA, Cohen RJ (2003) Rhabdoid differentiation of chromophobe renal cell carcinoma. Pathology 35:228–230

Sudarshan S, Sourbier C, Kong H-S et al (2009) Fumarate hydratase deficiency in renal cancer induces glycolytic addiction and hypoxia-inducible transcription factor 1α stabilization by glucose-dependent generation of reactive oxygen species. Mol Cell Biol 29:4080–4090

Tan M-H, Wong CF, Tan HL et al (2010) Genomic expression and single-nucleotide polymorphism profiling discriminates chromophobe renal cell carcinoma and oncocytoma. BMC Cancer 10:196

Tomita Y (2010) Editorial comment to treatment outcomes of sorafenib for first line or cytokine-refractory advanced renal cell carcinoma in Japanese patients. Int J Urol 17:815–816

Veeriah S, Brennan C, Meng S et al (2009) The tyrosine phosphatase PTPRD is a tumor suppressor that is frequently inactivated and mutated in glioblastoma and other human cancers. PNAS 106:9435–9440

Yamanaka K, Sasagawa Y, Ogura T (2011) Recent advances in p97/VCP/Cdc48 cellular functions. Biochim Biophys Acta 1823:130–137
About this article
Cite this article
Nakatsuji, T. Clinical features of renal cell carcinoma (RCC) found in 110 nephrectomized Japanese, of which 24 (22%) RCC cases showed 31 double or triple cancers. Comp Clin Pathol 22, 367–378 (2013). https://doi.org/10.1007/s00580-012-1418-5
Received:

Accepted:

Published:

Issue Date:
Keywords
Japanese

Nephrectomy

Renal cell carcinoma

Double (triple) cancer

Carcinogenesis

Immunochemical antibody stain