Abstract
Oxidative stress is believed to play an important role in the pathogenesis of smoking-induced chronic obstructive pulmonary disease (COPD). We hypothesized that low serum activity level of paraoxonase-1 (PON1) that play a protective role in the lungs by metabolizing lipid peroxides and genetic polymorphism of antioxidant enzymes that detoxify cigarette smoke products such as microsomal epoxide hydroxylase-1 (m-EPHX-1) would be associated with increased susceptibility to COPD in smokers. The study was conducted on patients admitted to Chest Diseases Department, Kasr Al-Aini Hospital, Cairo University. Sixty subjects were divided into three groups—25 COPD patients, 25 chronic smokers without COPD, and 10 healthy nonsmokers. Pulmonary function tests were done for confirmation of COPD. Serum PON1 activity assay using spectrophotometric kinetic method and PCR-RFLP for genetic polymorphism of m-EPHX-1 exon 3 113 T>C were done to all participants. The significantly low median value for serum PON1 activity was found in COPD and smoker groups compared to the nonsmoker group (P = 0.015). Homozygote mutant genotype (HH) of m-EPHX-1 was present only in the COPD group compared to the other two groups with a frequency of 20%, 0%, and 0% respectively [P = 0.013; odds ratio (OR), 4.26; P = 0.008]. The OR between COPD and nonsmoker group was 14.222 (P = 0.008). The frequency of TH genotype was highest in the COPD group (44%, P = 0.013). While the wild genotype (TT) was more frequent in the nonsmoker group compared to the smokers and COPD groups (80%, 64%, and 36% respectively; P = 0.013). The slow m-EPHX-1 exon 3 polymorphisms (HH and HT) and the reduced serum PON1 activity are associated with higher susceptibility to COPD in smokers.
Access options
Buy single article
Instant access to the full article PDF.
US$ 39.95
Tax calculation will be finalised during checkout.
Subscribe to journal
Immediate online access to all issues from 2019. Subscription will auto renew annually.
US$ 79
Tax calculation will be finalised during checkout.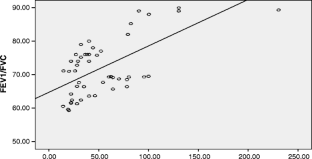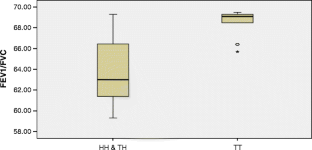 References
British Thoracic Society (2000) Guidelines for the management of chronic obstructive pulmonary disease. Chest J 117:303–317

Brogger J, Steen VM, Eiken HG, Gulsvik A, Bakke P (2006) Genetic association between COPD and polymorphisms in TNF, ADRB2 and mEPHX. Eur Respir J 27:682–688

Browne RW, Koury ST, Marion ST, Wilding G et al (2007) Accuracy and biological variation of human serum PON1 activity by enzymatic enzyme assay. Clin Chem 53:310–317

Chappell S, Daly L, Morgan K, Guetta-Baranes T, Roca J, Rabinovich R, Lotya J, Millar AB, Donnelly SC, Keatngs V (2008) Genetic variants of microsomal epoxide hydrolase and glutamate-cysteine ligase in COPD. Eur Respir J 32(4):931–937

Cheng SL, Yu CJ, Chen CJ et al (2004) Genetic polymorphism of epoxide hydrolase and glutathione S-transferase in COPD. Eur Respir J 23:818–824

Cross CE, Van der Vliet A, O'Neill CA (2000) Oxidants antioxidants and respiratory tract lining fluids. Chest J 117:290–300

Durrington PN, Mackness B, Mackness MI (2001) Review: paraoxonase and atherosclerosis. Arterioscler Thromb Vasc Biol 21:473–480

Ferré N, Marsillach J, Camps J, Mackness B, Mackness M, Riu F, Coll B, Tous M, Joven J (2006) Paraoxonase-1 is associated with oxidative stress, fibrosis and FAS expression in chronic liver diseases. J Hepatol 45:51–59

Hassett C, Aicher L, Sidhu JS, Omiecinski CJ (1994) Human microsomal epoxide hydrolase: genetic polymorphism and functional expression in vitro of amino acid variants. Hum Mol Genet 3(3):421–428

Hersh CP, Demeo DL, Lazarus R, Celedón JC, Raby BA, Benditt JO, Criner G, Make B, Martinez FJ, Scanlon PD, Sciurba FC, Utz JP, Reilly JJ, Silverman EK (2006) Genetic association analysis of functional impairment in chronic obstructive pulmonary disease. Am J Respir Crit Care Med 173(9):977–984, Epub 2006 Feb 2

Hersh CP, DeMeo DL, Reilly JJ, Silverman EK (2007) Xenobiotic metabolizing enzyme gene polymorphisms predict response to lung volume reduction surgery. Respir Res 8:59

Hu G, Shi Z, Hu J, Zou G, Peng G, Ran P (2008) Association between polymorphisms of microsomal epoxide hydrolase and COPD: results from meta-analyses. Respirology 13(6):837–850

Isik B, Isik RS, Ceylan A, Calik O (2005) Trace elements and oxidative stress in COPD. Saudi Med J 12:1882–1885

Jindal SK, Aggarwal AN, Chaudhry K, Chhabra SK, D'Souza GA, Gupta D, Katiyar SK, Kumar R, Shah B, Vijayan VK (2006) A multicentric study on epidemiology of chronic obstructive pulmonary disease and its relationship with tobacco smoking and environmental tobacco smoke exposure. Indian J Chest Dis Allied Sci 48(1):23–29

Kiyohara C, Yoshimaso K, Takayama K, Nakanishi Y (2006) EPHX1 polymorphisms and the risk of lung cancer: a huge review. Epidimiology 17(1):89–99

Lopez AD, Mathers CD, Ezzati M et al (2006) Global and regional burden of disease and risk factors: systematic analysis of population health data. Lancet 367:1747–1757

Mackness MI, Mackness B, Durrington PN, Fogelman AM, Berliner J, Lusis AJ, Navab M, Shih D, Fonarow GC (1998) Paraoxonase and coronary heart disease. Curr Opin Lipidol 9:314–324

MacNee W, Celli BR (2004) Diagnosis and treatment of patients with COPD. Eur Respir J 23:912–926

Miller SA, Dykes DD, Polesky HH (1988) A simple salting out procedure for extraction of dna from human nucleated cells. Nucleic Acid Res 16:1215

Nisho E, Wanatobe Y (1997) Cigarette smoke extracts inhibit plasma PON1 activity by modification of the enzyme's free thiols. Biochem Biophys Res Commun 236:289–293

Penyige A, Poliska S, Csanky E, Scholtz B, Dezso B, Schmellczer I, Kilty L, Takacs L, Nagy L (2010) Analysis of association between PPAR gamma and EPHX1polymorphisms and susceptibility to COPD in a Hungarian cohort, a case–control study. Med Genet 11:152

Pryor WA, Stone K (2000) Role of oxidants/antioxidants in lung disease. Chest J 117:103s–105s

Rahman I et al (2008) Antioxidants therapiotic advances. Ther Adv Respir Dis 2(6):351–374

Rosiin R, Anzueto A, Bourbeau J, Calverley P, et al. (2009) Global strategy for the chronic obstructive pulmonary diagnosis, management, and prevention of disease.www.goldcopd.org

Rumora L, Rajkovic MG, Puclin G, CepelakI, Grubisic Z (2010) Paraoxonase 1 activity and protein thiol oxidation in sera of COPD patients. Department of Medical Biochemistry and Haematology, Universitmy of Zagreb, Faculty of Pharmacy and Biochemistry, Zagreb, Croatia Budapest (Hall 3)-08:30–10:30

Sampson MJ, Braschi S, Willis G, Astley SB (2005) Paraoxonase-1 (PON-1) genotype and activity and in vivo oxidized plasma low-density lipoprotein in type II diabetes. Clin Sci (Lond) 109(2):189–197

Smith CAD, Harrison DJ (1997) Association between polymorphism in gene for microsomal epoxide hydrolase and susceptibility to emphysema. Lancet 350:630–633

Stanford AJ, Chagani T, Weir TD, Connett JE, Anthonisen NR, Pare PD (2001) Susceptibility genes for rapid decline of lung function in the lung health study. Am J Respir Crit Care Med 163:469–473

Tekes S, Isik B, Yildiz T, Simsek S, Isik MR, Budak T (2010) COPD and PON1 192 and 55 gene polymorphisms. Biotechnol Biotechnol Equip 24(1):1644–1647

Tomas M, Senti M, Elosua R, Sala J, Masia R (2001) Interaction between Gln-Arg 192 variants of PON1 gene and oleic acid intake as determinant of HDL and PON1 activity. Eur J Pharmacol 432:121–128

Wang XR, Eisen EA, Zhang HX, Sun BX, Dai HL, Pan LD, Wegman DH, Olenchock SA, Christiani DC (2003) Respiratory symptoms and cotton dust exposure; results of a 15 year follow up observation. Occup Environ Med 60:935–941

Židzik J, Slabá E, Joppa P, Kluchová Z, Dorková Z, Skyba P, Habalová V, Šalagovič J, Tkáčová R (2008) Glutathione S-transferase and microsomal epoxide hydrolase gene polymorphisms and risk of chronic obstructive pulmonary disease in Slovak population. Croat Med J 49(2):182–191
About this article
Cite this article
Fathy, M.M., Youssif, O.A. & Ashour, W.M. The slow activity-associated genotype of microsomal epoxide hydroxylase-1 (m-EPHX-1) and low serum paraoxonase-1 (PON1) activity are associated with increased susceptibility to chronic obstructive pulmonary disease (COPD) in smokers. Comp Clin Pathol 22, 355–361 (2013). https://doi.org/10.1007/s00580-012-1416-7
Received:

Accepted:

Published:

Issue Date:
Keywords
COPD

Paraoxonase1

Microsomal epoxide hydrolase-1