Abstract
The aim of our study was to evaluate the effect of Orchis anatolica roots ethanol extraction on alloxan-induced diabetic rats. Thirty-six albino rats (200 g) were used in this experiment and divided into six groups. Diabetes was induced in five rat groups by a single intraperitoneal injection of alloxan (150 mg/kg body weight). After hyperglycemia was conformed, one rat group was considered as diabetic control and one group was treated with glibenclamide (10 mg/kg body weight/daily) where the remaining three groups received daily treatments with three different doses of O. anatolica extract namely 200, 400, and 800 mg/kg body weight for 10 days. Body weight and fasting blood sugar levels were recorded throughout and by the end of the treatment. Blood serum biochemical markers such as urea, creatinine, cholesterol, and total serum protein levels were recorded after the treatment ended. Findings indicate that treatment with medium and high doses of O. anatolica extract (400 and 800 mg/kg/body weight) reduces blood sugar values to significant levels (P < 0.01 and P < 0.001) in rats after 7 and 10 days treatment when compared with diabetic control alloxan-induced rats in a similar fusion as in glibenclamide treatment (P < 0.001). However, both treatments failed to bring the blood sugar values to normal value levels. All elevated blood serum markers induced by the alloxan treatment were reduced to significant levels in rats treated with O. anatolica at both medium and high doses (P < 0.01 and P < 0.001) and also after glibenclamide treatment (P < 0.001). Glibenclamide and the two high doses of O. anatolica extract did not alter the rat's body weight when compared with nondiabetic control rats, whereas significant reduction (P < 0.05) was observed when compared with the alloxan-induced rats' body weight. We can conclude that O. anatolica treatment exhibits a significant antihyperglycemic effect without altering the body weight and can correct some biochemical uttered markers induced by diabetes in a similar manner to glibenclamide treatment.
This is a preview of subscription content,
to check access.
Access this article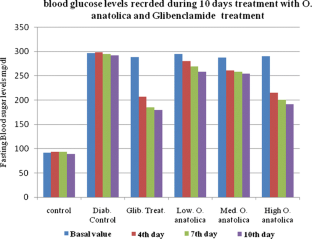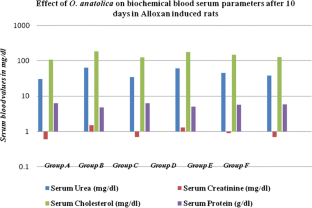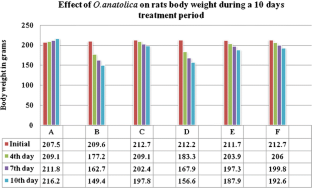 Similar content being viewed by others
References
Ajlouni K, Khader YS, Batieha A, Ajlouni H, El-Khateeb M (2008) An increase in prevalence of diabetes mellitus in Jordan over 10 years. J Diabetes Complications 22:317–24

Galan C, Jardín I, Dionisio N, Salido G, Rosado JA (2010) Role of oxidant scavengers in the prevention of Ca2+ homeostasis disorders. Molecules 5(10):7167–87

Giugliano D, Ceriello A, Paolisso G (1996) Oxidative stress and diabetic vascular complications. Diabetes Care 19:257–267

Gutiérrez RMP (2010) Orchids: a review of uses in traditional medicine, its phytochemistry and pharmacology. J Med Plants Res 4(8):592–638

Gutiérrez RMP, Solís RV (2009) Hepatoprotective and inhibition of oxidative stress in liver of Prostechea michuacana. Rec Nat Prod 3(1):46–51

Gutierrez RM, Gomez YG, Ramirez EB (2010) Nephroprotective activity of Prosthechea michuacana against cisplatin-induced acute renal failure in rats. J Med Food 13(4):911–6

Harbilas D, Martineau LC, Harris CS, Adeyiwola-Spoor DC et al (2009) Evaluation of the antidiabetic potential of selected medicinal plant extracts from the Canadian boreal forest used to treat symptoms of diabetes: part II. Can J Physiol Pharmacol 87(6):479–92

Hruskova J, Danes L, Kliment V (1961) Venezuelan equine encephalomyelitis virus: determination of inhalation LD50 for guinea pigs and mice. Acta Virol 13:203–208

Kesavulu MM, Giri R, Kameswara RB, Apparao C (2000) Lipid peroxidation and antioxidant enzyme levels in type 2 diabetic with microvascular complications. Diabetic Metabol 26(5):387–392

Khouri NA, Saleh MN, Al-Hussain M, Al-Kofahi AS (2006) Effects of orchids (Orchis anatolica) on reproductive function and fertility in adult male mice. Reprod Med Biol 5:269–276

Krishnan S, Short KR (2009) Prevalence and significance of cardiometabolic risk factors in children with type 1 diabetes. J Cardiometab Syndr 4(1):50–56

Lenzen S (2008) The mechanisms of alloxan and streptozotocin induced diabetes. Diabetologica 51:216–226

Malalavidhane S, Wickramasinghe SMDN, Jansz ER (2001) An aqueous extract of the green leafy vegetable Ipomoea aquatica is as effective as the oral hypoglycaemic drug tolbutamide in reducing the blood Sugar levels of Wistar rats. Phytother Res 15(70):635–637

Maxwell SR, Thomason H, Sandler D, Leguen C, Baxter MA, Thorpe GH, Jones AF, Barnett AH (1997) Antioxidant status in patients with uncomplicated insulin-dependent and noninsulin-dependent diabetes mellitus. Eur J Clin Invest 27:484–490

Milicevic Z, Raz I, Beattie SD, Campaigne BN, Sarwat S, Gromniak E, Kowalska I, Galic E, Tan M, Hanefeld M (2008) Natural history of cardiovascular disease in patients with diabetes: role of hyperglycemia. Diabetes Care Suppl 2:S155–60

Moore DJ, Gregory JM, Kumah-Crystal YA, Simmons JH (2009) Mitigating micro-and macro-vascular complications of diabetes beginning in adolescence. Vasc Health Risk Manag 5:1015–1031

Nicolucci A, Cavaliere D, Scorpiglione N, Carinci F, Capani F, Tognoni G, Benedetti MM (1996) A comprehensive assessment of the a violability of long-term complications of diabetes. A case-control study. SID-AMD Italian Study Group for the Implementation of the St. Vincent Declaration. Diabetes Care 19(9):927–33

Oberley LW (1988) Free radicals and diabetes. Free Radic Biol Med 5:113–124

Prince SM, Menon VP (2000) Hypoglycemic and other related actions of Tinospora cardifolia roots in alloxan induced diabetic rats. J Ethnopharmacol 70:9–15

Ramakrishna V, Jailkhani R (2007) Evaluation of oxidative stress in insulin dependent diabetes mellitus (IDDM) patients. Diagn Pathol 2:22

Ramakrishna S, Geetha KM, Bhaskar gopal PVVS, Ranjit kumar P, Charan Madav P, Umachandar L (2011) Effect of Mallotus Philippensis Muell.-Arg leaves against hepatotoxicity of carbon tetrachloride in rats. Int J Pharm Sci Res (IJPSR) 2(2):74–83

Scoppola A, Montecchi FR, Mezinger G, Lala A (2001) Urinary mevalonate excretion rate in type 2 diabetes: role of metabolic control. Atherosclerosis 156:357–361

Seshasai SR, Kaptoge S, Thompson A, Di Angelantonio E et al (2011) Diabetes mellitus, fasting glucose, and risk of cause-specific death. N Engl J Med 364(9):829–41

Stefano AS, Marra G, Giardina B, Cotroneo P, Mordent A, Martorana GE, Manto A, Ghirlanda G (1997) Defective plasma antioxidant defenses and enhanced susceptibility to lipid peroxidation in uncomplicated IDDM. Diabetes 46:1853–1858

Takasu N, Komiya I, Asawa T, Nagasawa Y, Yamada T (1991) Streptozocin-and alloxan-induced H2O2 generation and DNA fragmentation in pancreatic islets: H2O2 as mediator for DNA fragmentation. Diabetes 40:1141–1145

Tan M-J, Ye J-M, Turner N, Hohnen-Behrens C, Ke C-Q, Tang C-P, Chen T, Weiss H-C, Gesing E-R, Rowland A, James DE, Ye Y (2008) Antidiabetic activities of triterpenoids isolated from bitter melon associated with activation of the AMPK pathway. Chem Biol 15:263–273

Van den Driessche A, Eenkhoorn V, Van Gaal L, De Block C (2009) Type 1 diabetes and autoimmune polyglandular syndrome: a clinical review. Neth J Med 67(11):376–87
Acknowledgment
This research was funded by the Dean's Office of Research at JUST through the grant number 26/2010.
About this article
Cite this article
Khouri, N.A., Daradka, H. Antidiabetic effect of Orchis anatolica root extracts on alloxan-induced diabetic rats. Comp Clin Pathol 22, 347–354 (2013). https://doi.org/10.1007/s00580-012-1415-8
Received:

Accepted:

Published:

Issue Date:

DOI: https://doi.org/10.1007/s00580-012-1415-8
Keywords