Abstract
Sarcocystosis caused by different Sarcocystis species and is a zoonotic protozoan infection with worldwide distribution in man and many animal species. In the present study, three techniques — direct inspection, impression smears and digestion method — were used for the diagnosis of Sarcocystis infection in 112 slaughtered sheep in a Kerman abattoir from November 2010 to May 2011. A total of 450 slaughtered sheep were selected randomly during three seasons, and their oesophagus and diaphragm were inspected using naked eye examination. In the second stage, 112 carcasses out of the 450 which had no apparent infection were selected randomly and their meat investigated using two techniques: impression smear with staining and pepsin digestion. The percentage of macroscopic cysts found in the oesophagus and diaphragm muscle was 6% and 2.88%, respectively, and microscopically, infection was found in 100% of the organs. There was no significant difference between different ages or between males and females. Although all of the sheep were found to be infected with Sarcocystis, majority of the cysts were demonstrated microscopically. This suggests that meat should be cooked sufficiently, since a macroscopic inspection may not provide true results.
Access options
Buy single article
Instant access to the full article PDF.
US$ 39.95
Tax calculation will be finalised during checkout.
Subscribe to journal
Immediate online access to all issues from 2019. Subscription will auto renew annually.
US$ 79
Tax calculation will be finalised during checkout.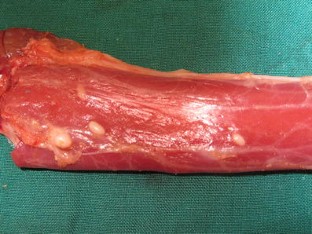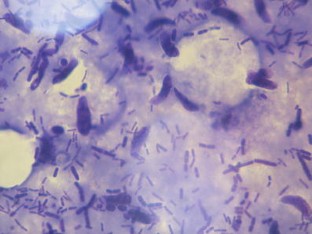 References
Atashparvar N, Soukhtezari A, Asalani A (2001) Survey of Sarcocystis in sheep and goats in Khoram Abad. 3rd National Congress of Medical Parasitology, Sari, Iran, pp. 251

Bunyaratvej S, Unpunyo P, Pongtippan A (2007) The Sarcocystis-cyst containing beef and pork as the sources of natural intestinal sarcocystosis in Thai people. J Med Assoc Thai 90(10):2128–2135

Daryani A, Alaei R, Dehghan MH, Arab R, Sharif M, Ziaei H (2006) Survey of Sarcocystis infection in slaughtered sheep and buffaloes in Ardabil, Iran. J Anim Vet Adv 5(1):60–62

Diez P, Banos PD (1978) The prevalence of sarcospordiosis in sheep in province of Leon, with a comparative study of various diagnostic methods. An Fac Vet de Leon 24:195–199

Dubná S, Langrová I, Nápravník J, Jankovská I (2007) The prevalence of intestinal parasites in dogs from Prague, rural areas, and shelters of the Czech Republic. Vet Parasitol 10: 145(1–2):120–128

Fayer R (2004) Sarcocystis spp. in human infections. Clin Microbiol Rev 17(4):894–902

Fukuyo M, Battsetseg B, Byamba A (2002) Prevalence of sarcocystis infection in meat-producing animals in Mongolia Southeast Asia. J Trop Med Public Health 33:490–493

Ginawi MA, Shommein AM (1977) Prevalence of sarcocystosis in sheep, goats and camels in the Sudan. J Vet Sci Anim Husb 18:92–97

Khalifa RM, El-Nadi NA, Saved FG, Omran EK (2008) Comparative morphological studies on three Sarcocystis species in Sohag, Egypt. J Egypt Soc Parasitol 38(2):599–608

Latif BMA, Al-Delemi JK, Mohammed BS, Al-Bayati SM, Amiry AM (1999) Prevalence of Sarcocystis spp. In meat production animals in Iraq. Vet Parasitol 84:85–90

Mala P, Baranova M (1995) Diagnosis of Sarcocystis infection in slaughter animals at veterinary meat inspection. Vet Med 40:97–100

Moré G, Basso W, Bacigalupe D, Venturini MC, Venturini L (2008) Diagnosis of Sarcocystis cruzi, Neospora caninum and Toxoplasma gondii infections in cattle. Parasitol Res 102(4):671–675

Oryan A, Moghaddar N, Gaur SN (1996) The distribution pattern of Sarcocystis species, their transmission and pathogenesis in sheep in Fars Province of Iran. Vet Res Commun 20(3):243–253

Ozturk G (1994) Incidence of ovine sarcospordiosis in the myocardium of sheep. Saglik Bilimleri Dergisi 8:66–69

Pena HF, Ogassawara S, Sinhorini IL (2001) Occurrence of cattle Sarcocystis spp. in raw kibbe from Arabian food establishments in the city of Sao Paolo, Brazil and experimental transmission to humans. J Parasitol 87:1459–1465

Pritt B, Trainer T, Simmons-Arnold L, Evans M, Dunams D, Rosenthal BM (2008) Detection of Sarcocystis parasites in retail beef: a regional survey combining histological and genetic detection methods. J Food Prot 71(10):2144–2147

Radfar MH, Khosravi A (2001) Survey of Sarcocystis in sheep and goats in Kerman. 3rd National Congress of Medical Parasitology, Sari, Iran, p 287

Razavi SM, Shekarforoush SS, Farahani M, Sarihi K (2003) Prevalence of sarcocyst in slaughtered sheep in Shiraz, Iran. J Vet Parasitol 17(2):139–141

Rosenthal BM, Dunams DB, Pritt B (2008) Restricted genetic diversity in the ubiquitous cattle parasite, Sarcocystis cruzi. Infect Genet Evol 8:588–592

Savini G, Dunsmore JD, Robertson ID, Seneviratna P (1992) The epidemiology of Sarcocystis spp in cattle of Western Australia. Epidemiol Infect 108:107–113

Valinezhad A, Oryan A, Ahmadi N (2008) Sarcocystis and its complications in camels (Camelus dreomedarius) of eastern provinces of Iran. Korean J Parasitol 46:229–234

Vangeel L, Houf K, Chiers K, Vercruysse J, D'Herde K, Ducatelle R (2007) Molecular-based identification of Sarcocystis hominis in Belgian minced beef. J Food Prot 70:1523–1526

Woldemeskel M, Gebreab F (1996) Prevalence of Sarcocystis in livestock of northwest Ethiopia. J Vet Med Ser B 43:55–58
About this article
Cite this article
Mirzaei Dehaghi, M., Fallahi, M., Sami, M. et al. Survey of sarcocystis infection in slaughtered sheep in Kerman Abattoir, Kerman, Iran. Comp Clin Pathol 22, 343–346 (2013). https://doi.org/10.1007/s00580-012-1414-9
Received:

Accepted:

Published:

Issue Date:
Keywords
Sarcocystis

Sheep

Impression smear and digestion method

Kerman