Abstract
Immunity stimulants are applied to improve the immune system of aquatic organisms. In this study, the effect of oral administration of Marze (Satureja khuzestanica) and mountainous Lael (Oliviera decumbens) extracts on haematological parameters and lysozyme activity stimulation in Common carp was investigated during a 5-week period. At the end of this period, blood samples were taken for haematological and immunological assays (lysozyme activity). The result showed that white blood cell count (p > 0.05) and the ratio of white blood cells (p > 0.05) were not significantly affected by plant extract administration. There were significant differences between the serum lysozyme activities in different treatments (p < 0.05). Generally, it can be concluded that Marze extract, as an immune stimulant, has a positive effect on the immune system and increased the resistance of Common carp. The combination of Marze and Mountainous Lael extracts was also an effective immune stimulant, but Mountainous Lael extract on its own did not stimulate the immune system of Common carp.
Access options
Buy single article
Instant access to the full article PDF.
US$ 39.95
Tax calculation will be finalised during checkout.
Subscribe to journal
Immediate online access to all issues from 2019. Subscription will auto renew annually.
US$ 79
Tax calculation will be finalised during checkout.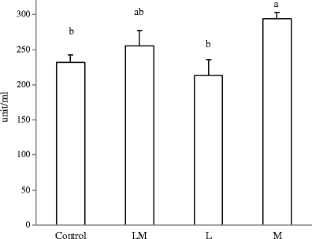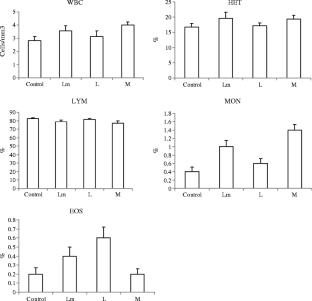 References
Alexander JB, Ingram JA (1992) No cellular nonspecific defense mechanisms of fish. Annu Rev Fish Dis 2:79–249

Amin GH, Salehi Sourmaghi MH, Zahedi M, Khanavi M, Samadi N (2005) Essential oil composition and antimicrobial activity of Oliviera decumbens. Fitoterapia 76(7–8):704–707

Auro de Ocampo A, Jimenez EM (1993) Herbal medicines in the treatment of fish diseases in Mexico. Veterinaria Mex 24:291–295

Chansue N, Ponpornpisit A, Endo M, Sakai M, Satoshi Y (2000) Improved immunity of tilapia Oreochromis niloticus by C-UP III, a herb medicine. Fish Pathol 35:89–90

Chen X, Wu Z, Yin J, Li L (2003) Effects of four species of herbs on immune function of Carassius auratus gibelio. J Fish Sci China 10:36–40, China

Dey RK, Chandra S (1995) Preliminary studies to raise disease resistant seed (fry) of Indian major carp Catla catla (Ham.) through herbal treatment of spawn. Fish Chimes 14:23–25

Canadian Pharmaceutical Association (CPA). 1988. Self medication. 1785 Alta Vista Drive, Ottawa, Canada

Cosentino S, Tuberoso CIG, Pisano B, Satta M, Mascia V, Arzedi E, Palmas F (1999) In-vitro antimicrobial activity and chemical composition of Sardinian Thymus essential oils. Lett Appl Microbiol 29:130–135

Darvish Bastami K, Mohamadi Zaragabadi A, Salehi Mir SV, Haji Moradlou Shakiba MM (2009) Measurement of some haematological characteristics of the wild carp. Comp Clin Pathol 18:321–323

Direkbusarakom S, Herunsalee A, Yoshimizu M, Ezura Y (1996) Antiviral activity of several Thai traditional herb extracts against fish pathogenic viruses. Fish Pathol 31:209–213

Dügenci SK, Arda N, Candan A (2003) Some medicinal plants as immunostimulant for fish. J Ethnopharmacol 88(1):99–106

Ellis AE (1990) Lysozyme assay. In: Stolen JS, Fletcher DP, Anderson BS, Robertson BS (eds) Techniques in fish immunology. SOS Publication, Fair Haven, NJ, pp 101–103

Farnsworth NR (1990) The role of ethnopharmacology in drug development. In: Chadwick DJ, Marsh J (eds) Bioactive compounds from plants, Ciba Foundation Symposium 154. Wiley, Chichester, UK, pp 2–11

Harikrishnan R, NishRani M, Balasundaram C (2003) Hematological and biochemical parameters in common carp, Cyprinus carpio, following herbal treatment for Aeromonas hydrophila infection. Aquaculture 221:41–50

Hajto T (1968) Immunomodulatory effect of iscador: a Viscum album preparation. Oncology 43(suppl 1):51–61

Iwama G, Nakanishi T (1996) The fish immune system, Chapter 3: innate immunity in fish. Academic, London, pp 73–114

Jian J, Wu Z (2002) Effect of Chinese herbal medicine on nonspecific immunity of Jian common carp (Cyprinus carpio var. Jian). J Dalian Fish Univ 17:114–119, China

Luo R (1997) Induction of immunity substance in Penaeus chinensis by Chinese herbal medicine. Oceanol Limnol Sin 28:573–577, China

Phillipson JD (2001) Phytochemistry and medicinal plants. Phytochem 56:237–243

Raa J, Roerstad G, Engstad R, Robetsen B (1992) The use of immunostimulants to increase resistance of aquatic organisms to microbial infections. Dis Asian Aquacult 1:39–50

Selvaraj VK, Sampath K, Vaithilingam S (2006) Adjuvant and immunostimulatory effects of b-glucan administration in combination with lipopolysaccharide enhances survival and some immune parameters in carp challenged with Aeromonas hydrophila. Vet Immunol Immunopathol 114:15–24

Selvaraj V, Sampath K, Sekar V (2005) Administration of yeast glucan enhances survival and some non-specific and specific immune parameters in carp (Cyprinus carpio) infected with Aeromonas hydrophila. Fish Shellfish Immunol 19:293e306

Ultee A, Kets EPW, Smid EJ (1999) Mechanism of action of carvacrol on the food borne pathogen Bacillus cereus. Appl Environ Microbiol 65(10):4606–4610

Yin G, Ardo L, Thompson KD, Adams A, Jeney Z, Jeney G (2009) Chinese herba (Astragalus radix and Ganoderma lucidum) enhance immune response of carp, Cyprinus carpio, and protection against Aeromonas hydrophila. Fish Shellfish Immunol 26:140–145

Wu W, Ye J, Lu Q, Wu H, Pan Q (1998) Studies on Gynostemma pentaphyllum used as fish feed additives. J Shanghai Fish Univ 7:367–370, China
About this article
Cite this article
Khansari, A., Yavari, V., Alishahi, M. et al. Effects of Oliviera decumbens and Satureja khuzestanica extract on some immunological and haematological parameters of Cyprinus carpio . Comp Clin Pathol 22, 339–342 (2013). https://doi.org/10.1007/s00580-012-1412-y
Received:

Accepted:

Published:

Issue Date:
Keywords
Khozestanian Marze (Satureja khuzestanica)
Mountainous Lael (Oliviera decumbens)
Cyprinus carpio

Haematology parameters

Immunostimulant

Lysozyme