Abstract
A year-old German shepherd-cross bitch was presented with a history of incontinence and an abnormal posterior gait that worsened on progression. Visual examination did not show ectoparasites. The heart, pulse and respiratory rates as well as rectal temperature were normal. Palpation of the hip joints did not suggest luxation. History also revealed that the bitch was served 2 weeks earlier. The radiographic examination revealed partial fusion of the last lumbar vertebra with the sacrum. The case was handled conservatively with periodic analgesic treatment recommended. A follow-up of the case showed an improved condition, and the bitch whelped four puppies (two dead and two alive) 6 weeks later. It is concluded from this report that the lameness observed with the attendant loss of condition may have resulted from stenosis of the vertebral canal due to partial fusion of the sacrum with the lumbar vertebra which may have been acquired later in life as the animal did not suffer from any sign of lameness in its early life.
Access options
Buy single article
Instant access to the full article PDF.
US$ 39.95
Tax calculation will be finalised during checkout.
Subscribe to journal
Immediate online access to all issues from 2019. Subscription will auto renew annually.
US$ 79
Tax calculation will be finalised during checkout.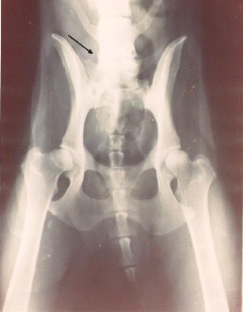 References
Cynthia M, Khan MA (1992) (Eighth edition) Diseases of the spinal column and cord. The Merck veterinary manual. Merck and Co. Inc., White House Stations, 922

Dyce KM, Sack WO, Wensing CJG (2002) The spinal cord. Textbook of Veterinary Anatomy. Saunders. An imprint of Elsevier, pp 270

Eze CA (2002) Lameness and reproductive performance in small ruminant. Small Rumin Res 44:265–267

Grevel V, Schwartau K (1997) Hemilaminectomy in thoraco-lumbar disc disease in the dog. Klleintiepraxis 42(1):5–20

Griffiths I (1982) Spinal disease in the dog. In Pract 4:44–52, Small Animal Clinic

Jones JC, Sorjonen DC, Simpson ST, Coates JR, Lkenz SDd, Hathcock JT, Agee MW, Bertels JE (1996) Comparison between computed tomographic and surgical findings in nine large-breed dogs with lumbosacral stenosis. Vet Radiol Ultrasound 37(4):247–256

Morgan JP (1968) Congenital anomalies of the vertebral column of the dog. A study of the incidence and significance based on a radiographic and morphologic study. J Am Vet Radop; spc/9:21 as in Radiology in Veterinary Ortlhopedics. Le and Febiger, Philadelphia, 1972, pp: 219–233.

Morgan JP (1972) Congenital anomalies in vertebral column. Radiology in veterinary orthopedics. Febiger, Philadelphia. pp 219–233.

Skulj' K (1997) Late results of conservative and operative treatment of cauda espuinia syndrome in dogs. Zbornik Veterinarski Faclultete Univerza Ljulblijanski 34(1):109–119

Thomson CE, Kovnegay JN, Stevens JB (1990) Analysis of cerebrospinal fluid from the cerebellomedullary and lumbar cisterns of dogs with focal neurologic disease 145 cases (1985–1987). J Am Vet Med Assoc 196:1841–1844
About this article
Cite this article
Eze, C.A., Kene, R.O.C. Case report: clinical and radiographic features of partial fusion of the last lumbar vertebra with the sacrum involving a German shepherd-cross bitch. Comp Clin Pathol 22, 335–337 (2013). https://doi.org/10.1007/s00580-012-1411-z
Received:

Accepted:

Published:

Issue Date:
Keywords
Sacro-lumbar fusion

Clinical management

Radiograph features

German shepherd bitch