Abstract
One hundred (100) bovine bulk milk samples were tested for the presence of Coxiella burnetii and the detection of associated risk factors. Of the tested samples, 11% tested positive for C. burnetii. There was no correlation between the presence of C. burnetii in bulk milk samples and the kind of dairy herd the samples were taken from the number of cows in each site, and the variety of water and food. The only association that was found corresponded with seasonal samples.
Access options
Buy single article
Instant access to the full article PDF.
US$ 39.95
Tax calculation will be finalised during checkout.
Subscribe to journal
Immediate online access to all issues from 2019. Subscription will auto renew annually.
US$ 79
Tax calculation will be finalised during checkout.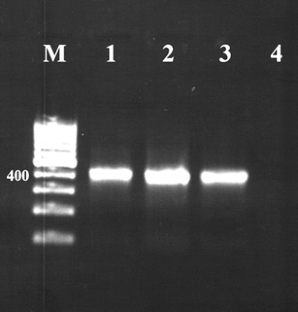 References
Angelakis E, Raoult D (2010) Q fever. Vet Microbiol 140:297–309

Arricau-Bouvery N, Rodolakis A (2005) Is Q fever an emerging or re-emerging zoonoses? Vet Res 36:327–350

Berri M, Laroucau K, Rodolakis A (2000) The detection of Coxiella burnetii from ovine genital swabs, milk and fecal samples by the use of a single touchdown polymerase chain reaction. Vet Microb 72:285–293

Berri M, Arricau-Bouvery N, Rodolakis A (2003) PCR-based detection of Coxiella burnetii from clinical samples. In: Sachse K, Frey J (eds) Methods in molecular biology. Humana Press Inc., Totowa, pp 153–161

Burganskii BK, Kapinskii MB, Vygovskii AP, Berdnikov IF (1957) Q fever in Ural. Zh Mikrobiol Epidemiol Immunobiol 28:41–46

EFSA Panel on Animal Health and Welfare (AHAW) (2010) Scientific Opinion on Q Fever. EFSA Journal 8(5):1595. doi:10.2903/j.efsa.2010.1595. Available online: www.efsa.europa.eu. Accessed 15 Oct 2011

Fretz R, Schaeren W, Tanner M, Baumgartner A (2007) Screening of various foodstuffs for occurrence of Coxiella burnetii in Switzerland. Int J Food Microbiol 116:414–418

Garcia-Perez AL, Astobiza I, Barandika JF, Atxaerandio R, Hurtado A, Juste RA (2009) Investigation of Coxiella burnetii occurrence in dairy sheep flocks by bulk-tank milk analysis and antibody level determination. J Dairy Sci 92:1581–1584

Guatteo R, Beaudeau F, Joly A, Seegers H (2006) Shedding routs of Coxiella burnetii in dairy cows: implications for detection and control. Vet Res 37:827–833

Kersh GJ, Wolfe TM, Fitzpatrick KA, Candee AJ, Oliver LD, Patterson NE, Self JS, Priestley RA, Loftis AD, Massung RF (2010) Presence of Coxiella burnetii DNA in the Environment of the United States, 2006 to 2008. Appl Environ Microbiol 13:4469–4475

Kim SG, Kim EH, Lafferty CJ, Dubovi E (2005) Coxiella burnetii in bulk tank milk samples, United States. Emerging Infect Dis 11:619–621

Kirkan S, Kaya O, Tekbiyik S, Parin U (2008) Detection of Coxiella burnetii in cattle by PCR. Turk J Vet Anim Sci 32:215–220

Kulagin SM, Fedorova NI, Sokolova NF (1958) The survival of Rickettsia burneti in water and methods of disinfection. Zh Mikrobiol Epidemiol Immunobiol 2:62–66

Maurin M, Raoult D (1999) Q fever. Clin Microbiol Rev 12:518–553

Parker NR, Barralet JH, Bell AM (2006) Q fever. Lancet 367:679–688

Rahimi E, Doosti A, Ameri M, Kabiri E, Sharifian B (2009) Detection of Coxiella burnetii by nested PCR in bulk milk samples from dairy bovine, ovine, and caprine herds in Iran. Zoonoses Public Health. doi:10.1111/j.1863-2378.2009.01289

Rahimi E (2010) Coxiella burnetii in goat bulk milk samples in IRAN. Afr J Microbiol Res 4(21):2324–2326

Rahimi E, Ameri M, Karim G, Doosti A (2011a) Prevalence of Coxiella burnetii in bulk milk samples from dairy bovine, ovine, caprine and camel herds in Iran as determined by polymerase chain reaction. Foodborn Pathog Dis 8:307–310

Rahimi E, Karim G, Doosti A (2011b) Study on the seasonal prevalence of Coxiella burnetii in cow's milk using nested-PCR. J Microb World (in press)

Raoult D, Marrie TS (1995) Q fever. Clin Infect Dis 20:489–495

Rodolakis A, Berri M, Héchard C, Caudron C, Souriau A, Bodier CC, Blanchard B, Camuset P, Devillechaise P, Natorp JC, Vadet JP, Arricau-Bouvery N (2007) Comparison of Coxiella burnetii shedding in milk of dairy bovine, caprine, and ovine herds. J Dairy Sci 90:5352–5360

Roest HIJ, Tilburg JJHC, Ban der Hoek W, Vellema P, Van Zijderveld FG, Klaassen CHW, Raoult D (2011) The Q fever. J Epidemiol Infect 139:1–12

Welsh HH, Lennette EH, Abinanti FR, Winn JF, Kaplan W (1959) Q fever studies: the recovery of Coxiella burnetii from the soil and surface water of premises harboring infected sheep. Am J Hyg 70:14–20

Whitney EA, Massung RF, Candee AJ, Ailes EC, Myers LM, Patterson NE, Berkelman RL (2009) Seroepidemiologic and occupational risk survey for Coxiella burnetii antibodies among US veterinarians. Clin Infect Dis 48:550–557

Zhang GQ, Nguyen SV, To H, Ogawa M, Hotta A, Yamaguchi T, Kim HJ, Fukushi H, Hirai K (1998) Clinical evaluation of a new PCR assay for detection of Coxiella burnetii in human serum samples. J Clin Microbiol 36:77–80
Acknowledgments
The authors are grateful to the Islamic Azad University, Jahrom branch for their executive support of this project.
About this article
Cite this article
Kargar, M., Rashidi, A., Doosti, A. et al. Prevalence of Coxiella burnetii in bovine bulk milk samples in southern Iran. Comp Clin Pathol 22, 331–334 (2013). https://doi.org/10.1007/s00580-012-1406-9
Received:

Accepted:

Published:

Issue Date:
Keywords
C. burnetii

Outer membrane protein

Bovine milk

Iran