Abstract
Individuals with reduced glomerular filtration rate (GFR) are at greater risk for cardiovascular disease and other comorbidities. Creatinine-based equations are used to estimate GFR, identify patients with potential kidney disease, and classify them into different stages since serum creatinine is insensitive to changes in the GFR. The aim of our work was to evaluate diagnostic performance of serum cystatin C and neutrophil gelatinase-associated lipocalin (NGAL) as markers of kidney function in patients with reduced GFR. Fifty cases at different stages of renal impairment and 30 healthy control subjects were tested. Only serum NGAL and cystatin C were higher in stage 2 chronic kidney disease (CKD) when compared to the control group (p < 0.05). For stages 3–5 the median levels of cystatin C, NGAL, and creatinine were found to be significantly higher than the control group. ROC curve constructed to differentiate stage 2 patients from the controls showed AUC for NGAL 0.795, sensitivity 86%, and specificity 63.3%; AUC for cystatin C 0.957, sensitivity 86%, and specificity 90%; and AUC for creatinine 0.738. Frequency of cases that tested positive for NGAL and cystatin C in stage 2 was higher than those in control group (p < 0.05) with an OR of 10.364 (95% CI 1.099–97.686) for NGAL and OR 54 (95% CI 4.7–613) for cystatin C. NGAL and cystatin C exhibited higher sensitivity than creatinine for diagnosis of stage 2 CKD. Their use as adjunctive diagnostic tools in patients with mildly reduced GFR may be justified on the long term to diagnose early renal insult.
Access options
Buy single article
Instant access to the full article PDF.
US$ 39.95
Tax calculation will be finalised during checkout.
Subscribe to journal
Immediate online access to all issues from 2019. Subscription will auto renew annually.
US$ 79
Tax calculation will be finalised during checkout.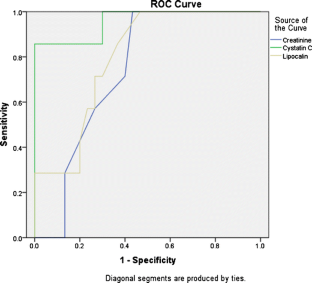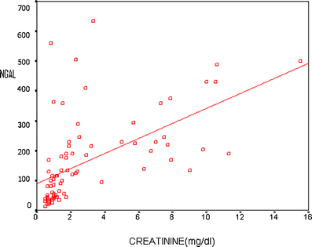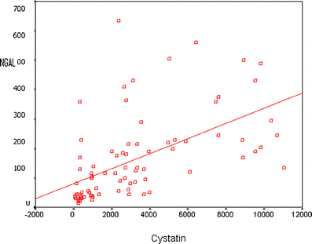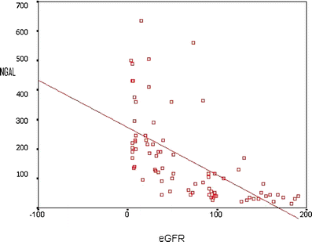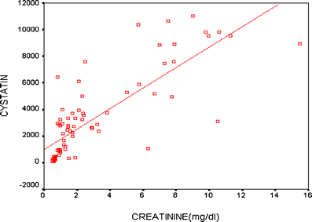 References
Bachorzewska-Gajewska H, Malyszko J, Sitniewska E, Malyszko JS, Pawlak K, Mysliwiec M et al (2007) Could neutrophil-gelatinase-associated lipocalin and cystatin C predict the development of contrast-induced nephropathy after percutaneous coronary interventions in patients with stable angina and normal serum creatinine values? Kidney Blood Press Res 30:408–415

Bennett M, Dent CL, Ma Q, Dastrala S, Grenier F, Workman R et al (2008) Urine NGAL predicts severity of acute kidney injury after cardiac surgery: a prospective study. Clin J Am Soc Nephrol 3:665–673

Bolignano D, Coppolino G, Lacquaniti A, Nicocia G, Buemi M (2008) Pathological and prognostic value of urinary neutrophil gelatinase-associated lipocalin (NGAL) in macroproteinuric patients with worsening renal function. Kidney Blood Press Res 31:274–27

Devarajan P (2010) Neutrophil gelatinase-associated lipocalin: a promising biomarker for human acute kidney injury. Biomark Med 4(2):265–280

Dharnidharka VR, Kwon C, Stevens G (2002) Serum cystatin C is superior to serum creatinine as a marker of kidney function: a meta-analysis. Am J Kidney Dis 40:221–226

Ding H, He Y, Li K, Yang J, Li X, Lu R, Gao W (2007) Urinary neutrophil gelatinase-associated lipocalin is an early biomarker for renal tubulointerstitial injury in IgA nephropathy. Clin Immunol 123(2):227–234

Eddy AA, Neilson EG (2006) Chronic kidney disease progression. J Am Soc Nephrol 17:2964–2966

Filler G, Bokenkamp A, Hofmann W, Bricon TL, Grubb A (2002) Cystatin C as a marker of GFR—history, indications, and future research. Clin Biochem 38:1–8

Finney H, Newman DJ, Price CP (2002) Adult reference for serum cystatin C, creatinine and predicted creatinine clearance. Ann Clin Biochem 37:49–59

Flower DR, North AC, Sansom CE (2000) The lipocalin protein family: structural and sequence overview. Biochim Biophys Acta 1482:9–24

Groesbeck D, Köttgen A, Parekh R, Selvin E, Schwartz GJ, Coresh J et al (2008) Age, gender, and race effects on cystatin C levels in US adolescents. Clin J Am Soc Nephrol 3:1777–1785

Grubb A, Bjork J, Lindstrom V, Sterner G, Bondesson P, Nyman U (2005) A cystatin C-based formula without anthropometric variables estimates glomerular filtration rate better than creatinine clearance using the Cockcroft–Gault formula. Scand J Clin Lab Invest 65:153–162

Hawkins R (2011) New biomarkers of acute kidney injury and the cardio-renal syndrome. Korean J Lab Med 31(2):72–80

Herget-Rosenthal S, Marggraf G, Hüsing J, Göring F, Pietruck F, Janssen O et al (2004) Early detection of acute renal failure by serum cystatin C. Kidney Int 66:1115–1122

Knapp RG, Miller MC (1992) Describing the performance of a diagnostic test. In: Knapp RG, Miller MC (eds) Clinical epidemiology and biostatistics, 1st edn. Williams & Wilkins, Baltimore, pp 41–42

Knight EL, Verhave JC, Spiegelman D, Hillege HL, de Zeeuw D, Curhan GC et al (2004) Factors influencing serum cystatin C levels other than renal function and the impact on renal function measurement. Kidney Int 65:1416–1421

Lamb E, Newman D, Price C (2006) Kidney Function Tests. In: Burtis CA, Ashwood ER, Bruns DE (eds) Tietz text book of clinical chemistry, 4th edn. Elsevier Saunders, Philadelphia, pp 797–835

Levey AS, Greene T, Kusek JW, Beck GJ, Group MS (2000) A simplified equation to predict glomerular filtration rate from serum creatinine. J Am Soc Nephrol 11:8–28

Levey AS, Eckardt KU, Tsukamoto Y, Levin A, Coresh J, Rossert J, Zeeuw D, Hostetter TH, Lameire N, Eknoyan G (2005) Definition and classification of chronic kidney disease: a position statement from Kidney Disease: Improving Global Outcomes (KDIGO). Kidney Int 67:2089–2100

Macdonald J, Marcora S, Jibani M, Roberts G, Kumwenda M, Glover R et al (2006) GFR estimation using cystatin C is not independent of body composition. Am J Kidney Dis 48:712–719

Makris K, Markou N, Evodia E, Dimopoulou E, Drakopoulos I, Ntetsika K et al (2009) Urinary neutrophil gelatinase-associated lipocalin (NGAL) as an early marker of acute kidney injury in critically ill multiple trauma patients. Clin Chem Lab Med 47:79–82

Malyszko J, Bachorzewska-Gajewska H, Sitniewska E, Malyszko JS, Poniatowski B, Dobrzycki S (2008) Serum neutrophil gelatinase-associated lipocalin as a marker of renal function in non-diabetic patients with stage 2–4 chronic kidney disease. Ren Fail 30(6):625–628

Malyszko J, Malyszko JS, Bachorzewska-Gajewska H, Poniatowski B, Dobrzycki S, Mysliwiec M (2009) Neutrophil gelatinase-associated lipocalin is a new and sensitive marker of kidney function in chronic kidney disease patients and renal allograft recipients. Transplant Proc 41(1):158–161

Manjunath G, Tighioaurt H, Coresh J, Macleod B, Salem DN, Griffith JL et al (2003) Level of kidney function as a risk factor for cardiovascular outcomes in the elderly. Kidney Int 63:1121–1129

Meguid EL, Nahas A, Bello A (2005) Chronic kidney disease: the global challenge. Lancet 365:331–340

Mishra J, Ma Q, Prada A, Mitsnefes M, Zahedi K, Yang J et al (2003) Identification of neutrophil gelatinase-associated lipocalin as a novel early urinary biomarker for ischemic renal injury. J Am Soc Nephrol 14:2534–2543

Mishra J, Mori K, Ma Q, Kelly C, Barasch J, Devarajan P (2004) Neutrophil gelatinase-associated lipocalin: a novel early urinary biomarker for cisplatin nephrotoxicity. Am J Nephrol 24:307–315

Mori K, Nakao K (2007) Neutrophil gelatinase-associated lipocalin as the real-time indicator of active kidney damage. Kidney Int 71(10):967–970

National Kidney Foundation (K/DOQI) (2002) Clinical practice guidelines for chronic kidney disease: evaluation, classification and stratification. Am J Kidney Dis 39(1):245–266

Nickolas TL, O'Rourke MJ, Yang J, Sise ME, Canetta PA, Barasch N et al (2008) Sensitivity and specificity of a single emergency department measurement of urinary neutrophil gelatinase-associated lipocalin for diagnosing acute kidney injury. Ann Intern Med 148:810–819

Phillips AO (2003) The role of renal proximal tubular cells in diabetic nephropathy. Curr Diab Rep 3:491–496

Pucci L, Triscornia S, Lucchesi D, Fotino C, Pellegrini G, Pardini E (2007) Cystatin C and estimates of renal function: searching for a better measure of kidney function in diabetic patients. Clin Chem 53:480–488

Rowe JW, Andres R, Tobin JD, Norris AH, Shock NW (1976) The effect of age on creatinine clearance in men: a cross-sectional and longitudinal study. J Gerontol 31:155–163

Stejskal D, Karpisek M, Humenanska V, Hanulova Z, Stejskal P, Kusnierova P, Petzel M (2008) Lipocalin-2 development, analytical characterization, and clinical testing of a new ELISA. Horm Metab Res 40(6):381–385

Stevens LA, Levey AS (2005) Chronic kidney disease in the elderly—how to assess risk. NEJM 352(20):2122–2124

Tanaka A, Suemaru K, Otsuka T, Ido K, Nishimiya T, Sakai I (2007) Estimation of the initial dose setting of vancomycin therapy using cystatin C as a new marker of renal function. Ther Drug Monit 29:261–264

Tian S, Kusano E, Ohara T, Tabei K, Itoh Y, Kawai T, Asano Y (1997) Cystatin C measurement and its practical use in patients with various renal diseases. Clin Nephrol 48:104–108

Tuladhar SM, Puntmann VO, Soni M, Punjabi PP, Bogle RG (2009) Rapid detection of acute kidney injury by plasma and urinary neutrophil gelatinase-associated lipocalin after cardiopulmonary bypass. J Cardiovasc Pharmacol 53:261–266

Vasiliades J (1976) Reaction of alkaline sodium picrate with creatinine: 1. Kinetics and mechanism of formation of the non creatinine picric acid complex. Clin Chem 22:1664–1671

Wasilewska A, Taranta-Janusz K, Dębek W, Zoch-Zwierz W, Kuroczycka-Saniutycz E (2011) KIM-1 and NGAL: new markers of obstructive nephropathy. Pediatr Nephrol 26(4):579–586

Watanabe S, Okura T, Liu J, Miyoshi K, Fukuoka T, Hiwada K (2003) Serum cystatin C level is a marker of end-organ damage in patients with essential hypertension. Hypertens Res 26:895–899

World Medical Association (2008) Declaration of Helsinki. Ethical principles for medical research involving human subjects, the 59th WMA General Assembly, Seoul
About this article
Cite this article
Hamid Gohar, N.A., Kholousi, N., Zeyada, R. et al. Serum neutrophil gelatinase-associated lipocalin and cystatin C as markers of renal function in patients with stages 2–5 chronic kidney disease. Comp Clin Pathol 22, 313–320 (2013). https://doi.org/10.1007/s00580-011-1404-3
Received:

Accepted:

Published:

Issue Date:
Keywords