Abstract
The present study was carried out to investigate the hypoglycaemic effects of metformin and garlic (Allium sativum Linn) in alloxan-induced diabetic dogs. The anti-diabetic activity of garlic had never been investigated in experimental diabetic dogs. Twenty-one adult dogs were randomly allocated into three equal groups consisting of seven dogs. The first group was the diabetic control, the second was the metformin treated and the third was the garlic-treated group. This study aimed to test 14-day oral administration of garlic (100 mg/kg) for its effects in alloxan-induced diabetic dogs in comparison with metformin (1,700 mg/dog/day) anti-diabetic activity. The mean decrease in blood glucose was 9.27 mg/dl for metformin and 25.93 mg/dl for garlic. The results showed that treatment with metformin non-significantly reduced blood glucose level (p > 0.05) and significantly increased serum insulin level in diabetic dogs (p < 0.05). In contrast to metformin, garlic resulted in a significant decrease in the level of blood glucose, with a concomitant significant increase in the serum insulin level in diabetic dogs (p < 0.05). Garlic had a mild but significant blood glucose-lowering effect and the long-term use of this agent may be advantageous, over chemical drugs, in alleviating some of the chronic diseases and complications caused by diabetes.
Access options
Buy single article
Instant access to the full article PDF.
US$ 39.95
Tax calculation will be finalised during checkout.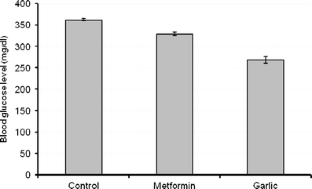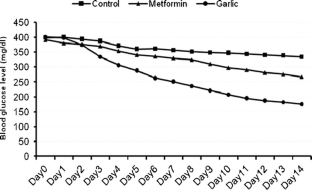 References
Ananthan R, Latha M, Ramkumar KM, Pari L, Baskar C, NarmathaBai V (2004) Modulatory effects of Gymnema montanum leaf extract on alloxan-induced oxidative stress in Wistar rats. Nutrition 20:280–285

Augusti KT (1996) Therapeutic values of onion (Allium cepa L.) and garlic (Allium sativum L.). Indian J Exp Biol 34:634–640

Augusti KT, Sheela CG (1996) Antiperoxide effect of S-allyl cysteine sulfoxide, a insulin secretagogue, in diabetic rats. Experientia 52:115–120

Avizeh R, Najafzadeh H, Pourmahdi M, Mirzaee M (2010) Effect of glibenclamide and fruit extract of Zizyphusspina-christion alloxan-induced diabetic dogs. Intern J Appl Res Vet Med 8:109–113

Baily CJ, Turner RC (1996) Metformin. N Engl J Med 334:574–578

Balogh E, Toth M, Bolcshazi G, Abonyi-Toth ZS, Kocsis E, Semjen G (2008) Oral hypoglycaemic drugs in alloxan-induced diabetes mellitus in dogs. Acta Vet Brno 77:363–371

Banerjee SK, Maulik SK (2002) Effect of garlic on cardiovasculardisorders: a review. Nutrition J 1:1–14

Baynes JW (1991) Role of oxidative stress in developmentof complications in diabetes. Diabetes 40:405–412

Baynes JW, Thorpe SR (1999) Role of oxidative stress in diabetic complications. Diabetes 48:1–9

Chakrabarti R, Rajagopalan R (2002) Diabetesand insulin resistance associated disorders: disease and the therapy. Curr Sci 83:1533–1538

Chu CA, Wiernsperger N, Muscato N, Knauf M, Neal DW, Cherrington AD (2000) Theacute effect of metformin on glucose production in the conscious dog is primarily attributable to inhibition ofglucogenolysis. Metabolism 49:1619–1626

Cisse A, Ndiaye A, Lopez-Sall P, Seck F, Faye B (2000) Antidiabetic activity of Zizyphus mauritiana Lam (Rhamnaceae). Dakar Med 45:105–107

Cooperstein SJ, Watkins D (1981) Action of toxic drugs on islet cells. In: Cooperstein SJ, Watkins D (eds) The islets of Langerhans. Academic, New York, pp 387–425

Cusi K, Consoli A, Defronzo RA (1996) Metabolic effects of metformin on glucose and lactate metabolismin noninsulin-dependent diabetes mellitus. J Clin Endocrinol Metab 81:4059–4067

Defronzo RA (1999) Pharmacologic therapy for type 2 diabetes mellitus. Ann Intern Med 131:281–303

Diabetes Atlas, second edition (2003) Belgium: International Diabetes Federation (IDF)

Feillet-Coudray C, Rock E, Coudray C, Grzelkowska K, Azais-Braesco V, Dardevet D, Mazur A (1999) Lipid peroxidation andantioxidant status in experimental diabetes. Clinica Chimica Acta 284:31–43

Fery F, Plat L, Balasse EO (1997) Effects of metformin on the pathways of glucose utilization after oral glucose in non-insulin-dependent diabetes mellitus patients. Metabolism 46:227–233

Gad MZ, El-Sawalhi MM, Ismail MF, El-Tanbouly ND (2006) Biochemical study of the anti-diabetic action of the Egyptian plants fenugreek and balanites. Mol Cell Biochem 281:173–183

Grover JK, Yadav S, Vats V (2002) Medicinal plants of India with anti-diabetic potential. J Ethnopharmaco 81:81–100

Hussein HM, El-Sayed EM, Said AA (2006) Antihyperglycemic, antihyperlipidemic and antioxidant effects of Zizyphus spinachristi and Zizyphus jujuba in alloxan diabetic rats. Intern J Pharmaco 2:563–570

Jahodar L (1993) Plants with hypoglycemic effects. Ceskoslovenska Farmacie 42:251–256

Jain RC, Vyas CR (1975) Garlic in alloxan-induced diabetic rabbits. Am J Clin Nutr 28:684–685

Jelodar G, Razmi N, Gholampour V (2007) Arginase alteration in the reproductive system of alloxan-diabetic dogs. J Repro Develop 53:317–321

Jung M, Park M, Lee HC, Kang YH, Kang ES, Kim SK (2006) Antidiabetic agents from medicinal plants. Curr Med Chem 13:1203–1218

Kim JM, Chung JY, Lee SY, Choi EW, Kim MK, Hwang CY, Youn HY (2006) Hypoglycemic effects of vanadium on alloxan monohydrate-induced diabetic dogs. J Vet Sci 7:391–395

Lenhard JM, Kliewer SA, Paulik MA, Plunket KD, Lehman JM, Weiel JE (1997) Effects of troglitazone and metformin on glucose and lipid metabolism: alterations of two distinct molecular pathways. Biochem Pharmacol 54:801–818

Lenzen S (2008) The mechanisms of alloxan- and streptozotocin-induced diabetes. Diabetologia 51:216–226

Liu CT, Hse H, Lii CK, Chen PS, Sheen LY (2005) Effects of garlic oil and daily trisulfide on glycemic control in diabetic rats. Eur J Pharmacol 516:165–173

Marles RJ, Farnsworth NR (1995) Antidiabeticplants and their active constituents. Phytomedicine 2:137–189

Mathew PT, Augusti KT (1973) Studies on the effect of allicin(diallyl disulphide-oxide) on alloxan diabetes l. Hypoglycaemic action and enhancement of serum insulin effect and glycogensynthesis. Indian J Biochem Biophys 10:209–212

Mohamadin AM, Mariee AD, El-Hefnawy HM, Fath El-Bab M (2003) Hypoglycemic activity of green tea extract in streptozotocin induced diabetic rats. Arab J Lab Med 29:397–400

Nazif NM (2002) Phytoconstituents of Ziziphusspina-christi L. fruits and their antimicrobial activity. Food Chem 76:77–81

Norberg A, Hoa NK, Liepinsh E, Van Phan D, Thuan ND, Jörnvall H, Sillard R, Ostenson CG (2004) A novel insulin-releasing substance, phanoside, from the plant Gynostemma pentaphyllum. J Biolo Chem 279:41361–41367

Orekhov AN, Grunwald J (1997) Effects of garlic on atherosclerosis. Nutrition 13:656–663

Pedraza-Chaverri J, Maldonado PD, Medina-Campos ON, Olivares-Corichi IM, Granados-Silvestre MA, Hernandez-Pando R, Ibarra-Rubio ME (2000) Garlic ameliorates gentamicinnephrotoxicity: relation to antioxidant enzymes. Free Radic Biol Med 29:602–611

Pentikainen PJ, Neuvonen PJ, Penttila A (1979) Pharmacokinetics of metformin after intravenous andoral administration to man. Eur J Clin Pharmacol 16:195–202

Peungvicha P, Thirawarapan SS, Temsiririrkkul R, Watanabe H, Kumar Prasain J, Kadota S (1998) Hypoglycemic effect of the water extract of Piper sarmentosum in rats. J Ethnopharmaco 60:27–32

Prabhakar PK, Doble M (2008) A target based therapeutic approach towards diabetes mellitus using medicinal plants. Curr Diabetes Rev 4:291–308

Sanchez FD, Game MJ, Jimenez I, Zarzuelo A (1994) Hypoglycemic activity of juniperus "berries". Planta Med 60:197–200

Santini SA, Marra G, Giardina B, Cotroneo P, Mordente A, Martorana GE, Manto A, Ghirlanda G (1997) Defective plasma antioxidant defenses and enhanced susceptibility to lipid peroxidation in uncomplicated IDDM. Diabetes 46:1853–1858

Sheweita SA, Newairy AA, Mansour HA, Yousef MI (2002) Effect of some hypoglycemic herbs on the activity of phase I and II drug-metabolizing enzymes in alloxan-induced diabetic rats. Toxicology 174:131–139

Stumvoll M, Nurjhan N, Periello G, Dailey G, Gerich JE (1995) Metabolic effects of metforminin non-insulin dependent diabetes mellitus. N Engl J Med 333:550–554

Szkudelski T (2001) The mechanism of alloxan and streptozotocin action in B cells of the rat pancreas. Physiol Rec 50:537–564

Thomson M, Al-Amin ZM, Al-Qattan KK, Shaban LH, Ali M (2007) Anti-diabetic and hypolipidaemic properties of garlic (Allium sativum) in streptozotocin-induced diabetic rats. Int J Diabetes & Metabolism 15:108–115
Acknowledgements
The authors wish to express their gratitude to the research council of Shahid Chamran University of Ahvaz for their financial support.
About this article
Cite this article
Mosallanejad, B., Avizeh, R., Varzi, H.N. et al. A comparison between metformin and garlic on alloxan-induced diabetic dogs. Comp Clin Pathol 22, 169–174 (2013). https://doi.org/10.1007/s00580-011-1381-6
Received:

Accepted:

Published:

Issue Date:
Keywords
Diabetes

Dog

Metformin

Garlic

Alloxan

Therapy