Abstract
The goal of this study was to evaluate the effect of unilateral ureteral ligation on blood constituents, renal histopathology and ultrasonography in dogs. A total number of 25 apparently healthy adult mongrel dogs found Assiut City, Egypt, were subjected to study. Animals were divided into five equal groups: the left ureter was ligated for 2, 7, 14 and 21 days in groups, I, II, III and IV, respectively, while group V represented the control group. The animals in groups I, II, III and IV were euthanized on days 2, 7, 14 and 21, respectively. Right and left uretronephrectomies were performed and specimens were taken for the histopathological examination. Results revealed significant increases in total leucocytes and neutrophils counts from day 2 to day 17. There were significant decreases (p < 0.01) in total red blood cell (RBC) count and packed cell volume (PCV)% at day 14. Creatinine level was significantly increased on days 7 and 17. Histopathological changes were varied from glomerular swelling and congestion to glomerular atrophy. In conclusion, serum creatinine was highest on days 3 and 7, while creatinine clearance was lowest at day 7. The serum blood urea nitrogen (BUN) was the highest at day 21. Major histopathological changes were observed on day 21. These changes were compatible with the ultrasonographic and biochemical findings.
Access options
Buy single article
Instant access to the full article PDF.
US$ 39.95
Tax calculation will be finalised during checkout.
Subscribe to journal
Immediate online access to all issues from 2019. Subscription will auto renew annually.
US$ 79
Tax calculation will be finalised during checkout.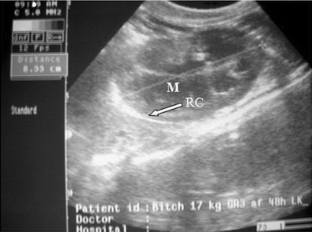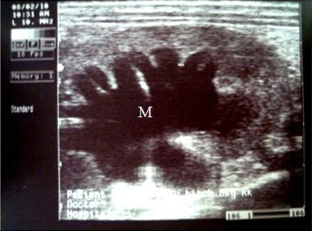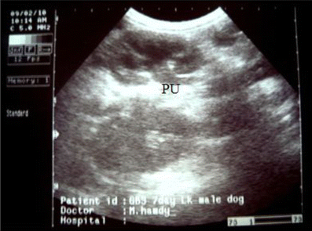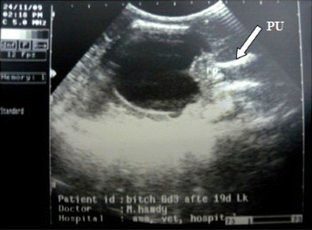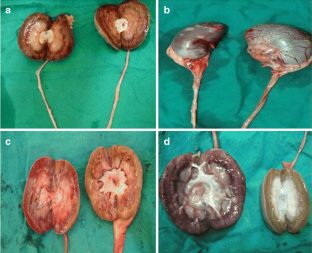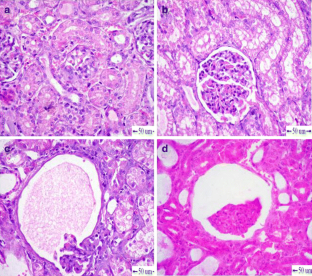 References
Abuelo JG (2007) Normotensive ischemic acute renal failure. N Engl J Med 357:797–805

Ackerman N (1983) Radiology of urogenital diseases in dogs and cats, Vol. 82. Venture Press, Davis CA, p 9

Alpers CE (2010) The kidney. In: Robbins and Cotran. Pathologic basis of disease, 8th ed. International Edition. Saunders, Philadelphia, PA, an Imprint of Elsevier Inc., pp. 905–971

Bancroft TD, Stevens A, Turner DR (1996) Theory and practice of histological technique, 4th edn. Churchill, Livingston, New York

Braun JP, Lefebvre HP, Watson ADJ (2003) Creatinine in the dog: a review. Am Soc Vet Clin Pathol 32:162–179

Burk RL, Feeney DA (2003) The abdomen. In: Burk RL, Feeney DA (eds) Small animal radiography and ultrasonography. A diagnostic atlas and text. Elsevier (USA), Saunders, Philadelphia, PA

Cartee RE, Selcer BA, Patton CS (1980) Ultrasonographic diagnosis of renal disease in small animals. J Am Vet Med Assoc 176:426–430

Coles EH (1986) Veterinary clinical pathology, 4th edn. Saunders, Philadelphia, PA

Felkai C, Voros K, Fenyves B (1995) Lesions of the renal pelvis and proximal ureter in various nephro-urological conditions and ultrasonographic study. Vet Radiol Ultrasound 36:397–401

Finco DR (1995) Obstructive uropathy and hydronephrosis. In: Osborne CA, Finco DA (eds) Canine and feline nephrology and urology. Williams & Wilkins, Baltimore, MD, pp 889–894

Fink RL, Caridis DT, Chmiel R, Ryan G (1980) Renal impairment and its reversibility following variable periods of complete ureteric obstruction. Aust NZ J Surg 50:77

Gönenci R, Durgut R, Erdogan S, Altug MN, Bal R (2003) EvaIuation of kidney abnormalities in mongrel dogs using clinical, ultrasonographical and biochemical examinations. Ankara Üniv Yet Fak Derg 50:97–102

Guyton C, Hall E (1998) Textbook of medical physiology, 10th edn. Wiley-Liss, New York, pp 246–379

Harris KP, Klahr S, Schreiner G (1993) Obstructive nephropathy: from mechanical disturbance to immune activation? Exp. Nephrol 1:198–204

Jones TC, Hunt RD, King NW (1997) Veterinary pathology, 6th edn. Lippincott, Wilkins, Baltimore, MD, pp 467–469

Moody TE, Vaughan ED, Gillenwater JY (1977) Comparison of the renal hemodynamic response to unilateral and bilateral ureteral occlusion. Invest Urol 14:455

Nyland TG, Matoon JS, Herrgesell EJ (2002) Urinary tract. In: Nyland TG, Matoon JS (eds) Small animal diagnostic ultrasound, 2nd edn. Saunders, Philadelphia, PA, pp 158–195

Sahal M, Haziroğlu R, Özkanlar Y, Beyaz L (2005) Bilateral hydronephrosis and hydroureter in a German shepherd dog. Ankara Üniv Vet Fak Derg 52:193–196

Tucci S, Facincani I, Beduschi MC, Franco PB, Martins AC (1997) Cutaneous vesicostomy in children. J Pediatr 73:265–268
About this article
Cite this article
Abd El-Hakiem, M.A.H., Abd Ellah, M.R., Youssef, H.A. et al. Interrelationship among blood constituents, renal histopathology and ultrasonography in unilateral ureteral ligation of dogs. Comp Clin Pathol 22, 47–57 (2013). https://doi.org/10.1007/s00580-011-1367-4
Received:

Accepted:

Published:

Issue Date:
Keywords
Dog

Haematology

Histopathology

Serum

Ureter

Ligation