Abstract
A Devon Rex cat was presented for bruises, petechie, and ecchymoses. Marked thrombocytopenia was the only primary abnormality noted on initial hematology and other testing. Thromboelastography and clinical signs supported the conclusion that this was a true thrombocytopenia. Use of optical platelet counting to detect large platelets and prostaglandin E1 to prevent platelet aggregation ruled out pseudothrombocytopenia. Exclusion of likely causes of thrombocytopenia and a rapid response to immunosuppressive doses of prednisolone suggested this was an immune-mediated thrombocytopenia. Signs of bleeding returned when the prednisolone dosage was decreased, and the platelet count again increased rapidly to an increased dosage. Thromboelastography showed marked hypocoagulability and may be useful to differentiate true thrombocytopenia from pseudothrombocytopenia, which occurs commonly in cats.
Access options
Buy single article
Instant access to the full article PDF.
USD 39.95
Price includes VAT (USA)
Tax calculation will be finalised during checkout.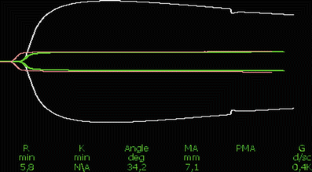 References
Bianco D, Armstrong PJ, Washabau RJ (2008) Presumed primary immune-mediated thrombocytopenia in four cats. J Feline Med Surg 10:495–500

Chong BH (1995) Diagnosis, treatment and pathophysiology of autoimmune thrombocytopenias. Crit Rev Oncol Hematol 20:271–296

Epstein KL, Brainard BM, Loopes MA, Barton MH, Moore JN (2009) Thromboelastography in 26 healthy horses with and without activation by recombinant human tissue factor. J Vet Emerg Crit Care 19:96–101

Jordan HL, Grindem CB, Breitschwerdt EB (1993) Thrombocytopenia in cats: a retrospective study of 41 cases. J Vet Intern Med 7:261–265

Kohn B, Linden T, Leibold W (2006) Platelet-bound antibodies detected by a flow cytometric assay in cats with thrombocytopenia. J Feline Med Surg 8:254–260

Krisensen AT (2009). Evaluation of haemostasis in cats using thromboelastography (2009). Proceedings 19th ECVIM-CA Congress, Porto Portugal, 170–172

Leclere M, Lavoie JP, Dunn M, Bédard C (2009) Evaluation of a modified thromboelastography assay initiated with recombinant human tissue factor in clinically healthy horses. Vet Clin Path 38:462–466

Lilliehook I, Tvedten H (2009) Validation of the Sysmex XT-2000iV hematology system for dogs, cats, and horses. I. Erythrocytes, platelets, and total leukocyte counts. Vet Clin Pathol 38:163–174

Macmillan DC, Sim AK (1970) A comparative study of platelet aggregation in man and laboratory animals. Thromb Diath Haemorrh 24:385–289

Meyers KM, Holmsen H, Seachord CL (1982) Comparative study of platelet dense granule constituents. Am J Physiol 243:54–61

Norman EJ, Barron RC, Nash SA, Clampitt RB (2001) Prevalence of low automated platelet counts in cats: comparison with prevalence of thrombocytopenia based on blood smear estimation. Vet Clin Pathol 30:137–140

Sinha AK, Colman RW (1978) Prostaglandin E1 inhibitis platelet aggregation by a pathway independent of adenosine 3', 5'-monophosphate. Science 200:202–203

Sinha AK, Colman RW (1983) Cyclic AMP independent inhibition of platelet aggregation by prostaglandin E1 is mediated through factor Xa. Thromb Res 30:553–564

Tasker S, Cripps PJ et al (2001) Evaluation of methods of platelet counting in the cat. J Small Anim Pract 42:326–332

Tasker S, Mackin AJ et al (1999) Primary immune-mediated thrombocytopenia in a cat. J Small Anim Pract 40:127–131

Tvedten H, Johansson P (2009) Feline platelet counting with prostaglandine E1 on the Sysmex XT-2000iV. Vet Clin Path. doi:10.1111/j.1939-165X.2009.00210.x

Weiser MG, Kociba GJ (1984) Platelet concentration and platelet volume distribution in healthy cats. Am J Vet Res 45:518–522

Wiinberg B, Jensen AL, Rojkjaer R, Johannson P, Kjelgaard-Hansen M, Kristensen AT (2005) Validation of human recombinant tissue factor-activated thromboelastography on citrated whole blood from clinically healthy dogs. Vet Clin Pathol 34:389–393

Wiinberg B, Jensen AL, Rozanski E, Johansson PI, Kjelgaard-Hansen M, Tranholm M, Kristensen AT (2009) Tissue factor activated thromboelastography correlates to clinical signs of bleeding in dogs. Vet J 179:121–129

Wilkins RJ, Hurvitz AI, Hurvitz AI, Dodds-Laffin WJ (1973) Immunologically mediated thrombocytopenia in the dog. J Am Vet Med Assoc 163:277–282

Zelmanovic D, Hetherington EJ (1998) Automated analysis of feline platelets in whole blood, including platelet count, mean platelet volume, and activation state. Vet Clin Pathol 27:2–9

Zuckerman L, Cohen E, Woodward JP, Caprini JA (1981) Comparison of thrombelastography with common coagulation tests. Thromb Haemost 46:752–756
Acknowledgment
The authors want to acknowledge Bodil Ström Holst and Anna Hillström for their contribution to the manuscript.
About this article
Cite this article
Öberg, J., Tvedten, H. Thromboelastography in a cat with steroid responsive thrombocytopenia. Comp Clin Pathol 19, 429–431 (2010). https://doi.org/10.1007/s00580-010-0978-5
Received:

Accepted:

Published:

Issue Date:
Keywords
TEG

Feline

Optical

Platelet numbers

Prostaglandin E1