Abstract
To evaluate the effects of platelet-rich plasma (PRP) on cutaneous regeneration and wound healing in dogs treated with dexamethasone, the present study was undertaken. Under general anesthesia, six full-thickness skin wounds were created on the back of five male adult dogs symmetrically. Left side wounds were left without any treatment, and right side wounds were treated topically with PRP jelly. Six days before creating the wounds, dogs received dexamethasone, 0.5 mg/kg IM, and every other day up to day 8 after wounding. For macroscopic evaluation, digital photographs were taken from wounds. In days 10, 17, and 24 after wounding, skin biopsies were taken from the center and corner of each wounds for hydroxyproline measurement and histopathological evaluation. No significant difference was seen in the percentage of wound contraction, epithelialization, and healing between test and control groups during the study (P > 0.05). There were no significant differences between median of hydroxyproline levels between left and right wounds in dogs treated with dexamethasone (P > 0.0.5). There were no significant differences between median of epithelialization, inflammatory cell infiltration, presence of dermal granulation tissue, fibroblast proliferation, arrangement of fibroblasts, collagen deposition, and collagen bundle formation scores, in the specimens of left and right wounds (P > 0.05). The results of the present study demonstrated that PRP did not have significant effects to promote cutaneous regeneration and wound healing in dogs treated with dexamethasone at least 16 days after last injection.
Access options
Buy single article
Instant access to the full article PDF.
US$ 39.95
Tax calculation will be finalised during checkout.
Subscribe to journal
Immediate online access to all issues from 2019. Subscription will auto renew annually.
US$ 79
Tax calculation will be finalised during checkout.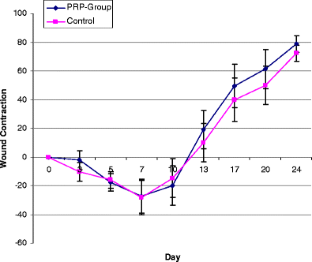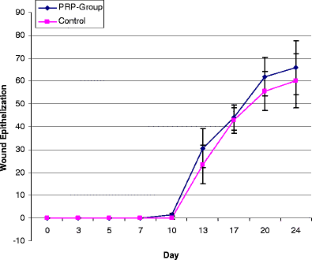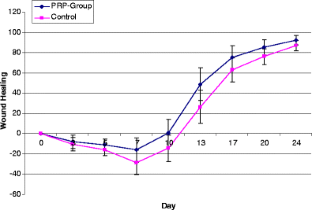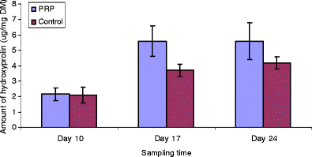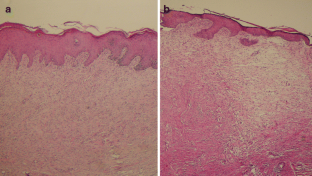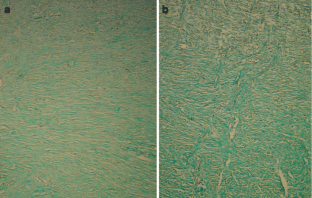 References
Anitua E, Andia I, Ardanza B (2004) Autologous platelets as a source of proteins for healing and tissue regeneration. Thromb Haemost 91:4–15

Ansel JC, Tiesman JP, Olerud JE, Krueger JG, Krane JF, Tara DC, Shipley GD, Gilbertson D, Usui ML, Hart CE (1993) Human keratinocytes are a major source of cutaneous platelet-derived growth factor. J Clin Invest 92:671–678

Antoniades HN, Galanopoulos T, Neville-Golden J, Kiritst CP, Lynch SE (1991) Injury induces in vivo expression of platelet-derived growth factor (PDGF) and PDGF receptor mRNAs in skin epithelial cells and PDGF mRNA in connective tissue fibroblasts. Proc Natl Acad Sci USA 88:565–569

Arguelles D, Carmona JU, Paster J, Iborra A, Vinals L, Martinez P, Bach E, Prades M (2006) Evaluation of single and double centrifugation tube methods for concentration equine platelets. Res Vet Sci 81:237–245

Ashcroft GS, Horan MA, Ferguson MW (1997) The effects of ageing on wound healing: immunolocalisation of growth factors and their receptors in a murine incisional model. J Anat 190:351–365

Ashcroft GS, Horan MA, Ferguson MW (1995) The effects of aging on cutaneous wound healing in mammals. J Anat 187:1–26

Assoian RK, Komoriya A, Meyers GA, Miller DW, Sporn UB (1983) Transforming growth factor-beta in human platelets. J Biol Chem 258:71–7160

Beer HD, Fassler R, Werner S (2000) Glucocorticoid-regulated gene expression during cutaneous wound repair. Vitam Horm 59:217–239

Beer HD, Longaker MT, Werner S (1997) Reduced expression of PDGF and PDGF receptors during impaired wound healing. J Invest Dermatol 109:132–138

Benndt NT, Schultz GS (1993) Growth factors and wound healing. Part II. Role in normal and chronic wound healing. Am J Surg 166:74–81

Braun S, Keller U, Beer HD (2002) Meeting report: growth factors in development, repair and disease. Eur J Cell Biol 81:375–382

Breuing K, Andree C, Helo G, Slama J, Liu PY, Eriksson E (1997) Growth factors in the repair of partial thickness porcine skin wounds. Plast Reconstr Surg 100:657–664

Carmona JU, Arguelles D, Climent F, Prades M (2007) Autologous platelet concentration as a treatment of horses with osteoarthritis: A preliminary pilot clinical study. J Equine Vet Sci 27(4):167–170

Carter CA, Jolly DG, Worden CE, Hendren DG, Kane CJM (2003) Platelet-rich plasma gel promotes differentiation and regeneration during equine wound healing. Exp Mol Pathol 74:244–255

Carter CA, Madden V (2000) A newly characterized human endometrial adenocarcinoma cell line (CAC-1) differentiates in response to retinoic acid treatment. Exp Mol Pathol 69:175–191

Carter CA, Parham GP (1997) State of differentiation affects the response of endometrial adenocarcinoma cells to retinoic acid. Anticancer Res 17:1973–1984

Carter K (2003) Growth factors: the wound healing therapy of the future. Wound Care 8:S15–S23

Choi Y, Fuchs E (1990) TGF-beta and retinoic acid: regulators of growth and modifiers of differentiation in human epidermal cells. Cell Regul 1:791–809

Debus ES, Schmidt K, Ziegler UE, Thiede A (2000) The role of growth factors in wound healing. Zentralbl Chir 125:49–55

Declair V (1999) The importance of growth factors in wound healing. Ostomy Wound Manage 45:64–68

Ferguson M, Byrnes C, Sun L, Marti G, Bonde P, Duncan M, Harmon JW (2005) Wound healing enhancement: electroportion to address a classic problem of military medicine. World J Surg 29:S55–S59

Grotendorst GR, Martin GR, Pencev D, Sodec J, Harvey AK (1985) Stimulation of granulation tissue formation by platelet-derived growth factor in normal and diabetic rats. J Clin Invest 76:2323–2329

Haisa M, Okochi H, Grotendorst GR (1994) Elevated levels of PDGF alpha receptors in keloid fibroblasts contribute to an enhanced response to PDGF. J Invest Dermatol 103:560–563

Harris IR, Yee KC, Walters CE, Cunliffe WJ, Kearney JN, Wood EJ, Ingham E (1995) Cytokine and protease levels in healing and non-healing chronic venous leg ulcers. Exp Dermatol 4:342–349

Hsuan JJ (1989) Transforming growth factors. Br Med Bull 45:425–437

Ignotz RA, Massagué J (1986) Transforming growth factor-beta stimulates the expression of fibronectin and collagen and their incorporation into the extracellular matrix. J Biol Chem 261:4337–4345

Kane CJM, Hebda PA, Mansbridge JN, Hanawalt PC (1991) Direct evidence for spatial and temporal regulation of transforming growth factor ≷1 expression during cutaneous wound healing. J Cell Physiol 148:157–173

Kane CJM, Knapp AM, Mansbridge JN, Hanawalt PC (1990) Transforming growth factor-≷1 localization in normal and psoriatric epidermal keratinocytes in situ. J Cell Physiol 144:144–150

Knighton DR, Ciresi K, Fiegel VD, Schumerth S, Butler E, Cerra FB (1990) Stimulation of repair in chronic, nonhealing, cutaneous ulcers using platelet- derived wound healing formula. Surg Gyneclo Obstet 170:56–60

Komarcevic A (2000) The modern approach to wound treatment. Med Pregl 53:363–368

Ksander GA, Chu GH, McMullin H, Ogawa Y, Pratt BW, Rosenblatt JS, McPherson JM (1990) Transforming growth factors-ß1 and ß2 enhance connective tissue formation in animal models of dermal wound healing by secondary intent. In: Piez KA, Sporn MB (eds) Transforming growth factor-ßs: chemistry, biology, and therapeutics, vol 593. New York Academy of Sciences, New York

Lawrence WT, Sporn MB, Gorschboth C, Norton JA, Grotendorst GR (1986) The reversal of an adriamycin induced healing impairment with chemoattractants and growth factors. Ann Surg 203:142–147

Marikovsky M, Breuing K, Liu PY, Eriksson E, Higashiyama S, Farber P, Abraham J, Klagsbrum M (1993) Appearance of heparin binding EGF-like growth factor in wound fluid as a response to injury. Proc Natl Acad Sci USA 90:3889–3893

Matsuoka J, Grotendorst GR (1989) Two peptides related to platelet derived growth factor are present in human wound fluid. Proc Natl Acad Sci USA 86:4416–4420

Mendelsohn EE, Solum NO, Brosstad F (2007) Effects of platelets and platelet-derived material on the activated partial thromboplastin time (Cephotest) coagulation test. Scan J Clin Lab Invest 65:321–332

Moyer KE, Davis A, Saggers GC, Mackay DR, Ehrlich HP (2002) Wound healing: the role of gap junctional communication in rat granulation tissue maturation. Expt Mol Pathol 72:10–16

Mustoe TA, Pierce GF, Thomason A, Gramates P, Sporn MB, Deuel TF (1987) Accelerated healing of incisional wounds in rats induced by transforming growth factor-≷. Science 237:1333–1336

Niessen FB, Andriessen MP, Schalkwijk J, Visser L, Timens W (2001) Keratinocyte-derived growth factors play a role in the formation of hypertrophic scars. J Pathol 194:207–216

Nishimoto S, Oyama T, Matsuda K (2007) Simultaneous concentration of platelets and marrow cells: a simple and useful technique to obtain source cells and growth factors for regeneration medicine. Wound Rep Reg 15:156–162

Ono I, Gunji H, Zhang JZ, Maruyama K, Kaneko F (1995) Studies on cytokines related to wound healing in donor site wound fluid. J Dermatol Sci 10:241–245

Pierce GF, Tarpley JE, Tseng J, Bready J, Chang D, Kenney WC, Rudolph R, Robson MC, Vandeberg J, Reid P, Kaufman S, Farrell CL (1995) Detection of platelet-derived growth factor (PDGF)-AA in actively healing human wounds treated with recombinant PDGF-BB and absence of PDGF in chronic nonhealing wounds. J Clin Invest 96:1336–1350

Pierce GF, Mustoe TA, Lingelbach J, Masakowski VR, Gramates P, Deuel TF (1989a) Transforming growth factor ß reverses the glucocorticoid-induced wound healing deficit in rat: possible regulation in macrophages by platelet-derived growth factor. Pro Natl Acad Sci 86:2229–2233

Pierce GF, Mustoe TA, Lingelbach J, Masakowski VR, Griffin GL, Senior RM, Deuel TF (1989b) Platelet derived growth factor and transforming growth factor-beta enhance tissue repair activities by unique mechanisms. J Cell Biol 109:429–440

Rengove NJ, Bielefeldt-Ohmann H, Stacey MC (2000) Mitogenic activity and cytokine levels in non-healing and healing chronic leg ulcers. Wound Repair Regen 8:13–25

Reuterdahl C, Sundberg C, Rubin K, Funa K, Gerdin B (1993) Tissue localization of beta receptors for platelet-derived growth factor and platelet-derived growth factor B chain during wound repair in humans. J Clin Invest 91:2065–2075

Roberts AB, Flanders KC, Kondaiah P, Thompson NL, Van Obberghen-Schilling E, Wakefield L, Rossie P, De Crumbrugghe B, Heine U, Sporn MB (1988) Transforming growth factor ≷: biochemistry and roles in embryogenesis, tissue repair and remodeling, and carcinogenesis. Rec Prog Horm Res 44:157–197

Roberts AB, Sporn MB (1990) The transforming growth factor-betas. In: Sporn MB, Roberts AB (eds) Peptide growth factors and their receptors: handbook of experimental pharmacology, vol 95. Springer, Heidelberg

Ross R (1987) Platelet-derived growth factor. Ann Rev Med 38:71–79

Singer AJ, Clark RA (1999) Cutaneous wound healing. N Enl J Med 341:738–746

Soma Y, Dvonch V, Grotendorst GR (1992) Platelet-derived growth factor AA homodimer is the predominant isoform in human platelets and acute human wound fluid. FASEB J 6:2996–3001

Steed DL (1998) Modifying the wound healing response with exogenous growth factors. Clin Plast Surg 25:397–405

Theoret CL (2005) The pathophysiology of wound repair. The Veterinary Clinics of North American Equine Practice 21:1–13

Tsunawaki S, Sporn M, Ding A, Nathan C (1988) Deactivation of macrophages by transforming growth factor-≷. Nature 334:260–262

Vogt PM, Lehnhardt M, Wagner D, Jansen V, Krieg M, Steinau HU (1998) Determination of endogenous growth factors in human wound fluid: temporal presence and profiles of secretion. Plast Reconstr Surg 102:117–123

Werner S, Grose R (2003) Regulation of wound healing by growth factors and cytokines. Physiol Rev 83:835–870

Whitby HJ, Ferguson MWJ (1991) Immunohistochemical localization of growth factors in fetal wound healing. Dev Biol 147:207–215

Woessner JF (1961) The determination of hydroxyproline in tissue and protein samples containing small proportions of this amino acid. Arch Biochem Biophys 91:440–447
Acknowledgment
This study was supported by the research fund of Ferdowsi University of Mashhad, Iran (research project number; 3636, 26/10/1386).
About this article
Cite this article
Sardari, K., Reza Emami, M., Kazemi, H. et al. Effects of platelet-rich plasma (PRP) on cutaneous regeneration and wound healing in dogs treated with dexamethasone. Comp Clin Pathol 20, 155–162 (2011). https://doi.org/10.1007/s00580-010-0972-y
Received:

Accepted:

Published:

Issue Date:
Keywords
Dog

Cutaneous wound healing

Platelet-rich plasma

Growth factor