Abstract
Exercise induces changes in hydration and electrolytes status that might affect volumetric properties of erythrocytes. This research analyzes the modifications induced for different type of exercises on volumetric indices in horses in relation to plasma electrolytes, total plasma proteins, heart rate, and lactate. One hundred sixty-four healthy sport horses were studied, divided into six groups: A (16 racing Angloarabians), B (12 jumping Angloarabians), C (45 endurance horses), D (18 Andalusians), E (65 draft horses), and F (eight eventers). In groups A, C, E, and F, blood samples were taken before and after competition. The horses of groups B and D were subjected to an exercise test and blood samples were taken before and after the test. The parameters analyzed were: packed cell volume (PCV), mean cell volume (MCV), mean cell hemoglobin (MCH), mean cell hemoglobin concentration (MCHC), Na, K, Cl, heart rate, total plasma proteins, and plasma lactate concentrations. PCV increased in all the groups, MCV decreased in group D, MCH increased in groups D and F and decreased in group E, and MCHC increased with exercise in groups A and F. The only significant correlation between plasma electrolyte and volumetric indices was found between plasma Na concentrations and MCV. It is concluded that, although volumetric indices change with exercise in horses, their modifications are somewhat erratic and do not show a direct correlation with hydration, electrolyte status and exercise intensity, but red blood cell size is partially dependent on plasma Na concentration.
Access options
Buy single article
Instant access to the full article PDF.
USD 39.95
Price includes VAT (USA)
Tax calculation will be finalised during checkout.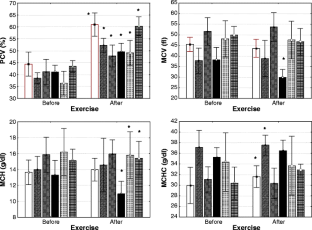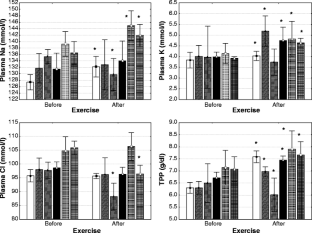 References
Andrews FM, Geiser DR, White SL et al (1995) Haematological and biochemical changes in horses competing in a 3 star horse trial and 3-day-event. Equine Vet J 20:57–63

Art T, Desmecht D, Amory H et al (1990) A field study of post-exercise values of blood biochemical constituents in jumping horses: relationship with score, individual and event. J Vet Med A 37:231–239

Balogh N, Gaál T, Ribiczeyné PS et al (2001) Biochemical and antioxidant changes in plasma and erythrocytes of pentathlon horses before and after exercise. Vet Clin Pathol 30:214–218

Barton MH, Williamson L, Jacks S et al (2003) Body weight, hematologic findings, and serum and plasma biochemical findings of horses competing in a 48-, 83-, or 159-km endurance ride under similar terrain and weather conditions. Am J Vet Res 64:746–753

Bas A, Muñoz A, Bas S et al (1999) Variaciones hematológicas en el caballo durante el ejercicio y la influencia de las condiciones de almacenamiento en las muestras sanguíneas (Haematological variations in the horse during exercise: influence of the storage conditions). Cienc Vet 22:3–16

Boucher JH (1984) Evidence for pulmonary microcirculatory impediment causing hypoxemia in healthy exercising horses. Physiologist 27:28

Boucher JH, Ferguson EW, Wilhelmsen CL et al (1981) Erythrocyte alterations during endurance exercise in horses. J Appl Physiol 51:131–134

Castejón FM, Trigo P, Muñoz A et al (2006) Uric acid responses to endurance racing and relationship with performance, plasma biochemistry and metabolic alterations. Equine Vet J 36:70–73

Craig L, Hintz HF, Soderholm LV, Shaw KL, Schryver HF (1985) Changes in blood constituents accompanying exercise in polo horses. Cornell Vet 75:297–302

Desmecht D, Linden A, Amory H et al (1996) Relationship of plasma lactate production to cortisol release following completion of different types of sporting events in horses. Vet Res Commun 20:371–379

Escribano BM, Castejón FM, Vivo R et al (1995) Respuesta hemática en potros Pura Raza Española sin entrenar sometidos a un ejercicio de intensidad creciente ("Hematological response in untrained Andalusian horses during an incremental exercise test"). Med Vet 12:257–265

Geor RJ, Lund EM, Weiss DJ (1993) Echinocytosis in horses: 54 cases (1990). J Am Vet Med Assoc 202:976–980

Geor RJ, Weiss DJ, Smith CM (1994) Hemorheologic alterations induced by incremental treadmill exercise in Thoroughbreds. Am J Vet Res 55:854–861

Grosskopf JFw, Van Rensburg JJ, Bertschinger HJ (1983) In: Snow DH, Persson SGB, Rose RJ (eds) Haematology and blood biochemistry of horses during a 210 km endurance ride. equine exercise physiology. Granta Editions, Cambridge, pp 416–423

Hanzawa K, Kubo K, Kai M et al (1995) Effects of exercise on erythrocytes in normal and splenectomised Thoroughbred horses. Equine Vet J 18:439–442

Kearns CF, McKeever KH, John-Alder H et al (2002) Relationship between body composition, blood volume and maximal oxygen uptake. Equine Vet J 34:485–490

McClay CB, Weiss DJ, Smith CM et al (1992) Evaluation of hemorrheologic variables as implications for exercise-induced pulmonary hemorrhage in racing Thoroughbreds. Am J Vet Res 53:1380–1385

McCutcheon LJ, Geor RJ (2000) Influence of training on sweating responses during submaximal exercise in horses. J Appl Physiol 89:2463–2571

McKeever HH, Hinchcliff KW, Reed SM et al (1993) Role of decreased plasma volume in hematocrit alterations during incremental treadmill exercise in horses. Am J Physiol 265:R404–R408

Muñoz A, Castejón FM, Rubio MD et al (1996) How erythrocyte and plasma lactate concentrations are related in Andalusian horses during an exercise test and recuperation. J Equine Sci 7:34–42

Muñoz A, Riber C, Santisteban R et al (1999a) Cardiovascular and metabolic adaptations in horses competing in cross-country events. J Vet Med Sci 69:13–20

Muñoz A, Santisteban R, Rubio MD et al (1999b) Locomotor, cardiocirculatory and metabolic adaptations to training in Andalusian and Anglo-Arabian horses. Res Vet Sci 66:25–31

Muñoz A, Riber C, Satué K et al (2003) Relationship between systemic adaptation to physical effort and plasma potassium in untrained and trained Andalusian and Angloarabian horses. J Equine Sci 14:13–22

Muñoz A, Cuesta I, Riber C et al (2006) Trot asymmetry in relation to physical performance and metabolism in equine endurance rides. Equine Vet J 36:50–54

Muñoz A, Riber C, Trigo P et al (2007) Concentraciones séricas de aldosterona en caballos de resistencia con diferente rendimiento deportivo (Serum aldosterone concentrations in endurance horses with different physical performance). Rev Electr Clín Vet II(8):1–11

Naylor JR, Bayly WM, Schott HC 2nd et al (1993) Equine plasma and blood volumes decrease with dehydration but subsequently increase with exercise. J Appl Physiol 75:1002–1008

Pellegrini-Masini A, Baragli P, Tedeschi D et al (2000) Behaviour of mean erythrocyte volume during submaximal treadmill exercise in the horse. Comp Haematol Int 10:38–42

Persson SGB (1967) On blood volume and working capacity in horses. Acta Vet Scand 19:150–160

Persson SGB (1983) In: Snow DH, Persson SGB, Rose RJ (eds) Evaluation of exercise tolerance and fitness in the performance horse. Equine exercise physiology. Granta Editions, Cambridge, pp 441–457

Rose RJ, Allen JR, Hodgson DR et al (1983) Responses to submaximal treadmill exercise and training in the horse: changes in haematology, arterial blood gas and acid base measurements, plasma biochemical values and heart rate. Vet Rec 113:612–618

Rovira S, Muñoz A, Benito M (2007) Fluid and electrolyte shifts during and after agility competitions in dogs. J Vet Med Sci 69:31–35

Rubio MD, Muñoz A, Santisteban R et al (1995) Comparative hematological study of two breeds of foals (Andalusian and Arab) subjected to exercise of progressive intensity. J Vet Med Sci 57:311–315

Scott CM, Marlin DJ, Schroter RC (1999) Thermoregulatory strategies during short-term exercise at different intensities. Equine Vet J 30:356–361

Schott HC II, McGlade KS, Molander HA et al (1997) Body weight, fluid, electrolyte, and hormonal changes in horses competing in 50- and 100-mile endurance rides. Am J Vet Res 58:303–309

Schott HC II, Marlin DJ, Geor RJ et al (2006) Changes in selected physiological and laboratory measurements in elite horses competing in a 160 km endurance ride. Equine Vet J 36:37–42

Sloet Van Oldruitenborgh-Oosterbaan MM, Wensing T, Barneveld A et al (1991) Heart rate, blood biochemistry and performance of horses competing in a 100-km endurance ride. Vet Rec 128:15–179

Smith JE, Erickson HH, Debowes RM et al (1989) Changes in circulating equine erythrocytes induced by brief, high-speed exercise. Equine Vet J 21:444–446

Snow DH, Martin V (1990) Effects of exercise and adrenaline on equine erythrocyte ATP content. Res Vet Sci 49:77–81

Snow DH, Mason DK, Ricketts SW et al (1983) In: Snow DH, Persson SGB, Rose RJ (eds) Post-race blood biochemistry in thoroughbreds. Equine exercise physiology. Granta Editions, Cambridge, pp 389–399

Toll PW, Gahtgens P, Neuhans D et al (1995) Fluid, electrolyte, and packed cell volume shifts in racing Greyhounds. Am J Vet Res 56:227–232

Weiss DJ, Geor R, Smith CM et al (1992) Furosemide-induced electrolyte depletion associated with echinocytosis in horses. Am J Vet Res 53:1769–1772

Weiss DJ, Geor RJ, Smith CM 2nd (1994) Effects of echinocytosis on hemorrheologic values and exercise performance in horses. Am J Vet Res 55:204–210
Acknowledgements
The authors want to acknowledge the kind cooperation of the owners, riders, and trainers of the horses included in this research, which have been working with us for years in order to improve fitness and welfare of their sport horses. This research has been supported by the following research projects Spanish Council for Sports, project 23/SUI/96 and Cardenal Herrera-CEU University, PRUCH02/12 and PRUCH05/02.
About this article
Cite this article
Muñoz, A., Riber, C., Trigo, P. et al. Erythrocyte indices in relation to hydration and electrolytes in horses performing exercises of different intensity. Comp Clin Pathol 17, 213–220 (2008). https://doi.org/10.1007/s00580-008-0738-y
Received:

Accepted:

Published:

Issue Date:
Keywords
Electrolytes

Exercise

Hematology

Horse

Mean cell volume

Volumetric indices