Abstract
Arbuscular mycorrhizal (AM) fungi are a ubiquitous group of plant symbionts, yet processes underlying their global assembly — in particular the roles of dispersal limitation and historical drivers — remain poorly understood. Because earlier studies have reported niche conservatism in AM fungi, we hypothesized that variation in taxonomic community composition (i.e., unweighted by taxon relatedness) should resemble variation in phylogenetic community composition (i.e., weighted by taxon relatedness) which reflects ancestral adaptations to historical habitat gradients. Because of the presumed strong dispersal ability of AM fungi, we also anticipated that the large-scale structure of AM fungal communities would track environmental conditions without regional discontinuity. We used recently published AM fungal sequence data (small‐subunit ribosomal RNA gene) from soil samples collected worldwide to reconstruct global patterns in taxonomic and phylogenetic community variation. The taxonomic structure of AM fungal communities was primarily driven by habitat conditions, with limited regional differentiation, and there were two well-supported clusters of communities — occurring in cold and warm conditions. Phylogenetic structure was driven by the same factors, though all relationships were markedly weaker. This suggests that niche conservatism with respect to habitat associations is weakly expressed in AM fungal communities. We conclude that the composition of AM fungal communities tracks major climatic and edaphic gradients, with the effects of dispersal limitation and historic factors considerably less apparent than those of climate and soil.
Access options
Buy single article
Instant access to the full article PDF.
USD 39.95
Price excludes VAT (USA)
Tax calculation will be finalised during checkout.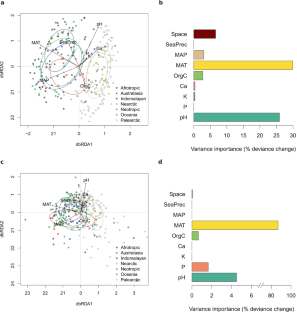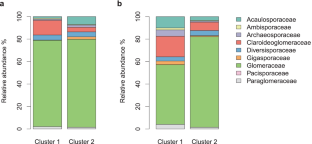 References
Antunes PM, Koch AM, Morton JB, Rillig MC, Klironomos JN (2011) Evidence for functional divergence in arbuscular mycorrhizal fungi from contrasting climatic origins. New Phytol 189:507–514. https://doi.org/10.1111/j.1469-8137.2010.03480.x

Camacho C, Coulouris G, Avagyan V, Ma N, Papadopoulos J, Bealer K, Madden TL (2009) BLAST+: architecture and applications. BMC Bioinformatics 10:1–9. https://doi.org/10.1186/1471-2105-10-421

Chagnon PL, Bradley RL, Maherali H, Klironomos JN (2013) A trait-based framework to understand life history of mycorrhizal fungi. Trends Plant Sci 18:484–491. https://doi.org/10.1016/j.tplants.2013.05.001

Davison J, Moora M, Öpik M et al (2015) Global assessment of arbuscular mycorrhizal fungus diversity reveals very low endemism. Science 349:970–973. https://doi.org/10.1126/science.aab1161

Davison J, Moora M, Semchenko M, Adenan SB, Ahmed T, Akhmetzhanova AA, Alatalo JM, Al-Quraishy S, Andriyanova E, Anslan S, Bahram M (2021) Temperature and pH define the realised niche space of arbuscular mycorrhizal fungi. New Phytol 231:763–776. https://doi.org/10.1111/nph.17240

De Cáceres M, Chytrý M, Agrillo E et al (2015) A comparative framework for broad-scale plot-based vegetation classification. Appl Veg Sci 18:543–560. https://doi.org/10.1111/avsc.12179

Dubuis A, Pottier J, Rion V, Pellissier L, Theurillat JP, Guisan A (2011) Predicting spatial patterns of plant species richness: a comparison of direct macroecological and species stacking modelling approaches. Divers Distrib 17:1122–1131. https://doi.org/10.1111/j.1472-4642.2011.00792.x

Duda P, Hayashi Y, Jaworski M (2012) On the strong convergence of the orthogonal series-type kernel regression neural networks in a non-stationary environment. In International conference on artificial intelligence and soft computing (pp. 47–54). Springer, Berlin, Heidelberg. https://doi.org/10.1007/978-3-642-29347-4_6

Dumbrell AJ, Ashton PD, Aziz N et al (2011) Distinct seasonal assemblages of arbuscular mycorrhizal fungi revealed by massively parallel pyrosequencing. New Phytol 190:794–804. https://doi.org/10.1111/j.1469-8137.2010.03636.x

Dumbrell AJ, Nelson M, Helgason T, Dytham C, Fitter AH (2010) Relative roles of niche and neutral processes in structuring a soil microbial community. ISME J 4:337–345. https://doi.org/10.1038/ismej.2009.122

Götzenberger L, de Bello F, Bråthen KA, Davison J, Dubuis A, Guisan A, Lepš J, Lindborg R, Moora M, Pärtel M, Pellissier L (2012) Ecological assembly rules in plant communities—approaches, patterns and prospects. Biol Rev 87:111–127. https://doi.org/10.1111/j.1469-185X.2011.00187.x

Guerin GR, Williams KJ, Leitch E, Lowe AJ, Sparrow B (2021) Using generalised dissimilarity modelling and targeted field surveys to gap-fill an ecosystem surveillance network. J Appl Ecol 58:766–776. https://doi.org/10.1111/1365-2664.13814

Harrison S, Grace JB (2007) Biogeographic affinity helps explain productivity-richness relationships at regional and local scales. Am Nat 170:S5–S15. https://doi.org/10.1086/519010

Hart MM, Reader RJ (2002) Host plant benefit from association with arbuscular mycorrhizal fungi: variation due to differences in size of mycelium. Biol Fertil Soils 36:357–366. https://doi.org/10.1007/s00374-002-0539-4

Hennig C (2007) Cluster-wise assessment of cluster stability. Comput Stat Data Anal 52:258–271. https://doi.org/10.1016/j.csda.2006.11.025

Karger DN, Conrad O, Böhner J, Kawohl T, Kreft H, Soria-Auza RW, Zimmermann NE, Linder HP, Kessler M (2017) Climatologies at high resolution for the earth's land surface areas. Scientific Data 4:1–20. https://doi.org/10.1038/sdata.2017.122

Kembel S (2010) An introduction to the picante package. R package version 1.3.1. https://CRAN.R-project.org/package=picante

Lee J, Lee S, Young JPW (2008) Improved PCR primers for the detection and identification of arbuscular mycorrhizal fungi. FEMS Microbiol Ecol 65:339–349. https://doi.org/10.1111/j.1574-6941.2008.00531.x

Lekberg Y, Meadow J, Rohr JR, Redecker D, Zabinski CA (2011) Importance of dispersal and thermal environment for mycorrhizal communities: lessons from Yellowstone National Park. Ecology 92:1292–1302. https://doi.org/10.1890/10-1516.1

Li Y, Shipley B, Price JN et al (2018) Habitat filtering determines the functional niche occupancy of plant communities worldwide. J Ecol 106:1001–1009. https://doi.org/10.1111/1365-2745.12802

Love MI, Huber W, Anders S (2014) Moderated estimation of fold change and dispersion for RNA-seq data with DESeq2. Genome Biol 15:1–21. https://doi.org/10.1186/s13059-014-0550-8

Lu HP, Yeh YC, Sastri AR, Shiah FK, Gong GC, Hsieh CH (2016) Evaluating community–environment relationships along fine to broad taxonomic resolutions reveals evolutionary forces underlying community assembly. ISME J 10:2867–2878. https://doi.org/10.1038/ismej.2016.78

Maherali H, Klironomos JN (2007) Influence of phylogeny on fungal community assembly and ecosystem functioning. Science 316:1746–1748. https://doi.org/10.1126/science.1143082

McMurdie PJ, Holmes S (2014) Waste not, want not: why rarefying microbiome data is inadmissible. PLoS Comput Biol 10:e1003531. https://doi.org/10.1371/journal.pcbi.1003531

Mucina L (2019) Biome: evolution of a crucial ecological and biogeographical concept. New Phytol 222:97–114. https://doi.org/10.1111/nph.15609

Myers JA, Chase JM, Jiménez I, Jørgensen PM, Araujo-Murakami A, Paniagua-Zambrana N, Seidel R (2013) Beta-diversity in temperate and tropical forests reflects dissimilar mechanisms of community assembly. Ecol Lett 16:151–157. https://doi.org/10.1111/ele.12021

Oksanen J, Blanchet FG, Kindt R, Legendre P, O'hara RB, Simpson GL, Solymos P, Stevens MH, Wagner H (2008) vegan: community ecology package. R package version 1.15–1. https://CRAN.R-project.org/package=vegan

Olson DM, Dinerstein E, Wikramanayake ED et al (2001) Terrestrial ecoregions of the world: a new map of life on Earth: a new global map of terrestrial ecoregions provides an innovative tool for conserving biodiversity. Bioscience 51:933–938. https://doi.org/10.1641/0006-3568(2001)051[0933:TEOTWA]2.0.CO;2

Öpik M, Davison J, Moora M, Zobel M (2014) DNA-based detection and identification of Glomeromycota: the virtual taxonomy of environmental sequences. Botany 92:135–147. https://doi.org/10.1139/cjb-2013-0110

Öpik M, Vanatoa A, Vanatoa E, Moora M, Davison J, Kalwij JM, Reier Ü, Zobel M (2010) The online database MaarjAM reveals global and ecosystemic distribution patterns in arbuscular mycorrhizal fungi (Glomeromycota). New Phytol 188:223–241. https://doi.org/10.1111/j.1469-8137.2010.03334.x

Öpik M, Zobel M, Cantero JJ et al (2013) Global sampling of plant roots expands the described molecular diversity of arbuscular mycorrhizal fungi. Mycorrhiza 23:411–430. https://doi.org/10.1007/s00572-013-0482-2

Pärtel M, Öpik M, Moora M et al (2017) Historical biome distribution and recent human disturbance shape the diversity of arbuscular mycorrhizal fungi. New Phytol 216:227–238. https://doi.org/10.1111/nph.14695

Powell JR, Parrent JL, Hart MM, Klironomos JN, Rillig MC, Maherali H (2009) Phylogenetic trait conservatism and the evolution of functional trade-offs in arbuscular mycorrhizal fungi. Proc Royal Soci B: Biol Sci 276:4237–4245. https://doi.org/10.1098/rspb.2009.1015

Ray N, Adams J (2001) A GIS-based vegetation map of the world at the last glacial maximum (25,000–15,000 BP). Internet Archaeology 11

Roy J, Mazel F, Sosa-Hernández MA, Dueñas JF, Hempel S, Zinger L, Rillig MC (2019) The relative importance of ecological drivers of arbuscular mycorrhizal fungal distribution varies with taxon phylogenetic resolution. New Phytol 224:936–948. https://doi.org/10.1111/nph.16080

Savary R, Masclaux FG, Wyss T, Droh G, Corella JC, Machado AP, Morton JB, Sanders IR (2018) A population genomics approach shows widespread geographical distribution of cryptic genomic forms of the symbiotic fungus Rhizophagus irregularis. ISME J 12:17–30. https://doi.org/10.1038/ismej.2017.153

Schliep K, Klaus Hechenbichler K (2016) kknn: weighted k-nearest neighbors. R package version 1.3.1. https://CRAN.R-project.org/package=kknn

Smith SE, Read DJ (2008) Mycorrhizal symbiosis. Academic Press, Amsterdam

Spasojevic MJ, Catano CP, LaManna JA, Myers JA (2018) Integrating species traits into species pools. Ecology 99(6):1265–1276. https://doi.org/10.1002/ecy.2220

Taylor DR, Aarssen LW, Loehle C (1990) On the relationship between r/K selection and environmental carrying capacity: a new habitat templet for plant life history strategies. Oikos 58:239–250. https://doi.org/10.2307/3545432

Tedersoo L, Sánchez-Ramírez S, Kõljalg U, Bahram M, Döring M, Schigel D, May T, Ryberg M, Abarenkov K (2018) High-level classification of the Fungi and a tool for evolutionary ecological analyses. Fungal Diversity 90:135–159. https://doi.org/10.1007/s13225-018-0401-0

Toussaint A, Bueno G, Davison J et al (2020) Asymmetric patterns of global diversity among plants and mycorrhizal fungi. J Veg Sci 31:355–366. https://doi.org/10.1111/jvs.12837

Udvardy MD (1975) A classification of the biogeographical provinces of the world. Morges: International Union for Conservation of Nature and Natural Resources.

Vasar M, Andreson R, Davison J, Jairus T, Moora M, Remm M, Young JP, Zobel M, Öpik M (2017) Increased sequencing depth does not increase captured diversity of arbuscular mycorrhizal fungi. Mycorrhiza 27:761–773. https://doi.org/10.1007/s00572-017-0791-y

Vasar M, Davison J, Neuenkamp L, Sepp SK, Young JP, Moora M, Öpik M (2021) User-friendly bioinformatics pipeline gDAT (graphical downstream analysis tool) for analysing rDNA sequences. Mol Ecol Resour 21:1380–1392. https://doi.org/10.1111/1755-0998.13340

Weber SE, Diez JM, Andrews LV, Goulden ML, Aronson EL, Allen MF (2019) Responses of arbuscular mycorrhizal fungi to multiple coinciding global change drivers. Fungal Ecol 40:62–71. https://doi.org/10.1016/j.funeco.2018.11.008

Wiens JJ, Graham CH (2005) Niche conservatism: integrating evolution, ecology, and conservation biology. Annu Rev Ecol Evol Syst 36:519–539. https://doi.org/10.1146/annurev.ecolsys.36.102803.095431

Zobel M (2016) The species pool concept as a framework for studying patterns of plant diversity. J Veg Sci 27:8–18. https://doi.org/10.1111/jvs.12333

Zobel M, Otto R, Laanisto L, Naranjo-Cigala A, Pärtel M, Maria Fernandez-Palacios J (2011) The formation of species pools: historical habitat abundance affects current local diversity. Glob Ecol Biogeogr 20:251–259. https://doi.org/10.1111/j.1466-8238.2010.00593.x

Zobel M, Davison J, Edwards ME, Brochmann C, Coissac E, Taberlet P, Willerslev E, Moora M (2018) Ancient environmental DNA reveals shifts in dominant mutualisms during the late Quaternary. Nat Commun 9:1–9. https://doi.org/10.1038/s41467-017-02421-3
Funding
This study was supported by the European Regional Development Fund (Centre of Excellence EcolChange), Estonian Research Council (PRG609, PRG632, PRG1065, PRG1170, MOBTP105), the Russian Ministry of Science and Higher Education (# 075–15-2021–1396), and the University of Tartu (PLTOM20903).
Ethics declarations
Conflict of interest
The authors declare no competing interests.
Additional information
Publisher's Note
Springer Nature remains neutral with regard to jurisdictional claims in published maps and institutional affiliations.
Supplementary information
Below is the link to the electronic supplementary material.
About this article
Cite this article
Vasar, M., Davison, J., Sepp, SK. et al. Global taxonomic and phylogenetic assembly of AM fungi. Mycorrhiza 32, 135–144 (2022). https://doi.org/10.1007/s00572-022-01072-7
Received:

Accepted:

Published:

Issue Date:

DOI: https://doi.org/10.1007/s00572-022-01072-7
Keywords
Community assembly

Metabarcoding

Microbial biogeography

Soil microbes