Abstract
This study investigates the impact of the alteration of the monolignol biosynthesis pathway on the establishment of the in vitro interaction of poplar roots either with a mutualistic ectomycorrhizal fungus or with a pathogenic root-knot nematode. Overall, the five studied transgenic lines downregulated for caffeoyl-CoA O-methyltransferase (CCoAOMT), caffeic acid O-methyltransferase (COMT), cinnamoyl-CoA reductase (CCR), cinnamyl alcohol dehydrogenase (CAD) or both COMT and CAD displayed a lower mycorrhizal colonisation percentage, indicating a lower ability for establishing mutualistic interaction than the wild-type. The susceptibility to root-knot nematode infection was variable in the five lines, and the CAD-deficient line was found to be less susceptible than the wild-type. We discuss these phenotypic differences in the light of the large shifts in the metabolic profile and gene expression pattern occurring between roots of the CAD-deficient line and wild-type. A role of genes related to trehalose metabolism, phytohormones, and cell wall construction in the different mycorrhizal symbiosis efficiency and nematode sensitivity between these two lines is suggested. Overall, these results show that the alteration of plant metabolism caused by the repression of a single gene within phenylpropanoid pathway results in significant alterations, at the root level, in the response towards mutualistic and pathogenic associates. These changes may constrain plant fitness and biomass production, which are of economic importance for perennial industrial crops such as poplar.
Access options
Buy single article
Instant access to the full article PDF.
US$ 39.95
Tax calculation will be finalised during checkout.
Subscribe to journal
Immediate online access to all issues from 2019. Subscription will auto renew annually.
US$ 119
Tax calculation will be finalised during checkout.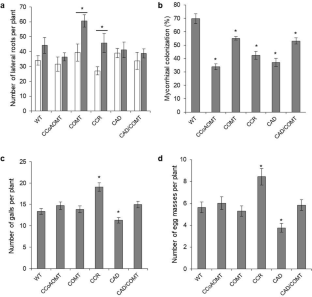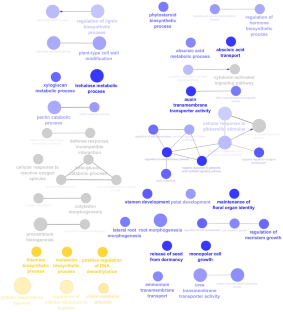 References
Ali MA, Azeem F, Abbas A, Joyia FA, Li H, Dababat AA (2017) Transgenic strategies for enhancement of nematode resistance in plants. Front Plant Sci 8:750. https://doi.org/10.3389/fpls.2017.00750

Anderson NA, Tobimatsu Y, Ciesielski PN, Ximenes E, Ralph J, Donohoe BS, Ladisch M, Chapple C (2015) Manipulation of guaiacyl and syringyl monomer biosynthesis in an arabidopsis cinnamyl alcohol dehydrogenase mutant results in atypical lignin biosynthesis and modified cell wall structure. Plant Cell 27:2195–2209. https://doi.org/10.1105/tpc.15.00373

Awad H, Herbette S, Brunel N, Tixier A, Pilate G, Cochard H, Badel E (2012) No trade-off between hydraulic and mechanical properties in several transgenic poplars modified for lignins metabolism. Environ Exp Bot 77:185–195. https://doi.org/10.1016/j.envexpbot.2011.11.023

Baldacci-Cresp F, Moussawi J, Leplé J-C, van Acker R, Kohler A, Candiracci J, Twyffels L, Spokevicius AV, Bossinger G, Laurans F, Brunel N, Vermeersch M, Boerjan W, el Jaziri M, Baucher M (2015) PtaRHE1, a Populus tremula × Populus alba RING-H2 protein of the ATL family, has a regulatory role in secondary phloem fibre development. Plant J 82:978–990. https://doi.org/10.1111/tpj.12867

Baldacci-Cresp F, Sacré P-Y, Twyffels L, Mol A, Vermeersch M, Ziemons E, Hubert P, Pérez-Morga D, el Jaziri M, Engler JA, Baucher M (2016) Poplar–root knot nematode interaction: a model for perennial woody species. Mol Plant-Microbe Interact 29:560–572. https://doi.org/10.1094/MPMI-01-16-0015-R

Baldacci-Cresp F, Behr M, Kohler A et al (2020) Molecular changes concomitant with vascular system development in mature galls induced by root-knot nematodes in the model tree host Populus tremula × P. alba. Int J Mol Sci 21:406. https://doi.org/10.3390/ijms21020406

Bali G, Khunsupat R, Akinosho H, Payyavula RS, Samuel R, Tuskan GA, Kalluri UC, Ragauskas AJ (2016) Characterization of cellulose structure of Populus plants modified in candidate cellulose biosynthesis genes. Biomass Bioenergy 94:146–154. https://doi.org/10.1016/j.biombioe.2016.08.013

Basso V, Kohler A, Miyauchi S et al (2020) An ectomycorrhizal fungus alters sensitivity to jasmonate, salicylate, gibberellin, and ethylene in host roots. Plant Cell Environ:pce.13702. https://doi.org/10.1111/pce.13702

Beckers B, De Beeck MO, Weyens N et al (2016) Lignin engineering in field-grown poplar trees affects the endosphere bacterial microbiome. Proc Natl Acad Sci U S A 113:2312–2317. https://doi.org/10.1073/pnas.1523264113

Bennett AE, Grussu D, Kam J, Caul S, Halpin C (2015) Plant lignin content altered by soil microbial community. New Phytol 206:166–174. https://doi.org/10.1111/nph.13171

Bindea G, Mlecnik B, Hackl H, Charoentong P, Tosolini M, Kirilovsky A, Fridman WH, Pagès F, Trajanoski Z, Galon J (2009) ClueGO: a Cytoscape plug-in to decipher functionally grouped gene ontology and pathway annotation networks. Bioinformatics 25:1091–1093

Bindea G, Galon J, Mlecnik B (2013) CluePedia Cytoscape plugin: pathway insights using integrated experimental and in silico data. Bioinformatics 29:661–663

Bjurhager I, Olsson A-M, Zhang B, Gerber L, Kumar M, Berglund LA, Burgert I, Sundberg B̈, Salmén L (2010) Ultrastructure and mechanical properties of Populus wood with reduced lignin content caused by transgenic down-regulation of cinnamate 4-hydroxylase. Biomacromolecules 11:2359–2365. https://doi.org/10.1021/bm100487e

Casieri L, Ait Lahmidi N, Doidy J, Veneault-Fourrey C, Migeon A, Bonneau L, Courty PE, Garcia K, Charbonnier M, Delteil A, Brun A, Zimmermann S, Plassard C, Wipf D (2013) Biotrophic transportome in mutualistic plant-fungal interactions. Mycorrhiza 23:597–625. https://doi.org/10.1007/s00572-013-0496-9

Chanoca A, de Vries L, Boerjan W (2019) Lignin engineering in forest trees. Front Plant Sci 10:912. https://doi.org/10.3389/fpls.2019.00912

Cope KR, Bascaules A, Irving TB, Venkateshwaran M, Maeda J, Garcia K, Rush TA, Ma C, Labbé J, Jawdy S, Steigerwald E, Setzke J, Fung E, Schnell KG, Wang Y, Schleif N, Bücking H, Strauss SH, Maillet F, Jargeat P, Bécard G, Puech-Pagès V, Ané JM (2019) The ectomycorrhizal fungus Laccaria bicolor produces lipochitooligosaccharides and uses the common symbiosis pathway to colonize Populus roots. Plant Cell 31:2386–2410. https://doi.org/10.1105/tpc.18.00676

Cotton TA (2018) Arbuscular mycorrhizal fungal communities and global change: an uncertain future. FEMS Microbiol Ecol 94. https://doi.org/10.1093/femsec/fiy179

Cutler SR, Rodriguez PL, Finkelstein RR, Abrams SR (2010) Abscisic acid: emergence of a core signaling network. Annu Rev Plant Biol 61:651–679. https://doi.org/10.1146/annurev-arplant-042809-112122

Danielsen L, Thürmer A, Meinicke P, Buée M, Morin E, Martin F, Pilate G, Daniel R, Polle A, Reich M (2012) Fungal soil communities in a young transgenic poplar plantation form a rich reservoir for fungal root communities. Ecol Evol 2:1935–1948. https://doi.org/10.1002/ece3.305

Danielsen L, Lohaus G, Sirrenberg A, Karlovsky P, Bastien C, Pilate G, Polle A (2013) Ectomycorrhizal colonization and diversity in relation to tree biomass and nutrition in a plantation of transgenic poplars with modified lignin biosynthesis. PLoS One 8:e59207. https://doi.org/10.1371/journal.pone.0059207

Desai S, Naik D, Cumming JR (2014) The influence of phosphorus availability and Laccaria bicolor symbiosis on phosphate acquisition, antioxidant enzyme activity, and rhizospheric carbon flux in Populus tremuloides. Mycorrhiza 24:369–382. https://doi.org/10.1007/s00572-013-0548-1

Desaki Y, Miyata K, Suzuki M, Shibuya N, Kaku H (2018) Plant immunity and symbiosis signaling mediated by LysM receptors. Innate Immun 24:92–100. https://doi.org/10.1177/1753425917738885

Dimmel DR, MacKay JJ, Althen EM et al (2001) Pulping and bleaching of CAD-deficient wood. J Wood Chem Technol 21:1–17. https://doi.org/10.1081/WCT-100102651

Dixon RA, Achnine L, Kota P, Liu CJ, Reddy MSS, Wang L (2002) The phenylpropanoid pathway and plant defence-a genomics perspective. Mol Plant Pathol 3:371–390

Du L, Ali GS, Simons KA et al (2009) Ca2+/calmodulin regulates salicylic-acid-mediated plant immunity. Nature 457:1154–1158. https://doi.org/10.1038/nature07612

Felten J, Kohler A, Morin E, Bhalerao RP, Palme K, Martin F, Ditengou FA, Legué V (2009) The ectomycorrhizal fungus Laccaria bicolor stimulates lateral root formation in poplar and Arabidopsis through auxin transport and signaling. Plant Physiol 151:1991–2005. https://doi.org/10.1104/pp.109.147231

Garcia K, Delaux P, Cope KR, Ané J (2015) Molecular signals required for the establishment and maintenance of ectomycorrhizal symbioses. New Phytol 208:79–87. https://doi.org/10.1111/nph.13423

Gay G, Normand L, Marmeisse R et al (1994) Auxin overproducer mutants of Hebeloma cylindrosporum Romagnesi have increased mycorrhizal activity. New Phytol 128:645–657. https://doi.org/10.1111/j.1469-8137.1994.tb04029.x

Guerrero-Galán C, Calvo-Polanco M, Zimmermann SD (2019) Ectomycorrhizal symbiosis helps plants to challenge salt stress conditions. Mycorrhiza 29:291–301. https://doi.org/10.1007/s00572-019-00894-2

Gutjahr C (2014) Phytohormone signaling in arbuscular mycorhiza development. Curr Opin Plant Biol 20:26–34. https://doi.org/10.1016/j.pbi.2014.04.003

Hedden P, Thomas SG (2012) Gibberellin biosynthesis and its regulation. Biochem J 444:11–25. https://doi.org/10.1042/BJ20120245

Hofmann J, El Ashry AEN, Anwar S et al (2010) Metabolic profiling reveals local and systemic responses of host plants to nematode parasitism. Plant J 62:1058–1071. https://doi.org/10.1111/j.1365-313X.2010.04217.x

James AM, Ma D, Mellway R, Gesell A, Yoshida K, Walker V, Tran L, Stewart D, Reichelt M, Suvanto J, Salminen JP, Gershenzon J, Séguin A, Constabel CP (2017) Poplar MYB115 and MYB134 transcription factors regulate proanthocyanidin synthesis and structure. Plant Physiol 174:154–171. https://doi.org/10.1104/pp.16.01962

Jo I, Fei S, Oswalt CM, Domke GM, Phillips RP (2019) Shifts in dominant tree mycorrhizal associations in response to anthropogenic impacts. Sci Adv 5:eaav6358. https://doi.org/10.1126/sciadv.aav6358

Jouanin L, Goujon T, De Nadai V et al (2000) Lignification in transgenic poplars with extremely reduced caffeic acid O-methyltransferase activity. Plant Physiol 123:1363–1373. https://doi.org/10.1104/pp.123.4.1363

Kalluri UC, Payyavula RS, Labbé JL, Engle N, Bali G, Jawdy SS, Sykes RW, Davis M, Ragauskas A, Tuskan GA, Tschaplinski TJ (2016) Down-regulation of KORRIGAN-like endo-β-1,4-glucanase genes impacts carbon partitioning, mycorrhizal colonization and biomass production in Populus. Front Plant Sci 7:1455. https://doi.org/10.3389/fpls.2016.01455

Korasick DA, Enders TA, Strader LC (2013) Auxin biosynthesis and storage forms. J Exp Bot 64:2541–2555

Kyndt T, Denil S, Haegeman A, Trooskens G, Bauters L, van Criekinge W, de Meyer T, Gheysen G (2012) Transcriptional reprogramming by root knot and migratory nematode infection in rice. New Phytol 196:887–900. https://doi.org/10.1111/j.1469-8137.2012.04311.x

Labbé J, Muchero W, Czarnecki O, Wang J, Wang X, Bryan AC, Zheng K, Yang Y, Xie M, Zhang J, Wang D, Meidl P, Wang H, Morrell-Falvey JL, Cope KR, Maia LGS, Ané JM, Mewalal R, Jawdy SS, Gunter LE, Schackwitz W, Martin J, le Tacon F, Li T, Zhang Z, Ranjan P, Lindquist E, Yang X, Jacobson DA, Tschaplinski TJ, Barry K, Schmutz J, Chen JG, Tuskan GA (2019) Mediation of plant–mycorrhizal interaction by a lectin receptor-like kinase. Nat Plants 5:676–680. https://doi.org/10.1038/s41477-019-0469-x

Laluk K, Prasad KVSK, Savchenko T, Celesnik H, Dehesh K, Levy M, Mitchell-Olds T, Reddy ASN (2012) The calmodulin-binding transcription factor SIGNAL RESPONSIVE1 is a novel regulator of glucosinolate metabolism and herbivory tolerance in Arabidopsis. Plant Cell Physiol 53:2008–2015. https://doi.org/10.1093/pcp/pcs143

Lapierre C, Pollet B, Petit-Conil M, Toval G, Romero J, Pilate G, Leplé JC, Boerjan W, Ferret V, de Nadai V, Jouanin L (1999) Structural alterations of lignins in transgenic poplars with depressed cinnamyl alcohol dehydrogenase or caffeic acid O-methyltransferase activity have an opposite impact on the efficiency of industrial kraft pulping. Plant Physiol 119:153–163. https://doi.org/10.1104/pp.119.1.153

León-Sánchez L, Nicolás E, Goberna M, Prieto I, Maestre FT, Querejeta JI (2018) Poor plant performance under simulated climate change is linked to mycorrhizal responses in a semi-arid shrubland. J Ecol 106:960–976. https://doi.org/10.1111/1365-2745.12888

Leplé JC, Dauwe R, Morreel K, Storme V, Lapierre C, Pollet B, Naumann A, Kang KY, Kim H, Ruel K, Lefèbvre A, Joseleau JP, Grima-Pettenati J, de Rycke R, Andersson-Gunnerås S, Erban A, Fehrle I, Petit-Conil M, Kopka J, Polle A, Messens E, Sundberg B, Mansfield SD, Ralph J, Pilate G, Boerjan W (2007) Downregulation of cinnamoyl-coenzyme a reductase in poplar: multiple-level phenotyping reveals effects on cell wall polymer metabolism and structure. Plant Cell 19:3669–3691. https://doi.org/10.1105/tpc.107.054148

Liao D, Wang S, Cui M, Liu J, Chen A, Xu G (2018) Phytohormones regulate the development of arbuscular mycorrhizal symbiosis. Int J Mol Sci 19:3146. https://doi.org/10.3390/ijms19103146

Londoño DMM, Meyer E, González D, Hernández AG, Soares CRFS, Lovato PE (2019) Landrace maize varieties differ from conventional and genetically modified hybrid maize in response to inoculation with arbuscular mycorrhizal fungi. Mycorrhiza 29:237–249. https://doi.org/10.1007/s00572-019-00883-5

Lunn JE, Delorge I, Figueroa CM, van Dijck P, Stitt M (2014) Trehalose metabolism in plants. Plant J 79:544–567. https://doi.org/10.1111/tpj.12509

Mackay JJ, O'Malley DM, Presnell T et al (1997) Inheritance, gene expression, and lignin characterization in a mutant pine deficient in cinnamyl alcohol dehydrogenase. Proc Natl Acad Sci U S A 94:8255–8260. https://doi.org/10.1073/pnas.94.15.8255

Mandal SM, Chakraborty D, Dey S (2010) Phenolic acids act as signaling molecules in plant-microbe symbioses. Plant Signal Behav 5:359–368. https://doi.org/10.4161/psb.5.4.10871

Martin F, Selosse MA (2008) The Laccaria genome: a symbiont blueprint decoded. New Phytol 180:296–310. https://doi.org/10.1111/j.1469-8137.2008.02613.x

Mellway RD, Tran LT, Prouse MB, Campbell MM, Constabel CP (2009) The wound-, pathogen-, and ultraviolet B-responsive MYB134 gene encodes an R2R3 MYB transcription factor that regulates proanthocyanidin synthesis in poplar. Plant Physiol 150:924–941. https://doi.org/10.1104/pp.109.139071

Meyermans H, Morreel K, Lapierre C, Pollet B, de Bruyn A, Busson R, Herdewijn P, Devreese B, van Beeumen J, Marita JM, Ralph J, Chen C, Burggraeve B, van Montagu M, Messens E, Boerjan W (2000) Modifications in lignin and accumulation of phenolic glucosides in poplar xylem upon down-regulation of caffeoyl-coenzyme A O-methyltransferase, an enzyme involved in lignin biosynthesis. J Biol Chem 275:36899–36909. https://doi.org/10.1074/JBC.M006915200

Nambara E, Marion-Poll A (2005) Abscisic acid biosynthesis and catabolism. Annu Rev Plant Biol 56:165–185. https://doi.org/10.1146/annurev.arplant.56.032604.144046

Naoumkina MA, Zhao Q, Gallego-Giraldo L et al (2010) Genome-wide analysis of phenylpropanoid defence pathways. Mol Plant Pathol 11:829–846. https://doi.org/10.1111/j.1364-3703.2010.00648.x

Ohri P, Pannu SK (2010) Effect of phenolic compounds on nematodes - a review. J Appl Nat Sci 2:344–350. https://doi.org/10.31018/jans.v2i2.144

Özparpucu M, Rüggeberg M, Gierlinger N, Cesarino I, Vanholme R, Boerjan W, Burgert I (2017) Unravelling the impact of lignin on cell wall mechanics: a comprehensive study on young poplar trees downregulated for CINNAMYL ALCOHOL DEHYDROGENASE (CAD). Plant J 91:480–490. https://doi.org/10.1111/tpj.13584

Peters DJ, Constabel CP (2002) Molecular analysis of herbivore-induced condensed tannin synthesis: cloning and expression of dihydroflavonol reductase from trembling aspen (Populus tremuloides). Plant J 32:701–712. https://doi.org/10.1046/j.1365-313X.2002.01458.x

Pilate G, Guiney E, Holt K, Petit-Conil M, Lapierre C, Leplé JC, Pollet B, Mila I, Webster EA, Marstorp HG, Hopkins DW, Jouanin L, Boerjan W, Schuch W, Cornu D, Halpin C (2002) Field and pulping performances of transgenic trees with altered lignification. Nat Biotechnol 20:607–612. https://doi.org/10.1038/nbt0602-607

Pilate G, Dejardin A, Leplé JC (2012) Field trials with lignin-modified transgenic trees. In: Advances in Botanical Research. Academic Press Inc., pp 1–36

Poovaiah BW, Du L, Wang H, Yang T (2013) Recent advances in calcium/calmodulin-mediated signaling with an emphasis on plant-microbe interactions. Plant Physiol 163:531–542

Popescu SC, Popescu GV, Bachan S, Zhang Z, Seay M, Gerstein M, Snyder M, Dinesh-Kumar SP (2007) Differential binding of calmodulin-related proteins to their targets revealed through high-density Arabidopsis protein microarrays. Proc Natl Acad Sci U S A 104:4730–4735. https://doi.org/10.1073/pnas.0611615104

Pozo MJ, López-Ráez JA, Azcón-Aguilar C, García-Garrido JM (2015) Phytohormones as integrators of environmental signals in the regulation of mycorrhizal symbioses. New Phytol 205:1431–1436. https://doi.org/10.1111/nph.13252

Reddy ASN, Ali GS, Celesnik H, Day IS (2011) Coping with stresses: roles of calcium- and calcium/calmodulin-regulated gene expression. Plant Cell 23:2010–2032

Ripoll C, Favery B, Lecomte P, van Damme E, Peumans W, Abad P, Jouanin L (2003) Evaluation of the ability of lectin from snowdrop (Galanthus nivalis) to protect plants against root-knot nematodes. Plant Sci 164:517–523. https://doi.org/10.1016/S0168-9452(02)00448-X

Schweizer F, Bodenhausen N, Lassueur S, Masclaux FG, Reymond P (2013) Differential contribution of transcription factors to Arabidopsis thaliana defense against Spodoptera littoralis. Front Plant Sci 4:13. https://doi.org/10.3389/fpls.2013.00013

Stout AT, Davis AA, Domec JC, Yang C, Shi R, King JS (2014) Growth under field conditions affects lignin content and productivity in transgenic Populus trichocarpa with altered lignin biosynthesis. Biomass Bioenergy 68:228–239. https://doi.org/10.1016/j.biombioe.2014.06.008

Szuba A (2015) Ectomycorrhiza of Populus. For Ecol Manag 347:156–169. https://doi.org/10.1016/j.foreco.2015.03.012

Tschaplinski TJ, Plett JM, Engle NL, Deveau A, Cushman KC, Martin MZ, Doktycz MJ, Tuskan GA, Brun A, Kohler A, Martin F (2014) Populus trichocarpa and Populus deltoides exhibit different metabolomic responses to colonization by the symbiotic fungus Laccaria bicolor. Mol Plant-Microbe Interact 27:546–556. https://doi.org/10.1094/MPMI-09-13-0286-R

Vain T, Crowell EF, Timpano H, Biot E, Desprez T, Mansoori N, Trindade LM, Pagant S, Robert S, Höfte H, Gonneau M, Vernhettes S (2014) The cellulase KORRIGAN is part of the cellulose synthase complex. Plant Physiol 165:1521–1532

Van Acker R, Leplé JC, Aerts D et al (2014) Improved saccharification and ethanol yield from field-grown transgenic poplar deficient in cinnamoyl-CoA reductase. Proc Natl Acad Sci U S A 111:845–850. https://doi.org/10.1073/pnas.1321673111

Vanholme R, Storme V, Vanholme B, Sundin L, Christensen JH, Goeminne G, Halpin C, Rohde A, Morreel K, Boerjan W (2012) A systems biology view of responses to lignin biosynthesis perturbations in Arabidopsis. Plant Cell 24:3506–3529

Vayssières A, Pĕnčík A, Felten J et al (2015) Development of the poplar-Laccaria bicolor ectomycorrhiza modifies root auxin metabolism, signaling, and response. Plant Physiol 169:890–902. https://doi.org/10.1104/pp.114.255620

Veach AM, Yip D, Engle NL, Yang ZK, Bible A, Morrell-Falvey J, Tschaplinski TJ, Kalluri UC, Schadt CW (2018) Modification of plant cell wall chemistry impacts metabolome and microbiome composition in Populus PdKOR1 RNAi plants. Plant Soil 429:349–361. https://doi.org/10.1007/s11104-018-3692-8

Voelker SL, Lachenbruch B, Meinzer FC et al (2011) Transgenic poplars with reduced lignin show impaired xylem conductivity, growth efficiency and survival. Plant Cell Environ 34:655–668. https://doi.org/10.1111/j.1365-3040.2010.02270.x

Vogt T (2010) Phenylpropanoid biosynthesis. Mol Plant 3:2–20. https://doi.org/10.1093/mp/ssp106

Wesemael WML, Viaene N, Moens M (2011) Root-knot nematodes (Meloidogyne spp.) in Europe. Nematology 13:3–16. https://doi.org/10.1163/138855410X526831

Wróbel-Kwiatkowska M, Turnau K, Góralska K, Anielska T, Szopa J (2012) Effects of genetic modifications to flax (Linum usitatissimum) on arbuscular mycorrhiza and plant performance. Mycorrhiza 22:493–499. https://doi.org/10.1007/s00572-011-0427-6

Wuyts N, Lognay G, Swennen R, De Waele D (2006a) Nematode infection and reproduction in transgenic and mutant Arabidopsis and tobacco with an altered phenylpropanoid metabolism. J Exp Bot 57:2825–2835. https://doi.org/10.1093/jxb/erl044

Wuyts N, Swennen R, De Waele D (2006b) Effects of plant phenylpropanoid pathway products and selected terpenoids and alkaloids on the behaviour of the plant-parasitic nematodes Radopholus similis, Pratylenchus penetrans and Meloidogyne incognita. Nematology 8:89–101. https://doi.org/10.1163/156854106776179953

Yu D, Chen C, Chen Z (2001) Evidence for an important role of WRKY DNA binding proteins in the regulation of NPR1 gene expression. Plant Cell 13:1527–1539. https://doi.org/10.1105/TPC.010115

Zhao Q, Dixon RA (2014) Altering the cell wall and its impact on plant disease: from forage to bioenergy. Annu Rev Phytopathol 52:69–91. https://doi.org/10.1146/annurev-phyto-082712-102237
Acknowledgements
We would like to thank Frédéric Guinet for the technical assistance of in vitro poplar inoculation.
Funding
MB (Marie Baucher) and FBC were supported by the Fonds de la Recherche Scientifique (FRS-FNRS) research project T.0004.14, and RVA and WB by the Multidisciplinary Research Partnership Biotechnology for a sustainable economy and by the European Commission's Directorate-General for Research within the 7th Framework Program (FP7/2007-2013; grant agreement 270,089, MULTIBIOPRO). MB (Marie Baucher) is a Senior Research Associate of the FRS-FNRS. AK and CVF were supported by grants from the French National Agency of Research (ANR) as part of the "Investissement d'Avenir program" (ANR-11_LABX-0002-01) of Labex ARBRE (CFP15) and the US Department of Energy through the Oak Ridge National Laboratory Scientific Focus Area for Genomics Foundational Sciences (Plant Microbe Interfaces Project).
Ethics declarations
Conflict of interest
The authors declare that they have no conflict of interest.
Additional information
Publisher's note
Springer Nature remains neutral with regard to jurisdictional claims in published maps and institutional affiliations.
Electronic supplementary material
About this article
Cite this article
Behr, M., Baldacci-Cresp, F., Kohler, A. et al. Alterations in the phenylpropanoid pathway affect poplar ability for ectomycorrhizal colonisation and susceptibility to root-knot nematodes. Mycorrhiza 30, 555–566 (2020). https://doi.org/10.1007/s00572-020-00976-6
Received:

Accepted:

Published:

Issue Date:
Keywords
Ectomycorrhiza

Monolignol

Root-knot nematode

Secondary metabolites

Transcriptomics

Transgenic poplar