Abstract
The diversity of arbuscular mycorrhizal fungi (AMF) associating with grapevines has been determined previously, yet little is known of how the community in roots is shaped by depth in the soil or where roots occur in different management zones of the vineyard (vine row versus alley). The influence of depth, management zone, and time of year on the community of AMF in grape roots was examined. I also tested the potential influence of the alley vegetation on AMF in grapevines by comparing the taxa amplified from roots of other plants retrieved from the alley surface soil to those from grapevines growing in the same zone. Depth shaped the AMF community in grapevine roots more than the management zone based on dissimilarity among all grapevine samples. Time of the growing season did not, although AMF taxa richness was greater in grapevine roots collected in late summer (veraison) than it was in late spring (bloom). The number of abundant AMF taxa in grapevine roots from the uppermost soil depth in the vine row was substantially lower in late spring than in late summer, and this was related to high soil nitrate in late spring. The alley vegetation comprised primarily grass, and clover plants harbored a different AMF community in roots than did intermingled grapevine roots. The change in the AMF community in a single perennial host (grape) that occurred with depth in this study resulted from a shift among common taxa as opposed to the appearance of unique taxa in the subsoil.
Access options
Buy single article
Instant access to the full article PDF.
US$ 39.95
Tax calculation will be finalised during checkout.
Subscribe to journal
Immediate online access to all issues from 2019. Subscription will auto renew annually.
US$ 119
Tax calculation will be finalised during checkout.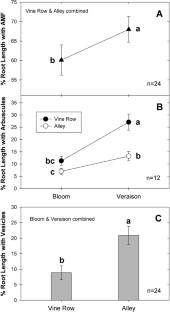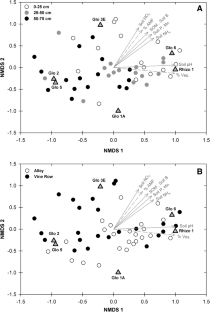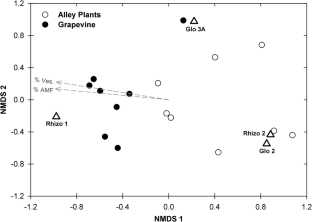 References
Altschul SF, Madden TL, Schäffer AA, Zhang J, Zhang Z, Miller W, Lipman DJ (1997) Gapped BLAST and PSI-BLAST: a new generation of protein database search programs. Nucleic Acids Res 25:3389–3402

An ZQ, Grove JH, Hendrix JW, Hershman DE, Henson GT (1990) Vertical distribution of endogonaceous mycorrhizal fungi associated with soybean, as affected by soil fumigation. Soil Biol Biochem 22:715–719

Bahram M, Peay KG, Tedersoo L (2015) Local-scale biogeography and spatiotemporal variability in communities of mycorrhizal fungi. New Phytol 205:1454–1463

Balestrini R, Magurno F, Walker C, Lumini E, Bianciotto V (2010) Cohorts of arbuscular mycorrhizal fungi (AMF) in Vitis vinifera, a typical Mediterranean fruit crop. Environ Microbiol Rep 2:594–604

Baumgartner K, Fujiyoshi P, Smith RF, Bettiga L (2010) Weed flora and dormant-season cover crops have no effects on arbuscular mycorrhizae of grapevine. Weed Res 50:456–466

Börstler B, Renker C, Kahmen A, Buscot F (2006) Species composition of arbuscular mycorrhizal fungi in two mountain meadows with differing management types and levels of plant biodiversity. Biol Fertil Soils 42:286–298

Bouffaud M-L, Bernaud E, Colombet A, van Tuinen D, Wipf D, Redecker D (2016) Regional-scale analysis of arbuscular mycorrhizal fungi: the case of Burgundy vineyards. J Int Sci Vigne Vin 50:1–8

Brady NC, Weil RR (1999) The nature and properties of soils twelfth edition. Prentice-Hall, Upper Saddle River, NJ

Camenzind T, Hempel S, Homeier J, Horn S, Velescu A, Wilcke W, Rillig MC (2014) Nitrogen and phosphorus additions impact arbuscular mycorrhizal abundance and molecular diversity in a tropical montane forest. Glob Chang Biol 20:3646–3659

Davison J, Moora M, Öpik M, Adholeya A, Ainsaar L, Bâ A, Burla S, Diedhiou AG, Hiiesalu I, Jairus T, Johnson NC, Kane A, Koorem K, Kochar M, Ndiaye C, Pärtel M, Reier Ü, Saks Ü, Singh R, Vasar M, Zobel M (2015) Global assessment of arbuscular mycorrhizal fungus diversity reveals very low endemism. Science 349:970–973

Egan CP, Rummel A, Kokkoris V, Klironomos J, Lekberg Y, Hart M (2018) Using mock communities of arbuscular mycorrhizal fungi to evaluate fidelity associated with Illumina sequencing. Fungal Ecol 33:52–64

Gai J, Gao W, Liu L, Chen Q, Feng G, Zhang J, Christie P, Li X (2015) Infectivity and community composition of arbuscular mycorrhizal fungi from different soil depths in intensively managed agricultural ecosystems. J Soils Sediments 15:1200–1211

Gavlak R, Horneck D, Miller RO, Kotuby-Amacher J (2003) Soil, plant and water reference methods for the western region. WCC-103 publication. WREP 125:17–36

Giese G, Wolf TK, Velasco-Cruz C, Roberts L, Heitman J (2015) Cover crop and root pruning impacts on vegetative growth, crop yield components, and grape composition of Cabernet Sauvignon. Am J Enol Vitic 66:212–226

Higo M, Isobe K, Yamaguchi M, Drijber RA, Jeske ES, Ishii R (2013) Diversity and vertical distribution of indigenous arbuscular mycorrhizal fungi under two soybean rotational systems. Biol Fertil Soils 49:1085–1096

Hijri I, Sýkorová Z, Oehl F, Ineichen K, Mader P, Wiemken A, Redecker D (2006) Communities of arbuscular mycorrhizal fungi in arable soils are not necessarily low in diversity. Mol Ecol 15:2277–2289

Holland TC, Bowen P, Bogdanoff C, Mart MM (2014) How distinct are arbuscular mycorrhizal fungal communities associating with grapevines? Biol Fertil Soils 50:667–674

Jansa J, Mozafar A, Anken T, Ruh R, Sanders IR, Frossard E (2002) Diversity and structure of AMF communities as affected by tillage in a temperate soil. Mycorrhiza 12:225–234

Jansa J, Mozafar A, Kuhn G, Anken T (2003) Soil tillage affects the community structure of mycorrhizal fungi in maize roots. Ecol Appl 13:1164–1176

Kohout P, Sudová R, Janoušková M, Čtvrtlíková M, Hejda M, Pánková H, Slavíková R, Štajerová K, Vosátka M, Sýkorová Z (2014) Comparison of commonly used primer sets for evaluating arbuscular mycorrhizal fungal communities: is there a universal solution? Soil Biol Biochem 68:482–493

Kumar S, Stecher G, Tamura K (2016) MEGA7: molecular evolutionary genetics analysis version 7.0 for bigger datasets. Mol Biol Evol 33:1870–1874

Leake J, Johnson D, Donnelly D, Muckle G, Boddy L, Read D (2004) Networks of power and influence: the role of mycorrhizal mycelium in controlling plant communities and agroecosystem functioning. Can J Bot 82:1016–1045

Lee J, Lee S, JPW Y (2008) Improved PCR primers for the detection and identification of arbuscular mycorrhizal fungi. FEMS Microbiol Ecol 65:339–349

Lekberg Y, Waller LP (2016) What drives differences in arbuscular mycorrhizal fungal communities among plant species? Fungal Ecol 24:135–138

Likar M, Hančević K, Radić T, Regvar M (2013) Distribution and diversity of arbuscular mycorrhizal fungi in grapevines from production vineyards along the eastern Adriatic coast. Mycorrhiza 23:209–219

Ludwig JA, Reynolds JF (1988) Statistical ecology: a primer on methods and computing. John Wiley & Sons, New York

Lumini E, Orgiazzi A, Borriello R, Bonfante P, Bianciotto V (2010) Disclosing arbuscular mycorrhizal fungal biodiversity in soil through a land-use gradient using a pyrosequencing approach. Environ Microbiol 12:2165–2179

Moll J, Hoppe B, König S, Wubet T, Buscot F, Krüger D (2016) Spatial distribution of fungal communities in an arable soil. PLoS One 11(2):e0148130. https://doi.org/10.1371/journal.pone.0148130

Montero Sommerfeld H, Díaz LM, Alvarez M, Añazco Villanueva C, Matus F, Boon N, Boeckx P, Huygens D (2013) High winter diversity of arbuscular mycorrhizal fungal communities in shallow and deep grassland soils. Soil Biol Biochem 65:236–244

Oehl F, Koch B (2018) Diversity of arbuscular mycorrhizal fungi in no-till and conventionally tilled vineyards. J Appl Bot Food Qual 91:56–60

Oehl F, Sieverding E, Ineichen K, Ris E-A, Boller T, Wiemken A (2005) Community structure of arbuscular mycorrhizal fungi at different soil depths in extensively and intensively managed agroecosystems. New Phytol 165:273–283

Öpik M, Vanatoa A, Vanatoa E, Moora M, Davison J, Kalwij JM, Reier Ü, Zobel M (2010) The online database MaarjAM reveals global and ecosystemic distribution patterns in arbuscular mycorrhizal fungi (Glomeromycota). New Phytol 188:223–241

Öpik M, Zobel M, Cantero JJ, Davison J, Facelli JM, Hiiesalu I, Jairus T, Kalwij JM, Koorem K, Leal ME, Liira J, Metsis M, Neshataeva V, Paal J, Phosri C, Põlme S, Reier Ü, Saks Ü, Schimann H, Thiéry O, Vasar M, Moora M (2013) Global sampling of plant roots expands the described molecular diversity of arbuscular mycorrhizal fungi. Mycorrhiza 23:411–430

Pereira AP d A, Santana MC, Bonfim JA, Mescolotti D d L, EJBN C (2018) Digging deeper to study the distribution of mycorrhizal arbuscular fungi along the soil profile in pure and mixed Eucalyptus grandis and Acacia mangium plantations. Appl Soil Ecol 128:1–11

Petit E, Gubler WD (2006) Influence of Glomus intraradices on black foot disease caused by Cylindrocarpon macrodidymum on Vitis rupestris under controlled conditions. Plant Dis 90:1481–1484

Phillips ML, Weber SE, Andrews LV, Aronson EL, Allen MF, Allen EB (2019) Fungal community assembly in soils and roots under plant invasion and nitrogen deposition. Fungal Ecol 40:107–117

Põlme S, Öpik M, Moora M, Zobel M, Kohout P, Oja J, Kõljalg U, Tedersoo L (2016) Arbuscular mycorrhizal fungi associating with roots of Alnus and Rubus in Europe and the Middle East. Fungal Ecol 24:27–34

Reeve AL, Skinkis PA, Vance AJ, Lee J, Tarara JM (2016) Vineyard floor management influences 'pinot noir' vine growth and productivity more than cluster thinning. Hortscience 51:1233–1244

Rosendahl S, Stukenbrock EH (2004) Community structure of arbuscular mycorrhizal fungi in undisturbed vegetation revealed by analyses of LSU rDNA sequences. Mol Ecol 13:3179–3186

Santos-González JC, Finlay RD, Tehler A (2007) Seasonal dynamics of arbuscular mycorrhizal fungal communities in roots in a seminatural grassland. Appl Environ Microbiol 73:5613–5623

Schreiner RP (2003) Mycorrhizal colonization of grapevine rootstocks under field conditions. Am J Enol Vitic 54:143–149

Schreiner RP (2005) Spatial and temporal variation of roots, arbuscular mycorrhizal fungi, and plant and soil nutrients in a mature pinot noir (Vitis vinifera L.) vineyard in Oregon, USA. Plant Soil 276:219–234

Schreiner RP (2007) Effects of native and nonnative arbuscular mycorrhizal fungi on growth and nutrient uptake of 'pinot noir' (Vitis vinifera L.) in two soils with contrasting levels of phosphorus. Appl Soil Ecol 36:205–215

Schreiner RP, Mihara KL (2009) The diversity of arbuscular mycorrhizal fungi amplified from grapevine roots (Vitis vinifera L.)in Oregon vineyards is seasonally stable and influenced by soil and vine age. Mycologia 101:599–611

Schreiner RP, Scagel CF (2016) Arbuscule frequency in grapevine roots is more responsive to reduction in photosynthetic capacity than to increased levels of shoot phosphorus. J Am Soc Hortic Sci 141:151–161

Schreiner RP, Scagel CF, Baham J (2006) Nutrient uptake and distribution in a mature 'pinot noir' vineyard. HortScience 41:336–345

Sosa-Hernández MA, Leifheit EF, Ingraffia R, Rillig MC (2019) Subsoil arbuscular mycorrhizal fungi for sustainability and climate-smart agriculture: a solution right under our feet? Front Micribiol 10:article 744. https://doi.org/10.3389/fmicb.2019.00744

Sosa-Hernández MA, Roy J, Hempel S, Kautz T, Köpke U, Uksa M, Schloter M, Caruso T, Rillig MC (2018) Subsoil arbuscular mycorrhizal fungal communities in arable soil differ from those in topsoil. Soil Biol Biochem 117:83–86

Tan S, Crabtree GD (1990) Competition between perennial ryegrass sod and 'chardonnay' wine grapes for mineral nutrients. HortScience 25:533–535

Trouvelot S, Bonneau L, Redecker D, van Tuinen D, Adrian M, Wipf D (2015) Arbuscular mycorrhiza symbiosis in viticulture: a review. Agron Sustain Dev 35:1449–1467

Valentine AJ, Mortimer PE, Lintnaar M, Borgo R (2006) Drought responses of arbuscular mycorrhizal grapevines. Symbiosis 41:127–133

Van Diepen LTA, Lilleskov EA, Pregitzer KS (2011) Simulated nitrogen deposition affects community structure of arbuscular mycorrhizal fungi in northern hardwood forests. Mol Ecol 20:799–811

Van Rooyen M, Valentine A, Archer E (2004) Arbuscular mycorrhizal colonisation modifies the water relations of young transplanted grapevines (Vitis). S Afr J Enol Vitic 25:37–42

Wang C, White PJ, Li C (2017) Colonization and community structure of arbuscular mycorrhizal fungi in maize roots at different depths in the soil profile respond differently to phosphorus inputs on a long-term experimental site. Mycorrhiza 27:369–381

Wang K, He X, Xie L, Zhao L (2018) Arbuscular mycorrhizal fungal community structure and diversity are affected by host plant species and soil depth in the mu Us Desert, Northwest China. Arid Land Res Manag 32:198–211
Acknowledgments
I thank Matthew Scott for help collecting root samples and analyzing colonization, Jennifer Christie and Ruth Price for their help with the molecular analysis of AMF amplified from roots, and Tian Tian for help with data analysis in R.
Funding
This work was funded by USDA-ARS CRIS Project 2072-21000-048-00D. Mention of trade names or commercial products in this publication is solely for the purpose of providing specific information and does not imply recommendation or endorsement by the US Department of Agriculture.
Additional information
Publisher's note
Springer Nature remains neutral with regard to jurisdictional claims in published maps and institutional affiliations.
Electronic supplementary material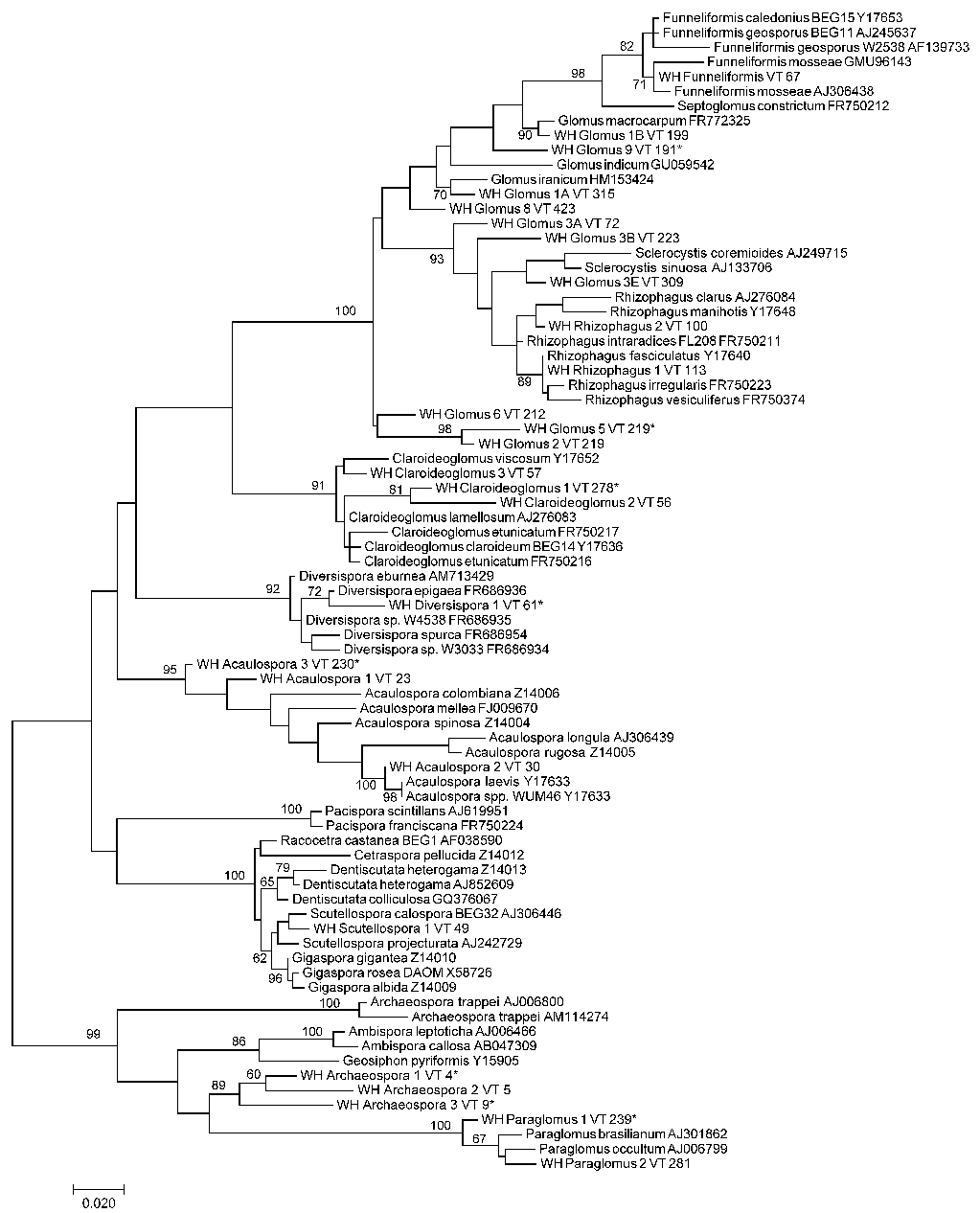 About this article
Cite this article
Schreiner, R.P. Depth structures the community of arbuscular mycorrhizal fungi amplified from grapevine (Vitis vinifera L.) roots. Mycorrhiza 30, 149–160 (2020). https://doi.org/10.1007/s00572-020-00930-6
Received:

Accepted:

Published:

Issue Date:
Keywords
Glomeromycotinan community

Glomeromycotinan virtual taxa

Pinot noir

SSU rRNA gene

Vineyard diversity