Abstract
Yellow chanterelles are among the most popular wild edible ectomycorrhizal mushrooms worldwide. The representative European golden chanterelle, Cantharellus cibarius, has only once been reported to fruit under greenhouse conditions, due to the difficulty of establishing pure culture. Recently, we developed a new technique for establishing a pure culture of a Japanese golden chanterelle (Cantharellus anzutake), and conducted in vitro ectomycorrhizal synthesis using established strains and Pinus densiflora. Acclimated pine mycorrhizal seedlings colonized with C. anzutake in a pot system under laboratory conditions produced small but distinct basidiomata with developed basidiospores. C. anzutake mycorrhizae were established on Quercus serrata seedlings by inoculation of mycorrhizal root tips of the fungus synthesized on P. densiflora. A scaled-up C. anzutake–host system in larger pots (4 L soil volume) exhibited repeated fruiting at 20–24 °C under continuous light illumination at 150 μmol m−2 s−1 during a 2-year incubation period. Therefore, a C. anzutake cultivation trial is practical under controlled environmental conditions.
Access options
Buy single article
Instant access to the full article PDF.
US$ 39.95
Tax calculation will be finalised during checkout.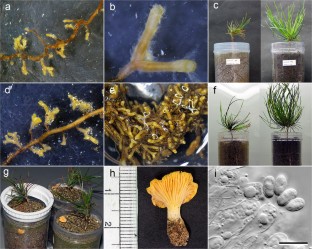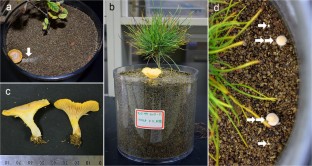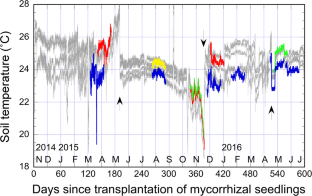 References
Agerer R (2006) Fungal relationships and structural identify of their ectomycorrhizae. Mycol Prog 5:67–107. https://doi.org/10.1007/s11557-006-0505-x

Arora D, Dunham SM (2008) A new, commercially valuable chanterelle species, Cantharellus californicus sp. nov., associated with live oak in California, USA. Econ Bot 62:376–391. https://doi.org/10.1007/s12231-008-9042-7

Buyck B, Kauff F, Eyssartier G, Couloux A, Hofstetter V (2014) A multilocus phylogeny for worldwide Cantharellus (Cantharellales, Agaricomycetidae). Fungal Divers 64:101–121. https://doi.org/10.1007/s13225-013-0272-3

Buyck B (2016) Editorial: towards completing the world inventory for Cantharellus. Cryptogam Mycol 37:255–258. https://doi.org/10.7872/crym/v37.iss3.2016.255

Corner EJH (1966) A monograph of cantharelloid fungi. Oxford University Press, London

Danell E (1994) Formation and growth of the ectomycorrhiza of Cantharellus cibarius Fr. Mycorrhiza 5:89–97. https://doi.org/10.1007/BF00202339

Danell E (1999) Chapter 10: Cantharellus. In: Cairney JWG, Chambers SM (eds) Ectomycorrhizal fungi: key genera in profile. Springer, Berlin, pp 251–267

Danell E, Alstrom S, Ternstrom A (1993) Pseudomonas fluorescens in association with fruit bodies of the ectomycorrhizal mushroom Cantharellus cibarius. Mycol Res 97:1148–1152. https://doi.org/10.1016/S0953-7562(09)80519-4

Danell E, Camacho FJ (1997) Successful cultivation of the golden chanterelle. Nature 385:303. https://doi.org/10.1038/385303a0

Danell E, Fries N (1990) Methods for isolation of Cantharellus species, and the synthesis of ectomycorrhizae with Picea abies. Mycotaxon 38:141–148

Donofrio NM, Oh Y, Lundy R, Pan H, Brown DE, Jeong JS, Coughlan S, Mitchell TK, Dean RA (2006) Global gene expression during nitrogen starvation in the rice blast fungus, Magnaporthe grisea. Fungal Genet Biol 43:605–617. https://doi.org/10.1016/j.fgb.2006.03.005

Debaud JC, Gay G (1987) In vitro fruiting under controlled conditions of the ectomycorrhizal fungus Hebeloma cylindrosporum associated with Pinus pinaster. New Phytol 105:429–435. https://doi.org/10.1111/j.1469-8137.1987.tb00880.x

Eastwood DC, Herman B, Noble R, Dobrovin-Pennington A, Sreenivasaprasad S, Burton KS (2013) Environmental regulation of reproductive phase change in Agaricus bisporus by 1-octen-3-ol, temperature and CO2. Fungal Genet Biol 55:54–66. https://doi.org/10.1016/j.fgb.2013.01.001

Endo N, Kawamura F, Kitahara R, Sakuma D, Fukuda M, Yamada A (2014) Synthesis of Japanese Boletus edulis ectomycorrhizae with Japanese red pine. Mycoscience 55:405–416. https://doi.org/10.1016/j.myc.2013.11.008

Fries E (1979) Germination of spores of Cantharellus cibarius. Mycologia 71:216–219

Furukawa H, Masuno K, Takeuchi Y (2016) Forest management of matsutake productive sites for the optimization to global warming. Annu Rep Nagano Pref For Res Ctr 30:87–100

Hamada M (1953) Matsutake. Shizen 8:56–64

Hibbett DS, Bauer R, Binder M, Giachini AJ, Hosaka K, Justo A, Larsson E, Larsson KH, Lawrey JD, Miettinen O, Nagy L, Nilsson RH, Weiss M, Thorn RG (2014) Agaricomycetes. In: McLaughlin DJ, Spatafora JW (eds) Systematics and evolution, 2nd edn. The Mycota VII Part A, Springer Verlag, Berlin, pp 373–429

Imazeki R, Hongo T (1989) Colored illustrations of mushrooms of Japan, II. Hoikusha, Osaka

Kauserud H, Heegaard E, Büntgen U, Halvorsen R, Egli S, Senn-Irlet B, Krisai-Greilhuber I, Dämon W, Sparks T, Nordén J, Høiland K, Kirk P, Semenov M, Boddy L, Stenseth NC (2012) Warming-induced shift in European mushroom fruiting phenology. Proc Natl Acad Sci U S A 109:14488–14493. https://doi.org/10.1073/pnas.1200789109

Kauserud H, Stige LC, Vik JO, Økland RH, Høiland K, Stenseth NC (2008) Mushroom fruiting and climate change. Proc Natl Acad Sci U S A 105:3811–3814. https://doi.org/10.1073/pnas.0709037105

Kawamura S (1908) Some summer fungi of Suwa III. Bot Mag 22:409–415

Kawamura S (1955) Icons of Japanese fungi (vol. 4). Kazamashobo, Tokyo (in Japanese)

Kinugawa K (1963) Ecological studies on the development of fruit-body in Armillaria matsutake Ito et Imai analysis of growth curves. Bull Univ Osaka Pref Ser B 14:27–60

Kües U, Badalyan SM, Gieβler A, Dörne B (2016) Asexual sporulation in Agaricomycetes. In: Wendland J (ed) The Mycota I: growth, differentiation and sexuality, 3rd edn. Springer, Heidelberg, pp 269–328

Kumari D, Reddy MS, Upadhyay RC (2013) Diversity of cultivable bacteria associated with fruiting bodies of wild Himalayan Cantharellus spp. Ann Microbiol 63:845–853. https://doi.org/10.1007/s13213-012-0535-3

Miles PG, Chang S-T (2004) Mushrooms: cultivation, nutritional value, medicinal effect, and environmental impact. CRC Press, Boca Raton

Liu N, Ning G-A, Liu X-H, Feng X-X, Lu J-P, Mao L-J, Su Z-Z, Wang Y, Zhang C-L, Lina F-C (2016) An autophagy gene, HoATG5, is involved in sporulation, cell wall integrity and infection of wounded barley leaves. Microbiol Res 192:326–335. https://doi.org/10.1016/j.micres.2016.08.008

Ogawa M (1978) The biology of matsutake mushroom. Tsukiji Shokan, Tokyo (in Japanese)

Ogawa W, Endo N, Fukuda M, Yamada A (2018) Phylogenetic analyses of Japanese golden chanterelles and a new species description, Cantharellus anzutake sp. nov. Mycoscience 59:153–165. https://doi.org/10.1016/j.myc.2017.08.014

Ogawa W, Endo N, Takeda Y, Kodaira M, Fukuda M, Yamada A (2019) Efficient establishment of pure cultures of the yellow chanterelle, Cantharellus anzutake, from ectomycorrhizal root tips, and the morphological characteristics of ectomycorrhizae and cultured mycelium. Mycoscience 60:45–53. https://doi.org/10.1016/j.myc.2018.08.003

Ohta A (1994) Production of fruit-bodies of a mycorrhizal fungus, Lyophyllum shimeji, in pure culture. Mycoscience 35:147–151. https://doi.org/10.1007/BF02318492

Olariaga I, Moreno G, Manjón JL, Salcedo I, Hofstetter V, Rodríguez D, Buyck B (2016) Cantharellus (Cantharellales, Basidiomycota) revisited in Europe through a multigene phylogeny. Fungal Divers 83:263–292. https://doi.org/10.1007/s13225-016-0376-7

Palmer GE, Horton JS (2006) Mushrooms by magic: making connections between signal transduction and fruiting body development in the basidiomycete fungus Schizophyllum commune. FEMS Microbiol Lett 262:1–8. https://doi.org/10.1111/j.1574-6968.2006.00341.x

Persson O (1997) The chanterelle book. Ten Speed Press, Berkeley

Pilz D, Molina R, Mayo J (2006) Effects of thining young forests on chanterelle mushroom production. J For 104:9–14. https://doi.org/10.1093/jof/104.1.9

Pilz D, Norvell L, Danell E, Molina R (2003) Ecology and management of commercially harbested chanterelle mushrooms. Gen. Tech. Rep. PNW-GTR-576. U.S. Department of Agriculture, Forest Service, Pacific Norhtwest Research Station, Portland, p 83

Saito C, Ogawa W, Kobayashi H, Yamanaka T, Fukuda M, Yamada A (2018) In vitro ectomycorrhization of Tricholoma matsutake strains is differentially affected by soil type. Mycoscience 59:89–97. https://doi.org/10.1016/j.myc.2017.09.002

Sakamoto Y (2018) Influences of environmental factors on fruiting body induction, development and maturation in mushroom-forming fungi. Fungal Biol Rev 32:236–248. https://doi.org/10.1016/j.fbr.2018.02.003

Sharma R, Rajak RC, Pandey AK (2008) Growth response of Dendrocalamus seedlings by ioculation with ectomycorrhizal fungi. Middle-East J Sci Res 3:200–206

Sharma R, Rajak RC, Pandey AK (2010) Evidence of antagonistic interactions between rhizosphere and mycorrhizal fungi associated with Dendrocalamus strictus (bamboo). J Yeast Fungal Res 1:112–117

Sharma R, Rajak RC, Pandey AK (2011) Ectomycorrhiza like interaction between Cantharellus tropicalis and Dendrocalamus strictus. J Agric Technol 7:413–421

Skromne I, Sánchez O, Aguirre J (1995) Starvation stress modulates the expression of the Aspergillus nidulans brlA regulatory gene. Microbiol 141:21–28. https://doi.org/10.1099/00221287-141-1-21

Smith SE, Read D (2008) Mycorrhizal symbiosis, 3rd edn. Academic Press, New York

Straastma G, Konings RNH, van Griensven LJLD (1985) A strain collection of the mycorrhizal mushroom Cantharellus cibarius obtained by germination of spores and culture of fruit body tissue. Trans Br Mycol Soc 85:689–697

Vaario LM, Yang X, Yamada A (2017) Biogeography of the Japanese gourmet fungus, Tricholoma matsutake: a review of the distribution and functional ecology of matsutake. In: Tedersoo L (ed) Biogeography of mycorrhizal symbiosis, Ecological studies (analysis and synthesis), vol, vol 230. Springer, Cham, pp 319–344. https://doi.org/10.1007/978-3-319-56363-3_15

Watling R (1997) The business of fructification. Nature 385:299–300. https://doi.org/10.1038/385299a0

Yamada A, Katsuya K (1995) Mycorrhizal association of isolates from sporocarps and ectomycorrhizas with Pinus densiflora seedlings. Mycoscience 36:315–323. https://doi.org/10.1007/BF02268607

Yamada A, Ogura T, Ohmasa M (2001) Cultivation of mushrooms of edible ectomycorrhizal fungi associated with Pinus densiflora by in vitro mycorrhizal synthesis. I. Primordium and basidiocarp formation in open-pot culture. Mycorrhiza 11:59–66. https://doi.org/10.1007/s005720000092

Zhang J, Ren A, Chen H, Zhao M, Shi L, Chen M, Wang H, Feng Z (2015) Transcriptome analysis and its application in identifying genes associated with fruiting body development in basidiomycete Hypsizygus marmoreus. PLoS One 10(4):e0123025. https://doi.org/10.1371/journal.pone.0123025
Acknowledgments
This study was supported in part by JSPS KAKENHI Grant Number 15H01751 from Japan Society for the Promotion of Science, and a general research grant from Institute for Fermentation, Osaka.
Ethics declarations
All experiments were performed in compliance with the current laws of Japan.
Conflict of interest
The authors declare that they have no conflicts of interest.
Additional information
Publisher's note
Springer Nature remains neutral with regard to jurisdictional claims in published maps and institutional affiliations.
Electronic supplementary material
About this article
Cite this article
Ogawa, W., Takeda, Y., Endo, N. et al. Repeated fruiting of Japanese golden chanterelle in pot culture with host seedlings. Mycorrhiza 29, 519–530 (2019). https://doi.org/10.1007/s00572-019-00908-z
Received:

Accepted:

Published:

Issue Date:
Keywords
Cantharellus

Edible ectomycorrhizal mushroom

Cultivation

Symbiosis