Abstract
Local adaptation, the differential success of genotypes in their native versus foreign environments, can influence ecological and evolutionary processes, yet its importance is difficult to estimate because it has not been widely studied, particularly in the context of interspecific interactions. Interactions between ectomycorrhizal (EM) fungi and their host plants could serve as model system for investigations of local adaptation because they are widespread and affect plant responses to both biotic and abiotic selection pressures. Furthermore, because EM fungi cycle nutrients and mediate energy flow into food webs, their local adaptation may be critical in sustaining ecological function. Despite their ecological importance and an extensive literature on their relationships with plants, the vast majority of experiments on EM symbioses fail to report critical information needed to assess local adaptation: the geographic origin of the plant, fungal inocula, and soil substrate used in the experiment. These omissions limit the utility of such studies and restrict our understanding of EM ecology and evolution. Here, we illustrate the potential importance of local adaptation in EM relationships and call for consistent reporting of the geographic origin of plant, soil, and fungi as an important step towards a better understanding of the ecology and evolution of EM symbioses.
Access options
Buy single article
Instant access to the full article PDF.
USD 39.95
Price excludes VAT (USA)
Tax calculation will be finalised during checkout.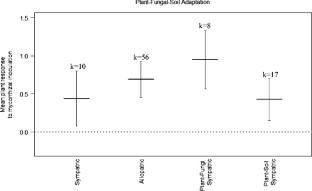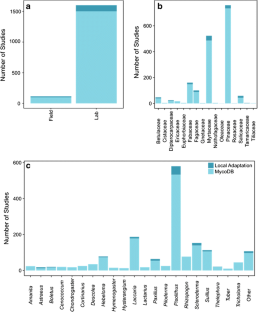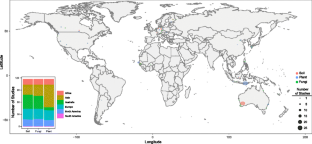 References
Ammirati J (1979) Chemical studies of mushrooms: the need for voucher collections. Mycologia 71(2):437–441. https://doi.org/10.2307/3759164

Bennett JA, Maherali H, Reinhart KO, Lekberg Y, Hart MM, Klironomos J (2017) Plant-soil feedbacks and mycorrhizal type influence temperate forest population dynamics. Science 355(6321):181–184. https://doi.org/10.1126/science.aai8212

Bever JD, Schultz PA, Pringle A, Morton JB (2001) Arbuscular mycorrhizal fungi: more diverse than meets the eye, and the ecological tale of why. Bioscience 51(11):923–932. https://doi.org/10.1641/0006-3568(2001)051[0923:amfmdt]2.0.co;2

Boyle B, Hopkins N, Lu Z, Raygoza Garay JA, Mozzherin D, Rees T, Matasci N, Narro ML, Piel WH, Mckay SJ, Lowry S, Freeland C, Peet RK, Enquist BJ (2013) The taxonomic name resolution service: an online tool for automated standardization of plant names. BMC Bioinformatics 14(1):16. https://doi.org/10.1186/1471-2105-14-16

Branco S, Bi K, Liao HL, Gladieux P, Badouin H, Ellison CE, Nguyen NH, Vilgalys R, Peay KG, Taylor JW, Bruns TD (2017) Continental-level population differentiation and environmental adaptation in the mushroom Suillus brevipes. Mol Ecol 26(7):2063–2076. https://doi.org/10.1111/mec.13892

Brundrett MC (2009) Mycorrhizal associations and other means of nutrition of vascular plants: understanding the global diversity of host plants by resolving conflicting information and developing reliable means of diagnosis. Plant Soil 320(1-2):37–77. https://doi.org/10.1007/s11104-008-9877-9

Burgess T, Dell B, Malajczuk N (1994) Variation in mycorrhizal development and growth stimulation by 20 Pisolithus isolates inoculated on to Eucalyptus grandis W. Hill ex Maiden. New Phytol 127(4):731–739. https://doi.org/10.1111/j.1469-8137.1994.tb02977.x

Cairney JWG, Chambers SM (1997) Interactions between Pisolithus tinctorius and its hosts: a review of current knowledge. Mycorrhiza 7(3):117–131. https://doi.org/10.1007/s005720050172

Castellano MA, Trappe JM (1991) Pisolithus tinctorius fails to improve plantation performance of inoculated conifers in southwestern Oregon. New For 5(4):349–358. https://doi.org/10.1007/bf00118862

Chaudhary VB, Rúa MA, Antoninka A, Bever JD, Cannon J, Craig A, Duchicela J, Frame A, Gardes M, Gehring C, Ha M, Hart M, Hopkins J, Ji B, Johnson NC, Kaonongbua W, Karst J, Koide RT, Lamit LJ, Meadow J, Milligan BG, Moore JC, Pendergast IV TH, Piculell B, Ramsby B, Simard S, Shrestha S, Umbanhowar J, Viechtbauer W, Walters L, Wilson GWT, Zee PC, Hoeksema JD (2016) MycoDB, a global database of plant response to mycorrhizal fungi. Sci Data 3:160028. https://doi.org/10.1038/sdata.2016.28

Courty P-E, Buée M, Diedhiou AG, Frey-Klett P, Le Tacon F, Rineau F, Turpault MP, Uroz S, Garbaye J (2010) The role of ectomycorrhizal communities in forest ecosystem processes: new perspectives and emerging concepts. Soil Biol Biochem 42(5):679–698. https://doi.org/10.1016/j.soilbio.2009.12.006

Díez J (2005) Invasion biology of Australian ectomycorrhizal fungi introduced with eucalypt plantations into the Iberian Peninsula. Biol Invasions, 7(1):3–15. https://doi.org/10.1007/S10530-004-9624-Y

Dixon RK, Garrett HE, Stelzer HE (1987) Growth and development of loblolly pine progenies inoculated with three isolates of Pisolithus tinctorius. Silvae Genet 36:240–245

Dunstan WA, Dell B, Malajczuk N (1998) The diversity of ectomycorrhizal fungi associated with introduced Pinus spp. in the southern hemisphere, with particular reference to Western Australia. Mycorrhiza 8(2):71–79. https://doi.org/10.1007/s005720050215

Gehring C, Flores-Rentería D, Sthultz CM, Leonard TM, Flores-Rentería L, Whipple AV, Whitham TG (2014) Plant genetics and interspecific competitive interactions determine ectomycorrhizal fungal community responses to climate change. Mol Ecol 23(6):1379–1391. https://doi.org/10.1111/mec.12503

Gerstner K, Moreno-Mateos D, Gurevitch J, Beckmann M, Kambach S, Jones HP, Seppelt R (2017) Will your paper be used in a meta-analysis? Make the reach of your research broader and longer lasting. Methods Ecol Evol 8(6):777–784. https://doi.org/10.1111/2041-210X.12758

Grove T, Le Tacon F (1993) Mycorrhiza in plantation forestry. Adv Plant Path 23:191–227

Hoeksema JD (2010) Ongoing coevolution in mycorrhizal interactions. New Phytol 187(2):286–300. https://doi.org/10.1111/j.1469-8137.2010.03305.x

Hoeksema JD, Chaudhary VB, Gehring CA, Johnson NC, Karst J, Koide RT, Pringle A, Zabinski C, Bever JD, Moore JC, Wilson GWT, Klironomos JN, Umbanhowar J (2010) A meta-analysis of context-dependency in plant response to inoculation with mycorrhizal fungi. Ecol Lett 13(3):394–407. https://doi.org/10.1111/j.1461-0248.2009.01430.x

Hoeksema JD, Thompson JN (2007) Geographic structure in a widespread plant–mycorrhizal interaction: pines and false truffles. J Evol Biol 20(3):1148–1163. https://doi.org/10.1111/j.1420-9101.2006.01287.x

Hoeksema JD, Hernandez JV, Rogers DL, Mendoza LL, Thompson JN (2012) Geographic divergence in a species-rich symbiosis: interactions between Monterey pines and ectomycorrhizal fungi. Ecology 93(10):2274–2285. https://doi.org/10.1890/11-1715.1

Ioannidis JPA, Patsopoulos NA, Evangelou E (2007) Uncertainty in heterogeneity estimates in meta-analyses. Brit Med J 335(7626):914–916. https://doi.org/10.1136/bmj.39343.408449.80

Karst J, Marczak L, Jones MD, Turkington R (2008) The mutualism-parasitism continuum in ectomycorrhizas: a quantitative assessment using meta-analysis. Ecology 89(4):1032–1042. https://doi.org/10.1890/07-0823.1

Karst J, Jones MD, Turkington R (2009) Ectomycorrhizal colonization and intraspecific variation in growth responses of lodgepole pine. Plant Ecol 200(2):161–165. https://doi.org/10.1007/s11258-008-9443-9

Karst J, Randall MJ, Gehring CA (2014) Consequences for ectomycorrhizal fungi of the selective loss or gain of pine across landscapes. Botany 92(12):855–865. https://doi.org/10.1139/cjb-2014-0063

Kawecki TJ, Ebert D (2004) Conceptual issues in local adaptation. Ecol Lett 7(12):1225–1241. https://doi.org/10.1111/j.1461-0248.2004.00684.x

Kennedy PG, Peay KG (2007) Different soil moisture conditions change the outcome of the ectomycorrhizal symbiosis between Rhizopogon species and Pinus muricata. Plant Soil 291(1-2):155–165. https://doi.org/10.1007/s11104-006-9183-3

Keymer DP, Lankau RA (2017) Disruption of plant–soil–microbial relationships influences plant growth. J Ecol 105(3):816–827. https://doi.org/10.1111/1365-2745.12716

Kranabetter JM, Hawkins BJ, Jones MD, Robbins S, Dyer T, Li T (2015a) Species turnover (β-diversity) in ectomycorrhizal fungi linked to NH4+ uptake capacity. Mol Ecol 24(23):5992–6005. https://doi.org/10.1111/mec.13435

Kranabetter JM, Stoehr M, O'Neill GA (2015b) Ectomycorrhizal fungal maladaptation and growth reductions associated with assisted migration of Douglas-fir. New Phytol 206(3):1135–1144. https://doi.org/10.1111/nph.13287

Lamhamedi MS, Fortin JA, Kope HH, Kropp BR (1990) Genetic variation in ectomycorrhiza formation by Pisolithus arhizus on Pinus pinaster and Pinus banksiana. New Phytol 115(4):689–697. https://doi.org/10.1111/j.1469-8137.1990.tb00501.x

Lamit LJ, Holeski LM, Flores-Rentería L, Whitham TG, Gehring CA (2016) Tree genotype influences ectomycorrhizal fungal community structure: ecological and evolutionary implications. Fungal Ecol 24:124–134. https://doi.org/10.1016/j.funeco.2016.05.013

Lilleskov EA, Fahey TJ, Horton TR, Lovett GM (2002) Belowground ectomycorrhizal fungal community change over a nitrogen deposition gradient in Alaska. Ecology 83(1):104–115. https://doi.org/10.1890/0012-9658(2002)083[0104:BEFCCO]2.0.CO;2

Lilleskov EA, Hobbie EA, Horton TR (2011) Conservation of ectomycorrhizal fungi: exploring the linkages between functional and taxonomic responses to anthropogenic N deposition. Fungal Ecol 4:174–183. https://doi.org/10.1016/j.funeco.2010.09.008

Maherali H, Oberle B, Stevens PF, Cornwell WK, McGlinn DJ (2016) Mutualism persistence and abandonment during the evolution of the mycorrhizal symbiosis. Am Nat 188:E113–E125. https://doi.org/10.1086/688675

Martin LJ, Blossey B, Ellis E (2012) Mapping where ecologists work: biases in the global distribution of terrestrial ecological observations. Front Ecol Environ 10(4):195–201. https://doi.org/10.1890/110154

Marx DH (1977) Tree host range and world distribution of the ectomycorrhizal fungus Pisolithus tinctorius. Can J Microbiol 23(3):217–223. https://doi.org/10.1139/m77-033

Marx DH (1981) Variability in ectomycorrhizal development and growth among isolates of Pisolithustinctorius as affected by source, age, and reisolation. Can J For Res 11(1):168–174. https://doi.org/10.1139/x81-022

Marx DH, Bryan WC (1971) Influence of ectomycorrhizae on survival and growth of aseptic seedlings of loblolly pine at high temperature. For Sci 17:37–41

Marx DH, Bryan WC (1975) Growth and ectomycorrhizal development of loblolly pine seedlings in fumigated soil infested with the fungal symbiont Pisolithus tinctorius. For Sci 21:245–254

Marx DH, Cordell CE, Kenney DS, Mexal JG, Artman JD, Riffle JW, Molina RJ (1984) Commercial vegetative inoculum of Pisolithus tinctorius and inoculation techniques for development of ectomycorrhizae on bare-root tree seedlings. For Sci 30:a0001–z0001

Marx DH, Maul SB, Cordell CE (1992) Application of specific ectomycorrhizal fungi in world forestry. In: Leatham GF (ed) Frontiers in industrial mycology. Chapman & Hall, New York, pp 78–98. https://doi.org/10.1007/978-1-4684-7112-0_6

Mirov NT, Hasbrouck J (1976) The story of pines. Indiana University Press, Bloomington, IN

Nuñez M, Dickie I (2014) Invasive belowground mutualists of woody plants. Biol Invasions 16(3):645–661. https://doi.org/10.1007/s10530-013-0612-y

Nuñez MA, Horton TR, Simberloff D (2009) Lack of belowground mutualisms hinders Pinaceae invasions. Ecology 90(9):2352–2359. https://doi.org/10.1890/08-2139.1

O'Hanlon R, Harrington TJ, Berch SM, Outerbridge RA (2013) Comparisons of macrofungi in plantations of Sitka spruce (Picea sitchensis) in its native range (British Columbia, Canada) versus non-native range (Ireland and Britain) show similar richness but different species composition. Can J For Res 43(5):450–458. https://doi.org/10.1139/cjfr-2012-0391

Pearson A (1950) Cape agarics and boleti. T Brit Mycol Soc 33(3-4):276–IN278. https://doi.org/10.1016/S0007-1536(50)80080-3

Perry DA, Molina R, Amaranthus MP (1987) Mycorrhizae, mycorrhizospheres, and reforestation: current knowledge and research needs. Can J For Res 17(8):929–940. https://doi.org/10.1139/x87-145

Pickles BJ, Twieg BD, O'Neill GA, Mohn WW, Simard SW (2015) Local adaptation in migrated interior Douglas-fir seedlings is mediated by ectomycorrhizas and other soil factors. New Phytol 207(3):858–871. https://doi.org/10.1111/nph.13360

Piculell BJ, Hoeksema JD, Thompson JN (2008) Interactions of biotic and abiotic environmental factors in an ectomycorrhizal symbiosis, and the potential for selection mosaics. BMC Biol 6:11. https://doi.org/10.1186/1741-7007-6-23

R Core Team (2017) R: a language and environment for statistical computing. R Foundation for Statistical Computing, Vienna http://www.R-project.org/

Read DJ (1991) Mycorrhizas in ecosystems. Experientia 47(4):376–391. https://doi.org/10.1007/bf01972080

Read DJ (1998) The mycorrhizal status of Pinus. In: Richardson DM (ed) Ecology and biogeography of Pinus. Cambridge University Press, Cambridge, pp 324–340

Richardson DM (1998) Forestry trees as invasive aliens. Conserv Biol 12(1):18–26. https://doi.org/10.1111/j.1523-1739.1998.96392.x

Richardson DM, Williams PA, Hobbs RJ (1994) Pine invasions in the southern hemisphere: determinants of spread and invadability. J Biogeogr 21(5):511–527. https://doi.org/10.2307/2845655

Rosado SCS, Kropp BR, PichÉ Y (1994) Genetics of ectomycorrhizal symbiosis. II. Fungal variability and heritability of ectomycorrhizal traits. New Phytol 126(1):111–117. https://doi.org/10.1111/j.1469-8137.1994.tb07544.x

Rúa MA, Umbanhowar J, Hu S, Burkey KO, Mitchell CE (2013) Elevated CO2 spurs reciprocal positive effects between a plant virus and an arbuscular mycorrhizal fungus. New Phytol 199(2):541–549. https://doi.org/10.1111/nph.12273

Rúa MA, Antoninka A, Antunes PM, Chaudhary VB, Gehring C, Lamit LJ, Piculell BJ, Bever JD, Zabinski C, Meadow JF, Lajeunesse MJ, Milligan BG, Karst J, Hoeksema JD (2016) Home-field advantage? Evidence of local adaptation among plants, soil, and arbuscular mycorrhizal fungi through meta-analysis. BMC Evol Biol 16(1):1–15. https://doi.org/10.1186/s12862-016-0698-9

Rudawska M, Pietras M, Smutek I, Strzeliński P, Leski T (2016) Ectomycorrhizal fungal assemblages of Abies alba Mill. outside its native range in Poland. Mycorrhiza 26(1):57–65. https://doi.org/10.1007/s00572-015-0646-3

Ryberg M, Matheny PB (2012) Asynchronous origins of ectomycorrhizal clades of Agaricales. Proc R Soc B Biol Sci 279(1735):2003–2011. https://doi.org/10.1098/rspb.2011.2428

Schwarzer G, Carpenter JR, Rücker G (2015) Missing data in meta-analysis. In: Meta-Analysis with R. Springer International Publishing, NY. pp 143–164. https://doi.org/10.1007/978-3-319-21416-0_6

Simberloff D et al (2010) Spread and impact of introduced conifers in South America: lessons from other southern hemisphere regions. Austral Ecol 35(5):489–504. https://doi.org/10.1111/j.1442-9993.2009.02058.x

Smith SE, Read D (2008) Mycorrhizal Symbiosis, 3rd edn. Elsevier, London

Talbot JM, Treseder KK (2010) Controls over mycorrhizal uptake of organic nitrogen. Pedobiologia 53(3):169–179. https://doi.org/10.1016/j.pedobi.2009.12.001

Talbot JM, Martin F, Kohler A, Henrissat B, Peay KG (2015) Functional guild classification predicts the enzymatic role of fungi in litter and soil biogeochemistry. Soil Biol Biochem 88:441–456. https://doi.org/10.1016/j.soilbio.2015.05.006

Tedersoo L, May TW, Smith ME (2010) Ectomycorrhizal lifestyle in fungi: global diversity, distribution, and evolution of phylogenetic lineages. Mycorrhiza 20(4):217–263. https://doi.org/10.1007/s00572-009-0274-x

Tedersoo L, Naadel T, Bahram M, Pritsch K, Buegger F, Leal M, Kõljalg U, Põldmaa K (2012) Enzymatic activities and stable isotope patterns of ectomycorrhizal fungi in relation to phylogeny and exploration types in an afrotropical rain forest. New Phytol 195(4):832–843. https://doi.org/10.1111/j.1469-8137.2012.04217.x

Tedersoo L et al (2012a) Towards global patterns in the diversity and community structure of ectomycorrhizal fungi. Mol Ecol 21(17):4160–4170. https://doi.org/10.1111/j.1365-294X.2012.05602.x

Trappe JM (1967) Pure culture synthesis of Douglas-fir mycorrhizae with species of Hebeloma, Suillus, Rhizopogon, and Astraeus. For Sci 13:121–130

Trappe JM (1977) Selection of fungi for ectomycorrhizal inoculation in nurseries. Annu Rev Phytopathol 15(1):203–222. https://doi.org/10.1146/annurev.py.15.090177.001223

Van Der Heijden MGA, Bardgett RD, Van Straalen NM (2008) The unseen majority: soil microbes as drivers of plant diversity and productivity in terrestrial ecosystems. Ecol Lett 11(3):296–310. https://doi.org/10.1111/j.1461-0248.2007.01139.x

Viechtbauer W (2010) Conducting meta-analyses in R with the metafor package. J Stat Softw 36:1–48

Wang B, Qiu YL (2006) Phylogenetic distribution and evolution of mycorrhizas in land plants. Mycorrhiza 16(5):299–363. https://doi.org/10.1007/s00572-005-0033-6

Wolfe BE, Richard F, Cross HB, Pringle A (2010) Distribution and abundance of the introduced ectomycorrhizal fungus Amanita phalloides in North America. New Phytol 185(3):803–816. https://doi.org/10.1111/j.1469-8137.2009.03097.x
Funding
This work was supported by start-up funds from the Wright State University to MAR, a NSERC Discovery Grant and Canada Research Chair to PMA, a NSERC Industrial Research Chair to JK and National Science Foundation grants to JDH (award #1119865) and CAG (award #EF-1340852).
Ethics declarations
Conflict of interest
The authors declare that they have no conflict of interest.
Electronic supplementary material
About this article
Cite this article
Rúa, M.A., Lamit, L.J., Gehring, C. et al. Accounting for local adaptation in ectomycorrhizas: a call to track geographical origin of plants, fungi, and soils in experiments. Mycorrhiza 28, 187–195 (2018). https://doi.org/10.1007/s00572-017-0811-y
Received:

Accepted:

Published:

Issue Date:

DOI: https://doi.org/10.1007/s00572-017-0811-y
Keywords