Abstract
The aim of this work was to assess the effects of plant-beneficial microorganisms (two Pseudomonas strains and a mixed mycorrhizal inoculum, alone or in combination) on the quality of tomato fruits of plants grown in the field and subjected to reduced fertilization. Pseudomonas strain 19Fv1T was newly characterized during this study. The size and quality of the fruits (concentration of sugars, organic acids and vitamin C) were assessed. The microorganisms positively affected the flower and fruit production and the concentrations of sugars and vitamins in the tomato fruits. In particular, the most important effect induced by arbuscular mycorrhizal (AM) fungi was an improvement of citric acid concentration, while bacteria positively modulated sugar production and the sweetness of the tomatoes. The novelty of the present work is the application of soil microorganisms in the field, in a real industrial tomato farm. This approach provided direct information about the application of inocula, allowed the reduction of chemical inputs and positively influenced tomato quality.
This is a preview of subscription content, log in to check access.
Access options
Buy single article
Instant access to the full article PDF.
US$ 39.95
Price includes VAT for USA
Subscribe to journal
Immediate online access to all issues from 2019. Subscription will auto renew annually.
US$ 199
This is the net price. Taxes to be calculated in checkout.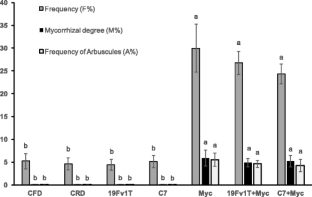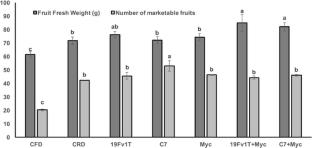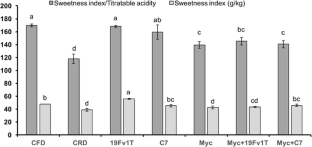 References
Aimo S, Gosetti F, D'Agostino G, Gamalero E, Gianotti V, Bottaro M, Gennaro MC, Berta G (2010) Use of arbuscular mycorrhizal fungi and beneficial soil bacteria to improve yield and quality of saffron (Crocus sativus L.). ISHS Acta Hortic 850:159–162

Bailly A, Weisskopf L (2012) The modulating effect of bacterial volatiles on plant growth current knowledge and future challenges. Plant Signal Behav 7:1–7

Barber NA, Kiers ET, Theis N, Hazzard RV, Adler LS (2013) Linking agricultural practices, mycorrhizal fungi, and traits mediating plant–insect interactions. Ecol Appl 23:1519–1530

Baslam M, Garmendia I, Goicoechea N (2011a) Arbuscular mycorrhizal fungi (AMF) improved growth and nutritional quality of greenhouse-grown lettuce. J Agric Food Chem 59:5504–5515. doi:10.1021/jf200501c

Baslam M, Pascual I, Sánchez-Díaz M, Erro J, García-Mina JM, Goicoechea N (2011b) Improvement of nutritional quality of greenhouse-grown lettuce by arbuscular mycorrhizal fungi is conditioned by the source of phosphorus nutrition. J Agric Food Chem 59:11129–11140. doi:10.1021/jf202445y

Berta G, Copetta A, Gamalero E, Bona E, Cesaro P, Scarafoni A, D'Agostino G (2014) Maize development and grain quality are differentially affected by mycorrhizal fungi and a growth-promoting pseudomonad in the field. Mycorrhiza 24:161–170. doi:10.1007/s00572-013-0523-x

Boldt K, Pörs Y, Haupt B, Bitterlich M, Kühn C, Grimm B, Franken P (2011) Photochemical processes, carbon assimilation and RNA accumulation of sucrose transporter genes in tomato arbuscular mycorrhiza. J Plant Physiol 168:1256–1263. doi:10.1016/j.jplph.2011.01.026

Bona E, Lingua G, Manassero P, Cantamessa S, Marsano F, Todeschini V, Copetta A, D'Agostino G, Massa N, Avidano L, Gamalero E, Berta G (2015) AM fungi and PGP pseudomonads increase flowering, fruit production, and vitamin content in strawberry grown at low nitrogen and phosphorus levels. Mycorrhiza 25:181–193. doi:10.1007/s00572-014-0599-y

Bona E, Lingua G, Todeschini V (2016) Effect of bioinoculants on the quality of crops. In Arora, Naveen Kumar, Mehnaz, Samina, Balestrini, Raffaella (Eds.) Bioformulations: for Sustainable Agriculture. Springer-Verlag, Berlin, Heidelberg, pp. 93–124. doi: 10.1007/978-81-322-2779-3_5

Bonneau L, Huguet S, Wipf D, Pauly N, Truong HN (2013) Combined phosphate and nitrogen limitation generates a nutrient stress transcriptome favorable for arbuscular mycorrhizal symbiosis in Medicago truncatula. New Phytol 199:188–202. doi:10.1111/nph.12234

Chung MJ, Lee SH, Sung NJ (2002) Inhibitory effect of whole strawberries, garlic juice or kale juice on endogenous formation of N-nitrosodimethylamine in humans. Cancer Lett 182:1–10. doi:10.1016/S0304-3835(02)00076-9

Copetta A, Lingua G, Berta G (2006) Effect of three AM fungi on growth, distribution of glandular hairs, and essential oil production in Ocimum basilicum L. var. Genovese. Mycorrhiza 16:485–494

Copetta A, Bardi L, Bertolone E, Berta G (2011) Fruit production and quality of tomato plants (Solanum lycopersicum L.) are affected by green compost and arbuscular mycorrhizal fungi. Plant Biosyst 145:106–115. doi:10.1080/11263504.2010.539781

Cruz-Rus E, Amaya I, Sanchez-Sevilla J, Botella MA, Valpuesta V, Sanchez-Sevilla JF (2011) Regulation of L-ascorbic acid content in strawberry fruits. J Exp Bot 62:4191–4201

De Brito AM, Gagné S, Antoun H (1995) Effect of compost on rhizosphere microflora of the tomato and on the incidence of plant-growth promoting rhizobacteria. Appl Environ Microbiol 61:194–199

Eparvier A, Lemanceau P, Alabouvette C (1991) Population dynamics of non-pathogenic Fusarium and fluorescent Pseudomonas strains in rockwool, a substratum for soilless culture. FEMS Microbiol Ecol 30:177–184

Esitken A, Yildiz HE, Ercisli S, Figen Donmez M, Turan M, Gunes A (2010) Effects of plant growth promoting bacteria (PGPB) on yield, growth and nutrient contents of organically grown strawberry. Sci Hortic (Amsterdam) 124:62–66. doi:10.1016/j.scienta.2009.12.012

Gamalero E, Glick B (2011) Mechanisms used by plant growth-promoting bacteria. In: Maheshwari DK (ed) Bacteria in agrobiology: plant nutrient management. Springer-Verlag, Berlin, Heidelberg, pp 17–47. doi:10.1007/978-3-642-21061-7_2

Giovannetti M, Avio L, Barale R, Ceccarelli N, Cristofani R, Iezzi A, Mignolli F, Picciarelli P, Pinto B, Reali D, Sbrana C, Scarpato R (2012) Nutraceutical value and safety of tomato fruits produced by mycorrhizal plants. Br J Nutr 107:242–251. doi:10.1017/S000711451100290X

Glick B (1995) The enhancement of plant growth by free-living bacteria. Can J Microbiol 143:3921–3931

Goldstein A (1986) Bacterial solubilization of mineral phosphates: historical perspective and future prospect. Am J Altern Agric 1:51–57

Guerrieri E, Lingua G, Digilo MC, Massa N, Berta G (2004) Do interactions between plant roots and the rhizosphere affect parasitoid behaviour? Ecol Entomol 29:753–756

Hart D, Scott J (1995) Development and evaluation of an HPLC method for the analysis of carotenoids in foods, and the measurement of the carotenoid content of vegetables and fruits commonly consumed in the UK. Food Chem 54:101–111

Hart M, Ehret DL, Krumbein A, Leung C, Murch S, Turi C, Franken P (2015) Inoculation with arbuscular mycorrhizal fungi improves the nutritional value of tomatoes. Mycorrhiza 25:359–376. doi:10.1007/s00572-014-0617-0

Hildebrandt U, Schmelzer E, Bothe H (2002) Expression of nitrate transporter genes in tomato colonized by an arbuscular mycorrhizal fungus. Physiol Plant 115:125–136. doi:10.1034/j.1399-3054.2002.1150115.x

Johnson ACR, Graham JH, Leonard RT, Menge JA (1982) Effect of flower bud development chrysanthemum vesicular-arbuscular mycorrhiza formation. New Phytol 90:671–675

Kapoor R, Giri B, Mukerji KG (2004) Improved growth and essential oil yield and quality in Foeniculum vulgare mill on mycorrhizal inoculation supplemented with P-fertilizer. Bioresour Technol 93:307–311. doi:10.1016/j.biortech.2003.10.028

Kapulnik Y, Tsror L, Zipori I, Hazanovsky M, Wininger S, Dag A (2010) Effect of AMF application on growth, productivity and susceptibility to Verticillium wilt of olives grown under desert conditions. Symbiosis 52:103–111. doi:10.1007/s13199-010-0085-z

Keutgen A, Pawelzik E (2007) Food chemistry modifications of taste-relevant compounds in strawberry fruit under NaCl salinity. Food Chem 105:1487–1494. doi:10.1016/j.foodchem.2007.05.033

Langlois D, Etievant PX, Pierron P, Jorrot A (1996) Sensory and instrumental characterization of commercial tomato varieties. Z Lebensm Unters Forsch 203:534–540

Lemanceau P, Alabouvette C (1991) Biological control of fusarium diseases by fluorescent Pseudomonas and non-pathogenic Fusarium. Crop Prot 10:279

Lingua G, Bona E, Manassero P, Marsano F, Todeschini V, Cantamessa S, Copetta A, D'Agostino G, Gamalero E, Berta G (2013) Arbuscular mycorrhizal fungi and plant growth-promoting pseudomonads increases anthocyanin concentration in strawberry fruits (Fragaria x ananassa var. Selva) in conditions of reduced fertilization. Int J Mol Sci 14:16207–16225. doi:10.3390/ijms140816207

Loiudice R, Impembo M, Laratta B, Villari G, Lo Voi A, Siviero P, Castaldo D (1995) Composition of San Marzano tomato varieties. Food Chem 53:81–89. doi:10.1016/0308-8146(95)95791-4

Marconi O, Floridi S, Montanari L (2007) Organic acids profile in tomato juice by HPLC with UV detection. J Food Qual 30:43–56

Michałojć Z, Jarosz Z, Pitura K, Dzida K (2015) Effect of mycorrhizal colonization and nutrient solutions concentration on the yielding and chemical composition of tomato grown in rockwool and straw medium. Acta Sci Pol Hortorum Cultus 14:15–27

Mirleau P, Philippot L, Lemanceau P (2001) Involvement of nitrate reductase and pyoverdine in competitiveness of Pseudomonas fluorescens strain C7R12 in soil. Appl Environ Microbiol 67:2627–2635

Nzanza B, Marais D, Soundy P (2012) Yield and nutrient content of tomato (Solanum lycopersicum L.) as influenced by Trichoderma harzianum and Glomus mosseae inoculation. Sci Hortic (Amsterdam) 144:55–59. doi:10.1016/j.scienta.2012.06.005

Oke M, Ahn T, Schofield A, Paliyath G (2005) Effect of phosphorus fertilizer supplementation on processing quality and functional food ingredients in tomato. J Agric Food Chem 53:1531–1538

Olivain C, Alabouvette C, Steinberg C (2004) Production of a mixed inoculum of Fusarium oxysporum Fo47 and Pseudomonas fluorescens C7 to control fusarium diseases. Biocontrol Sci Tech 14:227–238. doi:10.1080/09583150310001655657

Ordookhani K, Khavazi K, Moezzi A, Rejali F (2010) Influence of PGPR and AMF on antioxidant activity, lycopene and potassium contents in tomato. 5:1108–1116

Poulton JL, Bryla D, Koide RT, Stephenson AG (2002) Mycorrhizal infection and high soil phosphorus improve vegetative growth and the female and male functions in tomato. New Phytol 154:255–264. doi:10.1046/j.1469-8137.2002.00366.x

Rolland F, Baena-Gonzalez E, Sheen J (2006) Sugar sensing and signaling in plants: conserved and novel mechanisms. Annu Rev Plant Biol 57:675–709

Schüβler A, Schwarzott D, Walker C (2001) A new fungal phylum, the Glomeromycota: phylogeny and evolution. Mycol Res 105:1413–1421. doi:10.1017/S0953756201005196

Schwyn B, Neilands J (1987) Universal chemical assay for the detection and determination of siderophores. Anal Biochem 160:47–56

Shui G, Leong L (2002) Separation and determination of organic acids and phenolic compounds in fruit juice and drinks by high performance liquid chromatography. J Chromatogr A 977:89–96

Smith S, Read D (2008) Mycorrhizal symbiosis, Third edit. Academic press

Torelli A, Trotta A, Acerbi L, Arcidiacono G, Berta G, Branca C (2000) IAA and ZR content in leek (Allium porrum L.) as influenced by P nutrition and arbuscular mycorrhizae, in relation to plant development. Plant Soil 226:29–35

Trouvelot A, Kough J, Gianinazzi-Pearson V (1986) Mesure du taux de mycorrhization VA d'un système radiculaire. Recherche de méthodes d'estimation ayant une signification functionnelle. In: Gianninazzi- Pearson V, Gianinazzi S (eds) Physiol. Genet. Asp. mycorrhizae. INRA, Paris, pp 217– 221

Turan M, EKİNCİ M, Yildirim E, Günes A, Karagöz K, Kotan R, Dursun A (2014) Plant growth-promoting rhizobacteria improved growth, nutrient, and hormone content of cabbage (Brassica oleracea) seedlings. Turkish J Agric For 38:327–333. doi:10.3906/tar-1308-62

Wang C, Li X, Zhou J, Wang G, Dong Y (2008) Effects of arbuscular mycorrhizal fungi on growth and yield of cucumber plants. Commun Soil Sci Plant Anal 39:499–509

Weisburg WG, Barns SM, Pelletier DA, Lane DJ (1991) 16S ribosomal DNA amplification for phylogenetic study. J Bacteriol 173:697–703

Zouari I, Salvioli A, Chialva M, Novero M, Miozzi L, Tenore GC, Bagnaresi P, Bonfante P (2014) From root to fruit: RNA-Seq analysis shows that arbuscular mycorrhizal symbiosis may affect tomato fruit metabolism. BMC Genet 15:221–239. doi:10.1186/1471-2164-15-221
Acknowledgments
This research was funded by the Regione Piemonte, within the programme POR-FESR 2007–2013—Project title: "Realizzazione di un sistema integrato innovativo di tecnologie di campo, hardware e software per l'ottimizzazione della gestione parametrizzata di nutrizione e irrigazione delle piante, sinergizzato al supporto eco-orientato delle coltivazioni con materiali biodegradabili e/o a completa metabolizzazione da parte della rizosfera" (Bi.R.S-OASIS).
The authors would thank Donata Vigani and Giuliano Bonelli for the help during the harvesting of tomato fruits and Patrizia Cesaro for the useful suggestions.
Ethics declarations
Conflict of interest
The authors declare that they have no conflict of interest.
Electronic supplementary material
Below is the link to the electronic supplementary material.
Fig 1 Supplementary Material. Experimental workflow: A) Greenhouse tomato plantlets production (tomato seeds were germinated in alveolar boxes on sterilized soil and grown in greenhouse for three weeks before transplanting. Myc, Myc + 19Fv1T, Myc + C7 plantlets, were inoculated with 20 ml of mycorrhizal inoculum in the alveolar boxes); B) Plantlets inoculation of bacterial strains: 19Fv1T, C7, Myc + 19Fv1T, Myc + C7. Plantlets of CFD, CRD and Myc (without bacterial inoculum) were treated with the same buffer used for the bacterial inoculum preparation; C, D, E) In field transplanting of tomato plantlets and irrigation setup. (TIFF 11426 kb)
About this article
Cite this article
Bona, E., Cantamessa, S., Massa, N. et al. Arbuscular mycorrhizal fungi and plant growth-promoting pseudomonads improve yield, quality and nutritional value of tomato: a field study. Mycorrhiza 27, 1–11 (2017). https://doi.org/10.1007/s00572-016-0727-y
Received:

Accepted:

Published:

Issue Date:
Keywords
Tomato

PGPB

Pseudomonads

Arbuscular mycorrhizae

Fertilization

Fruit quality