Abstract
While the arbuscular mycorrhizal (AM) symbiosis is known to be widespread in terrestrial ecosystems, there is growing evidence that aquatic plants also form the symbiosis. It has been suggested that symbiosis with AM fungi may represent an important adaptation for isoëtid plants growing on nutrient-poor sediments in oligotrophic lakes. In this study, we address AM fungal root colonization intensity, richness and community composition (based on small subunit (SSU) ribosomal RNA (rRNA) gene sequencing) in five populations of the isoëtid plant species Lobelia dortmanna inhabiting oligotrophic lakes in Southern Sweden. We found that the roots of L. dortmanna hosted rich AM fungal communities and about 15 % of the detected molecular taxa were previously unrecorded. AM fungal root colonization intensity and taxon richness varied along an environmental gradient, being higher in oligotrophic and lower in mesotrophic lakes. The overall phylogenetic structure of this aquatic fungal community differed from that described in terrestrial systems: The roots of L. dortmanna hosted more Archaeosporaceae and fewer Glomeraceae taxa than would be expected based on global data from terrestrial AM fungal communities.
Access options
Buy single article
Instant access to the full article PDF.
USD 39.95
Price includes VAT (USA)
Tax calculation will be finalised during checkout.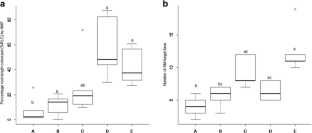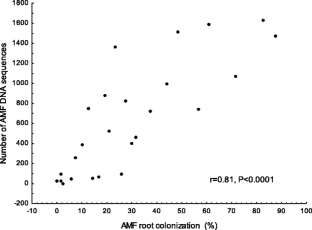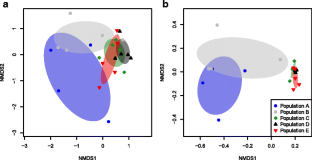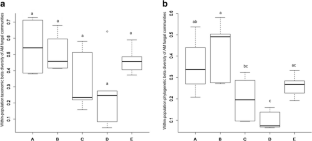 Reference
Andersen FO, Andersen T (2006) Effects of arbuscular mycorrhizae on biomass and nutrients in the aquatic plant Littorella uniflora. Freshwater Biol 51:1623–1633

Anderson MJ, Ellingsen KE, McArdle BH (2006) Multivariate dispersion as a measure of beta diversity. Ecol Lett 9:683–693

Arts GH (2002) Deterioration of atlantic soft water macrophyte communities by acidification, eutrophication and alkalinisation. Aquat Bot 73:373–393

Baar J, Paradi I, Lucassen ECHE, Hudson-Edwards KA, Redecker D, Roelofs JGM, Smolders AJP (2011) Molecular analysis of AMF diversity in aquatic macrophytes: a comparison of oligotrophic and utra-oligotrophic lakes. Aquat Bot 94:53–61

Beck-Nielsen D, Madsen TV (2001) Occurrence of vesicular-arbuscular mycorrhiza in aquatic macrophytes from lakes and streams. Aquat Bot 71:141–148

Brundrett MC (2009) Mycorrhizal associations and other means of nutrition of vascular plants: understanding the global diversity of host plants by resolving conflicting information and developing reliable means of diagnosis. Plant Soil 320:37–77

Carlson RE (1977) A trophic state index for lakes. Limnol Oceanogr 22:361–369

Chaubal R, Sharma GD, Mishra RR (1982) Vesicular arbuscular mycorrhiza in sub-tropical aquatic and marshy plant-communities. P Indian AS-Plant Sc 91:69–77

Christensen KK, Wigand C (1998) Formation of root plaques and their influence on tissue phosphorus content in Lobelia dortmanna. Aquat Bot 61:111–122

Davison J, Moora M, Öpik M, Adholeya A, Ainsaar L, Ba A, Burla S, Diedhiou AG, Hiiesalu I, Jairus T, Johnson NC, Kane A, Koorem K, Kochar M, Ndiaye C, Pärtel M, Reier Ü, Saks Ü, Singh R, Vasar M, Zobel M (2015) Global assessment of arbuscular mycorrhizal fungus diversity reveals very low endemism. Science 349:970–973

Davison J, Öpik M, Zobel M, Vasar M, Metsis M, Moora M (2012) Communities of arbuscular mycorrhizal fungi detected in forest soil are spatially heterogeneous but do not vary throughout the growing season. PLoS ONE 7:e41938

de Marins JF, Carrenho R, Thomaz SM (2009) Occurrence and coexistence of arbuscular mycorrhizal fungi and dark septate fungi in aquatic macrophytes in a tropical river-floodplain system. Aquat Bot 91:13–19

Drummond AJ, Rambaut A (2007) BEAST: Bayesian evolutionary analysis by sampling trees. BMC Evol Biol 7:214

Dumbrell AJ, Nelson M, Helgason T, Dytham C, Fitter AH (2010) Relative roles of niche and neutral processes in structuring a soil microbial community. ISME J 4:337–345

Edgar R, Haas B, Clemente J, Quince C, Knight R (2011) UCHIME improves sensitivity and speed of chimera detection. Bioinformatics 27:2194–2200

Ellenberg H, Leuschner C (2010) Vegetation Mitteleuropas mit den Alpen. Ulmer, Stuttgart

Farmer AM (1989) Biological flora of the British Isles: Lobelia dortmanna L. J Ecol 77:1161–1173

Grilli G, Urcelay C, Galetto L, Davison J, Vasar M, Saks U, Jairus T, Öpik M (2015) The composition of arbuscular mycorrhizal fungal communities in the roots of a ruderal forb is not related to the forest fragmentation process. Environ Microbiol 17:2709–2720

Harner MJ, Opitz N, Geluso K, Tockner K, Rillig MC (2011) Arbuscular mycorrhizal fungi on developing islands within a dynamic river floodplain: an investigation across successional gradients and soil depth. Aquat Sci 73:35–42

Hempel S, Götzenberger L, Kuhn I, Michalski SG, Rillig MC, Zobel M, Moora M (2013) Mycorrhizas in the Central European flora: relationships with plant life history traits and ecology. Ecology 94:1389–1399

Kai W, Zhao ZW (2006) Occurrence of arbuscular mycorrhizas and dark septate endophytes in hydrophytes from lakes and streams in southwest China. Int Rev Hydrobiol 91:29–37

Kembel SW, Cowan PD, Helmus MR, Cornwell WK, Morlon H, Ackerly DD, Blomberg SP, Webb CO (2010) Picante: R tools for integrating phylogenies and ecology. Bioinformatics 26:1463–1464

Kohout P, Sudova R, Janouskova M, Ctvrtlikova M, Hejda M, Pankova H, Slavikova R, Stajerova K, Vosatka M, Sykorova Z (2014) Comparison of commonly used primer sets for evaluating arbuscular mycorrhizal fungal communities: is there a universal solution? Soil Biol Biochem 68:482–493

Kohout P, Sykorova Z, Ctvrtlikova M, Rydlova J, Suda J, Vohnik M, Sudova R (2012) Surprising spectra of root-associated fungi in submerged aquatic plants. FEMS Microbiol Ecol 80:216–235

Koske RE, Gemma JN (1989) A modified procedure for staining roots to detect VA mycorrhizas. Mycol Res 92:486–505

Lee J, Lee S, Young JPW (2008) Improved PCR primers for the detection and identification of arbuscular mycorrhizal fungi. FEMS Microbiol Ecol 65:339–349

Lekberg Y, Schnoor T, Kjoller R, Gibbons SM, Hansen LH, Al-Soud WA, Sorensen SJ, Rosendahl S (2012) 454-sequencing reveals stochastic local reassembly and high disturbance tolerance within arbuscular mycorrhizal fungal communities. J Ecol 100:151–160

Lübben U (1973) Zur Verbreitung und Ökologie der Wasserlobelie (Lobelia dortmanna L.) in der Bundesrepublik Deutschland. Mitt Flor-soz Arbeitsgem N F 15(16):28–40

Martinez-Garcia LB, Richardson SJ, Tylianakis JM, Peltzer DA, Dickie IA (2015) Host identity is a dominant driver of mycorrhizal fungal community composition during ecosystem development. New Phytol 205:1565–1576

McGonigle TP, Miller M, Evans DG, Fairchild GL, Swan JA (1990) A new method which gives an objective measure of colonization of roots by vesicular-arbuscular mycorrhizal fungi. New Phytol 115:495–501

Moeller RE (1978) Seasonal-changes in biomass, tissue chemistry, and net production of evergreen hydrophyte, Lobelia dortmanna. Can J Bot 56:1425–1433

Møller CL, Kjøller R, Sand-Jensen K (2013) Organic enrichment of sediments reduces arbuscular mycorrhizal fungi in oligotrophic lake plants. Freshwater Biol 58:769–779

Møller CL, Sand-Jensen K (2011) High sensitivity of Lobelia dortmanna to sediment oxygen depletion following organic enrichment. New Phytol 190:320–331

Moora M, Berger S, Davison J, Öpik M, Bommarco R, Bruelheide H, Kuhn I, Kunin WE, Metsis M, Rortais A, Vanatoa A, Vanatoa E, Stout JC, Truusa M, Westphal C, Zobel M, Walther GR (2011) Alien plants associate with widespread generalist arbuscular mycorrhizal fungal taxa: evidence from a continental-scale study using massively parallel 454 sequencing. J Biogeogr 38:1305–1317

Moora M, Davison J, Öpik M, Metsis M, Saks Ü, Jairus T, Vasar M, Zobel M (2014) Anthropogenic land use shapes the composition and phylogenetic structure of soil arbuscular mycorrhizal fungal communities. FEMS Microbiol Ecol 90:609–621

Moora M, Öpik M, Sen R, Zobel M (2004) Native arbuscular mycorrhizal fungal communities differentially influence the seedling performance of rare and common Pulsatilla species. Funct Ecol 18:554–562

Nielsen KB, Kjøller R, Olsson PA, Schweiger PF, Andersen F, Rosendahl S (2004) Colonisation and molecular diversity of arbuscular mycorrhizal fungi in the aquatic plants Littorella uniflora and Lobelia dortmanna in southern Sweden. Mycol Res 108:616–625

Ohsowski BM, Zaitsoff PD, Öpik M, Hart MM (2014) Where the wild things are: looking for uncultured Glomeromycota. New Phytol 204:171–179

Öpik M, Davison J, Moora M, Zobel M (2014) DNA-based detection and identification of Glomeromycota: the virtual taxonomy of environmental sequences. Botany-Botanique 92:135–147

Öpik M, Metsis M, Daniell TJ, Zobel M, Moora M (2009) Large-scale parallel 454 sequencing reveals host ecological group specificity of arbuscular mycorrhizal fungi in a boreonemoral forest. New Phytol 184:424–437

Öpik M, Vanatoa A, Vanatoa E, Moora M, Davison J, Kalwij JM, Reier Ü, Zobel M (2010) The online database MaarjAM reveals global and ecosystem distribution patterns in arbuscular mycorrhizal fungi (Glomeromycota). New Phytol 188:223–241

Öpik M, Zobel M, Cantero JJ, Davison J, Facelli JM, Hiiesalu I, Jairus T, Kalwij JM, Koorem K, Leal ME, Liira J, Metsis M, Neshataeva V, Paal J, Phosri C, Põlme S, Reier Ü, Saks Ü, Schimann H, Thiery O, Vasar M, Moora M (2013) Global sampling of plant roots expands the described molecular diversity of arbuscular mycorrhizal fungi. Mycorrhiza 23:411–430

Pott R, Remy D (2000) Gewässer des Binnenlandes. Ulmer, Stuttgart

R Development Core Team. R: A language and Environment for Statistical Computing, version 3.0.3. Vienna: R Foundation for Statistical Computing, 2013. Available at: http://www.R-project.org.

Redecker D (2000) Specific PCR primers to identify arbuscular mycorrhizal fungi within colonized roots. Mycorrhiza 10:73–80

Roelofs JGM (1983) Impact of acidification and eutrophication on macrophyte communities in soft waters in The Netherlands. I. Field observations. Aquat Bot 17:139–155

Sand-Jensen K, Riis T, Vestergaard O, Larsen SE (2000) Macrophyte decline in Danish lakes and streams over the past 100 years. J Ecol 88:1030–1040

Sand-Jensen K, Søndergaard M (1978) Growth and production of isoëtids in oligotrophic Lake Kalgaard, Denmark. Verh Internat Verein Limnol 20:659–666

Sengupta A, Chaudhuri S (2002) Arbuscular mycorrhizal relations of mangrove plant community at the Ganges river estuary in India. Mycorrhiza 12:169–174

Simon L, Lalonde M, Bruns TD (1992) Specific amplification of 18S fungal ribosomal genes from VA endomycorrhizal fungi colonizing roots. Appl Environ Microb 58:291–295

Smith SE, Read DJ (2008) Mycorrhizal symbiosis. 3. Academic Press, Amsterdam

Smolders AJP, Lucassen E, Roelofs JGM (2002) The isoetid environment: biogeochemistry and threats. Aquatic Botany 73:325–350

Sondergaard M, Laegaard S (1977) Vesicular-arbuscular mycorrhiza in some aqatic vascular plants. Nature 268:232–233

Sraj-Krzic N, Pongrac P, Klemenc M, Kladnik A, Regvar M, Gaberscik A (2006) Mycorrhizal colonisation in plants from intermittent aquatic habitats. Aquat Bot 85:331–336

Sudova R, Rydlova J, Ctvrtlikova M, Havranek P, Adamec L (2011) The incidence of arbuscular mycorrhiza in two submerged Isoetes species. Aquat Bot 94:183–187

Sudova R, Sykorova Z, Rydlova J, Ctvrtlikova M, Oehl F (2015) Rhizoglomus melanum, a new arbuscular mycorrhizal fungal species associated with submerged plants in freshwater lake Avsjoen in Norway. Mycol Prog 14:9

Tedersoo L, Anslan S, Bahram M, Põlme S, Riit T, Liiv I, Kõljalg U, Kisand V, Nilsson H, Hildebrand F, Bork P, Abarenkov K (2015) Shotgun metagenomes and multiple primer pair-barcode combinations of amplicons reveal biases in metabarcoding of fungi. MycoKeys 10:1–43

Uibopuu A, Moora M, Öpik M, Zobel M (2012) Temperate forest understorey species performance is altered by local arbuscular mycorrhizal fungal communities from stands of different successional stages. Plant Soil 356:331–339

Uibopuu A, Moora M, Saks Ü, Daniell T, Zobel M, Öpik M (2009) Differential effect of arbuscular mycorrhizal fungal communities from ecosystems along management gradient on the growth of forest understorey plant species. Soil Biol Biochem 41:2141–2146

van der Heijden MGA, Boller T, Wiemken A, Sanders IR (1998) Different arbuscular mycorrhizal fungal species are potential determinants of plant community structure. Ecology 79:2082–2091

Wigand C, Andersen FO, Christensen KK, Holmer M, Jensen HS (1998) Endomycorrhizae of isoëtids along a biogeochemical gradient. Limnol Oceanogr 43:508–515
Acknowledgments
This research was funded by grants from the Estonian Research Council (IUT 20-28) and the European Regional Development Fund (Centre of Excellence Ecolchange). We thank Prof. Annette Otte (Giessen University) for space in the common garden, Joseph Scholz-vom Hofe for nursing the collected plants and Ülle Saks for measuring AM fungal colonization in plant roots.
Ethics declarations
Conflict of interest
The authors declare that they have no conflict of interest.
Electronic supplementary material
Additional Supporting Information may be found in the online version of this article:
Percentage root length colonized (%RLC) by hyphae, arbuscules and vesicles of AM fungi in the roots of Lobelia dortmanna in five different local populations. Bars topped by the same letter do not differ significantly at P ≤ 0.05 (Fischer LSD test). (PDF 311 kb)
About this article
Cite this article
Moora, M., Öpik, M., Davison, J. et al. AM fungal communities inhabiting the roots of submerged aquatic plant Lobelia dortmanna are diverse and include a high proportion of novel taxa. Mycorrhiza 26, 735–745 (2016). https://doi.org/10.1007/s00572-016-0709-0
Received:

Accepted:

Published:

Issue Date:
Keywords
Aquatic habitats

Arbuscular mycorrhizal fungi

MaarjAM

Molecular diversity