Abstract
The publication of a large number of taxon names at all levels within the arbuscular mycorrhizal fungi (Glomeromycota) has resulted in conflicting systematic schemes and generated considerable confusion among biologists working with these important plant symbionts. A group of biologists with more than a century of collective experience in the systematics of Glomeromycota examined all available molecular–phylogenetic evidence within the framework of phylogenetic hypotheses, incorporating morphological characters when they were congruent. This study is the outcome, wherein the classification of Glomeromycota is revised by rejecting some new names on the grounds that they are founded in error and by synonymizing others that, while validly published, are not evidence-based. The proposed "consensus" will provide a framework for additional original research aimed at clarifying the evolutionary history of this important group of symbiotic fungi.
Access options
Buy single article
Instant access to the full article PDF.
US$ 39.95
Tax calculation will be finalised during checkout.
Subscribe to journal
Immediate online access to all issues from 2019. Subscription will auto renew annually.
US$ 119
Tax calculation will be finalised during checkout.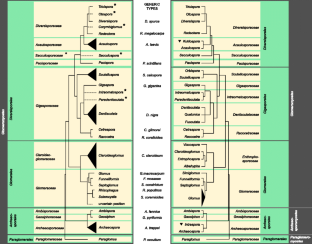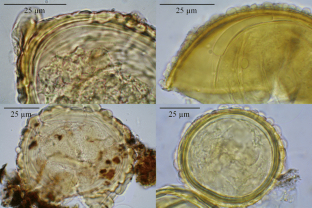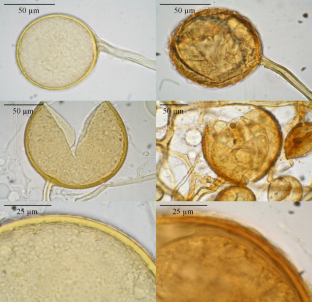 References
Berch SM, Trappe JM (1985) A new species of Endogonaceae, Glomus hoi. Mycologia 77:654–657

Błaszkowski J (2012) Glomeromycota. Polish Academy of Sciences, Krakow

Błaszkowski J, Kovács GM, Gáspár BK, Balázs TK, Buscot F, Ryszka P (2011) The arbuscular mycorrhizal Paraglomus majewskii sp. nov. represents a distinct basal lineage in Glomeromycota. Mycologia 104:148–156. doi:10.3852/10-430

Franke M, Morton J (1994) Ontogenetic comparisons of arbuscular mycorrhizal fungi Scutellospora heterogama and Scutellospora pellucida: revision of taxonomic character concepts, species descriptions, and phylogenetic hypotheses. Can J Bot 72:122–134

Gerdemann JW, Trappe JM (1974) Endogonaceae in the Pacific Northwest. Mycologia Mem 5:1–76

Goto BT, Maia LC, Oehl F (2008) Ambispora brasiliensis, a new ornamented species in the arbuscular mycorrhiza-forming Glomeromycetes. Mycotaxon 105:11–18

Goto BT, da Silva GA, de Assis DM, Silva DKA, Souza RG, Ferreira ACA, Jobim K, Melo CMA, Viera HEE, Maia LC, Oehl F (2012a) Intraornatospora (Gigasporales), a new family with two new genera and two new species. Mycotaxon 119:117–132

Goto BT, Jardim JG, da Silva GA, Furrazola E, Torres-Arias Y, Oehl F (2012b) Glomus trufemii (Glomeromycetes), a new sporocarpic species from Brazilian sand dunes. Mycotaxon 120:1–9

Graham JH, Hodge NC, Morton JB (1995) Fatty acid methyl ester profiles for characterization of glomalean fungi and their endomycorrhizae. App Environ Microbiol 61:58–64

Helgason T, Merryweather JW, Denison J, Wilson P, Young JPW, Fitter AH (2002) Selectivity and functional diversity in arbuscular mycorrhizas of co-occurring fungi and plants from a temperate deciduous woodland. J Ecol 90:371–384

Kaonongbua W, Morton JB, Bever JD (2010) Taxonomic revision transferring species in Kuklospora to Acaulospora (Glomeromycota) and a description of Acaulospora colliculosa sp. nov. from field collected spores. Mycologia 102:1497–1509

Khade S (2010) Dentiscutata nigerita—a new species of arbuscular mycorrhizal fungi from India. Mycosphere 1:241–247

Kramadibrata K, Walker C, Schwarzott D, Schüßler A (2000) A new species of Scutellospora with a coiled germination shield. Ann Bot 86:21–27

Krüger M, Krüger C, Walker C, Stockinger H, Schüßler A (2012) Phylogenetic reference data for systematics and phylotaxonomy of arbuscular mycorrhizal fungi from phylum to species level. New Phytol 193:970–984. doi:10.1111/j.1469-8137.2011.03962.x

Mathimaran N, Ruh R, Jama B, Verchot L, Frossard E, Jansa J (2007) Impact of agricultural management on arbuscular mycorrhizal fungal communities in Kenyan ferrasol. Agric Ecosyst Environ 119:22–32

McNeill J, Barrie FR, Burdet HM, Demoulin V, Hawksworth DL, Marhold K, Nicolson DH, Prado J, Silva PC, Skog JE, Wiersema JH, Turland N (2006) International Code of Botanical Nomenclature (Vienna Code). Regnum Vegetabile 146. A.R.G. Gantner Verlag KG. Ruggell, Liechtenstein

McNeill J, Barrie FR, Buck WR, Demoulin V, Greuter W, Hawksworth DL, Herendeen PS, Knapp S, Marhold K, Prado J, Prud'homme van Reine WF, Smith GF, Wiersma JH, Turland N (2012) International Code of Nomenclature for algae, fungi, and plants (Melbourne Code). Regnum Vegetabile 154. A.R.G. Gantner Verlag KG, Ruggell, Liechtenstein. ISBN 978-3-87429-425-6. Available at http://www.iapt-taxon.org/nomen/main.php

Miller JS, Funk VA, Wagner WL, Barrie F, Hoch PC, Herendeen P (2011) Outcomes of the 2011 Botanical Nomenclature Section at the XVIII International Botanical Congress. PhytoKeys 5:1–3. doi:10.3897/phytokeys.5.1850

Morton JB, Msiska Z (2010a) Ontogeny and phylogeny of a Scutellospora heterogama mutant, with implications for morphological recognition of species in Glomeromycota. Fungal Biol 114:410–420. doi:10.1016/j.funbio.2010.03.002

Morton JB, Msiska Z (2010b) Phylogenies from genetic and morphological characters do not support a revision of Gigasporaceae (Glomeromycota) into four families and five genera. Mycorrhiza 20:483–496. doi:10.1007/s00572-010-0303-9

Morton JB, Redecker D (2001) Two new families of Glomales, Archaeosporaceae and Paraglomaceae, with two new genera Archaeospora and Paraglomus, based on concordant molecular and morphological characters. Mycologia 93:181–195

Msiska Z, Morton JB (2009) Phylogenetic analysis of the Glomeromycota by partial beta-tubulin gene sequences. Mycorrhiza 19:247–254. doi:10.1007/s00572-008-0216-z

Nicolson TH, Gerdemann JW (1968) Mycorrhizal Endogone species. Mycologia 60:313–325

Oehl F, de Souza FA, Sieverding E (2008) Revision of Scutellospora and description of five new genera and three new families in the arbuscular mycorrhiza-forming Glomeromycetes. Mycotaxon 106:311–360

Oehl F, da Silva GA, Goto BT, Maia LC, Sieverding E (2011a) Glomeromycota: two new classes and a new order. Mycotaxon 116:365–379

Oehl F, da Silva GA, Goto BT, Sieverding E (2011b) Glomeromycota: three new genera and glomoid species reorganized. Mycotaxon 116:75–120

Oehl F, da Silva GA, Goto BT, Sieverding E (2011c) New recombinations in Glomeromycota. Mycotaxon 117:429–434

Oehl F, da Silva DKA, Maia LC, de Sousa NMF, Vieira HEE, da Silva GA (2011d) Orbispora gen. nov., ancestral in the Scutellosporaceae (Glomeromycetes). Mycotaxon 116:161–169. doi:10.5248/116.161

Oehl F, da Silva GA, Sánchez-Castro I, Elísio H, Vieira E, Barea JM (2011e) Revision of Glomeromycetes with entrophosporoid and glomoid spore formation with three new genera. Mycotaxon 117:297–316

Oehl F, Sieverding E, Palenzuela J, Ineichen K, da Silva GA (2011f) Advances in Glomeromycota taxonomy and classification. IMA Fungus 2:191–199

Palenzuela J, Ferrol N, Boller T, Azcón-Aguilar C, Oehl F (2008) Otospora bareai, a new fungal species in the Glomeromycetes from a dolomitic shrub land in Sierra de Baza National Park (Granada, Spain). Mycologia 100:296–305

Palenzuela J, Barea JM, Ferrol N, Azcon-Aguilar C, Oehl F (2010) Entrophospora nevadensis, a new arbuscular mycorrhizal fungus from Sierra Nevada National Park (southeastern Spain). Mycologia 102:624–632. doi:10.3852/09-145

Schoch CL, Seifert KA, Huhndorf S, Robert V, Spouge JL, Levesque CA, Chen W, Fungal Barcoding Consortium (2012) Nuclear ribosomal internal transcribed spacer (ITS) region as a universal DNA barcode marker for Fungi. Proc Natl Acad Sci USA 109:6241–6246

Schüßler A, Walker C (2010) The Glomeromycota: a species list with new families. Arthur Schüßler & Christopher Walker, Gloucester. Published in December 2010 in libraries at The Royal Botanic Garden Edinburgh, The Royal Botanic Garden Kew, Botanische Staatssammlung Munich, and Oregon State University. Printed copy available under ISBN-13: 978-1466388048, ISBN-10: 1466388048. Available at http://www.amf-phylogeny.com

Schüßler A, Schwarzott D, Walker C (2001) A new fungal phylum, the Glomeromycota: phylogeny and evolution. Mycol Res 105:1413–1421

Schüßler A, Krüger M, Walker C (2011) Revealing natural relationships among arbuscular mycorrhizal fungi: culture line BEG47 represents Diversispora epigaea, not Glomus versiforme. PLoS One 6:e23333. doi:10.1371/journal.pone.0023333

Schwarzott D, Walker C, Schüßler A (2001) Glomus, the largest genus of the arbuscular mycorrhizal fungi (Glomales), is nonmonophyletic. Mol Phylogenet Evol 21:190–197

Sýkorová Z, Ineichen K, Wiemken A, Redecker D (2007) The cultivation bias: different communities of arbuscular mycorrhizal fungi detected in roots from the field, from bait plants transplanted to the field, and from a greenhouse trap experiment. Mycorrhiza 18:1–14

VanKuren NW, den Bakker HC, Morton JB, Pawlowska TE (2012) Ribosomal RNA gene diversity, effective population size, and evolutionary longevity in asexual Glomeromycota. Evolution. doi:10.1111/j.1558-5646.2012.01747.x

Walker C, Sanders FE (1986) Taxonomic concepts in the Endogonaceae: III. The separation of Scutellospora gen. nov. from Gigaspora Gerd. & Trappe. Mycotaxon 27:169–182

Walker C, Schüßler A (2004) Nomenclatural clarifications and new taxa in the Glomeromycota. Mycol Res 108:981–982

Walker C, Vestberg M, Demircik F, Stockinger H, Saito M, Sawaki H, Nishmura I, Schüßler A (2007) Molecular phylogeny and new taxa in the Archaeosporales (Glomeromycota): Ambispora fennica gen. sp. nov., Ambisporaceae fam. nov., and emendation of Archaeospora and Archaeosporaceae. Mycol Res 111:137–153
Acknowledgments
The authors DR and HS would like to thank the Burgundy Regional Council and the Swiss National Science Foundation for the funding. JBM would like to thank the US National Science Foundation (grant DBI0650735) for the funding. Jessica Frank, Yael Tarkovsky (both West Virginia University), and David Stille (Ludwig-Maximilians-University) generated sequences for this publication. We thank Jan Jansa for providing specimens of the fungus originally determined as S. nigra and Jeffrey O. Dawson, University of Illinois, Champaign–Urbana, for collecting a sample from the Morrow plots from which D. heterogama (IL203) was cultured. We also acknowledge the help of the herbaria at Oregon State University (OSC) and Zurich (Z + ZT) for loan of type material. The technical support by Valérie Monfort-Pimet (International Bank for the Glomeromycota) is gratefully acknowledged. AS would like to thank the German Research Foundation for the funding (DFG grant Schu1203/8). SLS would like to thank the Conselho Nacional de Desenvolvimento Cientifico e Tecnológico (CNPq) Brazil for a Research Assistantship (Process 302667/2009-1).
About this article
Cite this article
Redecker, D., Schüßler, A., Stockinger, H. et al. An evidence-based consensus for the classification of arbuscular mycorrhizal fungi (Glomeromycota). Mycorrhiza 23, 515–531 (2013). https://doi.org/10.1007/s00572-013-0486-y
Received:

Accepted:

Published:

Issue Date:
Keywords
Glomeromycota

Classification

Taxonomy

Phylogenetics