Abstract
In grassland communities, plants can be classified as dominants or subordinates according to their relative abundances, but the factors controlling such distributions remain unclear. Here, we test whether the presence of the arbuscular mycorrhizal (AM) fungus Glomus intraradices affects the competitiveness of two dominant (Taraxacum officinale and Agrostis capillaris) and two subordinate species (Prunella vulgaris and Achillea millefolium). Plants were grown in pots in the presence or absence of the fungus, in monoculture and in mixtures of both species groups with two and four species. In the absence of G. intraradices, dominants were clearly more competitive than subordinates. In inoculated pots, the fungus acted towards the parasitic end of the mutualism–parasitism continuum and had an overall negative effect on the growth of the plant species. However, the negative effects of the AM fungus were more pronounced on dominant species reducing the differences in competitiveness between dominant and subordinate species. The effects of G. intraradices varied with species composition highlighting the importance of plant community to mediate the effects of AM fungi. Dominant species were negatively affected from the AM fungus in mixtures, while subordinates grew identically with and without the fungus. Therefore, our findings predict that the plant dominance hierarchy may flatten out when dominant species are more reduced than subordinate species in an unfavourable AM fungal relationship (parasitism).
Access options
Buy single article
Instant access to the full article PDF.
US$ 39.95
Tax calculation will be finalised during checkout.
Subscribe to journal
Immediate online access to all issues from 2019. Subscription will auto renew annually.
US$ 119
Tax calculation will be finalised during checkout.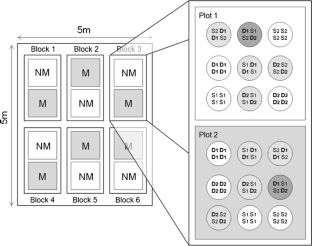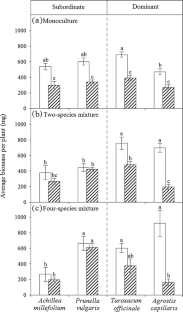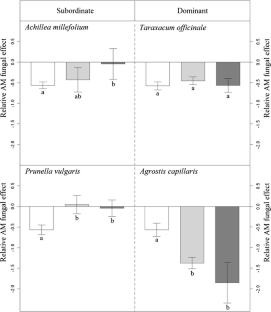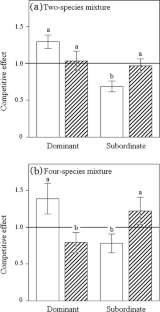 References
Amarasekare P (2003) Competitive coexistence in spatially structured environments: a synthesis. Ecol Lett 6:1109–1122

Baur B, Cremene C, Groza G, Rakosy L, Schileyko AA, Baur A, Stoll P, Erhardt A (2006) Effects of abandonment of subalpine hay meadows on plant and invertebrate diversity in Transylvania, Romania. Biol Conserv 132:261–273

Berns AE, Philipp H, Narres HD, Burauel P, Vereecken H, Tappe W (2008) Effect of gamma-sterilization and autoclaving on soil organic matter structure as studied by solid state NMR, UV and fluorescence spectroscopy. Eur J Soil Sci 59:540–550

Bever JD (2003) Soil community feedback and the coexistence of competitors: conceptual frameworks and empirical tests. New Phytol 157:465–473

Boeken B, Shachak M (2006) Linking community and ecosystem processes: the role of minor species. Ecosystems 9:119–127

Buttler A, Kohler F, Gillet F (2009) The Swiss mountain wooded pastures: patterns and processes. In: Rigueiro-Rodrigues A, et al (eds) Agroforestry in Europe, current status and future prospects. Advances in Agroforestry, vol. 6. Springer Science, p 450

Chen X, Tu C, Burton MG, Watson DM, Burkey KO, Hu S (2007) Plant nitrogen acquisition and interactions under elevated carbon dioxide: impact of endophytes and mycorrhizae. Global Change Biol 13:1238–1249

Collins CD, Foster BL (2009) Community-level consequences of mycorrhizae depend on phosphorus availability. Ecology 90:2567–2576

Cremene C, Groza G, Rakosy L, Schileyko AA, Baur A, Erhardt A, Baur B (2005) Alterations of steppe-like grasslands in Eastern Europe: a threat to regional biodiversity hotspots. Conserv Biol 19:1606–1618

Engel EC, Weltzin JF (2008) Can community composition be predicted from pairwise species interactions? Plant Ecol 195:77–85

Follett RF, Reed DA (2010) Soil carbon sequestration in grazing lands: societal benefits and policy implications. Rangeland Ecol Manag 63:4–15

Gavito ME, Schweiger P, Jakobsen I (2003) P uptake by arbuscular mycorrhizal hyphae: effect of soil temperature and atmospheric CO2 enrichment. Global Change Biol 9:106–116

Gerdemann JW (1955) Relation of a large soil-borne spore to phycomycetous mycorrhizal infections. Mycologia 47:619–632

Gigon A, Leutert A (1996) The dynamic keyhole-key model of coexistence to explain diversity of plants in limestone and other grasslands. J Veg Sci 7:29–40

Goldberg DE, Landa K (1991) Competitive effect and response: hierarchies and correlated traits in the early stages of competition. J Ecol 79:1013–1030

Grime JP (1998) Benefits of plant diversity to ecosystems: immediate, filter and founder effects. J Ecol 86:902–910

Grime JP, Mackey JML, Hillier SH, Read DJ (1987) Floristic diversity in a model system using experimental microcosms. Nature 328:420–422

Gross N, Le Bagousse-Pinguet Y, Liancourt P, Urcelay C, Catherine R, Lavorel S (2010) Trait-mediated effect of arbuscular mycorrhiza on the competitive effect and response of a monopolistic species. Funct Ecol 24:1122–1132

Hartnett DC, Wilson GWT (1999) Mycorrhizae influence plant community structure and diversity in tallgrass prairie. Ecology 80:1187–1195

Hartnett DC, Hetrick BAD, Wilson GWT, Gibson DJ (1993) Mycorrhizal influence on intra- and interspecific neighbour interactions among co-occurring prairie grasses. J Ecol 81:787–795

Hausmann NT, Hawkes CV (2009) Plant neighborhood control of arbuscular mycorrhizal community composition. New Phytol 183:1188–1200

Hoeksema JD, Chaudhary VB, Gehring CA, Johnson NC, Karst J, Koide RT, Pringle A, Zabinski C, Bever JD, Moore JC, Wilson GWT, Klironomos JN, Umbanhowar J (2010) A meta-analysis of context-dependency in plant response to inoculation with mycorrhizal fungi. Ecol Lett 13:394–407

Johnson NC (1993) Can fertilization of soil select less mutualistic mycorrhizae? Ecol Appl 3:749–757

Johnson NC (2010) Resource stoichiometry elucidates the structure and function of arbuscular mycorrhizas across scales. New Phytol 185:631–647

Johnson NC, Graham J, Smith F (1997) Functioning of mycorrhizal associations along the mutualism–parasitism continuum. New Phytol 135:575–585

Johnson D, Leake JR, Read DJ (2001) Novel in-growth core system enables functional studies of grassland mycorrhizal mycelial networks. New Phytol 152:555–562

Johnson D, Leake JR, Ostle N, Ineson P, Read DJ (2002) In situ 13CO2 pulse-labelling of upland grassland demonstrates a rapid pathway of carbon flux from arbuscular mycorrhizal mycelia to the soil. New Phytol 153:327–334

Johnson D, Vandenkoornhuyse PJ, Leake JR, Gilbert L, Booth RE, Grime JP, Young PW, Read DJ (2004) Plant communities affect arbuscular mycorrhizal fungal diversity and community composition in grassland microcosms. New Phytol 161:503–515

Karanika ED, Mamolos AP, Alifragis DA, Kalburthi KL, Veresoglou AD (2008) Arbuscular mycorrhizas contribution to nutrition, productivity, structure and diversity of plant community in mountainous herbaceous grassland of northern Greece. Plant Ecol 199:225–234

Klironomos JN (2003) Variation in plant response to native and exotic arbuscular mycorrhizal fungi. Ecology 84:2292–2301

Klironomos JN, Zobel M, Tibbett M, Stock WD, Rillig MC, Parrent JL, Moor M, Koch AM, Facelli JM, Facelli E, Dickie IA, Bever JD (2011) Forces that structure plant communities: quantifying the importance of mycorrhizal symbiosis. New Phytol 189:366–370

Koide RT, Dickie IA (2002) Effects of mycorrhizal fungi on plant populations. Plant Soil 244:307–317

Lyons KG, Brigham CA, Traut BH, Schwartz MW (2005) Rare species and ecosystem functioning. Conserv Biol 19:1019–1024

Mariotte P, Buttler A, Johnson D, Thébault A, Vandenberghe C (2012) Exclusion of root competition increases competitive abilities of subordinate plant species through root–shoot interactions. J Veg Sci. doi:10.1111/j.1654-1103.2012.01432.x

Olff H, Bakker JP (1998) Do intrinsically dominants species exist? A test statistic for field data. Appl Veg Sci 1:15–20

Öpik M, Moora M, Liira J, Zobel M (2006) Composition of root-colonizing arbuscular mycorrhizal fungal communities in different ecosystems around the globe. J Ecol 96:778–790

R Development Core Team (2010) R: A Language and Environment for Statistical Computing. R Foundation for Statistical Computing, Vienna, Austria

Read DJ, Koucheki HK, Hodgson J (1976) Vesicular–arbuscular mycorrhiza in natural vegetation systems. New Phytol 77:641–653

Scheublin TR, van Logtestijn RSP, van der Heijden MGA (2007) Presence and identity of arbuscular mycorrhizal fungi influence competitive interactions between plant species. J Ecol 95:631–638

Smith SE, Read DJ (2008) Mycorrhizal symbioses, 3rd edn. Academic, London

Sýkorová Z, Wiemken A, Redecker D (2007) Cooccurring Gentiana verna and Gentiana acaulis and their neighboring plants in two Swiss upper montane meadows harbor distinct arbuscular mycorrhizal fungal communities. Appl Environ Microbiol 73:5426–5434

Urcelay C, Diaz S (2003) The mycorrhizal dependence of subordinates determines the effect of arbuscular mycorrhizal fungi on plant diversity. Ecol Lett 6:388–391

van der Heijden MGA, Horton TR (2009) Socialism in soil? The importance of mycorrhizal fungal networks for facilitation in natural ecosystems. J Ecol 97:1139–1150

van der Heijden MGA, Boller T, Wiemken A, Sanders IR (1998a) Different arbuscular mycorrhizal fungal species are potential determinants of plant community structure. Ecology 79:2082–2091

van der Heijden MGA, Klironomos JN, Ursic M, Moutoglis P, Steitwolf-Engel R, Boller T, Wiemken A, Sanders IR (1998b) Mycorrhizal fungal diversity determines plant biodiversity, ecosystem variability and productivity. Nature 396:69–72

van der Heijden MGA, Wiemken A, Sanders IR (2003) Different arbuscular mycorrhizal fungi alter coexistence and resource distribution between co-occurring plant. New Phytol 157:569–578

van der Heijden MGA, Scheublin TR, Brader A (2004) Taxonomic and functional diversity in arbuscular mycorrhizal fungi—is there any relationship? New Phytol 164:201–204

van der Heijden MGA, Streitwolf-Engel R, Riedl R, Siegrist S, Neudecker A, Ineichen K, Boller T, Wiemken A, Sanders IR (2006) The mycorrhizal contribution to plant productivity, plant nutrition and soil structure in experimental grassland. New Phytol 172:739–752

Vandenkoornhuyse P, Ridgeway KP, Watson IJ, Duck M, Fitter AH, Young JPW (2003) Co-existing grass species have distinctive arbuscular mycorrhizal communities. Mol Ecol 12:3085–3095

Veiga RSL, Howard K, van der Heijden MAG (2012) No evidence for allelopathic effects of arbuscular mycorrhizal fungi on the non-host plant Stellaria media. Plant Soil. doi:10.1007/s11104-012-1256-x

Wagg C, Jansa J, Schmid B, van der Heijden MGA (2011) Belowground biodiversity effects of plant symbionts support aboveground productivity. Ecol Lett 14:1001–1009

Whittaker RH (1965) Dominance and diversity in land plant communities. Science 147:250–260

Wilson GWT, Harnett DC (1998) Interspecific variation in plant responses to mycorrhizal colonization in tallgrass prairie. Am J Bot 85:1732–1738

Yao Q, Zhu HH, Hu YL, Li LQ (2007) Differential influence of native and introduced arbuscular mycorrhizal fungi on growth of dominant and subordinate plants. Plant Ecol 196:261–268

Zaller JG, Frank T, Drapela T (2011) Soil sand content can alter effects of different taxa of mycorrhizal fungi on plant biomass production of grassland species. Eur J Soil Biol 47:175–181
Acknowledgments
We thank Marcel van der Heijden and Charlotte Vandenberghe for their significant input in this project; PRIMPLANTS SA for the glasshouse accommodation; and Lionel Lobrutto, Grégory Bernard, Claire Guenat, Géraldine Bullinger, Justine Mariotte, David Parietti, Didier Burkhalter, Jean-David Teuscher and Elena Rossel for technical assistance. This work was supported by the Swiss National Science Foundation (grant number 31003A-114139).
About this article
Cite this article
Mariotte, P., Meugnier, C., Johnson, D. et al. Arbuscular mycorrhizal fungi reduce the differences in competitiveness between dominant and subordinate plant species. Mycorrhiza 23, 267–277 (2013). https://doi.org/10.1007/s00572-012-0465-8
Received:

Accepted:

Published:

Issue Date:
Keywords
Competitive effects

Glomus intraradices

Grasslands

Mutualism–parasitism

Plant diversity

Plant hierarchy

Subordinate species