Abstract
The effects of an E-strain fungus (Wilcoxina mikolae var. mikolae) and an ectomycorrhizal fungus (Hebeloma crustuliniforme) on growth and water relations of balsam poplar were examined and compared in the present study. Balsam poplar roots inoculated with W. mikolae var. mikolae (Wm) exhibited structures consistent with ectendomycorrhizal (EEM) associations, including a mantle surrounding the outside of the root and an extensive Hartig net that was located between cortical cells and extended to the vascular cylinder. Roots colonized with H. crustuliniforme (Hc) developed a mantle layer, indicative of an ectomycorrhizal (ECM) association, around the outer part of the root, but no distinct Hartig net was present. Wm-colonized balsam poplar also showed increased shoot growth, stomatal conductance (g s), and root volumes compared with non-inoculated and Hc-inoculated plants. However, Hc-inoculated plants had higher root hydraulic conductivity (L pr) compared with non-inoculated plants and Wm-inoculated plants. These results suggest that L pr was not a growth-limiting factor in balsam poplar and that hyphal penetration of the root cortex in itself may have little influence on root hydraulic properties.
Access options
Buy single article
Instant access to the full article PDF.
US$ 39.95
Tax calculation will be finalised during checkout.
Subscribe to journal
Immediate online access to all issues from 2019. Subscription will auto renew annually.
US$ 119
Tax calculation will be finalised during checkout.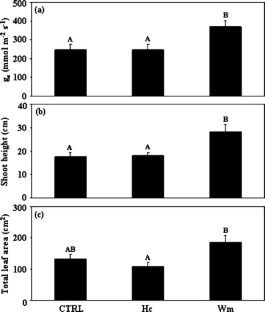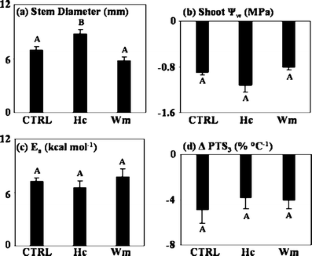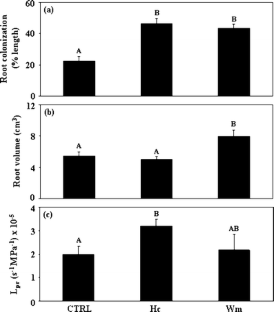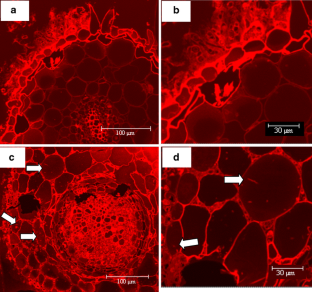 References
Ashford AE, Allaway WG (1985) Transfer cells and Hartig net in the root epidermis of the sheathing mycorrhizal of Pisonia grandis R.Br. from Seychelles. New Phytol 100:595–612 doi:10.1111/j.1469-8137.1985.tb02806.x

Brundrett M (2002) Coevolution of roots and mycorrhizas of land plants. New Phytol 154:275–304 doi:10.1046/j.1469-8137.2002.00397.x

Brundrett M, Bougher N, Dell B, Grove T, Malajczuk N (1996) Working with mycorrhizas in forestry and agriculture, Australian Centre for International Agricultural Research. CSIRO Publishing, Victoria, Australia

Cairney JWG, Rees BJ, Allaway WG, Ashford AE (1994) A basidiomycete isolated from Pisonia mycorrhizal forms sheathing mycorrhizas with transfer cells on Pisonia grandis R.Br. N Phytol 126:91–98 doi:10.1111/j.1469-8137.1994.tb07533.x

Calvo Polanco M, Zwiazek JJ, Voicu MC (2008) Responses of ectomycorrhizal American elm (Ulmus americana) seedlings to salinity and soil compaction. Plant Soil 308:189–200 doi:10.1007/s11104-008-9619-z

Carvajal M, Martínez V, Alcaraz CF (1999) Physiological function of water channels as affected by salinity in roots of paprika pepper. Physiol Plant 105:95–101 doi:10.1034/j.1399-3054.1999.105115.x

Coleman MD, Bledsoe CS, Smit BA (1990) Root hydraulic conductivity and xylem sap levels of zeatin riboside and abscisic acid in ectomycorrhizal Douglas fir seedlings. New Phytol 115:275–284 doi:10.1111/j.1469-8137.1990.tb00453.x

Corrêa A, Strasser RJ, Martins-Loução MA (2006) Are mycorrhiza always beneficial? Plant Soil 279:65–73 doi:10.1007/s11104-005-7460-1

Cripps CL (2001) Mycorrhizal fungi of aspen forests: natural occurrence and potential applications. USDA Forest Service Proceedings RMRS-P-18.

Davies FT Jr, Svenson SE, Cole JC, Phavaphutanon L, Duray SA, Olalde-Portugal V et al (1996) Non-nutritional stress acclimation of mycorrhizal woody plants exposed to drought. Tree Physiol 16:985–993

Duplessis S, Tagu D, Martin F (2002) Living together in the underground a molecular glimpse of the ectomycorrhizal symbiosis. In: Osiewacz HD (ed) Molecular development of fungal development. Marcel Dekker, New York, USA, pp 297–323

Engels C (1999) Regulation of xylem transport of calcium from roots to shoots of maize by growth-related demand. J Plant Nutr Soil Sci 162:287–294 doi:10.1002/(SICI)1522-2624(199906)162:3<287::AID-JPLN287>3.0.CO;2-N

Frettinger P, Derory J, Herrmann S, Plomion C, Lapeyrie F, Oelmüller R, Martin F, Buscot F, (2007) Transcriptional changes in two types of pre-mycorrhizal roots and in ectomycorrhizas of oak microcuttings inoculated with Piloderma croceum. Planta 225:331–340 doi:10.1007/s00425-006-0355-4

Helm DJ, Carling DE (1993) Use of soil transfer for reforestation on abandoned mined lands in Alaska I. Effects of soil transfer and phosphorus on growth and mycorrhizal formation by Populus balsamifera. Mycorrhiza 3:97–106

Hose E, Clarkson DT, Steudle E, Schreiber L, Hartung W (2001) The exodermis: a variable apoplastic barrier. J Exp Bot 52:2245–2264 doi:10.1093/jexbot/52.365.2245

Hutchison LJ (1991) Description and identification of cultures of ectomycorrhizal fungi found in North America. Mycotaxon 42:387–504

Johnson NC, Graham JH, Smith FA (1997) Functioning of mycorrhizal associations along the mutualism-parasitism continuum. New Phytol 135:575–586 doi:10.1046/j.1469-8137.1997.00729.x

Landhäusser SM, Muhsin TM, Zwiazek J (2002) The effect of ectomycorrhizae on water relations in aspen (Populus tremuloides) and white spruce (Picea glauca) at low soil temperatures. Can J Bot 80:684–689 doi:10.1139/b02-047

Lei J, Dexheimer J (1988) Ultrastructural localization of ATPase activity in the Pinus sylvestris/Laccaria laccata ectomycorrhizal association. New Phytol 108:329–334 doi:10.1111/j.1469-8137.1988.tb04170.x

Marjanović Ž, Uehlein N, Kaldenhoff R, Zwiazek JJ, Wieß M, Hammp R et al (2005) Aquaporins in poplar: what a difference a symbiont makes!. Planta 222:258–268 doi:10.1007/s00425-005-1539-z

Mason PA (1980) Aseptic synthesis of sheathing (ecto-) mycorrhizas. In: Ingram DS, Helgeson JP (eds) Tissue culture methods for plant pathologists. Blackwell, Oxford, UK, pp 173–178

Maurel C (1997) Aquaporins and water permeability of plant membranes. Annu Rev Plant Physiol Plant Mol Biol 48:399–429 doi:10.1146/annurev.arplant.48.1.399

Melville L, Dickson S, Farquhar ML, Smith SE, Peterson RL (1998) Visualization of mycorrhizal fungal structures in resin embedded tissues with xanthene dyes using laser scanning confocal microscopy. Can J Bot 76:174–178 doi:10.1139/cjb-76-1-174

Molina R, Massicotte HB, Trappe JM (1992a) Specificity phenomena in mycorrhizal symbioses: community-ecological consequences and practical implications. In: Allen MF (ed) Mycorrhizal functioning—an integrative plant-fungal process. Chapman and Hall, New York, USA, pp 357–423

Molina R, Massicotte HB, Trappe JM (1992b) Ecological role of specificity phenomena in ectomycorrhizal plant communities: potential for interplant linkages and guild development. In: Read DJ, Lewis DH, Fitter AH, Alexander IJ (eds) Mycorrhizas in ecosystems. CAB International, Wallingford, UK, pp 106–112

Morte A, Diaz G, Rodriguez P, Alarcon JJ, Sanchez-Blanco MJ (2001) Growth and water relations in mycorrhizal and nonmycorrhizal Pinus halepensis plants in response to drought. Biol Plant 44:263–267 doi:10.1023/A:1010207610974

Muhsin TM, Zwiazek JJ (2002a) Ectomycorhizas increase apoplastic water transport and root hydraulic conductivity in Ulmus Americana seedlings. New Phytol 153:153–158 doi:10.1046/j.0028-646X.2001.00297.x

Muhsin TM, Zwiazek JJ (2002b) Colonization with Hebeloma crustuliniforme increases water conductance and limits shoot sodium uptake in white spruce (Picea glauca) seedlings. Plant Soil 238:217–225 doi:10.1023/A:1014435407735

Nardini A, Salleo S, Tyree MT, Vertovec M (2000) Influence of the ectomycorrhizas formed by Tuber melanosporum Vitt. on hydraulic conductance and water relations of Quercus ilex L. seedlings. Ann Sci 57:305–312 doi:10.1051/forest:2000121

Nguyen H, Calvo Polanco M, Zwiazek JJ (2006) Gas exchange and growth responses of ectomycorrhizal Picea mariana, Picea glauca, and Pinus banksiana seedlings to NaCl and Na2SO4. Plant Biol 8:646–652 doi:10.1055/s-2006-924106

Peterson RL, Massicotte HB, Melville LH (2004) Mycorrhizas: anatomy and cell biology. NRC University Press, Ottawa, Canada

Schaider LA, Partker DR, Sedlak DL (2006) Uptake of EDTA-complexed Pb, Cd and Fe by solution- and sand-cultured Brassica juncea. Plant Soil 286:377–391 doi:10.1007/s11104-006-9049-8

Shütz K, Tyerman SD (1997) Water channels in Chara corallina. J Exp Bot 48:1511–1518

Siemens JA, Zwiazek JJ (2003) Effects of water deficit stress and recovery on the root water relations of trembling aspen (Populus tremuloides) seedlings. Plant Sci 165:113–120 doi:10.1016/S0168-9452(03)00149-3

Siemens JA, Zwiazek JJ (2004) Changes in root water flow properties of solution culture-grown trembling aspen (Populus tremuloides) seedlings under different intensities of water-deficit stress. Physiol Plant 121:44–49 doi:10.1111/j.0031-9317.2004.00291.x

Skinner RH, Radin JW (1994) The effect of phosphorus nutrition on water flow through the apoplastic by-pass of cotton roots. J Exp Bot 45:423–428 doi:10.1093/jxb/45.4.423

Smith SE, Read DJ (1997) Mycorrhizal symbiosis, 2nd edn. Academic, London, UK

Sperry JS, Stiller V, Hacke UG (2003) Xylem hydraulics and the soil–plant–atmosphere continuum: opportunities and unresolved issues. Agron J 95:1362–1370

Steudle E, Peterson CA (1998) How does water get through roots? J Exp Bot 49:775–788 doi:10.1093/jexbot/49.322.775

Tagu D, Lapeyrie F, Martin F (2002) The ectomycorrhizal symbiosis: genetics and development. Plant Soil 244:97–105 doi:10.1023/A:1020235916345

Taleisnik E, Peyrano G, Cordoba A, Arias C (1999) Water retention capacity in root segments differing in the degree of exodermis development. Ann Bot (Lond) 83:19–27 doi:10.1006/anbo.1998.0781

Trevor E, Yu JC, Egger KN (2001) Ectendomycorrhizal associations—characteristics and functions. Mycorrhiza 11:167–177 doi:10.1007/s005720100110

Tyree MT (1997) The cohesion–tension theory of sap ascent: current controversies. J Exp Bot 48:1753–1765

Voicu MC, Zwiazek JJ (2004) Cyclohexamide inhibits root water flow and stomatal conductance in aspen (Populus tremuloides) seedlings. Plant Cell Environ 27:199–208 doi:10.1111/j.1365-3040.2003.01135.x

Wan XC, Zwiazek JJ (1999) Mercuric chloride effects on root water transport in aspen (Populus tremuloides) seedlings. Plant Physiol 121:939–946 doi:10.1104/pp.121.3.939

Wan XC, Landhäusser SM, Zwiazek JJ, Lieffers VJ (1999) Root water flow and growth of aspen (Populus tremuloides) at low root temperatures. Tree Physiol 19:879–884

Yi H, Calvo Polanco M, MacKinnon MD, Zwiazek JJ (2008) Responses of ectomycorrhizal Populus tremuloides and Betula papyrifera seedlings to salinity. Environ Exp Bot 62:357–363 doi:10.1016/j.envexpbot.2007.10.008

Zhou M, Sharik TL (1997) Ectomycorhizal associations of northern red oak (Quercus rubra) seedlings along and environmental gradient. Can J Res 27:1705–1713 doi:10.1139/cjfr-27-11-1705
Acknowledgment
The authors thank Dr. R. L. Peterson (University of Guelph) for assistance with interpretation of microscopic images, Dr. R. Currah (University of Alberta) for advice with culturing and growing mycorrhizal seedlings, and Dr. M. D. Jones (Okanagan University) for advice with root colonization measurements. The authors also acknowledge the Biological Microscopy Services Unit (University of Alberta) for their assistance with the microscopy portion of this study. This work was supported in part by the Natural Sciences and Engineering Research Council of Canada (NSERC) in the form of a postgraduate scholarship to J.A.S. and a Discovery Research Grant to J.J.Z.
About this article
Cite this article
Siemens, J.A., Zwiazek, J.J. Root hydraulic properties and growth of balsam poplar (Populus balsamifera) mycorrhizal with Hebeloma crustuliniforme and Wilcoxina mikolae var. mikolae . Mycorrhiza 18, 393–401 (2008). https://doi.org/10.1007/s00572-008-0193-2
Received:

Accepted:

Published:

Issue Date:
Keywords
Ectomycorrhizal (ECM) fungi

Ectendomycorrhizal (EEM) fungi

Root hydraulic conductivity (L pr)

Transpiration rate

Root–water relations