Abstract
The last years have seen an upsurge in corporate social responsibility (CSR) reporting regulation around the world. Based on a summary of the literature, this paper provides an overview over possible consequences of CSR reporting regulation and derives potential future developments brought by the introduction of the European CSR Directive in Germany. The results suggest that mandatory CSR reporting leads to a shift in companies' reporting behaviour. In particular, more companies report on CSR issues and overall quantity of reporting is increased. However, this does not go along with an increase in reporting quality. Moreover, results indicate that consequences of companies' changed reporting behaviour (i. e., second-order consequences) are under-researched. Lastly, this paper suggests that German companies will, subsequent to the CSR Directive, increase the number of topics covered in their CSR reports, possibly at the expense of overall reporting quality. It remains an interesting question for future researchers to examine the extent to which mandatory CSR reporting may bring about other consequences, on a company-, investor- or society-level.
Zusammenfassung
Basierend auf einer Literaturzusammenfassung präsentiert dieser Artikel einen Überblick über mögliche Konsequenzen einer nichtfinanziellen Berichterstattungspflicht und leitet daraus mögliche zukünftige Entwicklungen in Deutschland nach Einführung des CSR-Richtlinie-Umsetzungsgesetzes ab. Die Ergebnisse suggerieren, dass die nichtfinanzielle Berichterstattungspflicht zu einer Änderung der Berichterstattungspraxis von Unternehmen führt. Insbesondere berichten mehr Unternehmen über ihre nichtfinanzielle Performance und der Umfang der Berichterstattung steigt. Jedoch geht das nicht zwingenderweise mit einer Verbesserung der Berichterstattungsqualität einher. Der Literaturüberblick zeigt darüber hinaus, dass potenzielle Konsequenzen aus einer veränderten Berichterstattungspraxis noch zu wenig erforscht sind. Schließlich suggeriert dieser Artikel, dass nach Einführung des CSR-Richtlinie-Umsetzungsgesetzes mehr deutsche Unternehmen nichtfinanzielle Informationen veröffentlichen werden, möglicherweise auf Kosten der Berichterstattungsqualität. Es können sich Konsequenzen aus der veränderten Berichterstattungspraxis ergeben, wie zum Beispiel ein Sinken der Unternehmensprofitabilität oder ein Rückgang der Luftverschmutzung. Zukünftige Forschung ist notwendig, um diese Konsequenzen zu identifizieren und daraus mögliche Handlungsempfehlungen für den Gesetzgeber abzuleiten.
Access options
Buy single article
Instant access to the full article PDF.
USD 39.95
Price excludes VAT (USA)
Tax calculation will be finalised during checkout.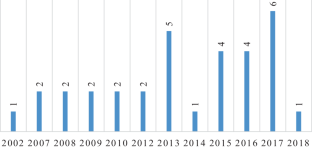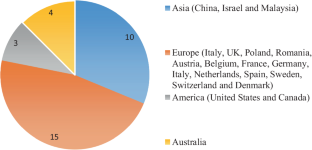 Notes
Throughout the literature, authors have used other terms besides CSR to refer to the same underlying concept, such as 'sustainability reporting' and 'non-financial reporting'. Although one can discriminate between these terms, most of the literature that I review has used them interchangeably.

Arguably, the consequences described in Section 4.3.1 (e. g., firm value) affect investors as well. However, I choose to label these consequences as company-level consequences, as they affect investors indirectly through their direct effect on the company.
References
Adams CA, Kuasirikun N (2000) A comparative analysis of corporate reporting on ethical issues by UK and German chemical and pharmaceutical companies. Eur Account Rev 9:53–79

Adams CA, Hill W‑Y, Roberts CB (1998) Corporate social reporting practices in Western Europe: legitimating corporate behaviour? Br Account Rev 30:1–21

Amel-Zadeh A (2016) The materiality of nonfinancial information: a review of theory and empirical evidence on sustainability disclosures, corporate social responsibility and responsible investing. Working paper. https://doi.org/10.2139/ssrn.2664547

Amel-Zadeh A, Serafeim G (2018) Why and how investors use ESG information: evidence from a global survey. Financ Anal J. https://doi.org/10.2139/ssrn.2925310

Athanasopoulou A, Selsky JW (2015) The social context of corporate social responsibility: enriching research with multiple perspectives and multiple levels. Bus Soc 54:322–364

Baboukardos D (2017) Market valuation of greenhouse gas emissions under a mandatory reporting regime: evidence from the UK. Account Forum 41:221–233

Baron DP (2008) Managerial contracting and corporate social responsibility. J Public Econ 92:268–288

Berle AA, Means GC (1932) The modern corporation and private property. Harcourt, Brace & World, New York

Bhatia A (2012) The corporate social responsibility report: the hybridization of a "confused" genre (2007–2011). IEEE Trans Prof Commun 55:221–238

Brüggemann U, Hitz J‑M, Sellhorn T (2013) Intended and unintended consequences of mandatory IFRS adoption: a review of extant evidence and suggestions for future research. Eur Account Rev 22:1–37

Bubna-Litic K (2008) Environmental reporting as a communications tool: a question of enforcement? J Environ Law 20:69–85

Carrots and Sticks (2016) Global trends in sustainability reporting regulation and policy. https://www.carrotsandsticks.net/wp-content/uploads/2016/05/Carrots-Sticks-2016.pdf. Accessed 13 July 2018

Chen S, Bouvain P (2009) Is corporate responsibility converging? A comparison of corporate responsibility reporting in the USA, UK, Australia, and Germany. J Bus Ethics 87:299–317

Chen Y‑C, Hung M, Wang Y (2018) The effect of mandatory CSR disclosure on firm profitability and social externalities: evidence from China. J Account Econ 65:169–190

Cormier D, Lapointe-Antunes P, Magnan M (2015) Does corporate governance enhance the appreciation of mandatory environmental disclosure by financial markets? J Manag Gov 19:897–925

Criado-Jiménez I, Fernández-Chulián M, Husillos-Carqués FJ, Larrinaga-González C (2008) Compliance with mandatory environmental reporting in financial statements: the case of Spain (2001–2003). J Bus Ethics 79:245–262

Damak-Ayadi S (2010) Social and environmental reporting in the annual reports of large companies in France. Int J Account Manag Inf Sys 9:22–44

Daske H, Hail L, Leuz C, Verdi R (2008) Mandatory IFRS reporting around the world: early evidence on the economic consequences. J Account Res 46:1085–1142

Deegan C (2002) Introduction: the legitimising effect of social and environmental disclosures—a theoretical foundation. Account Auditing Account J 15:282–311

Dienes D, Sassen R, Fischer J (2016) What are the drivers of sustainability reporting? A systematic review. Sustainability 7:154–189

DiMaggio PJ, Powell WW (1983) The iron cage revisited institutional isomorphism and collective rationality in organizational fields. Adv Strateg Manag 17:143–166

Dong S, Xu L (2016) The impact of explicit CSR regulation: evidence from China's mining firms. J Appl Account Res 17:237–258

Dumitru M, Dyduch J, Gușe R‑G, Krasodomska J (2017) Corporate reporting practices in Poland and Romania—An ex-ante study to the new non-financial reporting European Directive. Account Eur 14:279–304

Elsevier (2018) Journals overview. https://www.elsevier.com/solutions/sciencedirect/content/journals-overview. Accessed 13 July 2018

European Commission (2011) Communication from the Commission to the Parliament, the Council, the European Economic and Social Committee and of the Regions: A renewed EU strategy 2011-14 for Corporate Social Responsibility. COM (2011) 681 final. http://eur-lex.europa.eu/LexUriServ/LexUriServ.do?uri=COM:2011:0681:FIN:en:PDF. Accessed 13 July 2018

European Commission (2014) Disclosure of non-financial and diversity information by large companies and groups—Frequently asked questions: MEMO/14/301. http://europa.eu/rapid/press-release_MEMO-14-301_de.htm. Accessed 13 July 2018

Eurostat (2017) GDP and main components. http://appsso.eurostat.ec.europa.eu/nui/show.do?dataset=nama_10_gdp&lang=en. Accessed 13 July 2018

EU—European Union (2014) Directive 2014/95/EU of the European Parliament and the Council of 22 October 2014. http://eur-lex.europa.eu/legal-content/EN/TXT/?uri=CELEX%3A32014L0095. Accessed 13 July 2018

Fatima AH, Abdullah N, Sulaiman M (2015) Environmental disclosure quality: examining the impact of the stock exchange of Malaysia's listing requirements. Soc Responsib J 11:904–922

Federal Administrative Court (2018) Luftreinhaltepläne Düsseldorf und Stuttgart: Diesel-Verkehrsverbote ausnahmsweise möglich. http://www.bverwg.de/pm/2018/9. Accessed 13 July 2018

Ferguson J, Sales de Aguiar TR, Fearfull A (2016) Corporate response to climate change: language, power and symbolic construction. Account Auditing Account J 29:278–304

Fifka M (2012) The development and state of research on social and environmental reporting in global comparison. J Betriebswirtsch 62:45–84

Fifka M (2013) Corporate responsibility reporting and its determinants in comparative perspective—a review of the empirical literature and a meta-analysis. Bus Strategy Environ 22:1–35

Fink A (2014) Conducting research literature reviews: from the internet to paper, 4th edn. SAGE, Thousand Oaks

Freeman RE (1984) Strategic management: a stakeholder approach. Pitman series in business and public policy. Pitman Publishing, Boston

Friedman M (1962) Capitalism and freedom. University of Chicago Press, Chicago

Frost GR (2007) The introduction of mandatory environmental reporting guidelines: Australian evidence. Abacus 43:190–216

Greiling D, Traxler AA, Stötzer S (2015) Sustainability reporting in the Austrian, German and Swiss public sector. Int J Public Sect Manag 28:404–428

Grewal J, Riedl EJ, Serafeim G (2018) Market reaction to mandatory nonfinancial disclosure. Manage Sci. https://doi.org/10.1287/mnsc.2018.3099

Habisch A, Patelli L, Pedrini M, Schwartz C (2011) Different talks with different folks: a comparative survey of stakeholder dialog in Germany, Italy, and the U.S. J Bus Ethics 100:381–404

Hahn R, Kühnen M (2013) Determinants of sustainability reporting: a review of results, trends, theory, and opportunities in an expanding field of research. J Clean Prod 59:5–21

Hahn R, Reimsbach D, Schiemann F (2015) Organizations, climate change, and transparency: reviewing the literature on carbon disclosure. Organ Environ 28:80–102

Haji AA (2013) Corporate social responsibility disclosures over time: evidence from Malaysia. Manag Auditing J 28:647–676

Hąbek P, Wolniak R (2016) Assessing the quality of corporate social responsibility reports: the case of reporting practices in selected European Union member states. Qual Quant 50:399–420

IIRC—The International Integrated Reporting Council (2013) The international <IR> framework. https://integratedreporting.org/wp-content/uploads/2013/12/13-12-08-THE-INTERNATIONAL-IR-FRAMEWORK-2-1.pdf. Accessed 13 July 2018

Ioannou I, Serafeim G (2017) The consequences of mandatory corporate sustainability reporting. Working paper (available at SSRN: https://ssrn.com/abstract=1799589)

IÖW—Institut für ökologische Wirtschaftsforschung (2016) Nachhaltigkeitsberichterstattung in Deutschland: Ergebnisse und Trends im Ranking der Nachhaltigkeitsberichte 2015. https://www.ioew.de/fileadmin/user_upload/BILDER_und_Downloaddateien/Publikationen/2018/Deutsche_Unternehmen_vor_der_CSR-Berichtspflicht_18.pdf. Accessed 13 July 2018

IÖW—Institut für ökologische Wirtschaftsforschung (2018) Deutsche Unternehmen vor der CSR-Berichtspflicht: Monitoring zur nichtfinanziellen Berichterstattung. http://www.ranking-nachhaltigkeitsberichte.de/data/ranking/user_upload/2015/Ranking_Nachhaltigkeitsberichte_2015_Ergebnisbericht.pdf. Accessed 13 July 2018

Jensen MC, Meckling WH (1976) Theory of the firm: managerial behavior, agency costs and ownership structure. J Financ Econ 3:305–360

Jones TM (1995) Instrumental stakeholder theory: a synthesis of ethics and economics. Acad Manage Rev 20:404–437

Kerret D, Menahem G, Sagi R (2010) Effects of the design of environmental disclosure regulation on information provision: the case of Israeli securities regulation. Environ Sci Technol 44:8022–8029

Laplume AO, Sonpar K, Litz RA (2008) Stakeholder theory: reviewing a theory that moves us. J Manage 34:1152–1189

Larrinaga C, Carrasco F, Correa C, Llena F, Moneva J (2002) Accountability and accounting regulation: the case of the Spanish environmental disclosure standard. Eur Account Rev 11:723–740

Laufer WS (2003) Social accountability and corporate greenwashing. J Bus Ethics 43:253–261

LeBaron G, Rühmkorf A (2017) Steering CSR through home state regulation: a comparison of the impact of the UK bribery act and modern slavery act on global supply chain governance. Glob Policy 8:15–28

Leong S, Hazelton J, Taplin R, Timms W, Laurence D (2014) Mine site-level water reporting in the Macquarie and Lachlan catchments: a study of voluntary and mandatory disclosures and their value for community decision-making. J Clean Prod 84:94–106

Li Y, Foo CT (2015) A sociological theory of corporate finance. Chin Manag Stud 9:269–294

Li Y, Zhang J, Foo CT (2013) Towards a theory of social responsibility reporting. Chin Manag Stud 7:519–534

Lin KZ, Cheng S, Zhang F (2017) Corporate social responsibility, institutional environments, and tax avoidance: evidence from a subnational comparison in China. Int J Account 52:303–318

Llena F, Moneva JM, Hernandez B (2007) Environmental disclosures and compulsory accounting standards: the case of Spanish annual reports. Bus Strategy Environ 16:50–63

Lock I, Seele P (2016) The credibility of CSR (corporate social responsibility) reports in Europe. Evidence from a quantitative content analysis in 11 countries. J Clean Prod 122:186–200

Mamun MA, Shaikh JM, Easmin R (2017) Corporate social responsibility disclosure in Malaysian business. Acad Strateg Manag J 16:29–47

Martínez-Ferrero J, García-Sánchez I‑M (2017) Coercive, normative and mimetic isomorphism as determinants of the voluntary assurance of sustainability reports. Int Bus Rev 26:102–118

Matisoff DC (2013) Different rays of sunlight: understanding information disclosure and carbon transparency. Energy Policy 55:579–592

Moneva JM, Cuellar B (2009) The value relevance of financial and non-financial environmental reporting. Environ Resour Econ 44:441–456

Noronha C, Tou S, Cynthia MI, Guan JJ (2012) Corporate social responsibility reporting in China: an overview and comparison with major trends. Corp Soc Responsib Environ Manag 20:29–42

Oll J, Hahn R, Reimsbach D, Kotzian P (2018) Tackling complexity in business and society research: the methodological and thematic potential of factorial surveys. Bus Soc 57:26–59

Parliament G (2017) Gesetz zur Stärkung der nichtfinanziellen Berichterstattung der Unternehmen in ihren Lage- und Konzernlageberichten (CSR-Richtlinie-Umsetzungsgesetz). http://www.bgbl.de/xaver/bgbl/start.xav?startbk=Bundesanzeiger_BGBl&jumpTo=bgbl117s0802.pdf. Accessed 13 July 2018

Pedersen ERG, Neergaard P, Pedersen JT, Gwozdz W (2013) Conformance and deviance: company responses to institutional pressures for corporate social responsibility reporting. Bus Strategy Environ 22:357–373

Quick R, Knocinski M (2006) Nachhaltigkeitsberichterstattung – Empirische Befunde zur Berichterstattungspraxis von HDAX-Unternehmen. Z Betriebswirtsch 76:615–650

Thomson Reuters (2018) Web of science: summary of coverage. https://clarivate.libguides.com/webofscienceplatform/coverage. Accessed 13 July 2018

Venturelli A, Caputo F, Cosma S, Leopizzi R, Pizzi S (2017) Directive 2014/95/EU: are Italian companies already compliant? Sustainability 9:1385

Vormedal I, Ruud A (2009) Sustainability reporting in Norway—an assessment of performance in the context of legal demands and socio-political drivers. Bus Strategy Environ 18:207–222

Wang H, Bernell D (2013) Environmental disclosure in China: an examination of the Green Securities Policy. J Environ Dev 22:339–369

Young S, Marais M (2012) A multi-level perspective of CSR reporting: the implications of national institutions and industry risk characteristics. Corp Gov Int Rev 20:432–450
Ethics declarations
Conflict of interest
M. Gulenko declares that she has no competing interests.
Appendix
Appendix
About this article
Cite this article
Gulenko, M. Mandatory CSR reporting—literature review and future developments in Germany. NachhaltigkeitsManagementForum 26, 3–17 (2018). https://doi.org/10.1007/s00550-018-0476-9
Received:

Accepted:

Published:

Issue Date:

DOI: https://doi.org/10.1007/s00550-018-0476-9
Keywords
Company Reports

German Society

Second-order Consequences (SOC)

German Setting

Dumitru