Abstract
In a finite system like the earth economical use and preservation of resources is mandatory. The aspiration to fulfil the demand of an increasing population with raised standards of living and to generate on-going economic growth leads to certain dilemmas concerning material resources. The paper will elaborate on the differences of economics with relatively scarce resources and economics with absolutely scarce resources with a focus on material resources. Currently many sustainability initiatives try to solve the problem of scarce resources by increasing efficiency. But general economic principles which increase efficiency such as economies of scale and learning curve effects demand high quantities and high lot sizes. Thus, efficiency in an economic sense does not always mean resource efficiency, which should not only include material efficiency but also preservation of resource availability and resource stewardship. If sustainability research takes the definition of the Brundtland report seriously and wants to meet "the needs of the present without compromising the ability of future generations to meet their own needs" then in the long run there needs to be a shift to renewable resources. This shift leads to new problems concerning overuse and tragedy of the commons as well as competition for acreage. The paper argues that sustainability research needs to change its focus from a mere increase of material efficiency to the problems of resource stewardship and preservation of natural resources taking a system dynamics perspective. It will elaborate on some of the possible directions these more wide-spread approaches may lead to.
This is a preview of subscription content, log in to check access.
Access options
Buy single article
Instant access to the full article PDF.
US$ 39.95
Price includes VAT for USA
Subscribe to journal
Immediate online access to all issues from 2019. Subscription will auto renew annually.
US$ 105
This is the net price. Taxes to be calculated in checkout.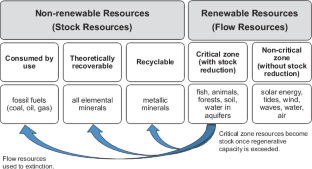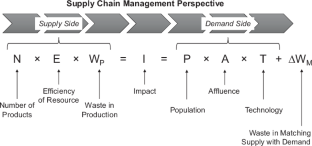 References
Albert M (2015) Gegensätze der Nachhaltigkeit. Working Paper 4‑1 Working Papers of the Chair for Innovation Research and Technology Management (BWL IX). TU Chemnitz, Chemnitz

Altvater, E (2015a) Der Grundwiderspruch des 21. Jahrhunderts. In: Le Monde diplomatique (ed.) Atlas der Globalisierung. Taz, Berlin, 16–19

Altvater, E (2015b) Das Erdzeitlater des Kapitals. In: Le Monde diplomatique (ed.) Atlas der Globalisierung. Taz, Berlin, 44–47

Arrow K, Dasgupta P, Goulder L, Daily G, Ehrlich P, Heal G, Levin S, Mäler K‑G, Schneider S, Starrett D, Walker B (2004) Are we consuming too much? J Econ Perspect 18(3):147–172

Bartlett AA (2012) The meaning of sustainability. Teach Clgh Sci Soc Educ Newsl 31(1):1–17

Berger R (2012) Mastering product complexity. https://www.rolandberger.de/media/pdf/Roland_Berger_Master_product_complexity_20121108.pdf. Accessed 23. Jun 2016

Bpb = Bundeszentrale für politische Bildung (2014) Entwicklung des grenzüberschreitenden Warenhandels. http://www.bpb.de/nachschlagen/zahlen-und-fakten/globalisierung/52543/entwicklung-des-warenhandels. Accessed 17. Dez 2014

Braungart M, McDonough W (2009) Cradle to cradle: re-making the way we make things. Vintage Books, New York

Cachon G, Terwiesch C (2012) Matching supply with demand: an introduction to operations management. McGraw Hill, Boston

Chertow MR (2001) The IPAT equation and its variants. Changing views of technology and environmental impact. J Ind Ecol 4(4):13–29

Chopra S, Meindl P (2013) Supply chain management. strategy, planning, and operation, 5th edn. Pearson, Harlow

Commoner B (1972) A bulletin dialogue on "the closing circle": response. Bull At Sci 28(5):17, 42–56

Commoner B, Corr M, Stamler PJ (1971) The closing circle: nature, man, and technology. Knopf, New York

Constanza R, Ruth M (1998) Using dynamic modeling to scope environmental problems and build consensus. Environ Manage 22(2):183–195

Dahmus JB (2014) Can efficiency improvements reduce resource consumption? A historical analysis of ten activities. J Ind Ecol 18(6):883–897

Daily GC, Ehrlich PR (1992) Population, sustainability, and earth's carrying capacity. Bioscience 42(10):761–771

Daniels P, Bradshaw M, Shaw D, Sidaway J (2012) An introduction to human geography, 4th edn. Pearson, Harlow

Deckert C (2015) Nachhaltige Logistik. Verbesserte Ressourcennutzung und Umweltverträglichkeit durch Green Logistics und City-Logistik. In: Deckert C (ed) CSR & Logistik. Spannungsfelder Green Logistics und City Logistik. Springer, Berlin

Deckert C, Fröhlich E (2014) Green Logistics: Framework zur Steigerung der logistischen Nachhaltigkeit. Suppl Chain Manag II/2014(2014):13–18

Dietz T, Rosa EA (1994) Rethinking the environmental impacts of population, affluence and technology. Hum Ecol Rev 1:277–300

Dietz T, Rosa EA, York R (2012) Environmentally efficient well-being: is there a Kuznets curve? Appl Geogr 32(2012):21–28

Ehrlich PR, Holdren JP (1971) Impact of population growth. Science 171(3977):1212–1217

Ehrlich PR, Holdren JP (1972) A bulletin dialogue on "the closing circle": critique. Bull At Sci 28(5):16, 18–27

Ehrlich PR, Ehrlich AH, Holdren JP (1975) Humanökologie. Springer, Berlin u. a.

Forrester JW (2013) Industrial dynamics. Martino Publishing, Mansfield Centre

Gans O, Jöst F (2005) Decomposing the impact of population growth on environmental deterioration. Discussion Paper Series, vol. 422. University of Heidelberg, Heidelberg

Hardin G (1968) Tragedy of the commones. Science 162:1243–1248

Hartwig K‑H (2007) Umweltökonomie. In: Bender D et al (ed) Vahlens Kompendium der Wirtschaftstheorie und Wirtschaftspolitik, 7th edn. Vahlen, München, pp 129–170

Heck S, Rogers M, Carroll P (2014) Resource revolution. How to capture the biggest business opportunity in a century. Amazon Publishing, Seattle

Heizer J, Render B (2014) Principles of operations management. Sustainability and supply chain management, 9th edn. Pearson, Harlow

Holm S‑O, Englund G (2008) Increased ecoefficiency and gross rebound effect: evidence from USA and six European countries 1960–2002. Soc Econ 68(2009):879–887

Kanning H (2013) Nachhaltige Entwicklung – Die gesellschaftliche Herausforderung für das 21. Jahrhundert. In: Baumast A, Pape J (eds) Betriebliches Nachhaltigkeitsmanagement. Ulmer, Stuttgart, pp 21–43

Kranert M, Cord-Landwehr K (2010) Einführung in die Abfallwirtschaft, 4th edn. Vieweg+Teubner, Wiesbaden

Martens H (2011) Recyclingtechnik. Fachbuch für Lehre und Praxis. Spektrum Akademischer Verlag, Heidelberg

Meadows D, Meadows D (1972) The limits to growth. A report for the club of rome's project on the predicament of mankind. Universe Publishing, New York

Meyer WB (1996) Human impact on the earth. Cambridge University Press, Cambridge

Müller-Christ G (2014) Nachhaltiges Management: Einführung in Ressourcenorientierung und widersprüchliche Managementrationalitäten. UTB, Nomos, Baden-Baden

Nentwig W (2005) Humanökologie. Fakten – Argumente – Ausblicke, 2nd edn. Springer, Berlin u. a

Paech N (2012) Befreiung vom Überfluss. Auf dem Weg in die Postwachstumsökonomie. oekom, München

Polimeni JM (2008) Empirical evidence for the Jevons paradox. In: Polimeni JM, Mayumi K, Giampietro M, Alcott B (eds) The Jevons paradox and the myth of resource efficiency improvements. Earthscan, London

Porter ME (1998) Competitive strategy. Techniques for analyzing industries and competitors. Free Press, New York

Pufé I (2012) Nachhaltigkeit. UTB, Konstanz

Reuter M (2007) Methodik der Werkstoffauswahl. Der systematische Weg zum richtigen Material. Hanser, München

Ruth M, Hannon B (2012) Modeling dynamic economic systems (modeling dynamic systems). Springer, Berlin

Santarius T (2012) Green growth unravelled. How rebound effects baffle sustainability targets when the economy keeps growing. Heinrich Böll Foundation, Berlin

Santarius, T (2015) Umweltfreundlich mehr verbrauchen. In: Le Monde diplomatique (ed.) Atlas der Globalisierung. Taz, Berlin, 56–57

Schettkat R (2009) Analyzing rebound effects. Wuppertal Papers, vol. 177. Wuppertal Institute for Climate, Environment and Energy, Wuppertal, ISSN 0949–5266

Schwister K (2010) Taschenbuch der Umwelttechnik, 2nd edn. Hanser, Leipzig

Scott JC (1998) Seeing like a state. How certain schemes to improve the human condition have failed. Yale University Press, New Haven London

Senge PM, Smith B, Kruschwitz N, Laur J, Schley S (2008) The necessary revolution. How individuals and organisations are working together to create a sustainable world. Doubleday, New York

Sinding-Larsen R, Wellmer F‑W (2012) Non-renewable resource issues: geoscientific and societal challenges: an introduction. In: Sinding-Larsen R, Wellmer F‑W (eds) Non-renewable resource issues: geoscientific and societal challenges. Springer, Berlin, pp 1–19

Sorrell S (2010) Mapping rebound effects from sustainable behaviours. Key concepts and literature review. SLRG Working Paper 01-10 (ISSN: 2050-4446). http://www.sustainablelifestyles.ac.uk/sites/default/files/publicationsdocs/slrg_working_paper_01-10.pdf. Accessed 22 Jun 2016

Sterman JD (2000) Business dynamics: system thinking and modeling for a complex world. McGraw Hill, Boston

Tenner E (1997) Why things bite back: technology and the revenge of unintended consequences. Vintage Books, New York

UN = United Nations, Department of Economic and Social Affairs, Population Division (2014) World urbanization prospects: the 2014 revision, highlights (ST/ESA/SER.A/352). UN, Department of Economic and Social Affairs, Population Division, New York

UN = United Nations, Department of Economic and Social Affairs, Population Division (2015) World population prospects: the 2015 revision, key findings and advance tables. Working Paper No. ESA/P/WP.241

UNDP = United Nations Development Programme (2014) Human development report 2014 – sustaining human progress: reducing vulnerabilities and building resilience

Waggoner PE, Ausubel JH (2002) A framework for sustainability science: a renovated IPAT identity. Proc Natl Acad Sci 99(12):375–390

WCED = World Commission on Environment and Development (1988) Our common future. Oxford University Press, Oxford

Wellmer F‑W (2012) Discovery and sustainability. In: Sinding-Larsen R, Wellmer F‑W (eds) Non-renewable resource issues: geoscientific and societal challenges. Springer, Berlin, pp 35–43

Wellmer F‑W, Steinbach V (2011) Is a road to sustainable use of non-renewable mineral raw materials possible? Proceedings Conference Sustainable Development in the Minerals Industry (SDIMI), Aachen, Jun 2011, pp 14–17

Weston RF, Ruth M (1997) A dynamic, hierarchical approach to understanding and managing natural economic systems. Ecol Econ 21(1997):1–17

Willke G (2006) Pocket Wirtschaft. Ökonomische Grundbegriffe, 2nd edn. bpb, Bonn

World Bank (2016a) Birth rate, crude (per 1,000 people). http://data.worldbank.org/indicator/SP.DYN.CBRT.IN. Accessed 01 Jul 2016

World Bank (2016b) Fertility rate, total (births per woman). http://data.worldbank.org/indicator/SP.DYN.TFRT.IN/. Accessed 01 Jul 2016

World Bank (2016c) GDP growth (annual %). http://data.worldbank.org/indicator/NY.GDP.MKTP.KD.ZG. Accessed 30 Jun 2016

Yellishetty M, Haque N, Dubreuil A (2012) Issues and challenges in life cycle assessment in the minerals and metals sector: a chance to improve raw materials efficiency. In: Sinding-Larsen R, Wellmer F‑W (eds) Non-renewable resource issues: geoscientific and societal challenges. Springer, Berlin, pp 229–246

York R, Rosa EA, Dietz T (2003) STIRPAT, IPAT and ImPACT: Analytic tools for unpacking the driving forces of environmental impacts. Ecol Econ 46(2003):351–365
About this article
Cite this article
Deckert, C. Ecological sustainability of material resources – Why material efficiency just isn't enough. uwf 24, 325–335 (2016). https://doi.org/10.1007/s00550-016-0419-2
Received:

Accepted:

Published:

Issue Date:
Keywords
Supply Chain

Renewable Resource

Resource Consumption

Rebound Effect

Resource Efficiency