Access options
Buy single article
Instant access to the full article PDF.
US$ 39.95
Tax calculation will be finalised during checkout.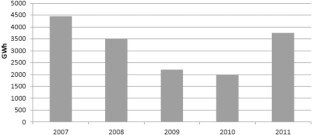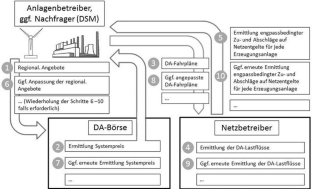 Notes
1.

2.

Eingriff eines ÜNB in die Fahrweise von Erzeugungs- und Speicheranlagen zur Sicherstellung der Systemsicherheit im Falle eines drohenden Netzengpasses

3.

4.

Ausführliche Erläuterungen zu den Thesen finden sich im Schlussbericht des Projekts NaREM und in den jeweiligen Arbeitspapieren, beides auf der Homepage des Lehrstuhls für Energiewirtschaft der Universität Duisburg-Essen zu finden: http://www.ewl.wiwi.uni-due.de/forschung/projekte/

5.

Diese Arbeitshypothese ist sicherlich kritisch zu hinterfragen und die möglichen Ausgestaltungen der Regulierung näher zu untersuchen (vgl. auch Brandstätt et al. 2011). Dies würde jedoch den Rahmen der vorliegenden Ausführungen sprengen.
Literatur
BMWi (2013) E-Energy: IKT-basiertes Energiesystem der Zukunft, abrufbar unter: http://www.bmwi.de/DE/Themen/Digitale-Welt/Internet-der-Energie/e-energy.html

Bundesnetzagentur (2012) Beschluss wegen der Festlegung von Kriterien für die Bestimmung einer angemessenen Vergütung bei strombedingten Redispatchmaßnahmen und bei spannungsbedingten Anpassungen der Wirkleistung, Aktenzeichen: BK8-12–019

Brandstätt C, Brunekreeft G, Friedrichsen N (2011) Locational signals to reduce network investments in smart distribution grids: What works and what not? Utilities Policy 19:244–254

Burdett K, Judd KL (1983) Equilibrium price dispersion, Econometrica, Jg. 51. Nr 4:955–969

DENA (2012): Ausbau- und Innovationsbedarf der Stromverteilnetze in Deutschland bis 2030; abrufbar unter: http://www.dena.de/projekte/ energiesysteme/verteilnetzstudie.html

Hogan W (1992) Contract networks for electric power transmission. J Regul Econ 4:211–242

Kießling A, Hauser E, Klann U, Leprich U, Luxenburger M (2011) Modellstadt Mannheim: Untersuchung des technischen, energiewirtschaftlichen und regulatorischen Rahmens; abrufbar unter: http://www.modellstadt-mannheim.de/moma/web/media/pdf/Bericht_zur_Nachhaltigkeit.pdf

Landeck E (2011) Möglichkeiten und Grenzen der Laststeuerung! Wer stellt eigentlich den Marktplatz? Präsentation im Rahmen der BDEW-Leitveranstaltung zu den Erneuerbaren Energien 2011, Berlin; abrufbar unter: http://www.smart-renewables.de/fileadmin/archiv/vortraege/SR11_Landeck_BDEW_Smart_Renewables_23-02-2011.pdf

Moma (2012) Mannheim – Auswirkungen auf das politische Instrumentarium (Endbericht); abrufbar unter: http://www.modellstadt-mannheim.de/moma/web/media/pdf/Endbericht_AS 57.pdf

Mankiw NG (2011) Principles of economics, 6. Auflage, South Western Educ Pub, ISBN 978–0538453059

Neuhoff K, Boys R, Grau T, Barquin J, Echavarren FM, Bialek J, Dent C, Hirschhausen C von, Hobbs BF, Kunz F, Weigt H, Nabe C, Papaefthymioub G, Weber C (2011) Renewable electric energy integration: Quantifying the Value of Design of Markets for International Transmission Capacity. Smart Power Market Project, Available at: http://climatepolicyinitiative.org/wp-content/uploads/2011/12/Quantitative-Simulation-Paper.pdf

Schweppe FC, Caramanis MC, Tabors RD, Bohn RE (2000) Spot pricing of electricity, Vierte Auflage, Kluver Academic Publications, Boston

Sotkiewicz PM, Vignolo JM (2006) Nodal pricing for distribution networks: Efficient Pricing for Efficiency Enhancing DG. IEEE Transactions On Power Systems 21(2):1013–1014

Trepper (geb. Schmitz) K, Weber C (2013) Does one design fit all? On the transferability of the PJM market design to the German electricity market, EWL Working Paper No. 02/2013

Übertragungsnetzbetreiber (2012) Netzentwicklungsplan Strom 2012, abrufbar unter: http://www.netzentwicklungsplan.de/

Vogel P (2009) Efficient investment signals for distributed generation, Energy Policy, Jg. 37. Nr 9:3665–3672

Weigt H, Freund K, Jeske T (2006) Nodal pricing of the European electricity grid – a welfare economic analysis for feeding-in offshore wind electricity, Working paper, Abrufbar unter: http://tu-dresden.de/die_tu_dresden/fakultaeten/fakultaet_wirtschaftswissenschaften/bwl/ee2/dateien/ordner_publikationen/wp_ge_10_freund_weigt_jeske_nodal_%20pricing_nw_europe.pdf
Additional information
Gefördert durch:
Bundesministerium für Bildung und Forschung
Das diesem Arbeitspapier zugrundeliegende Vorhaben wurde mit Mitteln des Bundesministeriums für Bildung und Forschung unter dem Förderkennzeichen 01UN1008 gefördert. Die Verantwortung für den Inhalt dieser Veröffentlichung liegt bei den Autoren.
About this article
Cite this article
Trepper, K., Weber, C. & Kallen, D. Integrationsmanagement für Erneuerbare Energien – Dezentrale Koordination im Strommarkt der Zukunft. uwf 21, 209–218 (2013). https://doi.org/10.1007/s00550-013-0292-1