Zusammenfassung
Die Filmindustrie ist eine derjenigen Branchen der Kultur- und Kreativwirtschaft in Deutschland, die umfangreiche finanzielle Fördermittel erhält. Im Jahr 2017 wurden über 200 Mio. € für die kulturwirtschaftliche Kinofilmförderung des Bundes und der Länder ausgegeben. Vor diesem Hintergrund verfolgt dieser Beitrag die Zielsetzung, Umfang und räumliche Verteilungsmuster der Filmförderung in Deutschland sowie die Vernetzungen zwischen Produktionsfirmen und damit einhergehenden Verflechtungen zwischen den Standorten der Filmwirtschaft zu untersuchen. Die Ergebnisse zeigen, dass München und Berlin die dominanten Standorte der Filmindustrie in Deutschland sind. Den Großteil der Fördermittel erhalten Produktionsfirmen aus diesen beiden Standorten. Die Filmförderung vonseiten der Länder verknüpft die Vergabe der finanziellen Fördermittel zwar mit Anreizen und Auflagen, um filmwirtschaftliche Aktivitäten im eigenen Fördergebiet zu unterstützen. Dennoch zeigt sich, dass es Erstproduzenten aus München und Berlin in besonderer Weise gelingt, Fördermittel aus den anderen Bundesländern in die Finanzierung ihrer Filmprojekte zu integrieren. Unter anderem kooperieren sie zu diesem Zweck mit Produktionsfirmen anderer Standorte, z. B. aus Köln oder Hamburg. Auch die erfassten Vernetzungen der Produktionsfirmen aufgrund gemeinsamer Koproduktionen untermauern die herausragende Bedeutung der Standorte Berlin und München für die deutsche Filmindustrie. Insgesamt ist somit ein hohes Maß an räumlicher Konzentration auf diese 2 Standorte festzustellen, die mit einer großen absorptiven Wirkung bezüglich der Fördermittel einhergeht.
Abstract
The film industry is one of the cultural and creative industries in Germany that receives extensive financial support. In 2017 more than 200 million € were spent by federal and state on cultural economic cinema film funding. Against this background, this article aims to examine spatial distribution patterns of film funding in Germany. The study also analysed networks between production companies and the resulting interdependencies between the locations of the film industry. The results showed that Munich and Berlin are the dominant locations of the film industry in Germany. Production companies from these two locations received most of the funding. Film funding by the federal states links the allocation of financial support with incentives and conditions to support film activities in their own funding area. Nevertheless, it is evident that the main producers from Munich and Berlin are particularly successful in integrating funding from the other federal states into the financing of their film projects. For this purpose, they cooperate with production companies from other locations, e.g. Cologne or Hamburg. The networks of the production companies recorded as a result of joint coproductions also underline the outstanding importance of Berlin and Munich for the German film industry. All in all, there is a high degree of spatial concentration on these two locations, which is accompanied by a large absorptive effect with respect to the subsidies.
Access options
Buy single article
Instant access to the full article PDF.
US$ 39.95
Tax calculation will be finalised during checkout.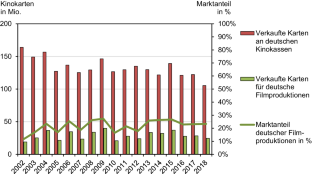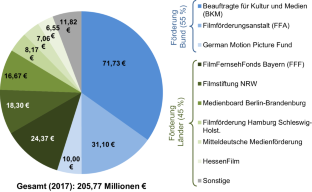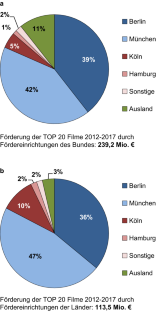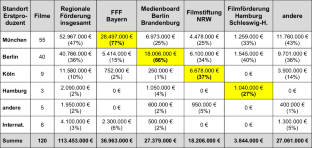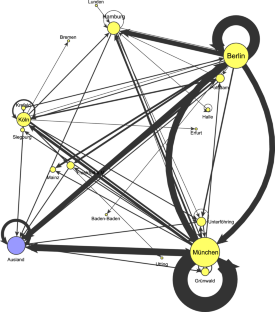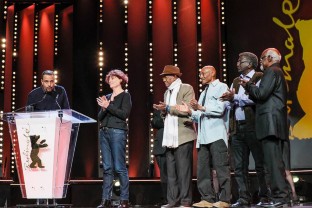 Literatur
Bathelt H, Gräf P (2008) Internal and external dynamics of the Munich film and TV cluster, and limitations to future growth. Environ Plan A 40:1944–1965

BMF (2017) Sechsundzwanzigster Subventionsbericht. Bericht der Bundesregierung über die Entwicklung der Finanzhilfen des Bundes und der Steuervergünstigungen für die Jahre 2015 bis 2018. Bundesministerium der Finanzen, Referat für Öffentlichkeitsarbeit, Berlin

BMWi (2018) Monitoringbericht Kultur- und Kreativwirtschaft 2018. Kurzfassung. Bundesministerium für Wirtschaft und Energie, Referat Öffentlichkeitsarbeit, Berlin

Dirksmeier P (2009) "Don't believe the hype": Kommunale Förderstrategien für die Creative Industries. disP 45(179):37–45

Ermann U (2011) Kunst und Kreativität als Faktor ländlicher Ökonomien. Vernachlässigbar oder unterschätzt? Geogr Rundsch 63(2):20–28

Filmförderungsanstalt (FFA) (2018) Filmförderungsanstalt (FFA). Zahlen aus der Filmwirtschaft, Berlin

FFA (2019) www.ffa.de. Zugegriffen: 14. Feb. 2019

Gnad F, Ebert R, Kunzmann KR (2016) Kultur- und Kreativwirtschaft in Stadt und Region. Branchen-Orte-Netze. Kohlhammer, Stuttgart

Kaiser R, Liecke M (2007) The Munich feature film cluster: the degree of global integration and explanations for its relative success. Ind Innov 14(4):385–399

Krätke S, Taylor PJ (2004) A world geography of global mediacities. Eur Plan Stud 12(4):459–477

Mossig I (2004) Steuerung lokalisierter Projektnetzwerke am Beispiel der Produktion von TV-Sendungen in den Medienclustern München und Köln. Erdkunde 58(3):252–268

Mossig I (2006) Netzwerke der Kulturökonomie. Lokale Knoten und globale Verflechtungen der Film- und Fernsehindustrie in Deutschland und den USA. transcript, Bielefeld

Mossig I (2008) Global networks of the motion picture industry in Los Angeles/Hollywood using the example of their connections to the German market. Eur Plan Stud 16(1):43–59

Mossig I (2011) Regional employment growth in the cultural and creative industries in Germany 2003–2008. Eur Plan Stud 19(6):967–990

Müller A, Mossig I (2018) Räumliche Verteilung und Entwicklungsdynamik der Beschäftigten in der Kultur- und Kreativwirtschaft in Deutschland 2007–2016. In: Wolter K, Schiller D, Hesse C (Hrsg) Kreative Pioniere in ländlichen Räumen. Innovation & Transformation zwischen Stadt & Land. Steinbeis-Edition, Stuttgart, S 2–24

Scheuplein C (2002) Identifizierung und Analyse von Produktionsclustern: Das Beispiel der Filmwirtschaft in Potsdam-Babelsberg. Raumforsch Raumordn 60(2):123–135

Schröder N (1995) Special: Filmindustrie. Rowohl, Reinbek b. Hamburg

Wolter K, Schiller D, Hesse C (Hrsg) (2018) Kreative Pioniere in ländlichen Räumen. Innovation & Transformation zwischen Stadt & Land. Steinbeis-Edition, Stuttgart
About this article
Cite this article
Mossig, I. Regionale Effekte der Filmförderung in Deutschland. Standort 43, 270–277 (2019). https://doi.org/10.1007/s00548-019-00601-5
Received:

Revised:

Accepted:

Published:

Issue Date:
Schlüsselwörter
Kultur und Kreativwirtschaft

Filmindustrie

Vernetzung

München

Berlin
Keywords
Cultural and creative Industries

Film industry

Networking

Munich

Berlin