Zusammenfassung
Mit Hochschulen und außeruniversitären Forschungseinrichtungen werden wichtige Innovationsimpulse in Verbindung gebracht. Am Beispiel der Metropole Ruhr wird in diesem Beitrag anhand von Kooperationsbeziehungen zwischen Wissenschaft und Wirtschaft sowie anhand von Unternehmensgründungen aus der Wissenschaft untersucht, welche Effekte in diesem Sinne vor Ort wirksam werden. Im Ergebnis zeigt sich, dass die Kooperationsbeziehungen auf regionaler Ebene nur relativ schwach ausgeprägt sind. Auch Existenzgründungen aus der Wissenschaft finden im Ruhrgebiet im Vergleich zu anderen Metropolräumen in Deutschland seltener statt. Offensichtlich ist das vorhandene Innovationspotenzial noch nicht voll ausgeschöpft.
Abstract
Universities and non-university research organisations can deliver important stimuli for regional innovation. Using the example of the Ruhr Metropolis, this article investigates the localisation of cooperative relationships between science and industry, as well as university spin-offs. Our major finding is that science-industry collaboration is relatively weak at the regional level. Spin-offs from science are also rarely in the Ruhr when compared to other metropolitan areas in Germany. It is obvious that the existing innovation potential is not yet fully exploited.
Access options
Buy single article
Instant access to the full article PDF.
US$ 39.95
Tax calculation will be finalised during checkout.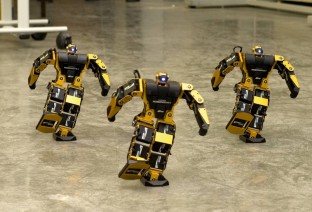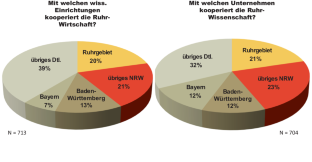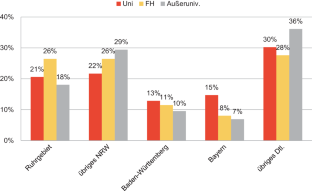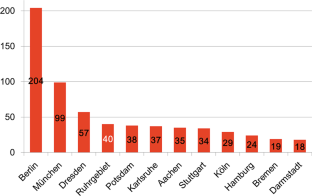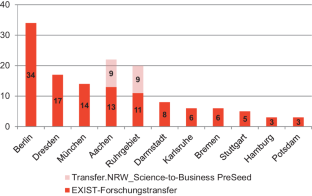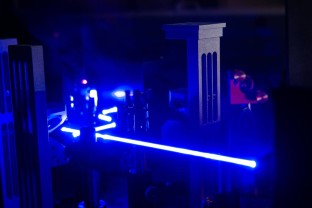 Literatur
Audretsch DB, Feldman MP (1996) Knowledge spillovers and the geography of innovation and production. Am Econ Rev 86(3):630–640

BMBF, BMWi (2015) Förderkatalog des BMBF. http://foerderportal.bund.de/foekat/. Zugegriffen: 18. Mai 2015

Bundesministerium für Wirtschaft und Energie (2015a) ZIM – Bewilligte Fördermittel nach Technologiefeldern. http://www.zim-bmwi.de/statistik. Zugegriffen: 18. Mai 2015

Bundesministerium für Wirtschaft und Energie (2015b) Sonderauswertung – Bewilligte ZIM-Projekte seit 2008 für Nordrhein-Westfalen

Fritsch M (2015) Die Bedeutung von Hochschulen für regionale Innovationsaktivitäten. In: Fritsch M, Pasternack P, Titze M (Hrsg) Schrumpfende Regionen-dynamische Hochschulen. Springer VS, Wiesbaden, S 119–134

Fritsch M, Henning T, Slavtchev V, Steigenberger N (2007) Hochschulen, Innovation, Region – Wissenstransfer im räumlichen Kontext. Edition Sigma, Berlin

Jaeger A, Kopper J (2014) Third mission potential in higher education: measuring the regional focus of different types of HEIs. Rev Reg Res 34(2):95–118

Kriegesmann B, Böttcher M, Lippmann T (2015) Wissenschaftsregion Ruhr – Wirtschaftliche Bedeutung, Fachkräfteeffekte und Innovationsimpulse der Hochschulen und außeruniversitären Forschungseinrichtungen in der Metropole Ruhr

Kulicke M (2013) Ergebnisse und Wirkungen des Förderprogramms EXIST-Gründerstipendium. Studie zu Realisierungs- und Überlebensquoten, zu Gründen für die Aufgabe von Gründungsvorhaben und zur ökonomischen Entwicklung der Neugründungen. Fraunhofer ISI. http://www.exist.de/SharedDocs/Downloads/DE/Studien/Ergebnisse-Wirkungen-Foerderprogramm-Gruenderstipendium.pdf?__blob=publicationFile. Zugegriffen: 29. Apr. 2015

Kulicke M (2014) 15 Jahre EXIST Existenzgründungen aus der Wissenschaft. Fraunhofer ISI, Karlsruhe

Ministerium für Wirtschaft, Energie, Industrie, Mittelstand und Handwerk des Landes Nordrhein-Westfalen MWEIMH (2015) Der Ziel 2‑Projektbrowser. http://www.ergebnisse.ziel2.nrw.de. Zugegriffen: 29. Apr. 2015

Pfeiffer W (1971) Allgemeine Theorie der technischen Entwicklung. Vandenhoeck/Ruprecht, Göttingen

Staudt E, Kriegesmann B (1997) Universitäten als Dienstleister für Innovationen. In: Hollerith J (Hrsg) Leistungsfähige Hochschulen – aber wie? Neuwied, Kriftel, Berlin, S 73–86
About this article
Cite this article
Kriegesmann, B., Böttcher, M. & Lippmann, T. Die Wissenschaft als Impulsgeber für Innovationen. Standort 43, 76–82 (2019). https://doi.org/10.1007/s00548-019-00585-2
Schlüsselwörter
Hochschulen

Forschungseinrichtungen

Wissenstransfer

Technologietransfer

Metropole Ruhr
Keywords
Universities

Research organisations

Knowledge transfer

Technology transfer

Ruhr