Zusammenfassung
Seit den 1980er-Jahren wurden Technologieparks in vielen Städten als damals neues Infrastrukturinstrument aufgebaut, um Wissens- und Technologietransfer durch die räumliche Nähe von Wissenschaft und Unternehmen zu fördern. Diese Nähe soll wissensintensive Unternehmen bei der Generierung, Reproduktion und Implementierung der 3 Faktoren Wissen, Lernen und Innovation unterstützen. In Deutschland stellt der Wissenschafts- und Technologiecampus (WTC) Dortmund eine der ersten Umsetzungen dar. Die Erfahrungen zeigen jedoch, dass räumliche Nähe als vernetzungsfördernde Maßnahme allein nicht ausreicht, sondern durch weitere Formen der Nähe und andere Förderansätze ergänzt werden muss. Dieser Beitrag geht der Frage nach, inwieweit die Integration ergänzender Maßnahmen in traditionellen Technologieparks wie dem des WTC erfolgte, und inwieweit sie zu dessen Zukunftsfähigkeit beitragen. Die Autorin stellt fest, dass eine unreflektierte Übernahme von Literaturempfehlungen und daraus abgeleiteten impliziten Wirkungsannahmen teils zu negativen Auswirkungen auf im WTC ansässige Organisationen führen kann.
Abstract
Since the 1980s, technology parks have been set up in many cities as a new infrastructure instrument at that time to facilitate knowledge and technology transfer through the spatial proximity of science and business. This proximity is designed to help knowledge-intensive companies to generate, reproduce and implement the three factors knowledge, learning and innovation. In Germany, the Science and Technology Campus (WTC) in Dortmund was one of the first developments of this kind; however, experience has shown that spatial proximity alone is not a sufficient condition for building knowledge and innovation networks but must be complemented by other forms of proximity and other instruments. This article examines the extent to which the integration of complementary measures has been carried out in traditional technology parks such as the WTC and to what extent it contributes to its future viability. The author notes that an unreflected adoption of literature recommendations and implicit causal logics derived from them may in some cases have negative effects on organizations based in the WTC.
Access options
Buy single article
Instant access to the full article PDF.
US$ 39.95
Tax calculation will be finalised during checkout.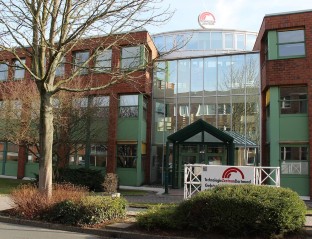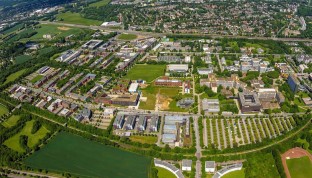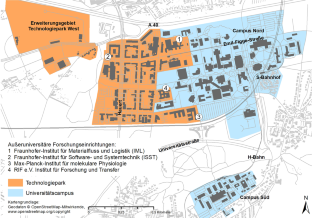 Literatur
Allen J (2007) Third generation science parks. Manchester Science Park Ltd, Manchester

Boschma R (2005) Proximity and innovation: a critical assessment. Reg Stud 39(1):61–74

Charles DR (2015) From technopoles to science cities: characteristics of a new phase of science cities. In: Miao JT, Benneworth P, Phelps NA (Hrsg) Making 21st century knowledge complexes: technopoles of the world revisited. Routledge, London, New York

EC (European Commission) (Hrsg) (2013) Setting up, managing and evaluating EU science and technology parks. Publication Office of the European Union, Luxemburg

Heidemann C, Wermker K (2012) Die Entwicklung der Wissenslandschaft Ruhr: Ein kommunaler Blick. In: Dernbach B, Kleinert C, Münder H (Hrsg) Handbuch Wissenschaftskommunikation. VS, Wiesbaden, S 77–87

Hennings G, von Einem E, Rainer K, Kunzmann K (1988) Möglichkeiten und Formen der Berücksichtigung und Eingliederung von gewerbepolitischen Förderstrategien in die Städtebaupolitik und Stadtentwicklung. Schriftenreihe "Forschung" des Bundesministeriums für Raumordnung, Bauwesen und Städtebau, Bd. 455. Godesberg, Bonn-Bad

Hofmann J (1995) Implicit theories in policy discourse: an inquiry into the interpretations of reality in German technology policy. Policy Sci 28(2):127–148

Irle C, Röllinghoff S (2008) Dortmund – eine Stadt im Aufbruch. Inf Raumentwickl 35(9/10):639–650

van de Klundert M, van Winden W (2008) Creating environments for working in a knowledge economy: promoting knowledge diffusion through area based development. (=corporations and cities: envisioning corporate real estate in the Urban future, 9). http://www.urbaniq.nl/wp-content/uploads/2017/08/Paper09_vandeKlundert.pdf. Zugegriffen: 27. März 2019

Kunzmann KR (2004) Wissensstädte: Neue Aufgaben für die Stadtpolitik. In: Matthiesen U (Hrsg) Stadtregion und Wissen: Analysen und Plädoyers für eine wissensbasierte Stadtpolitik. VS, Wiesbaden, S 29–41

Massey DB, Wield D, Quintas P (1992) High-tech fantasies: science parks in society, science and space. Routledge, London, New York

Quiehl T (1995) Vom Gewerbegebiet zur Wissenschaftsstadt: Versuch einer Systematisierung. Raumforsch Raumordn 53(3):186–197
About this article
Cite this article
Schlich, EF. Gehen Technologieparks mit der Zeit?. Standort 43, 100–106 (2019). https://doi.org/10.1007/s00548-019-00579-0
Schlüsselwörter
Wissenstransfer

Technologietransfer

Räumliche Nähe

Pfadabhängigkeit

Dortmund
Keywords
Knowledge transfer

Technology transfer

Spatial proximity

Path dependence

Dortmund