Zusammenfassung
Der Einzelhandel in der Region Hochrhein am Dreiländereck wird durch das Einkaufsverhalten der Schweizer Haushalte bestimmt. Einerseits konnte sich der Einzelhandel in den deutschen Grenzstädten dynamisch entwickeln und Nachfrage aus den jenseits der Grenze liegenden Regionen abschöpfen. Anhand einer praxisnahen Untersuchung wurde der Fragestellung nachgegangen, ob diese grenzüberschreitenden Zuflüsse als Potenzial oder als Risiko für den deutschen Handel zu sehen sind. Zugleich führt der Einkaufstourismus in Überlagerung mit dem Onlinehandel zur raumstrukturellen Schieflage in Schweizer Grenzregionen. Bedarf und Strategie einer nachhaltigen Stadt- und Regionalentwicklung werden aus der Perspektive von Einzelhandel, Stadtplanung und Marktforschung diskutiert.
Abstract
Retail shopping in Hochrhein on the tri-border region is affected by the shopping behaviour of the Swiss households. On the one hand the German retail in the German border towns was able to develop dynamically and tap the demand from regions beyond the border. A market-relevant example was used to investigate the question of whether these cross-border inflows should be considered an area of potential growth or risk for German retail. On the other hand, together with e‑commerce the shopping tourism leads to a tilt in spatial structure in the Swiss border regions. The demand and strategy for sustainable city and regional development are discussed from the perspective of retail, city planning and market research.
Access options
Buy single article
Instant access to the full article PDF.
US$ 39.95
Tax calculation will be finalised during checkout.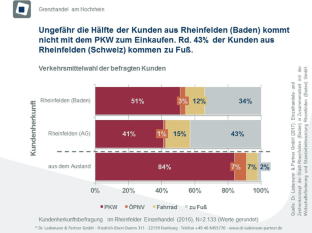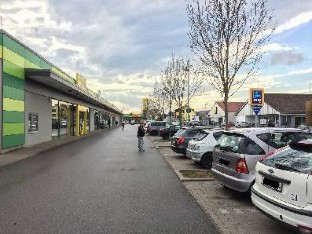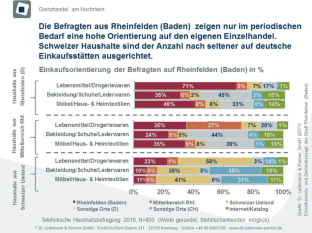 Literatur
Bürgi M (2017) Bis 2020 verdoppelt sich der Schweizer Onlinehandel. In: Handelszeitung vom 4. Jan. 2017

Credit Suisse (2016) Retail Outlook 2016 – Wie viel Schweiz steckt im Schweizer Detailhandel? www.credit-suisse.com/media/production/pb/docs/unternehmen/kmugrossunternehmen/retail-outlook-2016-de.pdf. Zugegriffen: 6. Juli 2017

Dr. Lademann & Partner (2017) Einzelhandels- und Zentrenkonzept der Stadt Rheinfelden (Baden)

GfK GeoMarketing (2014) GfK Sortimentskaufkraft Schweiz 2014

Kovács A (2013) On borders, border regions and cross-border retail-trading. J Sci Pap Univ Pardubice Ser D Fac Econ Adm 20(28):29–41

Pfister F (2015) Preisdifferenzen zum Ausland – Jetzt kostet der Deo schon das Doppelte. In: Neue Zürcher Zeitung am Sonntag vom 21. Mai 2015

Schäfer L (2016) Hochrhein: Jahrelanger Einkaufsboom durch Schweizer Kunden flacht ab. In: Südkurier vom 28. Okt. 2016

Scherer R, Wittmer A (2013) Grenzüberschreitende wirtschaftliche Verflechtungen im Metropolitanraum Zürich. IMPacts 2013(05):1–24

Spierings B, van der Velde M (2008) Shopping, borders and unfamiliarity: consumer mobility in Europe. Tijdschr Econ Soc Geogr 99(4):497–505

van der Velde M, Vergoossen D, van de Wiel E (1997) Kleve, Nimwegen und das Einkaufszentrum "CentrO". Lebendiger Einzelhandel in einem Grenzgebiet. Geogr Rundsch 49(3):164–168
About this article
Cite this article
Emmerling, S. Grenzhandel am Hochrhein. Standort 41, 202–207 (2017). https://doi.org/10.1007/s00548-017-0486-9
Schlüsselwörter
Einzelhandel

Schweiz

Hochrhein

Einkaufsverhalten

Grenzhandel
Keywords
Retail

Switzerland

Hochrhein

Shopping behavior

Cross border shopping