Abstract
Pythium insidiosum is a pathogen that causes disease in both animals and humans. Human pythiosis is an emerging disease in the tropical, subtropical, and temperate regions of the world. Pythiosis occurs in localized and systemic or vascular forms. Most patients with arterial pythiosis have underlying hemoglobinopathy syndromes such as thalassemia, which exhibits a severe form. We present a series of eight cases of emerging human vascular pythiosis in northern Thailand and confirm that PCR and Immunoassay can make an early and accuracy diagnosis of vascular pythiosis. Prospective studies were made during a 38-month period from July 2001 to December 2004 of eight hemoglobinopathic patients with a distinct clinical syndrome characterized by progressive ischemia of the lower extremities, with ascending arteritis and aneurysm formation. One patient died when infection caused bifurcation of the aorta with arterial leakage before diagnosis and treatment. One patient refused any treatment and was lost to followup. All eight patients worked in wet and swampy areas (7 farmers and 1 horse stable worker). Pythium insidiosum was isolated from three patients and histopathologically diagnosed in five patients. Wet KOH preparation could identify nonseptate hyphae in only three patients. Rapid identification of Pythium insidiosum by immunoblot and PCR methods can provide diagnosis and management. There are no effective antimicrobial agents for this syndrome; radical surgical removal of infected tissue is the only way to ensure survival of the patient. Immunotherapy using P. insidiosum antigen (PIA) may be effective in treating human pythiosis. P. insidiosum infection should be considered in thalassemic patients with leg ulcer and arterial occlusion of the lower extremities.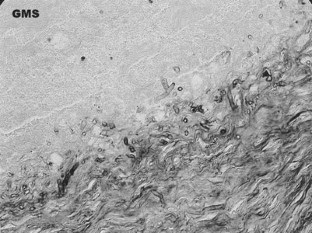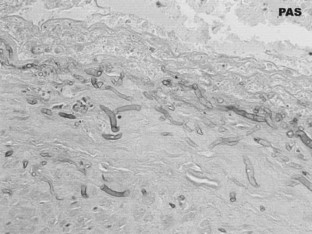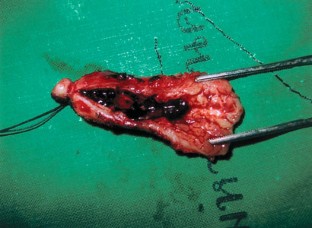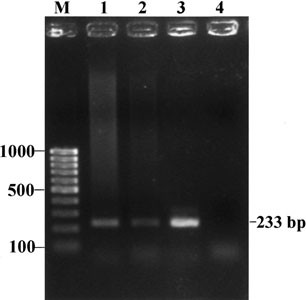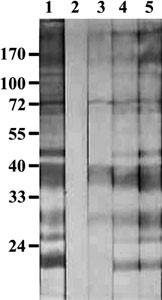 References
1.

Sathapatayavongs B, Leelachaikul P, Prachaktam R, Atichatakarn V, Sripojanart S, Triratvorakul P, Jirasiritham S, Nontasut S, Eurvilaichit C (1989) Human pythiosis associated with thalassaemia hemoglobinopathy syndrome. J Infect Dis 159:274–280

2.

Chedchotisakd P, Pairojkul C, Porntaweevudhi O, Sathapatayavongs B, Mairiang P, Nuntirooj K, Patjanasoontorn B, Saew OT, Chaiprasert A, Haswell–Elkins MR (1992) Human pythiosis in Srinagarind Hospital: one years experience. J Med Assoc Thai 75:248–254

3.

Wanachiwanawin W, Thianprasit M, Fucharoen S, Chaiprasert A, Sudasna N, Ayudhaya N, Sirithanaratkul N, Piankijagum A (1993) Fatal arteritis due to Pythium insidiosum infection in patients with thalassaemia. Trans R Soc Trap Med Hyg 87:296–298

4.

Imwidthaya P (1994) Human pythiosis in thailand. Postgrad Med J 76:558–560

5.

Thianprasit M (1990) Human pythiosis. Trop Dermatol 4:1–4

6.

Thianprasit M, Chaiprasert A, Imwidthaya P (1996) Human pythiosis. Curr Top Med Mycol 7:43–45

7.

Vanittanakom N, Supabandhu J, Khamwan C, Praparattanapan J, Thirach S, Prasertwitayakij N, Louthrenoo W, Chiewchanvit S, Tananuvat N (2004) Identification of emerging pathogenic Pythium insidiosum by serological and molecular-based methods. J Clin Microbiol 42(9):3970–3974

8.

Dick MW (2001) Straminipilous fungi: Systematics of the Peronosporomycetes including accounts of the marine Straminipilous protist, the plasmodiophorids and similar organisms. Kluwer Academic Publishers: London, p. 670

9.

Kunavisurat S, Nimvorapan T, Methasiri S (2003) Pythium corneal ulcer in Ramathibodi Hospital. J Med Assoc Thai 86:338–342

10.

Shenap JL, English BK, Kaufman L, Pearson TA, Thomson JW, Kaufman RA, Frisch G, Rinaldi MG (1998) Successful medical therapy for deeply invasive facial infection due to Pythium insidiosum in a child. Clin Infect Dis 27:1388–1393

11.

Schurko AM, Mendoza L, Levesque CA, Desaulnier NL, deCock AW, Klassen GR (2003) A molecular phylogeny of Pythium insidiosum. Mycol Res 107:537–544

12.

Wanachiwanawin W (2000) Infections in E-beta thalassemia. J Pediatr Hematol Oncol 22:581–587

13.

Prasertwitayakij N, Louthrenoo W, Kasitanon N, Thamprasert K, Vanittanakom N (2003) Human pythiosis, a rare cause of arteritis: case report and literature review. Semin Arthritis Rheum 33:204–214

14.

Imwidthaya P, Srimuang S (1989) Immunodiffusion test for diagnosis human pythiosis. Mycopathologia 106:109–112

15.

Krajaejan T, Kunakorn M, Niemhom S, Chongtrakool P, Pracharktam R (2002) Development and evaluation of an in-house enzyme linked immunosorbant assay for diagnosis and monitoring of human pythiosis. Clin Diagn Lab Immunol 9:378–382

16.

Mendoza L, Prendas J (1998) A method to obtain rapid zoosporogenesis of Pythium insidiosum. Mycopathologia 104:59–62

17.

Thitithanyanont A, Mendoza L, Chuansumrit A, Pracharktam R, Laothamas J, Sathapatayavongs B, Loleka S, Ajello L (1998) Use of an Immunotherapeutic vaccine to treat a life-threatening human arteritic infection caused by Pythium insidiosum. Clin Infect Dis 27:1394–1400

18.

Wanachiwanawin W, Mendoza L, Visuthisakchai S, Mutsikapan P, Sathapatayavongs B, Chaiprasert A, Suwanagool P, Manuskiatti W, Ruangsetakit C, Ajello L (2004) Efficacy of immunotherapy using antigens of Pythium insidiosum in the treatment of vascular pythiosis in human. Vaccine 22:3613–3621
Acknowledgements.
The authors thank Dr. Vorawit Kangtrakul and Dr. Terapon Wuttiyavanich for their help in data entry, and Miss Wongcharat for typing the manuscript. Immunotherapy with P. Insidiosum-antigen (PIA) was kindly provided by Dr. L. Mendoza and Dr. A. Chindarmporn.
About this article
Cite this article
Laohapensang, K., Rerkasem, K., Supabandhu, J. et al. Necrotizing Arteritis Due to Emerging Pythium insidiosum Infection in Patients With Thalassemia: Rapid Diagnosis with PCR and Serological Tests — Case Reports. Int J Angiol 14, 123–128 (2005). https://doi.org/10.1007/s00547-005-2012-3
Keywords
Digital Subtraction Angiography

Thalassemia

Popliteal Artery

Common Iliac Artery

Thalassemic Patient