Abstract
Recently a new improved differential vertical comb type capacitive accelerometer using silicon on insulator (SOI) technology reported having better performance than dissolve wafer process (DWP) technology. Effective figure of merit shown is much higher compared to other comb-based technologies presented in literature. Theoretical formulations developed for residual and working stress which can be utilized for optimizing the performance of microaccelerometer. Maximum reported experimental mean stress (500 MPa) and stress gradient (0.1 MPa/µm) is also studied in detail. A comparison of analytical and simulations for stress induced deflections are in good agreement (within 5.29% and 3.97%) for residual planar and axial stress respectively. Working shear stress in torsional beams at 30 g in proposed new differential vertical SOI comb type accelerometer is lesser by 20.9 MPa compared to DWP technology. For 1000 g shock, the SOI case, stress of 0.55 GPa having a better safety margin by a of factor of 2 compared to fracture limit (FL) of 1.1 GPa of silicon. In contrast to this, DWP has a stress of 1.25 GPa and hence it crosses FL value and has no safety margin. Warping stress induced in restrained torsional beam have been analyzed and compared with simulation results and found to be in good agreement within 1.87% for SOI technology case and 11.25% for DWP technology case. The effect of initial tip deflection (3.4 µm due to 500 MPa stress and 0.1 MPa/µm stress gradient) on sensitivity has marginal effect on milli g range but has moderate influence on limiting high g operational range.
Access options
Buy single article
Instant access to the full article PDF.
US$ 39.95
Tax calculation will be finalised during checkout.
Subscribe to journal
Immediate online access to all issues from 2019. Subscription will auto renew annually.
US$ 119
Tax calculation will be finalised during checkout.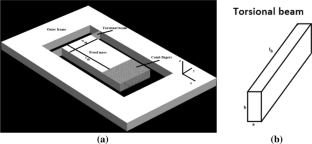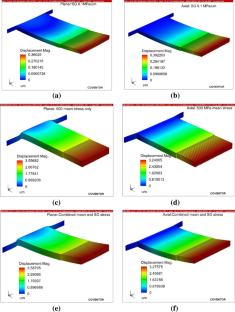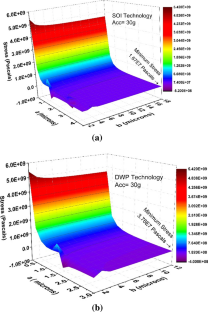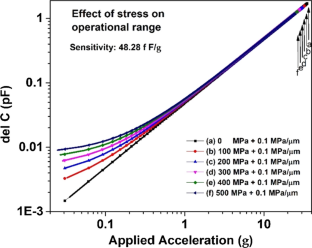 References
Ballestra A, Soma A, Pavanello R (2008) Experimental-numerical comparison of the cantilever MEMS frequency shifts in presence of a residual stress gradient. Sensors 8:767–783

Bao M (2005) Analysis and design principles of MEMS devices. Elsevier, Amsterdam

Chaker M, Boily S, Diawara Y, EI Khakani MA, Gat E, Jean A, lafontaine H, Pepin H, Voyer J, Kieffer JC (1992) X-ray mask development based on SiC membrane and W absorber. J Vac Sci Technol B 10:3191–3195. https://doi.org/10.1116/1.585910

Chen KS (2006) Techniques in residual stress measurement for MEMS and their applications. In: Leondes CT (ed) MEMS/NEMS. Springer, Boston. https://doi.org/10.1007/0-387-25786-1_33

Chen W-F, Atsuta T (1977) Theory of beam-columns: space behavior and design, vol 2. J. Ross Publishing, New York

Chen K-S, Zhang X, Lin S-Y (2003) Intrinsic stress generation and relaxation of plasma-enhanced chemical vapor deposited oxide during deposition and subsequent thermal cycling. Thin Solid Films 434:190–202

Chen Z, Guo M, Zhang R, Zhou B, Wei Q (2018) Measurement and isolation of thermal stress in silicon-on-glass MEMS structures. Sensors 18:1–14. https://doi.org/10.3390/s18082603

Chu W-H, Mehregany M (1993) A study of residual stress distribution through the I thickness of p + silicon. Films IEEE Trans Electron Devices 40:1245–1250

Chunga C-K, Linb T-Y, Duhb J-G, Ming-Qun T (2005) Global and local residual stress in silicon carbide films produced by plasma-enhanced chemical vapor deposition. Surf Coat Technol 200:4825–4834

Dounkal MK, Bhan RK, Kumar N (2020) A new improved vertical comb type differential capacitive sensing micro accelerometer using SOI wafer technology. J Micromech Microeng 26:377–394 ()

Dutta S, Shaveta M, Imran R, Pal, Bhan RK (2014) Diffusion induced residual stress in comb-type microaccelerometer structure. J Mater Sci Mater Electron. https://doi.org/10.1007/s10854-014-2095-8

El Khakani MA, Chaker M, Jean A, Boily S, Pepin H, Kieffer JC (1993) Effect of rapid thermal annealing on both the stress and the bonding states of a-SiC: H films. J Appl Phys 74:2834. https://doi.org/10.1063/1.354635

Fang W, Wickert JA (1995) Determining mean and gradient residual stresses in thin films using micromachined cantilevers. J Micromech Microeng 6:301–309

Freund LB, Floro JA, Chason E (1999) Extensions of the Stoney formula for substrate curvature to configurations with thin substrates or large deformations. Appl Phys Lett 74:1987–1989. doi:https://doi.org/10.1063/1.123722()

Guo Y, Zhou J, Huang Y, Bao MH (2007) Modelling of photoinduced deformation in silicon microcantilever. Sensors 7:1713–1719

Ni A, Sherman D, Ballarini R, Kahn H, MI B, Philips SM, Heuer AH (2003) Optimal design of multilayered polysilicon films for prescribed curvature. J Mater Sci 38:4169–4173

Ramsay A, Maunder EAW (2016) The influence and modelling of warping restraint on beam. Struct Mag

Saxena PK (2010) Improved opto-thermal-mechanical model for silicon based microcantilever. J Nanoelectron Optoelectron 5:355–359. https://doi.org/10.1166/jno.2010.1123

Selvakumar A, Najafi K (1998) A high-sensitivity-axis capacitive silicon microaccelerometer with a torsional suspension. JMEMS 7:192–200

Stoney GG (1909) The tension of metallic films deposited by electrolysis. Proc R Soc Lond 82:172–175

Timoshenko SP (1953) History of strength of material. McGraw-Hill, New York

Warren CY, Budynas RG (2002) Roark's formulas for stress and strain, 7th edn. McGraw-Hill, New York

Zhou L, Hosseini BS, Tsuruga T, Shimizu J, Eda H (2007) Fabrication and evaluation for extremely thin Si wafer. Int J Abrasive Technology 1:94–105
Acknowledgements
Authors thank Director SSPL, IDST and IIT Ropar for allowing to write and publish this work on effects of stress on new improved SOI technology micro accelerometer.
Ethics declarations
Conflict of interest
Authors declare that there is no conflict of interests.
Additional information
Publisher's Note
Springer Nature remains neutral with regard to jurisdictional claims in published maps and institutional affiliations.
About this article
Cite this article
Dounkal, M.K., Bhan, R.K. & Kumar, N. Stress analysis in new improved differential vertical comb capacitive micro accelerometer using SOI technology. Microsyst Technol (2021). https://doi.org/10.1007/s00542-020-05155-3
Received:

Accepted:

Published: