Abstract
In this paper, the mixed process is divided into the on-way mixing and local mixing, and allows the local mixing to be transformed to equivalent on-way mixing. By analysis of numerical simulation, on the one hand, the on-way mixing efficiency is proportional to the diffusion rate, density ratio, and is also inversely proportional to the channel width and flow velocity. On the other hand, equivalent on-way mixing length is set as the increased channel length caused by the angled bend, which is proportional to the flow velocity and the bend angle, and is also inversely proportional to the channel width. Furthermore, mixing efficiency calculation formula is presented, and the steps of designing a micro-mixer quickly is summarized, which are suitable for any passive micromixer with angled bends.
Access options
Buy single article
Instant access to the full article PDF.
USD 39.95
Price excludes VAT (USA)
Tax calculation will be finalised during checkout.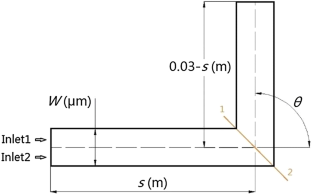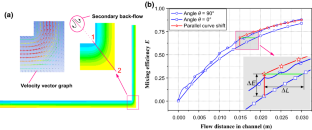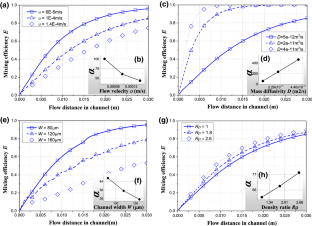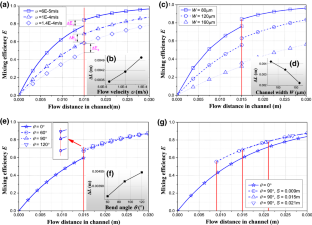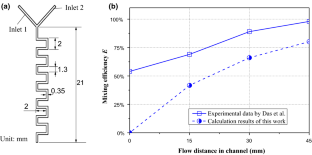 References
Catarino SO, Silva LR, Mendes PM, Miranda JM, Minas SLMG (2014) Piezoelectric actuators for acoustic mixing in microfluidic devices-numerical prediction and experimental validation of heat and mass transport. Sens Actuators B 205:206–214

Das SS, Tilekar SD, Wangikar SS, Patowari PK (2017) Numerical and experimental study of passive fluids mixing in micro-channels of different configurations. Microsyst Technol 23:5977–5988

Jung J, Chen L, Lee S, Kim S, Seong GH, Choo J, Lee EK, Oh CH, Lee S (2007) Fast and sensitive DNA analysis using changes in the FRET signals of molecular beacons in a PDMS microfluidic channel. Anal Bioanal Chemy 387:2609–2615

Kanai T, Tsuchiya M (2016) Microfluidic devices fabricated using stereo lithography for preparation of monodisperse double emulsions. Chem Eng J 290:400–404

Kuo JN, Liao HS, Li XM (2017) Design optimization of capillary-driven micromixer with square-wave microchannel for blood plasma mixing. Microsyst Technol 23:721–730

Lee CY, Fu LM (2018) Recent advances and applications of micromixers. Sens Actuators B 259:667–702

Lee KY, Park S, Lee YR, Chung SK (2016a) Magnetic droplet microfluidic system incorporated with acoustic excitation for mixing enhancement. Sens Actuators A 243:59–65

Lee CY, Wang WT, Liu CC, Fu LM (2016b) Passive mixers in microfluidic systems: a review. Chem Eng J 288:146–160

Liu YZ, Kim BJ, Sung HJ (2004) Two-fluid mixing in a microchannel. Int J Heat Fluid Flow 25:986–995

Meller K, Szumski M, Buszewski B (2017) Microfluidic reactors with immobilized enzymes-characterization dividing, perspectives. Sens Actuators B 244:84–106

Nimafar M, Viktorov V, Martinelli M (2012) Experimental comparative mixing performance of passive micromixers with H-shaped sub-channels. Chem Eng Sci 76:37–44

Santana HS, Tortola DS, Silva JL Jr, Taranto OP (2017) Biodiesel synthesis in micromixer with static elements. Energy Convers Manage 141:28–39

Sun CL, Lin YJ, Rau CI, Chiu SY (2017) Flow characterization and mixing performance of weakly-shear-shinning fluid flows in a microfluidic oscillator. J Nonnewton Fluid Mech 239:1–12

Wang L, Liu D, Wang XJ, Han XJ (2012) Mixing enhancement of novel passive microfluidic mixers with cylindrical grooves. Chem Eng Sci 80:157–163

Yang RJ, Liu CC, Wang YN, Hou HH, Fu LM (2017) A comprehensive review of micro-distillation method. Chem Eng J 313:1509–1520

Yuan FP, Isaac KM (2017) A study of MHD-based chaotic advection to enhance mixing in microfluidics using transient tree dimensional CFD simulations. Sens Actuators B 238:226–238
Acknowledgements
This project is supported by the National Natural Science Foundation of China (Grant No. 51505077), the Project Agreement for Science and Technology Development of Jilin Province (20170520099JH) and the Science and Technology Innovation Development Project of Jilin City (201750230, 20166013, 20166012).
Additional information
Publisher's Note
Springer Nature remains neutral with regard to jurisdictional claims in published maps and institutional affiliations.
About this article
Cite this article
Su, T., Cheng, K., Wang, J. et al. A fast design method for passive micromixer with angled bend. Microsyst Technol 25, 4391–4397 (2019). https://doi.org/10.1007/s00542-019-04433-z
Received:

Accepted:

Published:

Issue Date:

DOI: https://doi.org/10.1007/s00542-019-04433-z