Abstract
An eye shaped split and collision micromixer having low-pressure drop is proposed, which works on the concept of unbalanced splits and cross-collisions of fluid streams. The 3-D Navier–Stokes equations in combination with an advection–diffusion model were solved for the analysis with water and ethanol as working fluids. The in-depth analysis of the flow features and the mixing performance parameters viz. mixing index and pressure drop of the micromixer has been carried out. The micromixer model is composed of two sub-channels of equal/unequal widths which repeatedly undergo splitting and collision of fluid streams along the flow direction. The numerical study has been carried out on the micromixer at Reynolds numbers ranging from 0.1 to 45. The difference between the mass flow rates in the two sub-channels creates an unbalanced collision of the two fluid streams. Mixing enhancement is mainly due to the effect of unbalanced collisions of the fluid streams. The micromixers show exciting flow features for different ratios of the widths of the sub-channels. The ratios of a width of subchannels viz. 1, 1.4 and 2 are considered. The highest mixing performance has been observed for the width ratio of 2, whereas poor mixing performance has been observed for the width ratio of 1.
Access options
Buy single article
Instant access to the full article PDF.
US$ 39.95
Tax calculation will be finalised during checkout.
Subscribe to journal
Immediate online access to all issues from 2019. Subscription will auto renew annually.
US$ 119
Tax calculation will be finalised during checkout.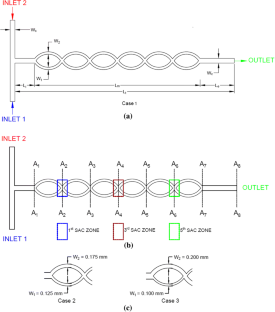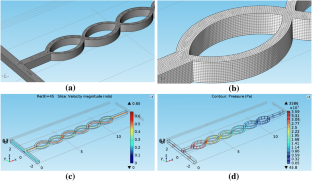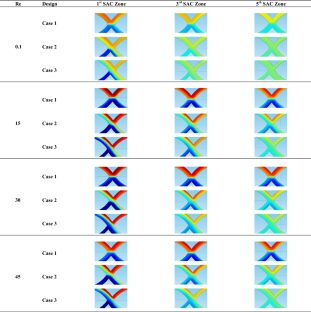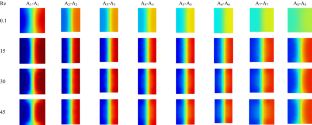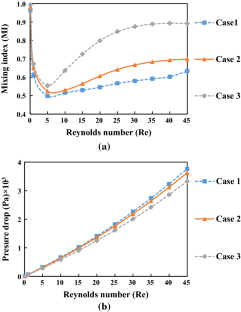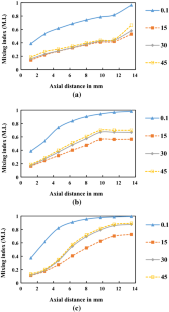 References
Ansari MA, Kim KY, Anwar K, Kim SM (2010) A novel passive micromixer based on unbalanced splits and collisions of fluid streams. J Micromech Microeng 20(5):055007

Capretto L, Cheng W, Hill M, Zhang X (2011) Micromixing within microfluidic devices. Microfluidics. Springer, Berlin, pp 27–68

Chen Y, Kim CN (2018) Numerical analysis of the mixing of two electrolyte solutions in an electromagnetic rectangular micromixer. J Ind Eng Chem 60:377–389

Chung CK, Shih TR (2007) A rhombic micromixer with asymmetrical flow for enhancing mixing. J Micromech Microeng 17(12):2495

Chung CK, Shih TR (2008) Effect of geometry on fluid mixing of the rhombic micromixers. Microfluid Nanofluid 4(5):419–425

Cortes-Quiroz CA, Azarbadegan A, Moeendarbary E (2010) An efficient passive planar micromixer with fin-shaped baffles in the tee channel for wide Reynolds number flow range. World Acad Sci Eng Technol 61:170–175

Cortes-Quiroz CA, Azarbadegan A, Zangeneh M (2014a) Evaluation of flow characteristics that give higher mixing performance in the 3-D T-mixer versus the typical T-mixer. Sens Actuators B Chem 202:1209–1219

Cortes-Quiroz CA, Zangeneh M, Goto A (2014b) On multi-objective optimization of geometry of staggered herringbone micromixer. Microfluid Nanofluid 7:29–43

Das SS, Patawari BK, Patowari PK, Halder S (2014) Computational analysis for mixing of fluids flowing through microchannels of different geometries. AIMTDR, Mumbai, pp 1–6

Das SS, Tilekar SD, Wangikar SS, Patowari PK (2017) Numerical and experimental study of passive fluids mixing in micro-channels of different configurations. Microsyst Technol 23(12):5977–5988

Engler M, Kockmann N, Kiefer T, Woias P (2004) Numerical and experimental investigations on liquid mixing in static micromixers. Chem Eng J 101(1–3):315–322

Gidde RR, Shinde AB, Pawar PM, Ronge BP (2018a) Design optimization of a rectangular wave micromixer (RWM) using Taguchi based grey relational analysis (GRA). Microsyst Technol 24(9):3651–3666

Gidde RR, Pawar PM, Ronge BP, Shinde AB, Misal ND, Wangikar SS (2018b) Flow field analysis of a passive wavy micromixer with CSAR and ESAR elements. Microsyst Technol 1–14

Gidde RR, Pawar PM, Ronge BP, Misal ND, Kapurkar RB, Parkhe AK (2018c) Evaluation of the mixing performance in a planar passive micromixer with circular and square mixing chambers. Microsyst Technol 24(6):2599–2610

Gobby D, Angeli P, Gavriilidis A (2001) Mixing characteristics of T-type microfluidic mixers. J Micromech Microeng 11(2):126

Hossain S, Ansari MA, Kim KY (2009) Evaluation of the mixing performance of three passive micromixers. Chem Eng J 150:492–501

Lin YC, Chung YC, Wu CY (2007) Mixing enhancement of the passive microfluidic mixer with J-shaped baffles in the tee channel. Biomed Microdevice 9(2):215–221

Lin CY, Meng HC, Fu C (2011) A PDMS self-vortical micromixer without obstructions. Open Chem Eng J 5:7–12

Raza W, Hossain S, Kim KY (2018) Effective mixing in a short serpentine split-and-recombination micromixer. Sens Actuators B Chem 258:381–392

Solehati N, Bae J, Sasmito AP (2014) Numerical investigation of mixing performance in microchannel T-junction with wavy structure. Comput Fluids 96:10–19

Wang H, Iovenitti P, Harvey E, Masood S (2002) Optimizing layout of obstacles for enhanced mixing in microchannels. Smart Mater Struct 11(5):662

Wang L, Yang JT, Lyu PC (2007) An overlapping crisscross micromixer. Chem Eng Sci 62(3):711–720

Ward K, Fan ZH (2015) Mixing in microfluidic devices and enhancement methods. J Micromech Microeng 25(9):094001

Wong SH, Ward MC, Wharton CW (2004) Micro T-mixer as a rapid mixing micromixer. Sens Actuators B Chem 100(3):359–379
Additional information
Publisher's Note
Springer Nature remains neutral with regard to jurisdictional claims in published maps and institutional affiliations.
About this article
Cite this article
Gidde, R.R., Pawar, P.M., Gavali, S.R. et al. Flow feature analysis of an eye shaped split and collision (ES-SAC) element based micromixer for lab-on-a-chip application. Microsyst Technol 25, 2963–2973 (2019). https://doi.org/10.1007/s00542-018-4271-x
Received:

Accepted:

Published:

Issue Date: