Abstract
Skin rejuvenation is the most popular topic in cosmetic industry. Recently, skin phototherapy is spotlighted among a lot of skin therapies by its advantageous effects and ease of use. Phototherapy has been widely used for cosmeceutical purposes such as anti-aging or anti-bacterial effects. By the optical properties of light, however, the visible lights cannot reach deep inside the skin layer by reflection and scattering at the outermost boundary of the skin, the stratum corneum and epidermis. This paper describes new method to improve the skin phototherapy using microneedles. We used microneedle as the light transporter like optic fiber to transport light inside the skin by total internal reflection. The total internal reflection inside microneedles was geometrically analyzed and was measured microscopically. The light transmittance with or without a microneedle array was measured using an optical microscope system. Three different ranges of lights (red, green, blue) were exposed on the backside of the microneedle and the light pass through the microneedles. As the results, using microneedles, light transmissivity was dramatically improved even the shorter wavelength of the light (Blue light). Collaboration of phototherapy and microneedle will be a powerful cosmetic and medical tool for skin therapy.
Access options
Buy single article
Instant access to the full article PDF.
US$ 39.95
Tax calculation will be finalised during checkout.
Subscribe to journal
Immediate online access to all issues from 2019. Subscription will auto renew annually.
US$ 119
Tax calculation will be finalised during checkout.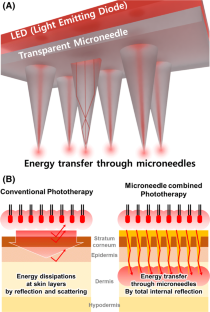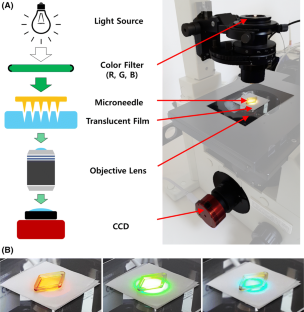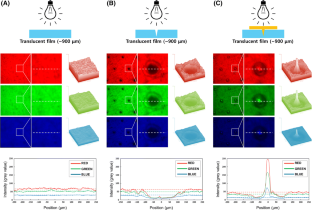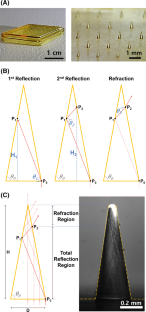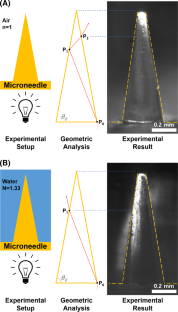 References
Ammad S, Gonzales M, Edwards C, Finlay AY, Mills C (2008) An assessment of the efficacy of blue light phototherapy in the treatment of acne vulgaris. J cosmet Dermatol 7:180–188

Avci P, Gupta A, Sadasivam M, Vecchio D, Pam Z, Pam N, Hamblin MR (2013) Low-level laser (light) therapy (LLLT) in skin: stimulating, healing, restoring. Semin Cutan Med Surg 32(1):41–52

Bitter PH (2000) Noninvasive rejuvenation of photodamaged skin using serial, full-face intense pulsed light treatments. Dermatol Surg 26:835–843

Chabert R, Fouque L, Pinacolo S, Garcia-Gimenez N, Bonnans M, Cucumel K, Domloge N (2015) Evaluation of light-emitting diodes (LED) effect on skin biology (in vitro study). Skin Res Technol 21:426–436

Ding H, Lu JQ, Wooden WA, Kragel PJ, Hu X-H (2006) Refractive indices of human skin tissues at eight wavelengths and estimated dispersion relations between 300 and 1600 nm. Phys Med Biol 51:1479

Elman M, Slatkine M, Harth Y (2003) The effective treatment of acne vulgaris by a high-intensity, narrow band 405–420 nm light source. J Cosmet Laser Therapy 5:111–117

Gold MH, Goldberg DJ, Nestor MS (2017) Current treatments of acne: medications, lights, lasers, and a novel 650-μs 1064-nm Nd: YAG laser. J Cosmet Dermatol 16:303–318

Liebl H, Kloth LC (2012) Skin cell proliferation stimulated by microneedles. J Am Coll Clin Wound Spec 4:2–6

Lister T, Wright PA, Chappell PH (2012) Optical properties of human skin. J Biomed Opt 17:090901

Mahmoud BH, Hexsel CL, Hamzavi IH, Lim HW (2008) Effects of visible light on the skin. Photochem Photobiol 84:450–462

McCrudden MT, McAlister E, Courtenay AJ, González-Vázquez P, Raj Singh TR, Donnelly RF (2015) Microneedle applications in improving skin appearance. Exp Dermatol 24:561–566

Mohammed YH et al (2014) Microneedle enhanced delivery of cosmeceutically relevant peptides in human skin. PloS one 9:e101956

Mustafa F, Jaafar M (2013) Comparison of wavelength-dependent penetration depths of lasers in different types of skin in photodynamic therapy. Indian J Phys 87:203–209

Rohringer S et al (2017) The impact of wavelengths of LED light-therapy on endothelial cells. Sci Rep 7:10700

Russell B, Kellett N, Reilly L (2005) A study to determine the efficacy of combination LED light therapy (633 nm and 830 nm) in facial skin rejuvenation. J Cosmet Laser Therapy 7:196–200

Sheikholeslami M, Ganji DD (2016a) Heat transfer enhancement in an air to water heat exchanger with discontinuous helical turbulators; experimental and numerical studies. Energy 116:341–352

Sheikholeslami M, Ganji DD (2016b) Heat transfer improvement in a double pipe heat exchanger by means of perforated turbulators. Energy Convers Manage 127:112–123

Singh A, Yadav S (2016) Microneedling: advances and widening horizons. Indian Dermatol Online Jl 7:244
Additional information
Publisher's Note
Springer Nature remains neutral with regard to jurisdictional claims in published maps and institutional affiliations.
About this article
Cite this article
Kang, M., Shim, C., Na, S. et al. Improved cosmeceutical phototherapy using microneedle. Microsyst Technol 25, 2547–2552 (2019). https://doi.org/10.1007/s00542-018-4248-9
Received:

Accepted:

Published:

Issue Date: