Abstract
In this paper, design and simulation of a single-axial, capacitive, fully differential MEMS accelerometer based on surface micromachining with two proof masses is presented. So far, most surface micromachined capacitive accelerometers offered, employed differential interface circuits to measure capacitor variations. However, in the presented structure, the possibility of fully differential design is realized by dividing the proof mass to two electrically isolated parts that are located on a silicon nitride layer. By utilizing two proof masses and altering outputs and stimulation voltage, parasitic capacitor is reduced and the sensitivity is increased. Moreover, some sensor capacitors are embedded inside the proof mass, so that sensitivity could be increased in the limited area and electrode length could be reduced. Furthermore, analytic equations are derived to calculate the sensitivity, as well to optimize the sensor structure. The designed sensor has been simulated and optimized using COMSOL Multiphysics, where the simulation results show the mechanical and capacitive sensitivity of 29.8 nm/g and 15.8 fF/g, respectively. The sensor size is 1 mm × 1 mm that leads to excellent performance, regarding to the defined figure of merit.
This is a preview of subscription content,
to check access.
Access this article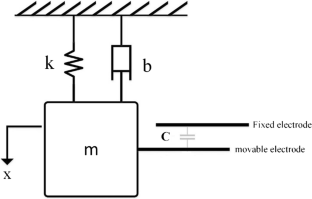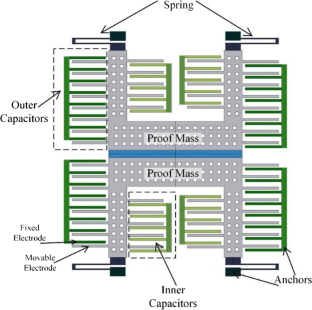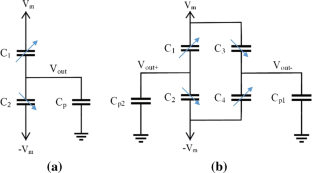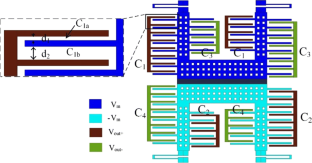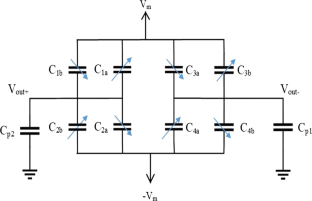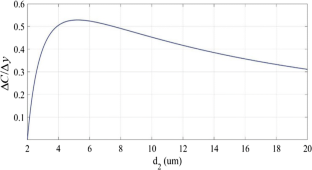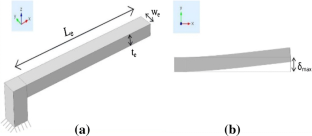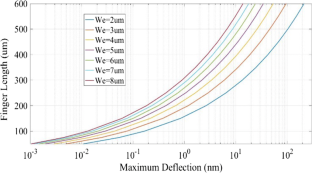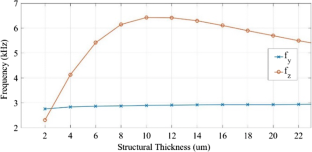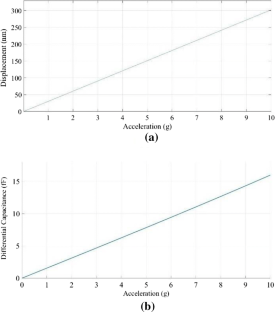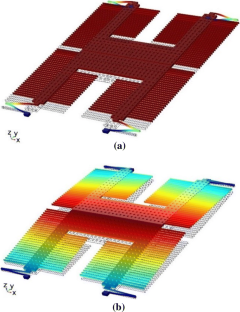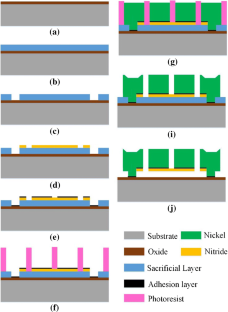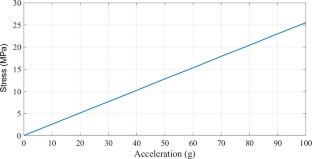 Similar content being viewed by others
References
Abdolvand R, Amini BV, Ayazi F (2007) Sub-micro-gravity in-plane accelerometers with reduced capacitive gaps and extra seismic mass. J Microelectromech Syst 16(5):1036–1043. https://doi.org/10.1109/JMEMS.2007.900879

Benmessaoud M, Nasreddine MM (2013) Optimization of MEMS capacitive accelerometer. Microsyst Technol 19(5):713–720. https://doi.org/10.1007/s00542-013-1741-z

Cardinale GF, Tustison RW (1992) Fracture strength and biaxial modulus measurement of plasma silicon nitride films. J Thin Solid Films 207:126–130

Hsu YC, Lin CW, Sun CM, Hsu CP, Lee YT, Tsai MH, Liu YC, Fang W (2011) Implementation of fully-differential capacitance sensing accelerometer using glass proof-mass with SI-VIAS. In: Proceedings of the IEEE international conference on micro electro mechanical systems (MEMS), January. IEEE, New York, pp 589–592. https://doi.org/10.1109/memsys.2011.5734493

Kavitha S, Joseph Daniel R, Sumangala K (2016) Design and analysis of MEMS comb drive capacitive accelerometer for SHM and seismic applications. J Meas 93(November):327–339. https://doi.org/10.1016/j.measurement.2016.07.029

Li P, Li X, Li E, Shen Q, Chang H (2015) Design and fabrication of an in-plane SOI MEMS accelerometer with a high yield rate. In: 10th IEEE international conference on nano/micro engineered and molecular systems. IEEE, New York, pp 511–14. https://doi.org/10.1109/nems.2015.7147480

Luo H, Zhang G, Carley LR, Fedder GK (2002) A post-CMOS micromachined lateral accelerometer. J Microelectromech Syst 11(3):188–195. https://doi.org/10.1109/JMEMS.2002.1007397

Mohammed Z, Dushaq G, Chatterjee A, Rasras M (2017) An optimization technique for performance improvement of gap-changeable MEMS accelerometers. Mechatronics. https://doi.org/10.1016/j.mechatronics.2017.10.011

Shahbaz MA, Warsi ZH, Irshad SM, Irshad ST, Jawed SA (2017) Design and analysis of CMOS MEMS based single proof mass tri-axial capacitive accelerometer with readout integrated circuit. In: 2017 First international conference on latest trends in electrical engineering and computing technologies (INTELLECT). IEEE, New York, pp 1–8. https://doi.org/10.1109/intellect.2017.8277644

Soumendu S, Shakya S, Mukhiya R, Gopal R (2014) Design and simulation of MEMS differential capacitive accelerometer. In: ISSS international conference on smart materials, structures and systems. https://doi.org/10.13140/2.1.1074.8809

Szermer M, Nazdrowicz J, Zabierowski W (2017) FEM analysis of a 3D model of a capacitive surface-micromachined accelerometer. In: 2017 14th international conference the experience of designing and application of CAD systems in microelectronics (CADSM). IEEE, New York, pp 432–34. https://doi.org/10.1109/cadsm.2017.7916168

Xiao DB, Li QS, Hou ZQ, Wang XH, Chen ZH, Xia DW, Wu XZ (2016) A novel sandwich differential capacitive accelerometer with symmetrical double-sided serpentine beam-mass structure. J Micromech Microeng 26(2):25005. https://doi.org/10.1088/0960-1317/26/2/025005

Xiao D, Li Q, Hou Z, Xia D, Xu X, Wu X (2017) A double differential torsional micro-accelerometer based on V-shape beam. Sens Actuators A 258(May):182–192. https://doi.org/10.1016/j.sna.2017.03.011

Yazdi N, Ayazi F, Najafi K (1998) Micromachined inertial sensors. Proc IEEE. https://doi.org/10.1109/5.704269

Zhou X, Che L, Wu J, Li X, Wang Y (2012) A novel sandwich capacitive accelerometer with a symmetrical structure fabricated from a D-SOI wafer. J Micromech Microeng 22(8):85031. https://doi.org/10.1088/0960-1317/22/8/085031
Ethics declarations
Conflict of interest
The authors declare that they have no conflict of interest.
Additional information
Publisher's Note
Springer Nature remains neutral with regard to jurisdictional claims in published maps and institutional affiliations.
About this article
Cite this article
Keshavarzi, M., Yavand Hasani, J. Design and optimization of fully differential capacitive MEMS accelerometer based on surface micromachining. Microsyst Technol 25, 1369–1377 (2019). https://doi.org/10.1007/s00542-018-4187-5
Received:

Accepted:

Published:

Issue Date:

DOI: https://doi.org/10.1007/s00542-018-4187-5