Abstract
In this paper, we design a three-dimensional micromixer based on Cantor structure. According to the principle of enhancing chaotic advection and folding fluid, it can produce better mixing performance. First we design the fractal obstacle based on the Cantor structure. We combine the obstacle with the T type microchannel. And we get multiple combinations of microchannel. We use multi-physics field simulation software COMSOL 5.2a to simulation, which is based on finite element theory. Then we analyze the mixing performance of the Imitate Cantor structure micromixer, x stands for the height of the micromixer (ICSMx) in the Re of 0.01–100 and explain the mechanisms of mixing enhancement in each structure. We compare the effect of the height of the obstacles, the effect of the spacing between the obstacles, and the effect of fractal obstacles series. By comparison, when Re is more than 50 or less than 0.1, the mixing efficiency of all micromixer can reach above 90%. Finally, we obtain a best micromixer, called Imitate Cantor structure micromixer with height 600 µm (ICSM600). The minimum mixing efficiency of ICSM600 can reach 85%, so the mixing efficiency of ICSM600 is clearly better than others.
Access options
Buy single article
Instant access to the full article PDF.
USD 39.95
Price excludes VAT (USA)
Tax calculation will be finalised during checkout.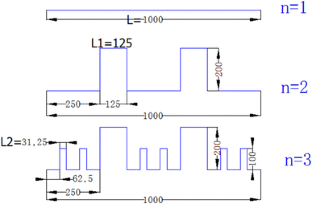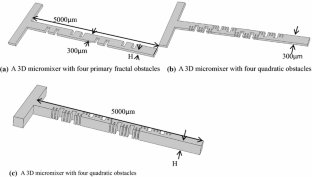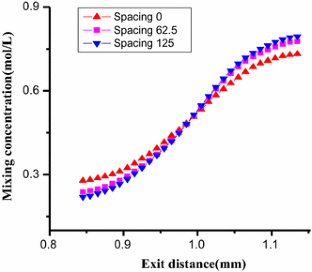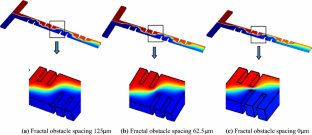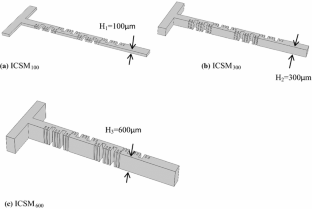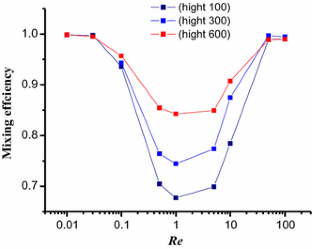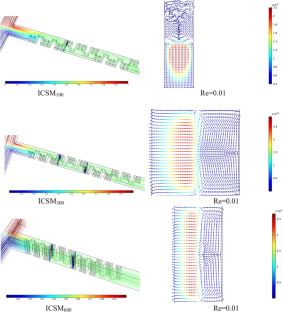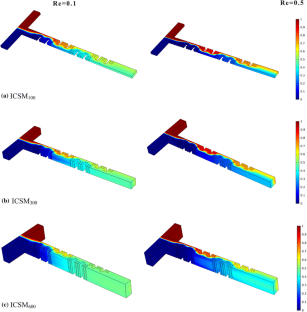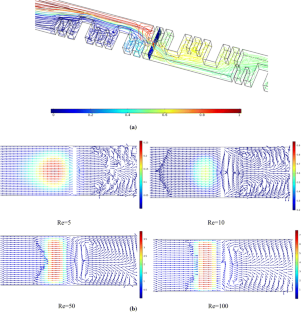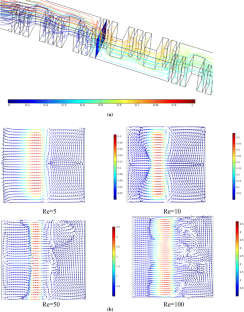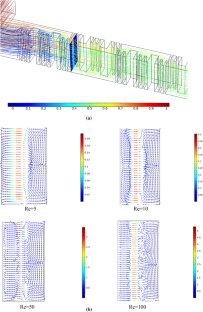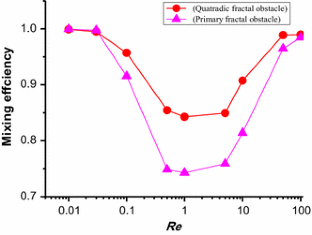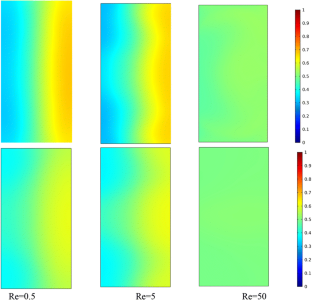 References
Ansari MA, Kim KY, Anwar K et al (2010) A novel passive micromixer based on unbalanced splits and collisions of fluid streams. J Micromech Microeng 20(5):055007

Chau JLH, Leung AYL, Yeung KL (2003) Zeolite micromembranes. Lab Chip 3(2):53–55

Chen X, Li T (2017) A novel passive micromixer designed by applying an optimization algorithm to the zigzag microchannel. Chem Eng J 313:1406–1414

Chen X, Shen J (2017) Numerical analysis of mixing behaviors of two types of E-shape micromixers. Int J Heat Mass Transf 106:593–600

Jeon W, Shin CB (2009) Design and simulation of passive mixing in microfluidic systems with geometric variations. Chem Eng J 152(2):575–582

Lu LH, Ryu KS, Liu C (2002a) A magnetic microstirrer and array for microfluidic mixing. J Microelectromech Syst 11(5):462–469

Lu LH, Ryu KS, Liu C (2002b) A magnetic microstirrer and array for microfluidic mixing. Microelectromech Syst J 11(5):462–469

Nguyen NT, Wu Z (2004) Micromixers—a review. J Micromech Microeng 15(2):R1

Niu X, Liu L, Wen W et al (2006) Active microfluidic mixer chip. Appl Phys Lett 88(15):153508

Oddy MH, Santiago JG, Mikkelsen JC (2001) Electrokinetic instability micromixing. Anal Chem 73(24):5822–5832

Ottino JM (1990) Mixing, chaotic advection, and turbulence. Annu Rev Fluid Mech 22(1):207–254

Simonnet C, Groisman A (2005) Chaotic mixing in a steady flow in a microchannel. Phys Rev Lett 94(13):134501

Sritharan K, Strobl CJ, Schneider MF et al (2006) Acoustic mixing at low Reynolds numbers. Appl Phys Lett 88(5):054102

Tofteberg T, Skolimowski M, Andreassen E et al (2010) A novel passive micromixer: lamination in a planar channel system. Microfluid Nanofluid 8(2):209–215

Zhang T, Zhang X, Yan X et al (2013) Synthesis of Fe3O4@ZIF-8 magnetic core–shell microspheres and their potential application in a capillary microreactor. Chem Eng J 228:398–404
Acknowledgements
This work was supported by The Key Project of Department of Education of Liaoning Province(JZL201715401), Liaoning Province BanQianWan Talent Project.
Additional information
Publisher's Note
Springer Nature remains neutral with regard to jurisdictional claims in published maps and institutional affiliations.
About this article
Cite this article
Wu, Z., Chen, X. A novel design for 3D passive micromixer based on Cantor fractal structure. Microsyst Technol 25, 225–236 (2019). https://doi.org/10.1007/s00542-018-3954-7
Received:

Accepted:

Published:

Issue Date:

DOI: https://doi.org/10.1007/s00542-018-3954-7