Abstract
A new fabrication technique based on the combined printing of Ag-nanoparticles and dielectric material was developed. The processing, composed of inkjet printing and intense pulsed light sintering/curing, enables a fast, controllable and highly-adaptable structuring of 3D conductor/insulator structures on various types of substrates including ones with low-temperature stability and flexible ones. With this process the classical vias of the multi-layer structure are replaced by a direct connection between the layers achieved by an absence of insulation material at designated areas providing a fast and efficient method for multilayer prototyping. For testing and demonstration a multilayer planar coil structure was fabricated with an overall thickness of 30 µm on the PET substrate. The electromagnetic properties of the structures were successfully tested and verified by comparing several experiments to finite element method simulations. The theoretical simulations show an excellent match with experimental measurements of several structures thus giving confidence in the reliability of the proposed process.
This is a preview of subscription content, log in to check access.
Access options
Buy single article
Instant access to the full article PDF.
US$ 39.95
Price includes VAT for USA
Subscribe to journal
Immediate online access to all issues from 2019. Subscription will auto renew annually.
US$ 199
This is the net price. Taxes to be calculated in checkout.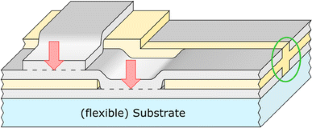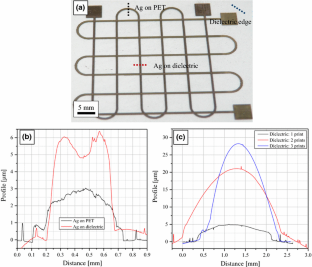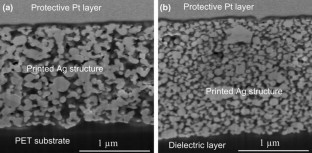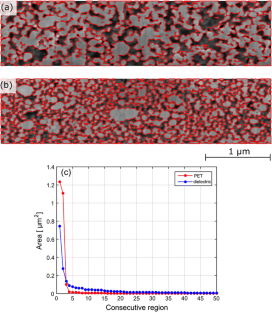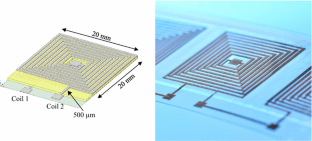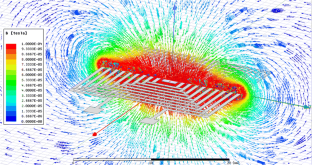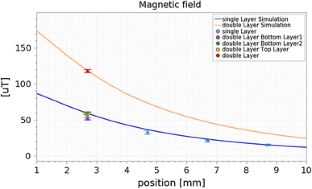 References
ANSYS Academic Research (2016) Maxwell Release 18.0

Blitz J (2012) Electrical and magnetic methods of non-destructive testing. Springer Science + Business Media, New York

Burke S, Ditchburn R, Theodoulidis T (2014) Impedance of a curved circular spiral coil around a conductive cylinder. NDT E Int 64:1–6. https://doi.org/10.1016/j.ndteint.2014.02.002

Cook BS, Cooper JR, Tentzeris MM (2013a) Multi-layer RF capacitors on flexible substrates utilizing inkjet-printed dielectric polymers. IEEE Microw Wirel Compon Lett 23:1309–1531. https://doi.org/10.1109/LMWC.2013.2264658

Cook BS, Tehrani B, Cooper JR, Tentzeris MM (2013b) Multilayer inkjet printing of millimeter-wave proximity-fed patch arrays on flexible substrates. IEEE Antennas Wirel Propag Lett 12:1351–1354. https://doi.org/10.1109/LAWP.2013.228600

Cook BS, Mariotti C, Cooper JR, Revier D, Tehrani BK, Aluigi L, Roselli L, Tentzeris MM (2014) Inkjet-printed, vertically-integrated, high-performance inductors and transformers on flexible LCP substrate. In: IEEE MTT-S international microwave symposium (IMS2014), pp 1–4. https://doi.org/10.1109/MWSYM.2014.6848575

Darrer BJ, Watson JC, Bartlett PA, Renzoni F (2015) Electromagnetic imaging through thick metallic enclosures. AIP Adv 5:87143. https://doi.org/10.1063/1.4928864

Faller L, Mühlbacher-Karrer S, Zangl H (2016) Inkjet-printing rapid prototyping of a robust and flexible capacitive touch panel. IEEE Sens. https://doi.org/10.1109/ICSENS.2016.7808915

Gibson I, Rosen DW, Stucker B (2010) Additive manufacturing technologies. Springer Science + Business Media, New York

Hösel M, Krebs FC (2012) Large-scale roll-to-roll photonic sintering of flexo printed silver nanoparticle electrodes. J Mater Chem 22:15683–15688. https://doi.org/10.1039/c2jm32977h

Jeranče N, Vasiljević D, Samardžić N, Stojanović G (2012) A compact inductive position sensor made by inkjet printing technology on a flexible substrate. Sensors 12:1288–1298. https://doi.org/10.3390/s120201288

Kang JS, Ryu J, Kim HS, Hahn HT (2011) Sintering of inkjet-printed silver nanoparticles at room temperature using intense pulsed light. J Electron Mater 40:2268–2277. https://doi.org/10.1007/s11664-011-1711-0

Kang JB, Lee CK, Oh JH (2012) All-inkjet-printed electrical components and circuit fabrication on a plastic substrate. Microelectron Eng 97:251–254. https://doi.org/10.1016/j.mee.2012.03.032

Kim D, Lee SH, Jeong S, Moon J (2009) All-ink-jet printed flexible organic thin-film transistors on plastic substrates. Electrochem Solid State 12:H195–H197. https://doi.org/10.1149/1.3098962

Korvink JG, Smith PJ, Shin D-Y (2012) Inkjet-based micromanufacturing. Wiley-VCH Verlag GmbH & Co. KGaA, Weinheim

Mühlbacher-Karrer S, Gaschler A, Zangl H (2015) Responsive fingers—capacitive sensing during object manipulation. IEEE/RSJ Int Conf. https://doi.org/10.1109/IROS.2015.7354001

Otsu N (1979) A threshold selection method from gray-level histograms. IEEE Trans Syst Man Cybern 9:62–66. https://doi.org/10.1109/TSMC.1979.4310076

Projekt Elektronik (2017) Datasheet Teslameter FM302 v0201 2016, Projekt Elektronik Datasheet AS Aktivsonden v0202 2017

Sanchez-Romaguera V, Madec M-B, Yeates SG (2008) Inkjet printing of 3D metal–insulator–metal crossovers. React Funct Polym 68:1052–1058. https://doi.org/10.1016/j.reactfunctpolym.2008.02.007

Serway RA (1998) Principles of physics. Saunders College Pub, London

Shilyashki G, Pfützner H, Palkovits M, Hamberger P, Aigner M (2015) A tangential induction sensor for 3-D analyses of peripheral flux distributions in transformer cores. IEEE Trans Magn 51:1–6. https://doi.org/10.1109/TMAG.2014.2386289

Shoute G, Barlage D (2015) Fractal loop inductor. IEEE Trans Magn 51:1. https://doi.org/10.1109/TMAG.2015.2388677

Son H, Lee K (2008) Distributed multipole models for design and control of PM actuators and sensors. IEEE/ASME Trans Mechatron 13:228–238. https://doi.org/10.1109/TMECH.2008.918544

Sophian A, Tian G, Taylor D, Rudlin J (2001) Electromagnetic and eddy current NDT: a review. Insight 43:302–306

Vaezi M, Seitz H, Yang S (2013) A review on 3D micro-additive manufacturing technologies. Int J Adv Manuf Technol 67:1721–1754. https://doi.org/10.1007/s00170-012-4605-2

Wang L (2016) Stretchable Eddy-Current noncontact gap sensor based on spiral conductive polymer composite. IEEE/ASME Trans Mechatron 21:1072–1079. https://doi.org/10.1109/TMECH.2015.2496587

Wünscher S, Abbel R, Perelaer J, Schubert US (2014) Progress of alternative sintering approaches of inkjet-printed metal inks and their application for manufacturing of flexible electronic devices. J Mater Chem C 2:10232–10261. https://doi.org/10.1039/c4tc01820f

Zhang F, Tuck C, Hague R, He Y, Saleh E, Li Y, Sturgess C, Wildman R (2016) Inkjet printing of polyimide insulators for the 3D printing of dielectric materials for microelectronic applications. J Appl Polym Sci 133:43361. https://doi.org/10.1002/APP.43361
Acknowledgements
This project has been supported by the COMET K1 center ASSIC Austrian Smart Systems Integration Research Center. The COMET—Competence Centers for Excellent Technologies—Program is supported by BMVIT, BMWFW and the federal provinces of Carinthia and Styria. The authors want to additionally thank Marcelo Ribeiro for his help with the performed experiments.
About this article
Cite this article
Krivec, M., Lenzhofer, M., Moldaschl, T. et al. Inkjet printing of multi-layered, via-free conductive coils for inductive sensing applications. Microsyst Technol 24, 2673–2682 (2018). https://doi.org/10.1007/s00542-017-3639-7
Received:

Accepted:

Published:

Issue Date: